I guess I'm not done doing these types of reviews.  Not yet.  Maybe not ever, unless my liver gets fucked up somehow.
I'm in the mood for some 80s sword and sorcery flicks.  But not the ones that are in the top 5 that hold the highest standard for the rest.  Those would be Conan: The Barbarian, The Beastmaster, The Sword and the Sorcerer, Deathstalker, and Red Sonja (I honestly haven't seen that last one; I tried once, but couldn't get into it).  No, not those ones.  I'm talking about the more lower tier flicks, that look like they have a backyard budget and are always shot on location, in a forest.  And the only thing they really have going for them aside from the genre are the hot chicks willing to show their skin.
I have seen a couple of these that actually aren't half bad.  But most of them are pretty fucking terrible.  Let's see where this one falls.
Not sure how I feel about the soundtrack so far.  Sounded bad at first, then it got a bit better the longer it went.  Foreshadowing of this film being a mixed bag?
Executive producer Roger Corman.  Whoah boy, we're in for it now.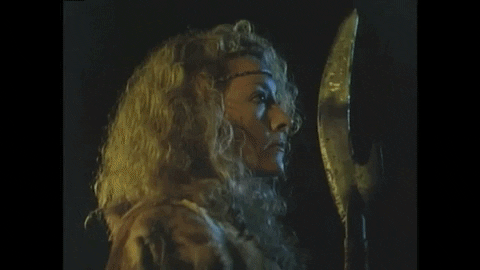 Weird editing choices with the women warriors practicing their staff swinging.  "Huh!  Hyah!  He!  Hye!"  I swear, some of the shouting gets cut-off mid-shout.  Almost sounds like what you would hear playing a 16-bit videogame.  They should've made a sword and sorcery side-scroll beat-em-up done in thee same vane as Streets of Rage.  Oh wait, they did, Golden Axe.  Well, I want an all-female scantily clad version damnit!
There's an evil king named King Kaloomba?  What the fuck?  Well in that case, I wanna know where King Koopa is!  I mean, I could be mishearing this, maybe it's King Kalunga or something, not that it doesn't sound any less ridiculous.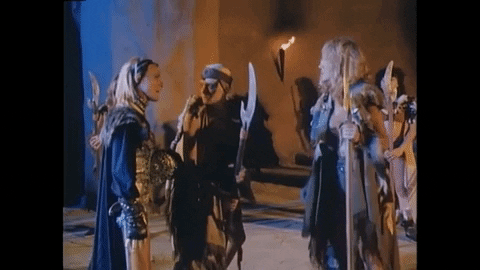 The lighting hand effects.  I gotta make a meme-gif out of that.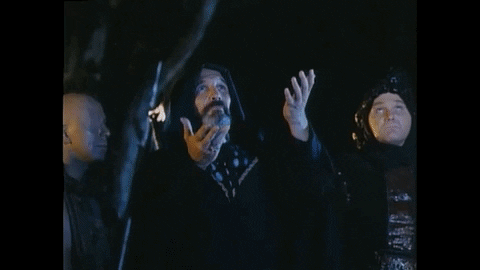 Phahah!  The sounds they make during this battle scene!  I swear, some guys are yelling, "Get out of here!" to the enemy.
I love how these women try to act badass, yet some falling rocks make them react like an elephant seeing a mouse.  It's actually kind of adorable.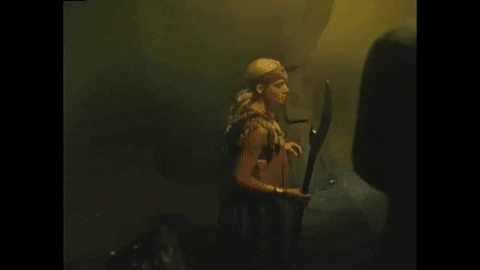 The soldiers talking to their king after they got beaten up by the Amazons, "[The Amazon women] fought like demons!"  Heheh.
And yeah yeah yeah, the typical, "There is no mercy for failure" speech.
Ok, as much as I like some of the cheesiness, I'm not really getting into this movie.  I don't give a shit about the plot, I'm not spending enough time with any of the characters to give a shit about any of them.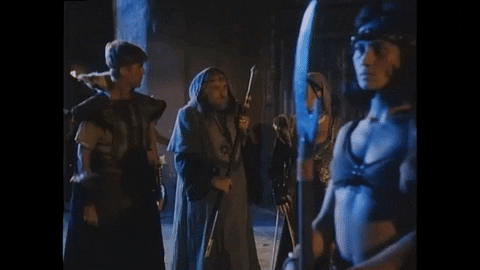 Hah!  How they are so casual with how they practice with their spears (or whatever you call those weapons).  As in not putting much effort into it.
Oh yeah, and just like that they know where to look for this long lost sword no one's been able to find.  Because of some vague vision that doesn't give any details.  Whatever.
Maybe his name is Kolungo.  I don't know, their pronunciation of his fucking name seems to change every time they say it.  Goddamnit, now I'm too curious about the name.  What the fuck does IMDB say about its spelling?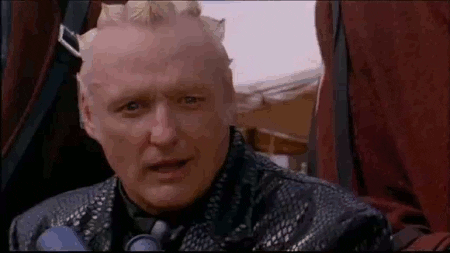 According to IMDB, it's spelled Kalungo.  I don't know if it's the booze or that most people in this film don't know how to pronounce the fucking name.  Then again, it's not like they knew how to be consistent with pronunciation during that time period.  It's not like they had dictionaries, or the Internet, let alone books.  Well ok, maybe the did have books, but fuck if they knew how to read them.
Hah!  A white female James Earl Jones!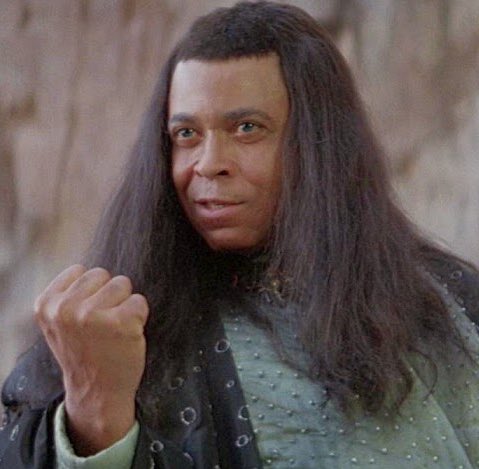 They stare at each other like they're about to have an arm wrestling competition.  "You want me to do what?"  "Kill her!"  Fuck that!  I wanna see these chicks arm wrestle each other!
Ohhh, I see.  This one blonde chick (amongst all the other blonde chicks who look so similar I have a hard time telling them apart; and that's probably the first time I've ever said that about a group of people who were white) has a fake metal hand, or something.  Apparently they were so advanced about replacing sliced off hands back then, that they could muster some finger movement while they were worn.
"I raised you as a tool Tashi.  An instrument of vengeance.  I never loved your father.  And I never meant to love you.  But I do.  Are you my daughter or aren't you?"
Well, that's a nice inspiring family speech.  18 minutes in and we finally get some character development and some protagonists (kind of) to get attached to.  Plus some motives about wanting to kill a woman who is a part of their tribe for vengeance.  Not sure why she didn't try this at an earlier time, especially considering it sounds like this mother has been holding this grudge since before her daughter was born (it makes less sense the more I think about it)… You know what, fuck it.  I'm supposed to be drunk enough to not think about this shit.  Hang on, I need to chug a few more shots.
…
…
Ok, back to the movie.  Horses.
"It's time to ride, not talk."
Oh how I would love that to be a line used in a sexual way.  "Stop talking, start riding me!"  Or, "Stop talking and let me mount and ride you!  Maybe not in that order!"
Huh.  Interesting plot twist that I might care more about if I knew this character (or her daughter) better.  The mother being in league with the evil King Doodoopudu or whatever the fuck his name is.
Whoah!  What the fuck was with the lion montage?  And with lion masks that looked fucking weird on these people?  That came out of the blue.
Oh wait, no it didn't.  It was supposed to show the lion in his room turning into a human female.  Who is naked.  Alright!  Our first nude scene of the Sword & Sorcery flick!  How long until there's more?
Jesus Christ!  Apparently the two lead actresses were so jealous of lion lady's good looks that they decide to not only bare their breasts and asses int he next scene, but to swim in the water too.  Phahahah!  Are they condensing the mandatory female nudity requirement at this point in the movie?  It's shameless enough to seem so.
And they fight the pervs who were looking in on them and trying to pierce them with their swords.  Oh shit, but the men best them, and strip them, and try to rape them.  And then lion lady saves them, in lion form.  On top of that, we get what will probably be the best moment in the movie when a topless chick kicks the shit out of a perv and kills him (I think, based on that hilarious groan sound he makes).
Why the fuck are these villains so keen on having these protagonists get the sword that can kill them?  Am I the only one who thinks this is fucking ridiculous?  Ah whatever, titties.
Hah!  Ok, this has gotta be it.  The most hilarious part of the movie.  When she's wrestling with this snake, and overacting in how it's strangling her.  Pretending that this isn't a friendly domesticated snake.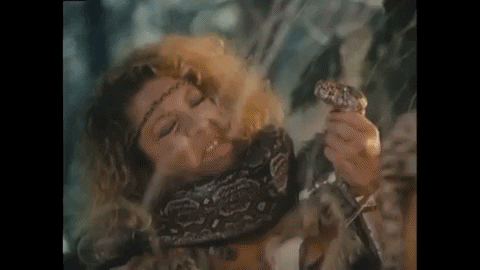 Whoop, more tits to show.  And it seems more pointless than last time, and that shouldn't be possible.
What the fuck!?  What the hell is up with this movie?  Every time some girl flashes her tits there's pervs in the bushes waiting to ambush them, and then do exactly that?  You're not supposed to be representing people like me who are watching this movie, let alone showing them getting their asses kicked!
"I will only let someone stand by my side who is strong.  Like you.  And who will let me fondle her tits."
I made that last sentence up, but seriously, that's exactly what he does when he says that.  You know, I seriously misjudged this movie.  For the first 20 minutes, I thought the women were going to dress only slightly scantily, and remain that way throughout the rest of the film.  I only thought that because I've seen films like that.  I don't know, maybe I'm too used to seeing modern shit films that frown upon this sort of thing.  Glad to have misjudged this.
Speaking of which, now we get a sex scene.  And not just any kind of sex scene, oh no.  This has got to be the most unique sex scene in the history of film-making.  The main villain antagonists are the ones who have sex with each other.  And we see it in all its softcore porn glory.  Seriously, when the fuck has that ever happened?  When have we ever gotten a movie where we see the villains go at it.  Never!  You know why?  Because it makes me want to root for the antagonists!  You know what that means?  If the protagonists get into a hardcore lesbian sex scene where they scissor each other and moan.  Then again, Roger Corman may have a thing against lesbians.  I doubt it though, considering that weird shower/sparkle/massage scene in Forbidden World (1982).
Alright, after seeing this slave prison cell caravan thing with a topless chick in it, I'm convinced this film is going overboard with the nudity.  Yes, it took me this long to realize this.
Ok, how far am I into this 76 minute movie?  Only 38 minutes?!  Fuck me, I need to ease up on the comments.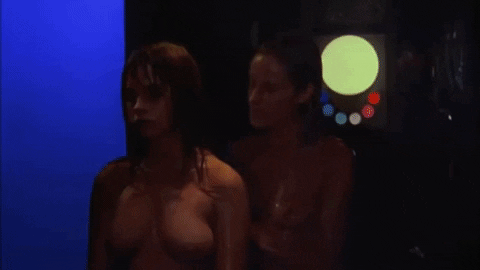 Alright, now I'm getting bored with the tits.  I can't believe I'm saying this, but this movie needs to ease up.
Fuck these guys!  I don't care who they are, or what their reasons.  When they indiscriminately start sacrificing hot topless chicks by knifing them, they become permanent villains in my eyes.  Someone kill these fuckers!
Whoop de doo, a rescue from people who sacrifice hot chicks to a tree.
"With the sword I can conquer even the Where-Ways."  Yeah, you can conquer wherever.
Hey, 3 minutes have passed without nudity being show.  Guess things are getting interesting again.
If this horse turns into a man, I swear to God, I'm going to start watching spaghetti western flicks again.
The sword of Azandaddy.  Who's you're daddy?  Azan is your daddy.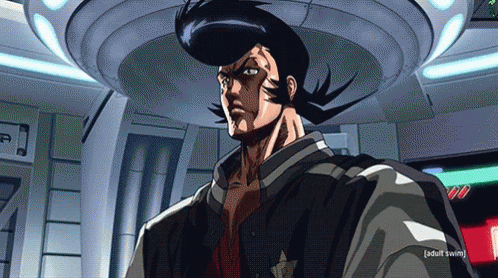 "Three will enter, one will leave."
Fuck you, and your Mad Max wannabe rip-off dialogue!
I'm bored.  Can we get a lesbian sex scene yet?  Preferably one that involved more than just kissing?
These two women are so desperate to find a sword.  I take it back, we don't need a lesbian sex scene.  We need one or two guys capable of pleasuring both these women.
"Hell?  Hell will be my greatest conquest.  Then I'll be in Heaven."
Ok, I have to admit, that's a badass line.
You know, a crossing across the rope over a cliff scene isn't all that tense when you keep showing the river below them.  Because, you know, in 80s flicks like these, water seems to break their fall just fine regardless of height.  You want to give us tension, make it a pit full of spikes or snakes or rapists or something.
The third who will enter is a literal lioness.  At this point, I'd be up for that kind of beastiality.
Friendship.  Didn't see that coming.  Give me a hug.
What the flying fuck!?  This lioness chick can throw a knife to kill a bitch and then instantly transfer back into a lion before the body hits the floor?  And start a woman vs. lioness wrestling match?
I'm convinced the lioness should've kicked this chick's ass.
No tits being shown over a span of 10 minutes.  It's like there's a bell curve with this flick in terms of nudity.  Appropriate.
Morons.  They should've been charging the palace/fortress/set/whatever the fuck it's supposed to be during the first sorcerer lighting bit.
Where-ways again. Or We're-Ways.  "It's the only way."  Balgor, folklore, butt-whore, whatever.
Flashing white light.  We gonna get a dance floor scene?  No?  Then fuck off with that shit.
Hah!   Ghost attack!
I fucking hate getting the fucking hiccups when I'm fucking drunk!  Or at anytime regardless of my state!  Fuck hiccups!
Did she just fucking kill that guy by hitting him with the hilt of her sword while he was behind her on horseback?  That's stupid.
"You cannot defeat me!  I have the power!" 
Fuck you.  He-Man has the power!
She shouts, "Where are you!?", and then a horse sticks its ass into the frame.  There's a joke in there somewhere.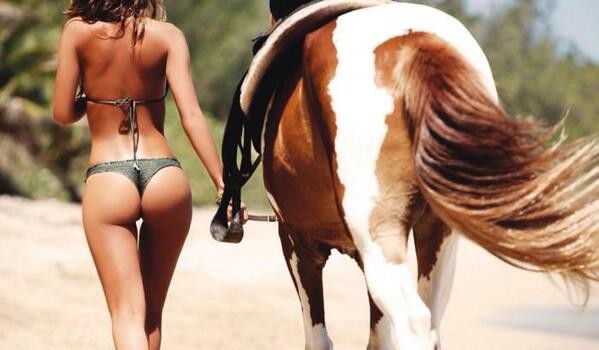 This final fight between the Amazon chick and the evil King Koopahka is kinda lame. Until they resort to this very weird edit trick that's beyond words of describing.  I would've preferred they just sped up everything, but whatever.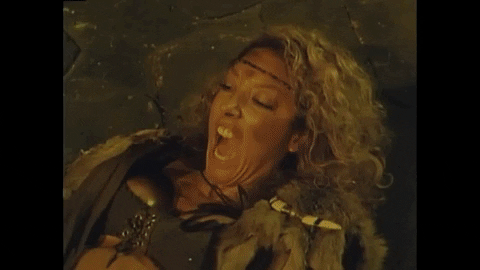 And the protagonist decided to try overacting.
I'd like to know about the guy with the mustache.
"Someone is killing my tree!"
Can't say I've heard that line before.
Ok, this final final fight scene is also kinda lame.
What the fuck!?  PHAHAHAHAHAH!  Oh my God!  That's got to be one of the most hilarious death scenes in my life.  The bitch villain accidentally kills herself by chopping down a tree which then falls onto her.  You can't make this shit up.
WHAT!!!!!!!!!!!!????????????!?!!?!!?????????????!!!!!!!!!!?????
This bitch that died in the cave came back to life?  Alright, fuck this movie and the assholes who decided to give it a happy ending.  Especially when they did that without having the decency to give us a lesbian sex scene.  You know what?  Just because of that shit, I've decided how I'm going to score this movie.
Rated: 1 / 5
Fuck this movie and it's contrived happy ending.  I don't care how much tit service it decided to give, among all the other so-bad-it's-good shit.  That ending pissed me off!