Feminists, you're going to fucking hate this.
The whole film is designed to be a feminine knee to the groin to us men who still have a pair of balls.  From pre-production to post-production to the film's release and post-release, the cast and production company, plus various half-assed review sites, have done nothing but taunt us.  And speaking of taunting us and having half an ass, Brie Larson fits that description perfectly.  She wants less white men around about as much as she wants to have less of an ass.  Her and everyone else involved are completely aware of the fact that men love asses they can bounce a quarter off of, so what better way to put the joke on us by providing a lead with an ass where that's physically impossible.  In fact, her ass defies the laws of physics.  It's not only an ass incapable of bouncing, it does the opposite.  So if some poor schmuk decides he's lucky enough to get laid by her, when he tries to penetrate/pound that ass hard enough to prove that it's bounce-able, he will instead get sucked right into it, and then get shit out from the front end.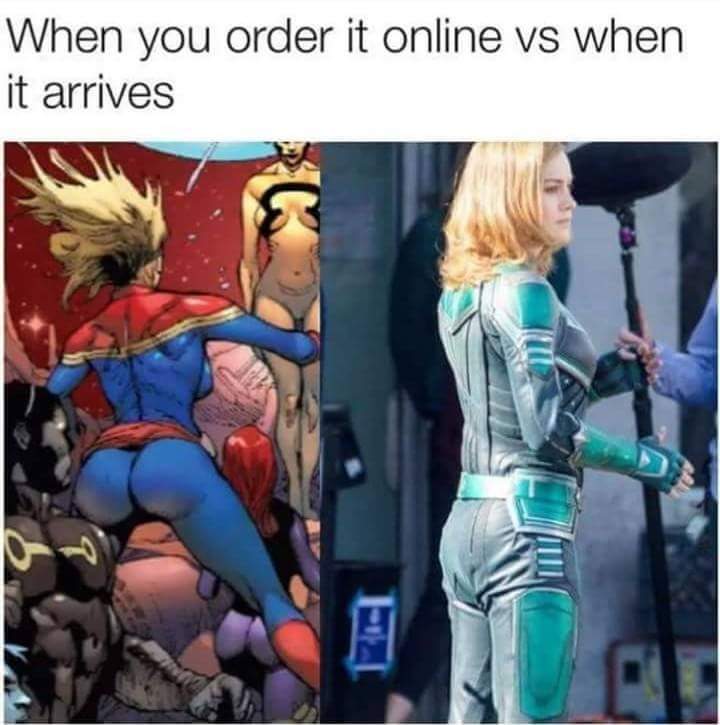 And he won't survive the ordeal because her pussy will fuck you up.  Her pussy shreds her underwear to the point that it's in style like it was at Victoria's Secret.  So don't believe Scarface what Scarface says.  When a cop points to the scar on his face and asks, "Where'd you get the beauty scar tough guy?  Eating pussy?"  The answer should most definitely be yes.  Samuel Jackson had to find that out the hard way, except the pussy ended up shredding his eye out rather than his cheek.  Not to mention her pussy has a void all its own as well, that's why tentacles and shit come out of it.  That pussy spent too much time in Japan, maybe even too much time around Takashi Miike; it will also want to rape guys with those things so that they know how it feels.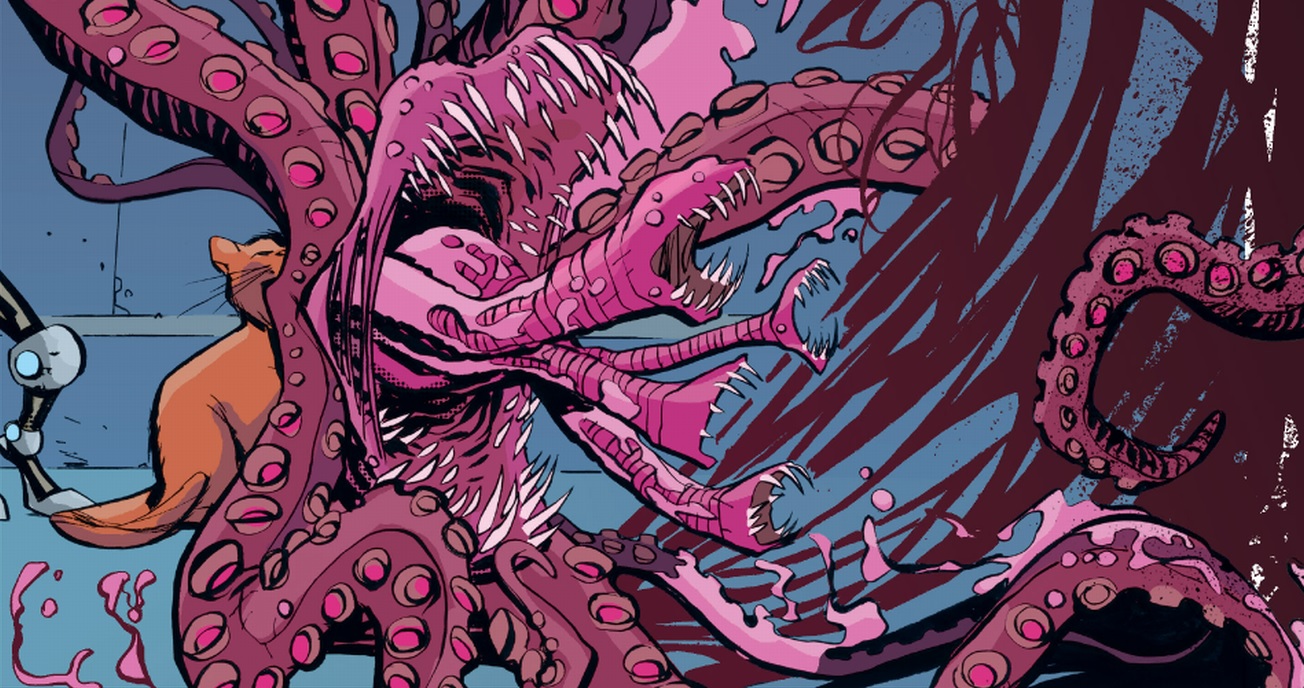 But, of course, what makes a superhero special isn't necessarily the powers they have gained or were given.  It's not necessarily the skills they've acquired.  It's not necessarily the experience they have.  Hell no.  It's about what sex they are, or what sex they decide to define themselves as, and what sex they want to have sex with.  Because that's an achievement based on merit which makes the world proud to view them as a savior.  Consider what would be so special about a gay guy, and what would make his merits stand out on his resume.
"'We are proud of our gay son.'  I so I was saying, 'That's an odd thing to be proud of.'  Because, it's not an achievement, you know.  It's not something you work all your life to be gay or anything like that.  […]  These 50-60 year old men are actually bragging at work like, 'Hey Bill, uh, my kid, we're proud of him, Johnny.  He had graduated from Harvard, first in his class.  Now he's articling over at Harvard law firm and uh…  oh and he loves cock!  He can't get enough cock in his mouth, his ass.  I got a picture of the boy here sucking another man's cock that I wanna show you.'"
It's the same case with women.  It doesn't matter their merits, it just matters that they're their.  And if they love pussy, all the better, it will make them fit in with the men.  Next thing you know being in shape won't be a requirement either, because we can't shame the fat-asses from joining, especially those Latina chicks.  We gotta get them early before their ass fat spreads to the rest of their body.  We need an army build on diversity damnit!  Merit doesn't matter anymore!
"So, are you finished?"
Nope, I'm just getting started baby.  All those rant paragraphs before are just me getting warmed up before I tackle this movie.  And I'm not going to tackle this one sober.  Time to get all fucked up.
"Wait, so you're going to get blasted at a movie theater?"
While that is certainly a possibility, there are 2 problems with that.
1.) The alcoholic beverages are more overpriced at the theaters that sell them than they are at a fucking bar.
2.) I'd rather not give Disney my fucking money for this film, especially when both those working within the company, and the stars of Marvel films in general, tend to hate people like me; even when we're being reasonable.  So if they're not going to be reasonable with me, then I'm not going to be reasonable with them.
So if I'm not going to pay for it via some streaming service or at a theater, then what am I going to do?
…
"Thar she blows maytee!  And she is blowin' hard!  Hand me a battle of the Caribbean Rum Jim, I'm going to need it before tackling this mighty beast.  After we're done, the drinks are on me and we'll go chasing wenches in circle like we used to be able to do at some fantasy place in Disneyland."
Rated: I'll tell you later
"The motherfucker who makes your fries at McDonald's puts more effort into his job than this writing team put into this abortion of a script!"

— Weaponized Nerd Rage
So, the tribute to Stan Lee is nice.  Something they should absolutely do again for Endgame.  You know, to provide a proper closing.  To mark the end of an age.  To remind us all of the good times Marvel used to have.  Especially since he probably died of a heart attack after watching this movie and seeing how much his legacy has been, and is going to be, desecrated.
Speaking of which, looks like the fucking apocalypse is already upon us.  The film opens with darkness and ash and explosions and rubble flying all over the place.  The feminists have won and are taking over.  We need fucking Jean Luc Picard to travel back in time with the Enterprise again to stop all this.  Back to the 90s, quick, before Michael J. Fox develops Parkinson's!
She has blue blood on her hands.  Oh my God, she killed the Smurfs.  Huh.  Maybe I'm going to enjoy this movie after all.
Oh, it was just a dream.  Hopefully that nightmare will never come to pass.
Capital of the Kree civilization.  Normally I'd say this doesn't look half bad, except that every futuristic planet, whether human or alien, has been looking the same ever since Blade Runner.  The only difference is whether they want to shoot it in the daytime or at night.
Kree sounds nice.  It's one letter away from being "free."  Just like "Hero" is one later away from being "Her," which is also one letter away from being "He."  Muahahahah!  You ladies can't escape from us lads!  You'll always be building off of our backs!
"Do you know what times it is?"

"Can't sleep."
It's the fucking daytime!  Well, then again, maybe this is more like Alaska.  It's an alien planet.  For all we know, it has 2 suns, maybe 3.  Doesn't seem to have stopped this "alien" planet from being populated with humans apparently.
"Wanna fight?"
Careful lady.  We all know how that turned out when Ryan Gosling asked that question (in the film that Stranger Things totally didn't steal the music from).
In all fairness, the fight scene wasn't half bad.  Showcasing how, uh, screw it, I'm just going to call her Brie for now.  Showcasing how Brie isn't at the top of her game yet because she gets too emotional at times.  You know, like how people are going to get triggered at this review.  "I can't beat him fairly.  Unleash superpower weapon, haaaaaaaahhhhhhhhhhhh!!!"  Superpower being bitch and moan and whine and cry until moderators/corporations/politicians/authority gives them what they want.  Speaking of which, guess she has to go see "Supreme Intelligence."  Which means she'll have to go to puppet land and talk to Trey Parker and Matt Stone.
"What is the point of giving me *these* [gesturing her fists] if you don't want me to use them."
Try asking Bruce Lee about the art of fighting without fighting.
"Stop using *this* [points at the heart] and start using *this* [points to the head].  I want you to be the best version of yourself."
I like this guy.  He has great advice for mental focus in fighting.  Here's hoping he doesn't turn into the villain later.
So the "Supreme Intelligence" can take any form, and takes for for each person who meets Supreme Intelligence (Jesus Christ, can't they give it a name with fewer fucking syllables?).  And it takes the form of a woman in her 60s.  Her message is going to be, "So kids, vote for Democrats and people like Hillary during the next election season.  If men give you shit, protest by rubbing period blood on your face and running around naked and shouting.  Because no man in the world will want to fuck with you ever again once you start doing that.  And they will so take you seriously."
"It's all blank.  My life."
And your face.
"Put your people's needs before your own.  We've given you a great gift.  […]  Master yourself.  What was given can be easily taken away."
Ok, this is setting up for something.  Either Brie is going to go berserk and force them to take the power away from her (ala Thor), or the Kree and Supreme Intelligence (I'm just going to call it SI, and don't fucking confuse that with the Spanish language!) are going to turn out to be the bad guys (like "The Dude" in Iron Man).
Hey!  It's Korath!  That one guy no one really gives a shit about from Guardians of the Galaxy!  Can't wait to hear his backstory that no one cares about.
Ok, I have to admit.  So far, despite my petty bitching, the first 8 minutes actually isn't all that bad.  I'm just taking bets for how long it will take before the movie fucks it all up.
Wait.  So your going in to locate your spy, and then leave?  What, no exchange of information?  No rescue operation?  Or are they just leaving out that bit of information?  Eh, screw it.  I'll just wait and see what happens.
"Nothing compromises the security of this mission," he says while looking at Brie.  Jee, I wonder if she's going to compromise the security of the mission.
Hexagon shields.  You know, if they were really that advanced, they'd be using triangle shields.
Phahahahahah!  Hahahahahah!  Ok, I heard they were doing callbacks to the 90s with this film.  But a fucking mohawk for their hair/helmet/armor style?  Seriously?  You haven't even time traveled yet!  Then again, maybe this is their way of saying the 80s and 90s had awesome hair styles.  To which I will say… you're goddamn right they did!
Ooooooooooh.  The enemy can shape-shift.  And here I started thinking they were just being portrayed as being misunderstood beings who want peace.
Great.  Brie thinks she's ready for the military; next thing you know, she gets taken out and captured.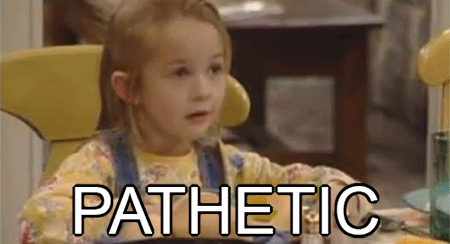 Whoop.  Timeline jump!  Now we're on Earth.  Guess the aliens are starting to brainwash her.  They must be brainwashing her, because she walking all proud and smug and full of herself while in uniform.  You're in an Army uniform (or Airforce, whatever), not in an MMA outfit.  If you want to act as smug as Ronda Rousey, at least do that much.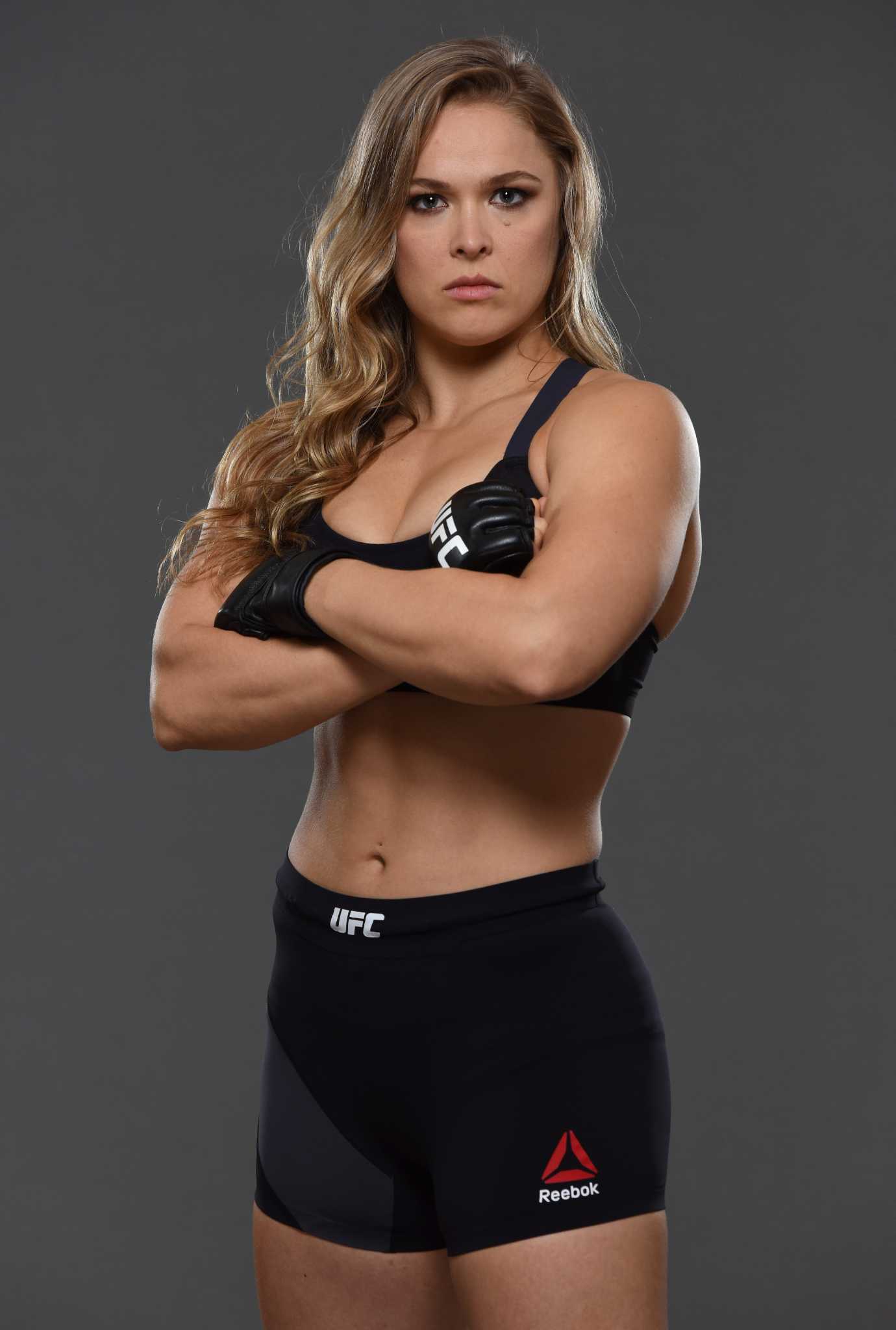 "Where's your head at?"

"In the clouds.  Where's yours?"

"In Wakanda."
Though all jokes aside, let us take a moment of silence for the air force pilot/consultant who gave the cast and crew pointers about real-life F-16 pilots/fighters, and then died in an F-16 crash.  Normally I'd say "Semper-fi," but that's a marine thing.  Guess I'll go with, "Aces High."
"Gotta show these boys how we do it."
…  I'll let that slide.  Just fun banter between the girls.
Holy shit!  She's going to fly and crash into a circus tent!
Wait, what?  A flashback within a flashback?  Ok, you know what?  Fuck you movie.
"You're going too fast!  You need to go slow!"
Says the "boy."  Oh God.  I'm sensing a pattern here.  A fighting instructor who tells her to keep her emotions in check.  An "intelligence" telling her to more or less do the same.  And some random kid in a race cart telling her not to push herself.  There's 2 possibilities, though just bringing this up is completely fucking rhetorical, especially when considering we're dealing with a Disney flick.  Either she really is outta control and too much of a daredevil for her own good and needs to reign herself in (getting captured by the aliens seems to indicate as much), or the men and the boys are holding her back too much, and she needs to let loose and show them how it's done.  Because having a bit of restraint is always a bad thing.  Says the guy who's making a drunken rant about a movie with alleged feminist propaganda.
And then she crashes and burns and dies!!!!  Ahahahahahah!  Ok, I take it back.  I think this movie is leaning towards the former.
"What the hell are you thinkin'?  You don't belong out here!"

— Brie's dad?
Uhhh…
Another timeline transition to army camp, where she's climbed atop a rope and intends to jump to the next rope.
*guy laughter*  "You're not strong enough!"
She tries to jump to the next rope, fails, then falls.
"They'll never let you fly."
Grrrrrr…
"You're a decent pilot, but you're too emotional."
Ok, I know I'm getting ahead of the movie here, but this guy is full of shit.  "Too emotional" is not a trait Brie's face possesses.
You know, all this jumping around with the timeline, and showing the orange-haired pussy.  You'd think the film would take its own motherfucking advice and fucking "Focus."
Holy shit.  She turned into Samus Aran!  Seriously, the way that "gun" thing attached to her hand looks (and speaking of female protagonists of the past who kick ass).
A Skrull screeches at her, she screeshes back.  ROFL!
But honestly, I'm tired of these action sequences Marvel comes out with.  All of them are assisted of CG, none of them compare to actual honest to God martial arts sequences made by Asians that Disney attempts a hollow recreation of (let alone the fight scene from Only God Forgives).  They peaked with Captain America: The Winter Soldier.  Everything else went downhill from there.  It's just monotonous at this point.  If you're going to have a fight sequence, either try to make it really fucking good, or just make the damn thing character-focused.  One of the best pointless fight sequences ever is in The Girl From Naked Eye.  One of the best character-driven fight sequences is Luke vs. Vader in The Empire Strikes Back.
I'm only 20 minutes into this movie.  I'm getting worried about my ability to keep going at the rate I'm consuming alcohol.  Maybe doing 20 push-ups will help.
*20 push-ups later*
Focused again.  Let's see you judgemental motherfuckers try doing 20 push-ups while shit-faced.  I bet half of you reading this couldn't do it while sober.  "Well why don't you try making us look bad by doing 50 push-ups you pansy ass?"  Because I'm not in the military like Brie, much less the airforce!  I don't have pecs you can bounce cherry's off of and have women from all over the world salivate over like Dwayne Johnson does!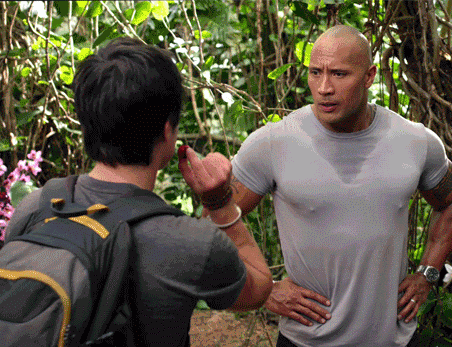 Holy shit.  She is using those things like Samus Aran.  What the fuck Disney?  Why don't you try making a Metroid movie?  Please!  With all this pro-feminism stuff you're shove down our cocksucking throats, and with the amount of power-grabbing you've been doing in the film industry, that should be easy pickings for you.
Ok, I see where this is going.  She's learning about how strong she really is when she lets loose and just goes all out with her powers (of feminism).  She can hold her own, take out a bunch of aliens fuck up their ship, and then hijack it (or at least attempt to).  Guess all the "men" and "boys" were wrong about her after all.  Next thing you know, Doctor Ruth will be telling her how she can dominate men sexually.
Heheh, and she blasts the computer monitor showing a man giving her advice.
Whoah, wait, what the fuck?  So a Skrull blasts one of the controller parts to the escape pod she's operating, and she still somehow manages to use it to escape the ship?  And he taunts her before she hijacks it after that?  Well now I feel like shaking my head back and forth violently just because I'm pissed and not because of the fucking booze.
Looks like the ship is blowing up too.  Whatever.
Now you see, this is why I'm not really into these superhero films anymore, not since Civil War.  These fucking people, these fucking plots.  There isn't any real stakes to the action sequences that go on for 90% of the time.  Why should we be worried about the protagonist when they're faced against a dozen enemies that can physically assault them, when they're capable of re-entering the Earth's atmosphere?  Why should be be concerned about the protagonists when they get blasted by some lazer beam (whether from a weapon or from someone's hands, or eyes, or ass, or crotch, or tits), when their sparring partner shrugs that off during a training session?  Why should we ever give a rat's ass about the action sequences when we are incapable of knowing what their limits are, let alone when they are pushing those alleged limits?  I just don't really give a shit anymore about the superhero franchise because of this stuff.  It's also why Batman is my favorite of the bunch (yeah, I know he's not Marvel, but so the hell what?).  At least he's relatable.  At least we know he's human like the rest of us, and is thus susceptible to the same kind of harm we face everyday, Hollywood actions scenes where they take three times the amount of damage any normal in-shape person would be capable of sustaining aside.  It would help if we could at least be shown the superhero's limitations.  Fuck, I need to watch One Punch Man at some point.
Ah yes, the Blockbuster video crash.  She's the reason why they went Bankrupt, and now have to make their last stand in Oregon!  Why couldn't she crash into an adult toy shop and long on a giant fucking dildo?  That's the only thing that would want to penetrate her flat ass.
Pfft.  She sees someone, and her first reaction is to blast it (but it's a poster).  Way to show how inconsequential letting loose your powers/emotions can be.
"Veers to Starforce command, do you copy?"

"This is Buzz Lightyear, I read you loud and clear.  Help me become real!"
Let the 90s nostalgia fly!  In all honesty, I was a Blockbuster person in the day (even if I had to deal with shitty DVDs and VHS tapes that customers somehow managed to scratch/fuck up; what the fuck kind of lessons in responsibility were those asshats taught?), but I was never really into RadioShack.  Do think it would make for an interesting location for a zombie apocalypse film though.  Now with that said, I'd like to see her kick the ever-loving-shit out of Bill Cliton, and then have the power rangers gang-bang her (that includes the yellow ranger, and whoever else was a female ranger), and then have Stone Cold Steve Austin give her a stunner, and then proceed to pour concrete into her pansy escape pod while giving it the birdy.  And then let's see how well she stands up against moon shoes, skateboards, roller blades, pokemon, animaniacs, , and Super Saiyans!  While she's in the hospital, she can watch Daria to recover emotionally.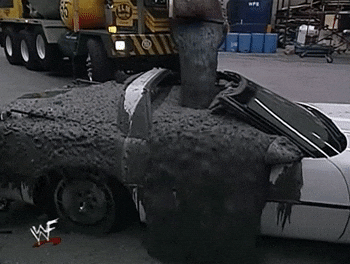 And now the Beach Girls are coming after her.
Wait, what the fuck?  The Kree are 24 hours away from Earth, after doing a fucking mission on a planet where she was captured and then crashed onto Earth a few hours later!?!?!?  'Dis is what, as they say in the 90s, bullshit!  And the whole collect call for galactic communication is bullshit too.
"Have you ever been to CB53?"

"Once.  It's a real shithole."
Considering how the aliens tend to always land in either California, or New York, or Washington DC, I tend to agree.  Now just imagine if they landed in Mexico, or China, or somewhere in Africa or the Middle East.
"Witness says she was dressed for lazer tag."
And if there were more kids playing lazer tag today compared to the 90s, there's a decent chance there would be less fatasses running around.  You can say what you want about lazer tag being cheesy and made for infants, us motherfuckers who know what real lazer tag is like know that you have to be in as much shape for that shit as you would for paintball!  Run!  Jump over the barricade, turn 180 degrees, and shoot the motherfucker chasing you, assuming you don't get your digital brains blown out by the guy who was after you!  On a personal note, that shit was more fun than this movie.
You know, I have to admit.  As much as I expect to dislike this movie, that Stan Lee cameo does tug at the heartstrings.
So I was ok with the fight sequence on the train (just "ok" with it, not considering it as good or bad), up until the point where after she break free of the 3 guys who were holding her back (why they would attempt to restrain her after seeing the backflips granny could do, I wouldn't know, I'd be sitting back and eating my popcorn watching the event unfold if I was on that train at that point).  But the moment after that, when she's pursuing the alien and picking up the crystal, everyone seems way too fucking casual at that point.  You'd think everyone would be wide-eyed and in shock.  I mean, it's the fucking 90s for Christ's sake.  Films like this haven't been invented yet, even if that generation would be salivating over the idea of a film where some young broad would kick the shit out of an grandma.  That's like every 90s teenager's wet dream, next to getting married to The Little Mermaid and banging Sharon Stone.
"I'm still at the Blockbuster."
Now wait a goddamn minute.  When the fuck did the Skrull manage to pull off that infiltration technique without anyone noticing?  Amidst all the police and SHIELD agents?  That's just stupid, just like Rotten Tomatoes deleting 40k+ reviews.
Hey Jackson, shouldn't you be calling in a top secret team for Area 51 or something to cover up this alien activity?  Or do you want Mulder and Scully to show up and blow the case wide open?
"Nice scuba suit.  Lighten up honey, got a smile for me?"
Yeheheheh.  Hehe.  Hehe.  Ehe-shaddup movie.
She just stole the jacket off that mannequin and exposed its tits!  She's fucking sexist!
"How's your eye."

"It's fine."
Yeah, a fake-out over Nick Fury lost his eye.  Nice try movie.  We all know from Winter Soldier that he lost his eye because he trusted someone too much.  Someone is going to stab him in the back to cause him to lose his eye.  And this shouldn't be the movie to make that happen.  Should be some espionage flick, preferably with Black Widow.
This is fucking stupid!  There's no fucking way the buttfucking Skrulls could've infiltrated SHIELD personnel this quickly without being noticed!  What the fuck kind of an operation are they running here?  Just because this takes place in the 90s doesn't mean they can get away with 90s film logic.  This isn't a fucking Andy Sidaris film, which I would be watching instead of this, especially if I wanted to see a nice girl with a great ass.
Uh, where is Brie going on that motorcycle?  How would she know where to go?  Is she just driving around for the fuck of it like Easy Rider?  Explain movie!  Explain!!!
Flashbacks at a bar, including on a Street Fighter II machine.  Captain Marvel is so Mary Sue, she'll whip anyone's ass at Street Fighter II.  We'll see what Sirin has to say about that (that's an in-joke reference only the most hardcore of gamers would get).
A bar with air force photos?  Ok, now this film is being way too fucking coincidental.  Just like in The Force Awakens, where they're all like, "Hey look, let's pilot the Millennium Falcon!"  *8 minutes later*  "Hey look, there's Hand Solo and Chewy to take the Falcon back!"  Damn you Disney and you lazy plot contrivances!
WHAT THE FUCK!?!?!?!?  How the fuck did fucking Jules track fucking Brie to that fucking bar?  Even for a fucking superhero film this is pushing the state of disbelief too far.  How the fuck did he pull that off?  Did he get into communication with Picard and say something like, "Energize me motherfucker!" and then just teleport to the fucking bar that they fucking knew she would fucking be at even though fucking technology didn't develop fucking tracking devices that fucking far in the fucking 90s?
"Grunge is a good look for you."
Grunge is a good look for anyone.  Especially with how shitty music is today.  Go back to the 90s when music actually mattered, like with Nirvana and Alice in Chains.
"I was never one to believe in aliens.  But I can't un-see that.  Especially when their dicks are bigger than mine."

"This is gonna get a little awkward, but I gotta ask."

"Yes, I looked at it."

"Can't be too careful."

"Ok, fine.  I thought about sucking it too."
Jesus Christ!  What the fuck is going on!?  Fury decides to immediately spill his guts (metaphorically), put his trust in her, and then take this alien bitch to a top secret base?  Would've been more interesting if SHIELD ambushed her and took her there by force, and then Fury got to know her by interrogating her on the way there or something.  Hell, I can't imagine him being so trusting after being a Cold War spy.  This film is bullshit.
"Lightspeed?  Can't admit that's the craziest thing I've heard today."
Yeah, until you hear about the Enterpise's warp speed.  I'm sorry; this fucking film makes it too goddamn tempting to resist make Star Trek and Star Wars jokes.  They're practically writing themselves.  Weaponized Nerd Rage was wrong about this film, this movie is 100% riff-able.
Brie Larson isn't worthy of wearing a NIN shirt.  She should be wearing a fucking Heart shirt, at best.  She's not worthy of sporting grunge rock.
"Impressive."

"Oh.  You should see what I can do with a paper clip."
The potential for that line, especially in the context of espionage and stuff kept from the eyes of the public.  Operation Paperclips anyone?
You know, Brie, there's less evidence of a break-in if you let Fury use his tape trick to open a door as opposed to blowing the fucking thing open.  On the other hand, I guess enough time has passed in this film to where you just had to blow something.
You know, at some point, you just have to take a step back and ask yourself just what the fuck these people are doing.  Seriously.  What is going on here?  How did we get from tracking down Skrulls on the planet, to going to a top secret base and looking at classified documents?  I don't get it.  Asking about flight plans, the writing style of some individual.  Can we just have Cthulhu show up to bring the whole thing full circle or something?  Why the hell are these people here and why the fuck are they going through secret documents!  What the fuck does that have to do with the Skrulls?  Why the fuck should Brie even give a shit?  Guess she doesn't, which is why she looks bored half the time.  Goddamnit, you're making me want to watch a different movie.  And that orange pussy isn't tempting me to stick around.  Seriously, what the fuck kind of a top secret facility is this where security cameras aren't around to make sure the areas are clear (Terminator 2 certainly had them at an insane asylum for Sarah Conner, another chick more badass in the 90s than Brie is in the 2010s)?  What the fuck kind of a top secret facility has animals just wandering around?  Security guards would be using that orange pussy for practice.  Donald Trump would be paying a visit to that security by now and grabbing that pussy, especially since it matches the color of his hair.
"You ok?"
She's fine!  Her wooden face expression hasn't fucking changed at all since you entered the fucking room, much less the facility!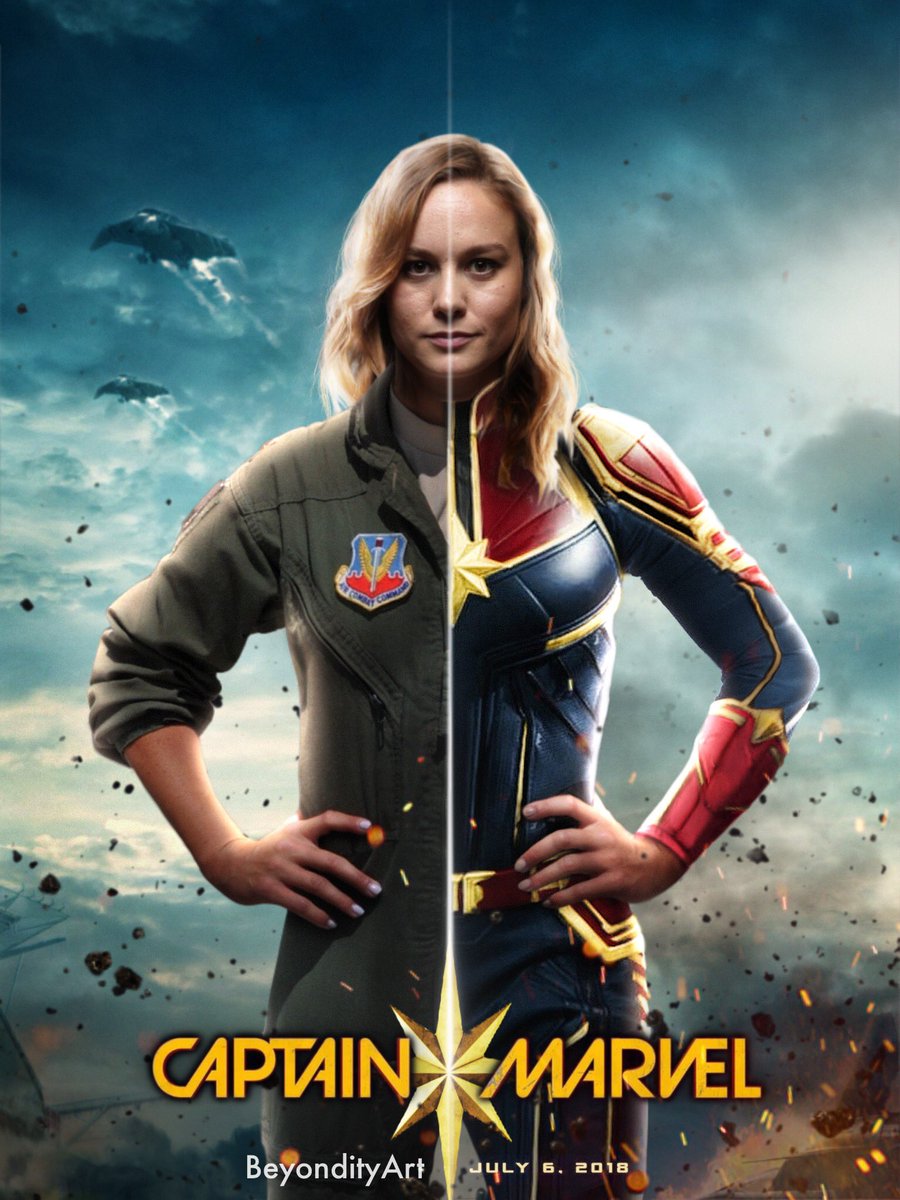 WHAT THE FLYING FUCK!?!?!?  She's communicating to her space/alien superiors using a fucking phone from the fucking top secret military base!?  How the fuck is security not on top of this?
"It's a Marvel superhero movie.  It's not supposed to be taken seriously."
Oh blow me!  You don't use that excuse on Batman vs. Superman, let alone Justice League, or a Michael Bay flick!  And to all you fat tranny bitches with died hair, that's not a literal invitation to blow me.  Learn about metaphors in Creative Writing 101 when your not sucking off your professor in Liberal Arts class.
Seriously, this Kree infiltration is bullshit.  Don't the screenwriters know anything about buildup?  Tension-building?  Like letting the audience know that the Skrulls (that sounds like a 70s gangbanger) have been on Earth for a while, and have infiltrated the government on several levels or something?  'Cause as far as I can tell, we're to believe that these illegal aliens landed and infiltrated 1, maybe 2 days ago tops.  Yeah, there's that bit about some cunt-fingering Skrull who has been there long enough to write in a book that was confiscated by a top secret agency, but we're not exactly getting a smooth introduction into this whole thing.
"But this was made for Marvel fanboys, and fangirls, and fanneutrals."
The hell it was!  This film retcons more shit in the Marvel comic universe than Iron Man 3 did!  And the fanneutrals can kiss Bender's shiny metal ass!
Mar-vel?  Ah.  Ahahahahah.  Ahahah.  Ahahahahahahahahah!  Ok, when does the plumber or milkman show up, and when does the porn start?  The plot is at that level at this point.  You mine as well as start calling someone Peaches, Tess Tingler, Butt Eiful, and Lick Bait.
It's very fucking apparent at this point that the Kree are full of shit.  If they build this up to some, "What a twist!" moment, I swear to God, I'm going to choke a fucking chicken after drop-kicking a pussy- … -cat through the ceiling.
Ok, I guess this flew over my head earlier because it's so stupid.  And because I'm drunk.  Brie's character name is Vers.  Not well versed in acting is she?  You see how fucking easy this film is making things for me?  It's making it too easy!  I'm only 50 minutes into this thing, and I've spent over 3 fucking hours trying to get through this thing!  I should be watching fucking Blankman!
Brbrbrbrb!!!  And they didn't see her come out that door on the stairway!?  You know what, fuck it.  I'm going to try not to care.  The film's shit has already hit the fan at this point, so I mine as well as stop worrying about the dingle-berries.
Security guards disappearing until conveniently showing up later during action sequences.
I take it back.  As much as the potential would be great to have Fury's eye blown out during a Black Widow movie, it's possible to have some Skrull do it who is impersonating one of his close associates.
"Do you know how to fly this thing?"

[…]

"Yes."
Piss off.
And they fly through a hanger where the doors to the landing bay are wide open, at a top secret military facility.  …  Go fuck yourself, with a cactus.
The fucking pussy cat is on the fucking plane too!?  Jesus Christ, that does it.  I need something else to watch.  This is driving me nuts.  Wait, scratch that.  I don't need something else to watch.  I need something else to read.  Fuck Marvel and fuck DC.  Save me Patriotika!  Show them how a real superwoman with a great bust and a great ass can really kick ass, without the plot contrivances.
6 years ago?  Maybe she was a Russian who Tom Cruise blasted out of the sky during the 80s.  Makes about as much sense as the rest of this shit.
Hey!  Vers (aka Brie Larson) can smile!  Fuck this movie for shaming men otherwise for asking her to do so earlier in the film!  Her acting and emotions are still forced though.  It's like she's uncomfortable when she has to emote, and is more comfortable when she's not giving a shit.
Was that the main baddie from Thor: The Dark World?  I thought it was widely accepted that he was one of, if not the, weakest villains in the MCU?  Guess Disney really does know their audience.
Nick Fury is a glorified lap dog in this movie.
Well, Vers uses her powers to heat up a tea kettle.  Nice to see that women are returning to the kitchen.  Now if only she would take that fucking NIN shirt off.  For one thing, she doesn't deserve to wear it.  For another, hey, be nice to give us some fan service.  No?  Well that's fine, other fans did it for us.  Rule 34 and all.
Phahah!  I love how the editing works with her conversation with her black friend.  How she's shown to be chuckling and smiling one moment as a, "The good old times," one moment, only to see her "bored out of her mind" face expression 2 cuts later.  "This is bullshit, I did not hit her.  I did naught.  …  Oh hi Mark."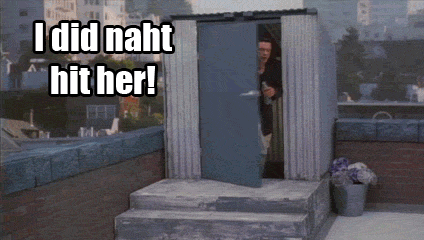 Is her black friend looking at her lines at various points during this conversation?
Where's the fucking orange pussy at?  Shouldn't the little girl be playing with it right now?
Ok, I don't know if that moment with the Skrull drinking soda out of a cup was supposed to be funny or not, but it managed to get me laughing.
Shame on this movie for not making a, "The cat's out of the bag," joke.  It would've been stupid, but at least it wouldn't be insulting my intelligence with trying to convince me that this is a smart movie.  It's fucking dumb.  You mine as well as make fucking dumb jokes.
How would the Skrull be able to locate, steal, and bring about this CD with the audio recording?  It's… um… I don't even… fuck it.
And she survives that crash?  Without being knocked unconscious?  But that's…  yay feminism!
"You're blood.  It's blue."

"Yeah, well, how's my hair?"
I have a feeling I'll be getting back to that line of logic.
Heheheheheh.  Mar-Vel.  An old alien lady who is dying and gives her final death speech to some woman whom she hopes will carry on the legacy after she is gone.  Yep, seems like a good metaphor for Marvel studios today.  We already have old hags fucking up the Star Wars legacy.  Marvel is next on the chopping block.
Yep.  The Skrulls turn out to be the good guys.  The Kree turn out to be the villains.  Like how "her" isn't really a "hero."  Doop-dee-doo.
"Everything that I knew as a lie!"
So I guess you could say, *puts on sunglasses*, that you've been red pilled.  Yeahhhhhhhh!!!
Her acting here after being red-pilled.  It's like Brie's acting ability somehow gets worse as the movie goes on.
Refugees.  People viewed as villains who are simply misunderstood like Maleficent.  They're really the good guys.  A message told in the presence of women and black people.  Like in reality.  Dumb-de-dum-dumb.  Now that we've got that bit of subliminal messaging out of the way…
Yeah, consider what kind of example you'll set for your daughter.  Help out a superhero who doesn't need any help at the risk of leaving your daughter without a mother.  It's not enough that we've already got the "single mother" cliche going on here.
Brbrbrb!  Where'd she get the superhero costume?  Fuck it, nevermind.
Fuck off.  The neon light suit was great!
"How do I look?"
Not as good as this:
You know, I'm pretty sure things would've worked out better if no Skrull stayed behind disguised as Superbitch to let Mr. Bruce Lee know that "she knows."  I'm thinking a better alternative was to scatter and let Mr. Villain search just a few hours more before the oh so convenient finale.
When blasting that ship off into space, shouldn't the orange pussy be up against the back of the ship like last time?
Eye-roll moment of refugee family being on plot device ship.  I thought you motherfuckers already dealt with the whole refugee metaphor in Thor: Ragnarok?  Well, guess they gotta milk that message like they do the franchises they own.
Seriously?  They're playing the Nirvana song everyone's heard in the Supreme Intelligence scene?  How about you go a little more niche and play some fucking "Meat Puppets – Backwater" or something?
Alright already!  Jesus!  Stop bashing us over the head with the refugee theme!  Oh those poor innocent illegal immigrants who in no way contribute to the crime statistics!  Get fucked.
And the whole thing of, "She's powerless to do anything about it."  Come on.  Get it over with already so she can Mary Sue this shit.  I've been bored with this move for an hour now.
And there it is.  Finally.  Going all Mary Sue.  The cat too.  So I can watch the rest of this care-free, until I drop it into the blue.
So somehow, their weaponry can't destroy an Earth vessel.  Mhmm.
Yadi-yada-fucking-yada.  Earth ship and Earth pilot can outmaneuver and destroy an experienced top class alien ship and alien pilot..
Oh come on.  Seriously?  She just wiped out a space fleet.  You expect there to be any tension in this final mono-y-mono showdown?  Ah, but they decide not to have that mono-y-mono fight.  Because they know she's overpowered enough.  And because she probably knows she's not skilled enough without her powers to beat him.  Ain't that typical.  On the other hand, it would've been more insulting if they did show it that way.
Yeah yeah yeah, refugee home feeling stuff.  And Fury loses his eye over a pussy.  By trusting someone too much in Winter Soldier, he meant trusting pussy too much.  Put too much trust in the pussy, you'll become partially blind to reason.  Makes sense to me.  Just get this film over with.
I have to admit, Samuel Jackson seems to be acting out of character when it comes to portraying Nick Fury in this film.  I'm not kidding, this is not the Nick Fury I've seen in ALL of the previous Marvel films, from Iron Man and onwards.  They toned down his seriousness more than they toned down Scarface in the edited for television version.
And thank fuck that's over with.
It's really hard to give a shit about this movie.  It's boring, and at times annoying.  The only point in time when it had anything of interest to it was during the first 15 minutes, and that's about it.  I don't get what people see in this movie to make it a box office hit.  Plot contrivances, plot holes, betraying some of what was setup earlier in the franchise (and I'm sure there are Marvel fans who actually give a shit about this franchise who can tear this film a new one far better than I when it comes to contradictions and whatnot), and no tension whatsoever during the finale.  This film may not have killed the franchise, but it certainly put the nail on the coffin.  Maybe even hammered it in a small tap.  If Endgame doesn't hammer that nail down even further, the film after that certainly will.
Otherwise, like I said, I stopped really giving a shit ever since Civil War.  I don't have a dog in this fight other than rooting for the franchise's downfall, and Disney's destruction (or at least near-destruction until they change their ways).  Just for the sake of getting more decent films (on average) back into theaters.  Well, if this film, and the franchise, is so eager to capitalize on great stuff from the 90s and earlier, I say it's only fair that I do the same, and continue watching films and shows from a better era.  TV shows of today may be good for now, but even their downward spiral is beginning.  It's been happening ever since the last season of Game of Thrones.  It's all going to come crashing down like the gaming crash of the 80s.  And I'm going to be stocking up in preparation for it.
So, in a nutshell, this film is dull.  Pass.
Rated: 1.5 pussy farts / 5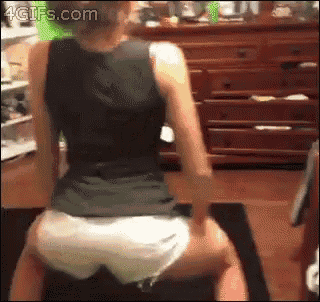 PS: Guess how long it took Letterboxd to take this review down?  I'll give you a hint: it took less than 24 hours.