A couple months ago I felt this urge to go back to retro gaming.  I don't mean retro PC, I don't mean downloading an emulated game on the PC.  I mean actual old-school console gaming.  But I found myself in a predicament.  I used to own a Sega Genesis, and a decent game collection for it.  But it was taking up so much space.  So I gave the whole thing away a few years ago, as a gift to some podcast guys I no longer listen to.  A part of me was tempted to purchase one of those "system and controllers plus collection of games" on eBay, but I knew that wouldn't be the right thing to do, at least not currently.  That would just put me back in the same situation as before, and I need to be more efficient with my space.  So I opted for the next best thing, one of those classic retro gaming systems that had a bunch of games built into it, the the NES Classic, the SNES classic, or the recently released Genesis Classic.  I would've to go for the SNES classic, if it had the games I wanted.  But they didn't, not all of them.  Then I found out it could be modded.  So I had two choices.  Either purchase the console mini and work on putting emulations on a USB drive and go through this somewhat complex process of adding more games to the console myself.  Or I could purchase this version I saw on eBay where the console was already modded with 7000+ games; this included not just every SNES game ever made, but also every NES and Genesis game ever made, plus a large selection of Arcade, Famicom, Sega Master System, and Atari games.  For about $200.  I decided just to purchase it.  I wasn't sure myself if I could find good emulations of all the titles that this thing included, so I figured it was worth it to go for it.  Several sellers on eBay currently do this.  While there were some versions that had more or less the 7000 number, I opted to stick with that version for one reason only.  I wanted the entire NES, SNES, and Genesis collection.  Everything else was just a bonus.
So far, despite a couple minor nitpicks here and there (mainly due to cropping of the screen on some titles), it was worth the investment.  And aside from revisiting some games I played during my childhood, I went for the ones I hadn't experienced.  One of the main ones being the competitor to the Final Fantasy series, Phantasy Star.
Phantasy Star
Rated: 3.5 / 5 *
* This score depends on whether it's played modded or unmodded.  See mod note below.
So this game wasn't technically released on the Sega Genesis.  It was released for the Sega Master System, the system Sega utilized (outside of their arcades) before the Genesis came out a year later.  And this is arguably the best-looking game on that console.  Hell, it's better-looking than some of the games on the Genesis system.  Because they packed in a lot of memory space into the cartridge, to the extent where it became a selling point.  At a price above the average Sega title.  And it shows.  The animations of the characters when you're wandering the world screen, the monster animations on the battle screen, and then the infamous dungeons themselves.  They all push the limits of what the Master System (in all its 8-bit glory) could handle.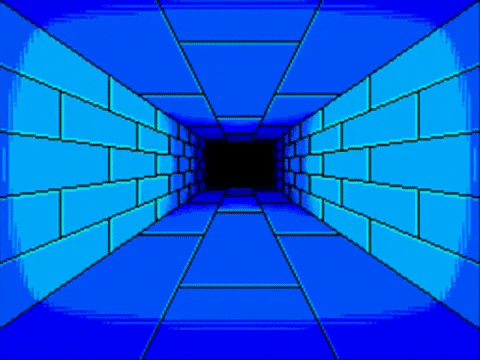 And it's the dungeons themselves that give this game the biggest entertainment factor.  And there are 3 ways to go about it.  One way is to use graph paper to track the layout of the dungeon.  Yes, this does mean purchasing a stack of graph paper, and marking out the squares to indicate how long a hallway is, space by space, knowing when the turns are coming up, tracking pitfalls, stairways (and marking where they lead, up or down, and using another graph paper for that level).  This will no doubt put off some people, and I have to admit I didn't do this for the most part.  But I eventually decided I should try it for at least one of the dungeons, and I found it more immersive that way.  These games carry an extra weight of immersiveness when you utilize objects in the real physical non-digital realm to track your progress in a digital game.  That, and I also used a notebook to track important conversations with NPCs so that I would could reference what I should do and where I should be going (it also helps with the immersiveness if you do that rather than rely on an in-game journal, which old-school games like this don't have).  These dungeons are a very fun maze when approached in this manner.  It helps to make you feel like you're really in one.
The second way is to get a hold of the maps (which can be easily found online) to assist you.  This is what I did for most of the game.  If I ever replay this, I'm going pencil-and-paper.  But for those who don't wish to do that, this is an option.
The third way can be used if you have a Nintendo Switch (which I don't, and even if I did it feels wrong playing a Sega game on a Nintendo system, even though I did that anyway on an modded SNES emulator).  Which contains the Sega Ages mode.  They did a respectable job with their semi-updated game version, where they track your progress of the dungeon, and automatically map it for you the further you progress.
Whichever version you choose, you'll also experience the iconic dungeon music.  And there are two versions of this track.  First there's the regular version, which was the only one gamers in America could get a hold of.
And then there's the FM enhanced version, which certain Sega Master systems contained in Japan, but nowhere in the U.S.A.  We got a bit screwed over, but it's still a great track no matter which version you listen to.
All that aside, the story is minimal in this game.  Don't get me wrong, there's a story there, and it opens up with one.  Plus I highly recommend the game manual to further enhance it, as it tells you more about the world you inhabit, plus the solar system itself.  'Cause you'll be traveling to a few planets in this game.  You don't just stay one one planet.  That is also an ambitious feature.  Plus the manual gives mandatory descriptions of the spells and items in the game; which is must-have information considering the game doesn't exactly explain what they are or what they do.
Back to the story.  Once you get past the intro, and you get the other 3 members added to your party, things stay largely minimal for the most part.  You have an established goal and character motivation, and you do learn more when you talk to the NPCs (something you have to do to gain an understanding of things, and learn what to do next, unless you're using a walkthrough).  That's right, talking to NPCs isn't optional just for thematic fluff so they can tell you their life story and how the world is mistreating them or something like that.  They give you a grasp of the situation of the town you're in, and the world, and give you need-to-know information required to take the right actions to progress through the game.  And there's no map guide to tell you where to guy, you have to figure it out yourself until you get familiar with the environment.  The way a game should be, not holding your hand, and trusting you to find the information yourself.
But there are a couple instances where it definitely doesn't tell you enough about what to do.  The first major instance is on the ice planet (Dezo for short) where you need to purchase an Icebreaker mobile to break the ice around some frozen mountain ranges so you can get to a dungeon.  The problem is, the machine doesn't break just any ice wall, only a specific area.  And no one tells you where the fuck that area is.  That is when I had to utilize a guide to help me out.  The second time was with the very last dungeon, where I kept going in circles until I found out I had to turn to face a wall at this one spot, where a door will be.  And there's no indication a door will be there until you turn to face that particular section.  We're not talking optional hidden areas that are in some dungeons (where you have to walk through a wall to know they are there), this is a spot that you have to find in order to progress through the game.  Some rubbish!
As for the monotonous combat typical of J-RPGs like these.  I have to admit, one of the reasons I went for this game was because I part of me felt like going back to these simplistic repetitive combat systems.  I'm not 100% sure why.  Because I felt like re-experiencing these systems to see if I hate them as much as I did in hindsight (prior to playing this)?  Or some nostalgia factor for this style of gameplay calling me back in, despite how much I proclaim to despise these types of J-RPG turn-based battle systems?  Or because one game in the series was brought up in my Nostalgia for the 90s retrotrip series?  Or because I was this desperate to experience a quality RPG in a franchise I have never played out of spite for the quality of games in the current industry?  Who knows?  But in any case, the system in this game is a bit different than what I'm used to in turn-based battles.  Rather than having a character select an attack/spell type and who to target it with, you just select the attack/spell type, and they attack a random enemy on screen.  Now, there will only ever be one enemy sprite on the screen, but in the upper right corner it will specify how many enemies of that type there are, and your character randomly attacks one of them (unless it's an attack that hits all of them).  I actually rather enjoyed this quaint little feature.  Gave my mind less to think about in these turn-based systems I already found a bit mindless.
The leveling and grinding.  At the start of the game, you will be doing a fairly good amount of grinding.  Because you're character starts out as an absolute wimp.  You have to pick and choose your battles (ie knowing when to run away, when to fight, and when to realize you're going to die so you better hope you saved the game prior to the battle starting).  Each time you level up will feel like a major accomplishment.  Eventually you will get tough enough to not need to go back to town and rest at a home after just one battle.  Then after just two battles.  Then three.  Eventually you will get tough enough to where you can make a trek to another town.  And once I got through the first major dungeon, I didn't need to do anymore grinding for the rest of the game.  So leveling and grinding wasn't much of an issue.  In fact, you become capped at level 25, a level you'll most likely reach before you even hit the final dungeon, let alone the final boss.
Aside from going into areas with enemies much stronger than you (ie, you likely went there too soon, or forgot to acquire superior weapons and armor), the fights really aren't all that difficult.  For the most part, you'll just be doing basic attacks, with the only spells being cast after combat to heal your party before you continue on.  That all changes when you get to the last two bosses, especially the very last one.  They will definitely give you a run for your money, and will force you to put more thought into your battle strategy (of which you likely had none beforehand).
All in all, I rather enjoyed the pacing of this game.  You start on a quest for vengeance, get some allies along the way to fight a tyrannical leader, get some legendary destiny weapons and armor prior to the final battle, and bring peace not just to the world, but to the star system.  But it does have that extra added element to it about an evil force that corrupted the mind(s) of the ruler(s) to do its bidding, which is a theme I appreciated (as subtle as it was handled).
It was a worthwhile playthough, in spite of those two progress-halting problems.
Mods
However, it is worth noting that there is a modded version of the game that comes recommended, especially if you plan on playing the sequels.  The translation of the game was a bit on the problematic side when it came to names (let alone the dry dialogue delivery).  For instance, a character named Noah in the English version is referenced as Lutz in all the sequels.  So a fan-translation was made that is more faithful to the Japanese version, and more consistent with the names of some characters in the sequels, especially 2 and 4.  And having played just the first minute of this English translation patch (not to mention having the Japanese version downloaded as an .sms file includes the FM music, which grants superior sound quality all around), I can already state that this is the definitive way to play the game, and absolutely the way I would play it if doing so again.  I wouldn't revisit the official English version after experiencing it this way.
First you'll need a Sega emulator.  I prefer Fusion:
https://wowroms.com/en/emulators-software/181/Kega%2BFusion.html
Then you'll need the Japanese version of the game:
https://wowroms.com/en/roms/sega-master-system/phantasy-star-japan/57928.html
Then you'll need the English translation patch:
https://www.romhacking.net/translations/1069/
Then you'll need the Lunar IPS patcher:
http://www.romhacking.net/utilities/240
After unzipping all those files, make a copy of the game .sms file, and the english patch .ips file, and put them in the same folder as the Lunar patcher, though it's recommended just to have it all on the desktop (always keep a backup of the original sms and ips files in case something goes wrong).  Run the patcher, clicl the "Run IPS Patch" button, select the sms file, then the ips file, and it will patch the sms file just like that.  Place the .sms file in whatever folder is convenient for you (somewhere near the Fusion emulator folder), and run the game.  If it runs and it's in English, you did it correctly.
Since this version won't come with any fancy Nintendo Switch mapping, you'll be forced to play the dungeons either as pencil and graph paper style, or downloading images of the dungeon maps and using them as a reference style.  Either way, this is the most immersive way to play.  Having great quality dialogue (not to mention superior quality music) will help A LOT.
Phantasy Star II
Rated: 2.5 / 5 *
* This score could go up a notch with the right mod.  See below.

So this game makes up for the first one in the storytelling department, in that more plot developments occur as the game goes on (plus more cutscenes).  And there are some major colossal events that happen in this game that even took me by surprise once they unfolded.  Though I do take issue with this one aspect of the ending, more on that later (I will give a spoiler warning, indicating when I'm about to spoil, and when I'm done spoiling).  But it's not only an overall improvement in terms of storytelling from the first game, but also contains themes much more relevant to today, if not altogether more necessary to hear.  It's about how the planets on the Algo system are run by an artificial intelligence known as Mother Brain.  And how those on your home planet of Motavia have become lazy and overly reliant on this AI technology that runs things for everyone.  Life doesn't seem to have much meaning, especially since death has no meaning, thanks to clone labs which can revive anyone after they get killed, for a fee.  And space travel is now banned (it's deemed unnecessary and dangerous; much like certain books banned from Amazon).  And once incidents begin to occur (starting with monsters appearing and killing people), it's up to you to do something about because you're one of the very few people motivated enough to actually do something (plus you're an agent).  That's about all I'll say about it, but you could imagine where the relevance can go from there.
There's also level design that accompanies this theme.  How the overworld itself is relatively easy to navigate, how each section of the planet with a town is divided too neatly, because Mother Brain designed it this way.  It's efficient, but uninteresting (which is the point).  But once you go to another planet, then things open up considerably.  You're now in a world not run by Mother Brain, without reliance on an AI system, and you have to navigate on your own without much ease of reference.  Highlighting the pros and cons of independence vs. lack thereof.  You're independent, but life is more difficult, vs. your dependent for the sake of an easygoing life, but you're at the mercy of those who rule over you or any unexpected catastrophes.
That would seem great and all, except for one very fucking annoying thing that practically ruins this game for me.  The goddamn dungeons.  It's not that they no longer have that first person view of the first game that bothers me (none of the other Phantasy Star games even tried to replicate that; shame).  Oh no.  It's how insanely complex these goddamn levels are.  And it mostly has to do with the fucking teleporters.  It's so fucking annoying going into dead ends and getting lost, it's no wonder the game came with a fucking player guide to help you through these things.  And you'll need it.
Those dungeons are so insanely complex, it tends to defeat the purpose of an easygoing world.  On the other hand, maybe they are supposed to be that way as a metaphor for how complex a computer mind works.  Either way, I don't care; playing through them is a pain in the fucking ass without the guide.  And no mod I know of has dealt with that.  Whatever.  Fuck dungeons with teleporters.
And if that wasn't bad enough, though this would likely explain why the dungeons are designed this way, the amount of grinding you have to do in this game is ungodly.  If you'll recall my description of the amount of grinding you had to do in Phantasy Star I, and how that was mostly limited to just the beginning of the game, this game is like that, except the entire way through.  However, I did know about this ahead of time (I had a little experience playing this years ago), so I said, "Fuck this," to that, and used an easy mode mod (more on that later).  It helped with the problem, considerably (I don't have THAT much patience for monotonous J-RPG turn-based battles).  So yeah, compared to the first game, the leveling and grinding is fucking atrocious here, without an easy mod!  At least the battle music is decent.
So, dungeons aren't that fun, the standard game grinding is horrible for those who aren't into that sort of thing (you fucks who are into that will grow up into BDSM fanatics who pierce your tits with cacti and shove spoons up each others' asses).  The other downgrade this game suffers compared to the first is also in the battle screen.  In that there is only one background, in total, in the entire game, without ever changing.  Some digital square thing like you entered Tron world or something.  With no fucks given about even trying to hide the fact that combat is monotonous.  The designers were probably thinking, "Oh, you spoiled rotten prick bitches thought combat was monotonous before?  Well then we won't give a fuck about the background images.  See how you blue-balled virgins enjoy it now!"  Now, that's not the real reason the battle system is like this.  The developers were pressed for time, so they had to make concessions (this wasn't the only one, but it is the one that hurts the game the most).  This game is like the polar opposite of its predecessor, where there was such a thing as too much grinding, the dungeons were fun, and the battle screens had actual backgrounds.
But I will say this.  The monster animations on the battle screen are certainly improved compared to those of the first game.  And there is more detail to the characters, both in battle and outside of battle.  And now there can be up to four different enemies on the screen at the same time.  On top of that, combat can now go into full auto mode once you select FGHT (ie Fight).  You don't need to hit any other buttons as you watch your characters fight.  You could interrupt at certain points though by hitting the B button (if using a Genesis controller), at which point you can customize the attacks/spells/items used in a round of combat.  Otherwise, you'll be targeting the left-most enemy group first before going after the other enemies.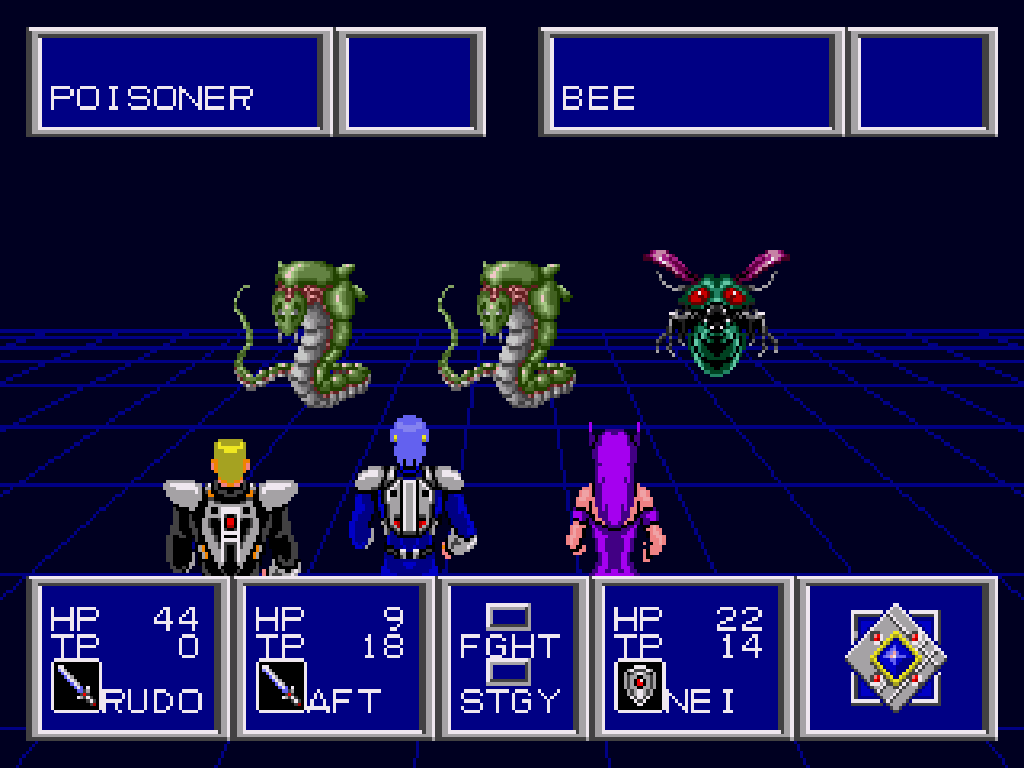 On top of that, this game is deliberately trying to piss me off.  In the previous game, you could save anytime anywhere outside of battles.  In this game, you can only save at save points in the city.  At first.  But if you get a certain character, level her up enough, and then take her to a certain place to steal a certain item, you'll then be able to save anywhere outside of battles and dungeons.  That's cock-teasing bullshit!  And on top of that, someone had the bright idea of having each character hold items separate from the party.  So when you acquire an item, it doesn't go into a general item supply, it goes to the character who picked it up (or to the next in line if they reached a limit).  So now you have to micromanage who's holding one, especially when you have to switch out party members.  And the process by which you do this is fucking painful (open menu, select item menu, select item, select "Give," select party member to give that one item to, rinse and repeat).
Plus the instruction manual (separate from the hint book) for this game sucks compared to the first game's manual (not enough descriptions of the spells/items).  This is an unfortunate problem that is maintained through the rest of the games, including IV.  You'll need an online guide for the spell descriptions in those.
So, with that out of the way, the ending.
SPOILERS START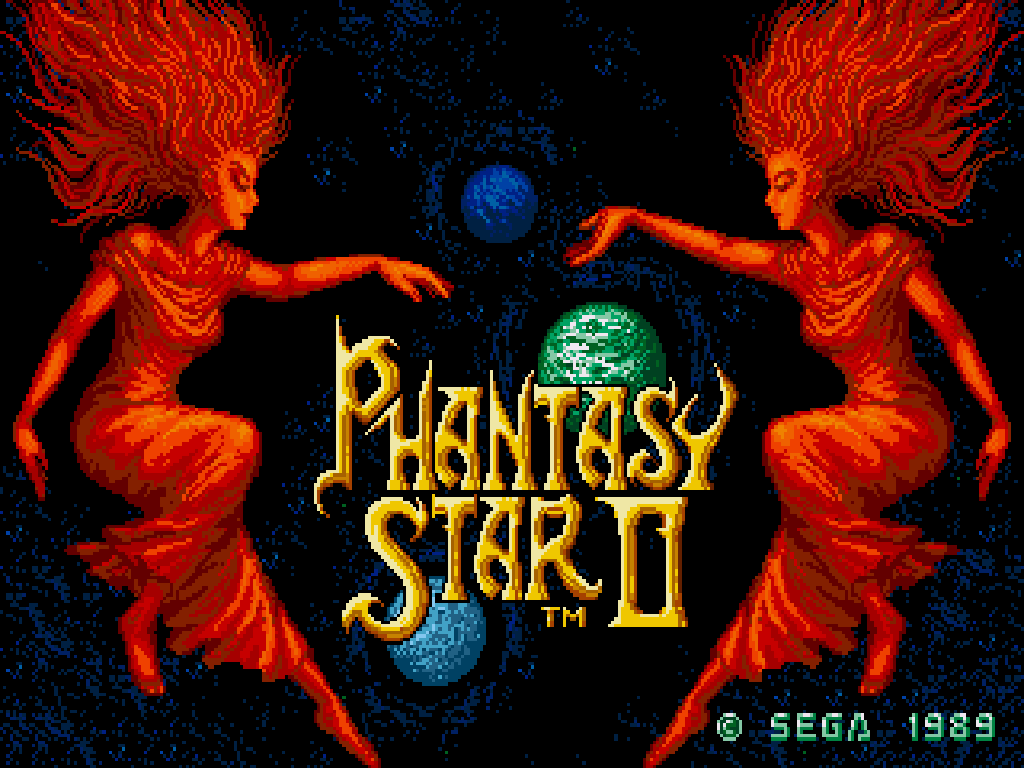 So it ends with you first encountering the Dark Force from the first game (implying it was influencing someone, or something, for an evil purpose; possibly Mother Brain itself or those who programmed it), and then take on Mother Brain herself.  Afterwards, you encounter a bunch of people in another room.  It is learned that they are a race of humans from a distant planet in another galaxy, known as Earth, and that they are responsible for coming to this system, creating Mother Brain, and using her as a means to take over each planet in the Algo system, making the occupants subservient, and then planned to colonize the planets for their own deeds.  Why do this?  Because they ruined Earth with their pollution and scavenging of all minerals/food/greenery/etc.  The main problem that I have with this is that these people are from Earth.  By trying to make this plot hit that close to home, it made me disconnect with the story a bit.  Plus it negates the appearance of Dark Force a bit.  Sure, we can assume Dark Force influenced the Earthers to destroy the Algo system, but it seems like they intended to do that from the start.  It just seemed forced, this message of warning us about creating our own destruction, when the same thing could've been accomplished by having people from one of the Algo planets create Mother Brain for similar reasons because Dark Force influenced them to do so.  In fact, one of the mods for the game did precisely that (see below).
SPOILERS END
So overall, despite the more ambitious and better told story (despite my caveats with the ending), ultimately I found this inferior to the first game simply due to the grinding (a problem non-existent with a mod or two), the dungeons, and the lack of a background in the battle screen.  With that out of the way: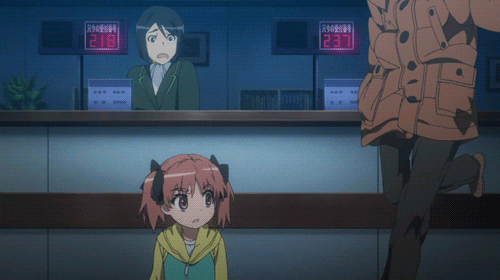 Mods
Numan Revolution: Changes up the script a bit, and some revelations near the ending.  Plus it also makes the battles and leveling easier.  I haven't tried this mod yet, but if I ever feel like giving this game another go (it will be a while before that ever happens), I'll likely give this mod a spin.
Easy Mode: I played my runthrough with this mod.  You get more EXP and Meseta (game currency) with each battle, leveling you up faster and gaining money quicker so you can get the necessary weapon upgrades sooner.  If nothing else, I wouldn't play without a mod that did something like this.
More can be found here: https://www.romhacking.net/games/66/
Phantasy Star III: Generations of Doom
Rated: 2.5 / 5 *
* Even with mods I'm not so sure the rating could be higher than this.
This one is notorious for being the black sheep in the series.  And it shows.  On the positives, it brought back backgrounds for the battle screens (thanks Christ), some improved movement where characters will automatically move around sharp corners (it's subtle but welcomed), much more reasonable dungeons compared to the 2nd game, allows 5 party members at a time, had an insane ambition of multiple choices for multiple paths to take in the game and allow for up to 4 alternate endings, and a fairly good music track for the opening prologue.  Plus it has the usual Dark Force making a return to influence people to do evil again (a tradition in these games).  And that opening prologue music track, it's pretty damn great (see video above).
The overall quality of the game suffers from rushed production (let alone a different team working on it).  The character and overworld quality looks a tad worse, the towns are very monotonous, many empty rooms where there should be NPCs, terrible monster animations (I'm not kidding, the attack animation for one monster is literally him flexing his pecs, another just flicking his wrist), irritating sound effects, battle music that causes some gamers' ears to bleed, and poor presentation of the story, especially during the final arc.  For instance, after you collect the final legendary/destiny/prophetic weapons and armor (a tradition in these games), and take it to these priest guys to get enchanted or something, all that happens is you talk to a priest, he says something like, "Go forth and kill so-and-so," and that's the only indication you get that the weapons have been enchanted.  There's no sound effect, no special effect, nothing.  I had to check my inventory to see if something changed, and that's when I saw that it did.
And on top of that, it still has that "each character holds a bag of items" annoyance from the last game.
Weak.
It's like this game took one step forward, two steps back.
The only reason this is worth recommending is because of its ambition.  You play as one protagonist for a while, then you'll eventually have to choose one of two women to marry.  Not much is really said about either of them, so I didn't really know what traits either of them had to make me attached to either of them.  They have no character.  I blame the rushed production on this, and the lack of insight into any of these characters.  But anyway, you pick one, then you continue the game later on as the son of that couple.  Rinse and repeat one more time, then you play through the rest of the game as a 3rd generation.  So yeah, this was quite ambitious and commendable, but the presentation of it is so poor it becomes difficult to appreciate.  At least you can save anytime again (and there's no jerking you around like the 2nd game where you have to acquire a mcguffin first in order to do that).  And you won't need to grind too much either (just at the beginning, like the previous games).
But the absolute worst thing about this game, almost as bad as the dungeons in the second game, is the goddamn backtracking.  Which is exacerbated by the fact that you no longer have those spells from the last game that can teleport you to the nearest town (no items that do that either, best you'll get is something to teleport you out of a dungeon), which is a dick move.  You will backtrack through this cocksucking world a lot.  And I'm not just talking going back and forth between the same areas in one generation.  No.  All 3 generations travel the same paths, except the next generation explores a couple more areas each time.  This was a fucking chore.  At least the battles are overall easier than in all the other games.  Seriously, even the final boss is easy to beat.  First game got pretty damn hard, the 2nd game's Dark Force Boss was very very hard, and this one is easy compared to both.
And honestly, that's all I really have to say about this.  It could've been one of the best, if not the best, in the series if they had more time to work on it, or maybe had a better writing/animation team.  But they didn't.  And it ends up being one of the worst.  Disappointing.  But playing through it, at times, you can really see that potential.  It's there, it really is.  It just wasn't tapped into.  On top of that, this doesn't contribute to the main overall storyline of the series as much as I, II and IV do.  That being said, IV makes some references to it, so it could still be worthwhile.  And there is that opening prologue music…
Mods
Well, having not tried any of them, some look like they could address some of those presentation problems.  Only other thing that would be great is if they could improve the music and the speed of movement.
Nial Edition: Dialogue has been improved (yay!), but equipment is weaker (boo!), but the amount of EXP and Mesenta gained from battle is doubled (yay!), but I've heard you can't marry one of the women, thus cutting down the potential paths and endings by half (boo!).  A mixed bag, but it's known among the modding community for those who play this game.
General Improvement: Improved/expanded dialogue, more NPCs to give them so that the towns are less empty, and overall makes the plot, characters, and development more clear.  Doesn't mess with the gameplay at all.
More Accurate Translation: Basically like the mod for Phantasy Star I, in that you need a Japanese version of the ROM, and this patch, and a patcher.  Worth noting because the General Improvement mode states that it never bothered to look at the original Japanese translation, and doesn't care.  But hey, if you enjoy the game enough, maybe you'll feel like playing it through once with one version, and again with the other version.  Assuming having 4 paths to take leading to 4 endings isn't good enough, for a game of this quality.
Phantasy Star IV: End of the Millennium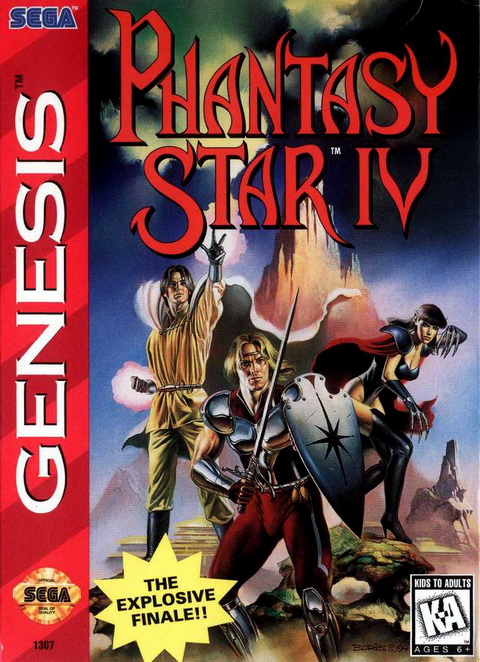 Rated: 4 / 5
Oh man.  This game made playing through the others feel worthwhile.  If you enter this game coming off the heels of the previous three, the upsurge in overall quality is going to hit you fast and hard like a bag of bricks to the face.  It all led up to this, which provides an ending to the franchise, and ending to the Dark Force arc, and all the while references characters and events from all the other games (though only minor mentions to the 3rd game, but it is brought up enough in this one side quest that made plowing through it feel worth it).  And it's considered not just the best in the series (though some people who are fucked in the head would argue the 2nd one is better), but one of the best J-RPGs of all time.  And after having played it, I'd have to agree.  This is easily the best Phantasy Star game, by a mile.  The presentation blows the others out of the water, the leveling is perfect, the difficulty in combat is perfect, the callbacks to the other games are great (and are only really impactful if you've played through the others; you could get away with skipping the 3rd game though), it nails the pacing…
… gotta stop with the praising if I want to review this properly.
The graphic style has returned to the form of the 2nd game.  The monster animations in combat are better than ever, and it's got loads of different backgrounds.  And there aren't only cutscenes of people walking around, stopping, then having a dialogue box pop up.  Oh no.  This has cutscenes of images popping up ala comic book style.  The amount of detail, and the quantity of detail, going into those alone is insane for a 16-bit game.  This game was expensive (and a bit difficult to find) when it first came out, and you can see why when you play this.  You wouldn't think a Sega Genesis game could look and feel this great.
Plus the characters walk considerably faster in this game compared to the others.  Some have argued that they move too slow in II and III (especially III, with all the backtracking).  You will not have that problem here.  Some might say they move too fast.  Though I do see a potential consequence of this.  Sometimes, when you try to talk with an NPC, you move into this position where you end up talking to a blank space, and your lead character will say something like, "There's nothing here."  One of the lead characters will even berate you for doing that.  Other times you'll do that auto-move around sharp corners thing, when you really want to just press up against some object to get more details on it.  Minor inconveniences like that.  But honestly, I'll take those irritations over moving too slow.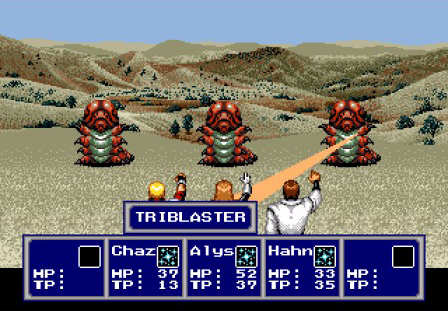 The combat system has some changes to it (aside from removing the whole, "each character holds a bag of items" shtick from the last two games; it's back to a general supply bag, thank Christ).  It's more traditional, in that now you select an attack/spell/item from your character, and select a target for them to hit with it.  But it also brings in something else to combat more unique to this game (though others have sort of copied the essence of this idea).  There's a system where you can program which type of attack a character will make, in which order.  It's possible to form some technique/spell combos when doing this, though you'll likely be discovering them by accident.  It's possible to play through the game without ever utilizing this system to that effect, but it allows for a nice system of discovery and exploitation.
As for the story themes, honestly, despite my praise for the presentation and the pacing, even though the plot is very solid, there's a lack of that tradition of Dark Force influencing people to do evil.  Don't get me wrong, it's there.  But it goes away before the game is even halfway over.  It becomes a more typical good vs. evil type of game, without really playing into the faults of humanity and giving in to temptations and the lust for power.  On the other hand, I'm not entirely sure the game should be faulted for that.  After all, the previous three games go over all that, and the only way to really raise the stakes is to elevate the significant of Dark Force itself rather than the people it influences, and put the fate of the galaxy in your hands amidst the conflict.  I think it's because I just wanted epic perfection to go along with this presentation (which is the best presentation anyone could've asked for from this series).  A little more of the human struggle.  But that's just me.  The story is still solid, and it adds considerably to the lore that was setup in the first game.  Come to think of it, aside from the development and evolution of the population of the Algo star system, nothing much is really developed about Dark Force in II or III, other than it returns every 1000 years (sort of like The Fifth Element).
Unlike the other games, there are some legit side quests here.  With the other games, anything given the appearance of a side quest is more of a mandatory quest in the end.  Here, there are some honest-to-God sidequests that are completely optional to winning the game.  Some of them are meh (specifically some of the Hunters Guild quests), but overall a nice addition.
The music is also some of the best this series has ever gotten.  It has an amazing remix of the dungeon theme from the first game, a decent remix of the battle music from the second game, and has plenty of its own great tracks.  The dungeon music in this (for the cave dungeons anyway) is hypnotic.  Almost as hypnotic as the look of the game's final dungeon (try not to get hypnotized with that).  Seriously, you've gotta give those dungeon tracks a listen.
And lastly, the difficulty of the combat.  There are about 4 boss fights (well, 3 boss fights and 1 side-quest boss) that are definitely challenging.  The first 3 will really make you work for it.  They are worthy in their difficulty.  The last one, well, that one is more of an endurance test than anything else (so long as you have the means to heal certain members of your party and keep doing damage at a consistent rate, you'll be fine).  And the regular enemies seem to stay at just the right amount of difficulty the whole way through.  A bit difficulty at the beginning (need to do a small amount of grinding), average stuff through most of the game, then they start to get a little more difficult during the final act(s).  This game nails the difficulty and leveling better than the others.  If the first game had you level too fast (in that you reach the cap too soon), and the second game had you level too much (plenty of grinding required), and the 3rd game it didn't matter because the final boss wasn't that tough, then this one is nearly perfect in its execution.
All in all, it's worth going through the others just to get to this game (though 3 is a bit on the optional side, especially if you find it insufferable).  This one comes recommended.  But you'll only feel the emotional impact if you've also experienced the other games.  This is the game that proves the Phantasy Star series should've been on equal footing with the Final Fantasy series.  In fact, I'd argue that I and IV were better than the Final Fantasy games put out during those time periods.  As for II, well, having not played any of the older Final Fantasy games outside of IV and VI (Or was it III and IV?  Or III and VI?  Fuck if I know, North America really pisses me off sometimes with how they mess with foreign games), I wouldn't know for sure how it stacks up with Final Fantasy II in terms of story and dungeon crawling (I'd imagine it's on-par when it comes to grinding).  Either way, the Phantasy Star franchise is worth experiencing.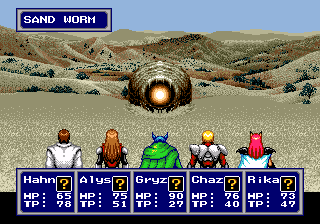 Mods
They exist, but I don't find myself ever using any of them.  So for those who are curious:
http://www.pscave.com/dow/hacks/