March 1990, the sequel to February 1990. An interesting month to be sure for that year. Steve Jackson Games gets raided by the U.S. Secret Service; a case that would evolve years later into something establishing the legalities of online speech still equating to speech; as in free speech. Carole Gist becomes the 1st African American to be crowned Miss USA. Heriberto Seda becomes a New York City Zodiac Killer copycat. Janet Jackson wins a Soul Train Music Award. The first world ice hockey tournament for women is held in Ottowa. The LA Lakers retire Kareem Abdul-Jabbar. Star Trek V wins the Golden Raspberry Award. Akira Kurosawa wins the Lifetime Achievement Award. The United States begins broadcasting TV Martí to Cuba in an effort to bridge the information blackout imposed by the Castro regime. The Nintendo World Championships begins. And Michael Jordon is still hot in basketball.
---
---
---
Music
Ok, some disclosure before proceeding here. I'm generally not a fan of rap and hip-hop, but I can't ignore something that reached platinum status (and later quadruple platinum; that's not a joke in case you were wondering, that's a real thing apparently). So Bill Biv DeVoe released an album titled Poison that was a huge hit. Not my kind of music, but for those who are curious to know and are interested in that style of music. I'll be sticking with my metal and rock. Also worth mentioning is Salt-N-Pepa: Black's Magic, Digital Underground: Sex Packets, Above the Law: Livin' Like Hustlers, Urban Dance Squad: Mental Floss for the Globe. The rap and hip-hop wave was out in full force. For those electronic lovers, there's also The Beloved: Happiness. As for the rock & roll genre, I'll give an honorable mention to The Fall – Extricate, and to Nitzer Ebb: Showtime.
---
Tribe: Here at the Home
The song "Outside" would later be featured in the game Rock Band. Personally, I'm more akin to the song "Rescue Me." The band never made it big and only released 3 albums and disbanded in 1994. It had its fans; I wasn't one of them (a casual listener at best). But the songs are decent enough. Plus I'm a bit biased with this particular selection, considering some band members would go on to get involved with the creation of the videogame Thief II: The Metal Age. And System Shock 2.
---
Borghesia – Resistance
So this is an electronic band, which usually isn't my thing. But I have to admit, I really dig the beats on this album. It sounds epic, yet not overdone. I mean, just the opening track is incredible. The downside is that it's in a foreign language that us English speakers won't be able to understand, but that's ok, because I usually have a hard time listening to lyrics in general anyway.
---
Robert Plant: Manic Nirvana
Interesting rock n'roll stuff. It's groovy. Stand outs for me were Tie Dye on the Highway, Anniversary, Watching You.
---
Depeche Mode: Violator
You know this band from the song Personal Jesus.
---
Heart: Brigade
Definitely one of the best female bands that has ever existed. But there's only one song for me on this album. Wild Child.
---
Social Distortion: Social Distortion
It's one of the most famous rock bands with their debut album. I have to include this just on principle alone, even if these guys are pricks. You've heard the songs "Ball and Chain" and "Story of my Life." I think the band is just ok, but one can't ignore their fame.
---
Helmet: Strap It On (?)
So-so metal.
---
---
---
---
---
---
Movies
I'll give an honorable mention for a film called Side Out. The film itself is just so-so at best, but it does have, "that's so 90s" feel to it, and many do consider it the greatest beach volleyball movie ever made (some competition that genre's got; I still say Top Gun is the best one, and it's not even a beach volleyball movie). Plus there's a somewhat decent adaptation of Lord of the Flies that was released, which has mixed opinions on whether it's good or not. So, with that out of the way, there were some fairly good picks for this month.
Lambada

A film to capitalize and promote the lambada dance craze, which never really took off as well as many hoped it would. In fact, in the same month, another lambada film was released titled The Forbidden Dance. Let's just say it's not even in the same league as this film. But whatever, this is a prime guilty pleasure film, with great cheese and ridiculous moments. Such a guilty pleasure for me that I enjoy it more than Dirty Dancing (you can't hit me, I'll lambada dodge all those beer bottles and bullets coming my way). This is one of the definitive, "that's so 90s" films. Though I have to admit, that chick in the poster is a bit of a bitch in the movie, in ways that, well, just don't happen in movies anymore, at least not in the context of this movie.
---
Blue Steel

This film is sort of popular, but I didn't really dig it. The killer gets away with way too much of this bullshit.
---
Joe Versus the Volcano
First it's a dystopian future film about a guy who hates his desk job. Then it turns into a road-travel-romance flick. It's interesting, and a bit of a cult classic (this month's films have plenty of those). What would you do if you've been diagnosed with a terminal disease and only had a few months to live?
---
Last of the Finest

So it's mainly a so-so cop action-thriller, but I'm a bit of a sucker for this movie. Especially because of the bitchin' shootout during the finale. Also known as Blue Heat in the UK, which is a better title.
---
The Ambulance

This is a pretty damn fun thriller that moves along at a brisk pace which never lets up once you get about 30 minutes in. James Earl Jones literally chews the scenery, Stan Lee makes a cameo, and there's some fun stunts served with a decent dose of cheese. This film flies under the radar of many, but it's a great under-appreciated popcorn flick worth checking out.
---
Blind Fury

A cult classic. It's no Zatoichi, but it's the best American-made blind swordsman movie we're ever going to get.
---
House Party


Found it difficult to get into until the 2nd half kicked in (though I do believe I should give that portion a second chance). That second half alone makes the film worth seeing. Great down-to-earth characters and moments; some good laughs; and one of the best endings ever. A true cult classic, the kind that Superbad wishes it could be.
---
Pretty Woman

This was the #1 highest grossing film of the year. It also skyrocketed Julia Roberts film career. And… it's not bad, for a dream scenario of a rich guy going out with a hooker and making her life better and saving her from it (I'll take it over 50 Shades anyday). Richard Gere and Julia Roberts work well together, and would team up again in a future romantic comedy film.
---
Teenage Mutant Ninja Turtles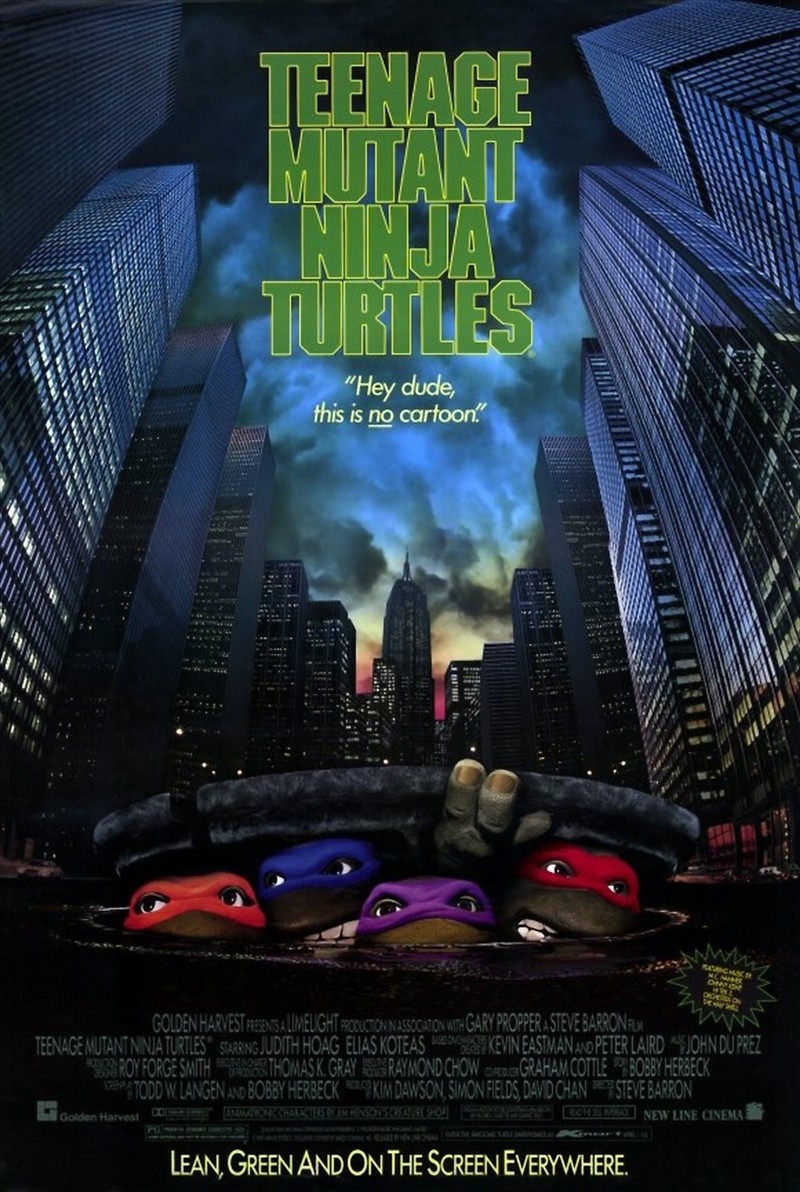 Come on, you know this movie! You know this franchise! The most financially successful independent film of that decade. And you bet your ass it's the best live action TMNT film ever made.
---
The Hunt for Red October

Arguably the best film of the month, at least as far as popularity from today's perspective goes. Also arguably the most famous Tom Clancy novel-to-film adaptation ever done (though not my personal favorite; that one comes later on).
---
---
---
Games
I'll give brief mention to Kid Kool and the Quest for the Seven Wonder Herbs, just because the Kid Kool franchise was known well-enough during the time period. But this game is too fucking irritating to recommend playing. Fuck you, and your Mario Bros. rip-offs.
Baseball Simulator 1.000 (NES)
No, I'm not a fan of sports games. But this one is remembered by anyone who played it during that time period. That's all I'll say.
---
Burai Fighter (NES)
Now this is more like my kind of side-scroller shooter. This is fun, but like most of them, hard as hell.
---
Abadox: The Deadly Inner War (NES)
Yep, another fun side-scroller. Just look at those levels. Aren't the graphics great? It's like you're flying through intestines.
---
Adventures of Lolo 2 (NES)
Finally. Something that is neither a sports game nor a shooter. A puzzle-like game.
---
Conflict (NES)
Well what-do-ya-know? Another one that stands out. This time it's more of a tabletop wargame than it is a puzzle game or shooter. Basically think of it as one of those Avalon Hill wargames from the 70s and 80s put into videogame format, and this is basically what you get. If we had an NES back in the day (I was a Sega Genesis person, didn't hop over to Nintendo until the N64 came out), I'd imagine my dad would've played the hell out of this. He's a sucker for stuff like this.
---
Code Name: Viper (NES)
Another side-scrolling shooter, but this time it's a shameless rip-off of the arcade game (also ported to the NES) Rolling Thunder. However, they did improve on the gameplay, letting it be a bit more forgiving (ie fair).
---
Al Unser's Jr. Turbo Racing (NES)
That racing music. The immersion this manages to bring for an NES title. Have to admit, despite racing games not being my thing, there's something alluring and addictive about this one.
---
Astyanax (NES)
Good luck pronouncing the name of this hack-and-slash side-scroller. Another port of an arcade game (most NES games were).
---
The Bugs Bunny Crazy Castle (Game Boy)
Well… Ok, so this game isn't regarded as good. But it does have a reputation that made it well-known. The first videogame released to feature Bugs Bunny. Puzzle elements. And gameplay that infuriated gamers; including the inability to fucking jump, while you played as a fucking bunny!
---
Kwirk (Game Boy)
So this is when I usually throw the Game Boy a bone here, because their games aren't on par with those from the NES and PC. But when the games emphasize puzzle-solving rather than action, then it's not bad. The hand-held systems weren't capable of making any decent real-time action games yet. But every now and then… But this is no masterpiece. It gets monotonous. But the fact that there's a Game Boy game that's fun which isn't Pokemon…
---
Revenge of the 'Gator (Game Boy)
And what-do-ya-know? Another decent title for the Game Boy. Another pinball game. Quite polished for a Game Boy title.
---
Phantasy Star II (Sega Genesis)
Yeah, this was the game of the month. Considered one of the greatest RPGs of all time. Personally, I don't agree with that, but the game is certainly a memorable experience, and I can see why it has such a reputation.
---
Elvira: Mistress of the Dark (March 1990; Amiga, MS-DOS, Ataris-ST, Commodore-64)
Well, it has its fans. Amiga version may be the best, due to the music.
---
---
---
Shows
Alf series ended this month; originally aired 1986.
Well, there were at least 2 memorable ones that go a bit beyond being just cult favorites. Makes it better than last month's offerings then.
NewsWatch TV (March 1990 – present; AMC Network, Ion Television)
You can pretty much tell what this is from the description. A news series. Well, considering it's still ongoing; kinda worth mentioning.
---
H.E.L.P. (March 3, 1990 – April 14, 1990; ABC)
I honestly can't say I know much about this series. What I do know is that some consider it to be ahead of its time, and cancelled as a result. To quote a youtuber: "it was basically Third Watch…but a decade earlier, with some really big names in it." Also came out before Law & Order, though that would be coming soon. Only ran for one season (6 episodes), and was intended to be a simple mid-season replacement for Mission Impossible. Mainly mentioning the show because it may have inspired others that came after it, particularly Third Watch (which wouldn't come out until near the end of the decade).
---
Sydney (March 21 – June 25, 1990; CBS)
A show that was hyped and sort of popular, likely because it starred Valerie Bertinelli. But it was short lived and didn't go past 13 episodes for 1 season. Never saw it, but I'm aware of the brief popularity it had at the time.
---
The Outsiders (March 25, 1990 – July 22, 1990; Fox)
There are a lot of mixed opinions about this show. On the one hand, the pilot episode ended up being one of the highest watched and rated series premieres of all time during that time period. On the other hand, the ratings fell sharply after that, thanks to 60 Minutes and Married With Children. Some revere the show, others think it is a borderline disgrace to the famous film it acts as a sequel to. Main reason it has its haters is largely due to the cast, which many felt were inferior to those who were cast in the 1980s movie. The show only ran for one season and was cancelled, but from what I understand it didn't end on a cliffhanger either; so it can be considered more-or-less complete. You be the judge, if you ever decide to watch it.
---
Equal Justice (March 27, 1990 – July 3, 1991; ABC)
The show had its cult following, which were outraged when the show got cancelled after 2 seasons. From what I understand, just about everyone who watched the show loved it. Great cast and writing. But it never built up a big enough audience (like others); probably because many dismissed it as an LA Law ripoff. Plus the early 90s was loaded with courtroom drama and police drama shows already, and Law & Order hadn't even aired yet. So if you like your Pittsburgh D.A. shows, well here's another you might like.
---
Bagdad Cafe (March 30, 1990 – July 27, 1991; CBS)
As if The Outsiders wasn't enough, now we have another series made that is based on a film (and may more or less act as a sequel to it). I wouldn't have given this sitcom much thought if not for one thing. It stars Whoopi Goldberg. That should be enough to convince some to give it a watch, even if it did get cancelled midway through season 2.
---
Carol & Company (March 31, 1990 – July 20, 1991; NBC)
Only ran for one season, then got cancelled (though there was some sort of spin-off which some would consider season 2, which also didn't last long). An anthology series without any ongoing character development or storyline. So it didn't leave any threads dangling when it got off the air. Anyway, some people love the show. I was never a watcher.
Alright, so enough with the petty shows only some fanatical fans remember. Now for the 2 big tamales.
---
Tribes (March 5 – July 13, 1990; Fox)
Ah, this show. One of the High School soap operas that made its mark alongside other shows like Degrassi and Edgemont (the latter of which would show up during the next decade). It was created precisely for the timeslot it occupied, so that high schoolers could catch an episode when they got home before doing their homework. Unfortunately, despite the popularity and cult following this series had, it was cancelled after 1 season of 95 episodes. Fox hoped the series would reach Syndication, but it never happened. Oh well. Thanks for the memories.
---
Road to Avonlea (March 5, 1990 – March 31, 1996; The Disney Channel)
Heard good things about this Emmy Award winning series from Canada. Ran for 7 seasons. Technically, the series started airing in Canada in January 1990, but made it's way to American televisions for this month. But watch out for those alternate titles and versions. To quote Wikipedia, "In the United States, its title was shortened to simply Avonlea, and a number of episodes were retitled and reordered. When the series was released on VHS and DVD in the United States, the title changed from Road to Avonlea to Tales from Avonlea." It's a family show that takes place during the very early 1900s. And this could very well be the top show of March 1990, and one of those series many hold in high reverence. I should check it out sometime.
---
---
---
Edit (1-30-2020): Added note about Lord of the Flies in Movies.
Edit (2-20-2020): Added Blue Steel to Movies.
Edit (1-5-2020): Added Elvira: Mistress of the Dark to Games.
Edit (4-7-2021): Added Helmet: Strap It On to Music.