The bounty hunters, who are gathering in the spaceship "BEBOP", will play freely without fear of risky things. They must create new dreams and films by breaking traditional styles. The work, which becomes a new genre itself, will be called… COWBOY BEBOP
Series Rating: 5 / 5
Cowboy Bebop. Probably the first major anime I introduced myself to when I was younger, outside of Dragon Ball Z and Yu-Yu Hakusho anyway (didn't see much of the latter). One of those series I found myself coming back to on a couple of occasions, including recently. I wanted to see if it was as good as I remembered. Well, it wasn't. It was better.
Despite its episodic structure, in the sense that each episode is sort of stand-alone, there is an overarching theme to the whole thing. It's all about the weight of the past, and the ways it affects the present. Every episode has that aspect of it to some extent. Whether it's a character's past mistake or broken relationship, a misdeed done by a government or corporate agency, old vs. new technology, or even a callback to a past cultural influence such as the western cowboys, Japanese samurai, or the Jazz/Blues music of the 70s exploitation era. It all affects one or more of the major characters in each episode in some way.
Each episode tackles this central theme in a different way, while also building upon the central protagonists who are in (almost) every episode themselves, or the galaxy they inhabit. This is a setting where mankind has acquired the technology to colonize a few planets in the solar system, thanks to jump gate technology (which itself had at least one catastrophic event with its development, which has affected individuals in certain episodes), and the development of various forms of spacecraft, small and large (including one ship design giving it the look of a tommy gun), capable of entering and exiting planet atmospheres and flying in space. And aside from ship technology, it is also possible to change one's identity if one has enough cash (woolongs). Some episodes show a man going from skinny to fat, from a white guy to a black guy, a man to a woman, etc. Primarily with the intention to evade authorities and bounty hunters (the latter of which exist because there isn't enough of a police presence on a solar system scale to track down all criminals).
Just as the criminals can't outrun apprehension from the hunters or the authorities forever, neither can the protagonists, or anyone for that matter, outrun their past forever. The past only serves to chain us down until it is confronted and resolved. Yet one may find themselves in a position where resolving the past is impossible, or so one could think. There are multiple ways to resolve the weight of the past, each way leading to a different outcome. After all, the criminal could always just turn themselves in, an option that was presented in at least one of the episodes (though they never seem to take that option). It's more about figuring out a way to let oneself be reconciled with their own past. Otherwise, being so hooked up on the past, you'll be unable to appreciate what you have in the present. And if you stay hooked up on the past long enough, the stuff in the present you could've appreciated may be gone, just like the past.
And incredibly enough, this is a mature series. And by mature, I don't mean in regards to the violent content or the sexual content or the nudity (the latter of which is only present very briefly in one episode). I mean mature in the themes themselves. Past weight and consequences aside, have you noticed a trend in most anime films that are out there? The same kind of trend that occurs in most films over the past few decades? This series is not one about "the coming of age," or, "realizing/fulfilling one's destiny," or, "overcoming impossible odds through comradery and personal discovery," the latter of which is something I tire of seeing, because it's fucking everywhere, in virtually everything that is classified as an action/fantasy/adventure film. It's about adults, who are likely past their prime, trying to rediscover a meaning in their life, to try and make a living in their self-employed conditions and harsh lifestyle. Adults who have no more life-lessons to be learned. Because normally, a situation like that acts as the motivation for the protagonist to do any of the previous traditional film/series arcs. We need more series and films with mature content like this, without any quest or destiny to be fulfilled. We need films and shows that teach us to be mature in their own way.
But anyway, funnily enough, the first episode I ever saw of this series is the same episode a few people I've become acquainted with coincidentally first saw. Heavy Metal Queen. And yes, it's still one of my favorites, with this space trucker chick who blasts heavy metal music, plus that awesome sequence where Spike Spiegal is attempting to hop from one ship to another, by ejecting himself into space without a suit. My other favorites include Mushroom Samba (the "Edward" episode that's also all about 70s blacksploitation, and a bit of Django), Gateway Shuffle, and Wild Horses. That being said, all the episodes are great.
As for the characters, the major characters are all solid. Spike and his Bruce-Lee inspired martial arts and philosophy, Jet being his stubborn hard-ass self, Fey being dangerous seductive manipulative and somewhat self-destructive, Ein just for being there, and Edward. Edward completely steals the show from everyone else, for two reasons. One, she is so wacky and unique and fun. Two, the English voice actress for her is unbelievably great. We're talking greatest dub for one of the greatest animated characters of all time great. On-par with Mark Hamill's dub of the Joker.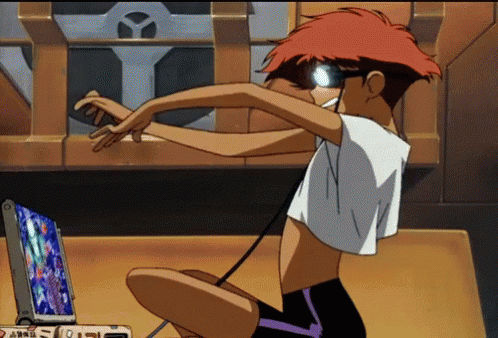 There's a reason this is considered not only one of the best gateway anime series to watch, but also one of the greatest of all time. Accessible and deep, and ages like fine wine. Some episodes are hilarious, others great solid action/drama/noir/thriller entertainment, others pack an emotional gut-punch. It doesn't answer every question raised or hinted at, and that's perfectly fine, because it's good to leave people wondering about some of these things, to have some mystery about the past, and how some characters will turn out in the end. And unlike most anime, it's also refreshing to see one that has a definitive end. With it's mismatch of different genres and episode structures, and managed to pull things together in such a perfect concoction, it's a true lightning in a bottle series.
---
---
---
And then there's the movie Knocking on Heaven's Door.
Film Rating: 3.5 / 5
It does a bit of development on Spike's character, but it's not really anything any true fan didn't already pick up on from the series. But it does have those bitchin' insta-noodles, and the callback to the battle on Titan (and no, this has nothing to do with that series Attack on Titan, though I'll eventually get around to watching the latest season of that), with another dimension to it. Another example of how fucked up things were in that war. The show and the movie never does enough to show/tell all with what happened there, and that's a good thing. All you need to know was that it was hell, and there were some weird biological/chemical/nano experiments utilized on some of the soldiers in some of the battles. It's more of a background thing among a bunch of other background elements in both the movie and the series. It has enough subtle world-building moments to compare to the series.
I want to like the movie more than I currently do. It's a decent enough stand-alone (fitting in with the episodic nature of the series). Not the best entry, maybe not the worst (though the worst is better than most anime can approach). But it is a real slow burn at times, especially during the first half. The filmmakers really wanted to indulge in having that extra time they wished they had to pad things out, going from a 25 minute episode, to a 90 minute movie. It's just that you can really feel the slow crawl at times.
Thankfully, the film kicks into high gear at two separate points, from Fey chasing the hacker arcade guy, and leading to the fight on the subway; then the breaking out of jail all the way to the finale. It made getting through the slow portions worth it. That's not to say the slow portions were entirely bad, they had some decent moments too. Like Edward and Ein going trick or treating (this movie should be watched annually for Halloween!).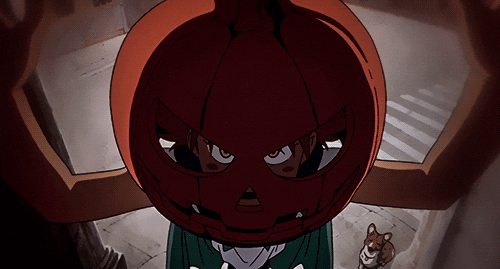 There are two aspects of this film that make it truly memorable. First, the fights between Spike and Vincent, especially during the finale. It's some of the best martial arts sequences ever put to animation, and I challenge anyone to find grounded fight sequences in any animated film that does it better than this (CG does not count, and fuck anyone who tries to pull that shit; you won't find any grounded fights that use CG anyway; sorry if that's coming off as harsh, I'm boozed up for this review [not while I was watching the movie]).
Second, the sequence where Spike is flying his ship and dodging the military aircraft. Holy God. That whole bit is a masterpiece in animation. You can feel the weight, you can feel the change in gravity and momentum. They put so much effort into making these aircraft seem real that it's insane. This sequence doesn't get anywhere near enough of the appreciation it deserves, especially for a non-CG animation sequence. I'm sure there are other anime films/shows that have reached the level of this sequence, if not surpassed it. But it's more than a pleasant surprise to see something like that in this movie. I also appreciate that it doesn't dumb down the military aircraft/pilots just to have the protagonist have a chance. They use some intelligent maneuvering, and it's never anything really over-the-top.
And that's one of the things I appreciate about this anime flick. Just because it's an anime (let alone an animation) doesn't mean they have to go full bonkers with it by doing stuff that defies the laws of physics and couldn't possible be done in a live-action film. They keep it grounded, which makes it all the more investing for someone like me. Plus there aren't enough solid R rated animated flicks out there, especially ones that don't do R-rated stuff just for the sake of having an R-rating, or for the sake of being exploitative, and really cartoonish. That's not to say I don't get enjoyment out of animated flicks that do just that (Dead Leaves, Heavy Metal, Golgo 13: The Professional, Redline), it's just refreshing to see one that makes an extra effort to stay in grounded territory when it comes to the action.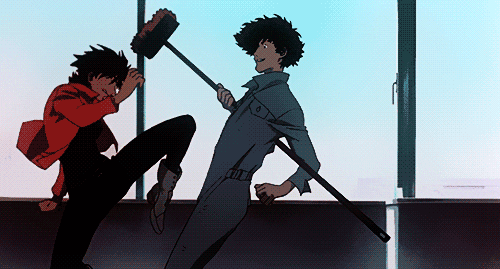 So I'd say that extra half star is partly for appreciation of what the film contains compared to other animated flicks out there, and also partly just for being a Cowboy Bebop flick, with the same director, and same voice actors. The film didn't do a disservice to the show, but I can't say it's outstanding in it's own right. It's just there, as a stand-alone extended episode. And that's perfectly fine.
I do have to admit though. Considering this was originally released in Japan September 1, 2001, 10 days prior to 9/11, and it has a Middle Eastern character responsible for developing a bio-weapon (and the vaccine for it), terrorist bombing killing hundreds of civilians, plus brief imagery of the twin towers, it got a bit eerie. It makes some of the more subtle themes and background stories somewhat relevant, though you have to pay attention to catch it.
PS: Just to get ahead of the curve, fuck you Netflix for fucking this up.