(I can't stop loving you.)
I've made up my mind, to live in memory of the lonesome times.
(I can't stop wanting you.)
It's useless to say. So I'll just live my life of dreams of yesterday.

— Ray Charles
Rated: 3 / 5
This film has an interesting way with music, and it works. It may not be traditional to play a Ray Charles song the moment when everything is blowing up as is bound to happen in an anime, but it pulls it off. It's just too bad I didn't feel the anime was strong enough to match up with the lyrics.
It starts out with red lines making intersections among a black screen. A target? Paths crossing? Or just a simple opening credits stylistic choice? Who know? More importantly, it starts black and white, and grainy, before emerging as a bountiful amount of yellow/gold lights, brightening up the dark. The film stays this well lit up until the coup, where the snow starts to fall and the colors become more and more muted, until near the end, encapsulating the film's arc. As any film art 101 student would know, this indicates that life is good, then it's not, but then it will get good again. But I find such a conclusion questionable for this film.
The main reason I went and watched Fritz Lang's Metropolis was to prep myself for this version of it. This movie is not a shot for shot remake in the slightest. In fact, ziggurat and futuristic utopia with underground workers and some Christian metaphors aside, these are very different films. Sure there's a robot girl created for different purposes among the 2 parties involved, but she behaves differently than in the 1920s Metropolis. The Supreme Being, as she's called, is the 2 girls made one from the older film, both the demented robotic version, and the good version. She starts out good and innocent, and angelic as bluntly shown at one point, mainly due to her ignorance and lack of knowledge, and hair growing solar powers. But as she goes on and gains more and more knowledge about herself and those around her, she eventually transforms, quite suddenly actually, when some internal part of her (the heart part I believe) activates. Then she becomes an enemy to all of mankind, including Astro Boy.
The theme from the first film is that the mind and the hands need the heart as a mediator. Well, that's not the theme from this film, though it does put some emphasis on the heart. If I understand correctly, when the heart activates, what's really going on is that it's shutting down. She no longer has a heart or emotions, just as her creator eventually desired. The repercussions are disastrous, because a Supreme Being without a heart will reign down destruction. One could say that she learned to be this way because of the violence she's seen, but really, when you think about it, it just ends up being due to programming, which takes away from the film.
In fact, the finale is when things start to fall apart. Of course they designed the ziggurat to become an uncontrollable time bomb when a robot they had designed for it decides to take control. Of course there aren't any backup security measures. Of course the tower would start to do things unexpected by the very people who built it. All this wiring and circuitry shit just comes out of the blue because, fuck it, anime's need a big bombastic over the top finale. Things just happen manically because the script says so from that point, not to mention our two protagonists are the only ones to somehow survive the destruction of the ziggurat.
So, yeah, I found things that I disliked this time around, after haven't having seen this movie for many years.
Like more films of today, the question and theme is on artificial intelligence. Can a machine think for itself? Can a machine love? Are machines better than humans? You know, all that bullshit, a theme that I'm not a big fan of. It's not as universal as the themes found in the Fritz Lang original.
All that aside, the animations are largely fantastic, even if some of the CGI meshing doesn't, you know, mesh all that well or look all that good compared to the 2D style. Many of the camera views aren't close ups, they are pulled back to give a large view of areas of the city, allowing for a massive amount of detail to be captured in many frames. Close-ups are used sparingly, and largely saved for brief moments. Another difference between this film and the old silent picture is that there are less details shown about how this society functions, technology-wise. I mean, there are the robots, and the robot firemen, robot firehoses, robot garbage collectors, robot detectives, robot everything. As one character states, the machines will replace man and take all their jobs one day (which is a guarantee if the political cocksuckers keep attempting to raise minimum wage to the point where having and maintaining machines is cheaper than having human workers; sorry, tangent).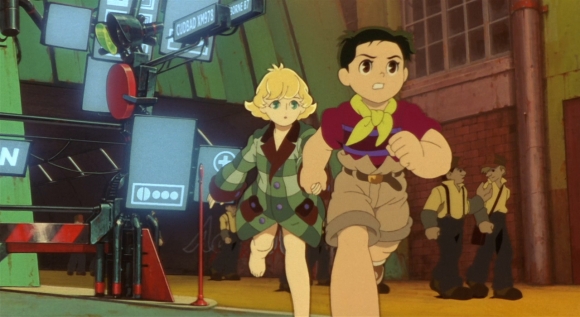 There are sectors of people who are for machines and their rights, and those who don't believe machines have any, so they resort to violence against the machines, destroying them (some in the coup, others for security reasons). The film makes sure we are supposed to feel sad when machines are killed off. Killing off a machine that places some animal symbol in a spotlight. Killing off another that is up on some advertisement mannequin. And guess what? No explanation is given as to why those dumbass machines were there in the first place, which makes the film feel manipulative as hell. "Oh the poor machines, why do they have to kill them? Boohoohoo!" You know what, fuck the machines. There are only 3 to care about in the entire movie, who's reasons for acting in such a way as to be killed off make sense and the context is understandable and more clear. The rest of them can burn in robot hell for all I care.
What makes me sad is that now I can't enjoy this movie as much as I used to. And there's plenty to admire about this film. Great animation, decent plot, interesting music, good characters. The first 3/4ths of the film are solid enough before the "the less fucks we give for the sake of the action, the better" finale, except for a few things:
* The mad doctor who created Supreme Being Tima. Not much motivation as to why he's wants to run away with her, or what his real intentions of creating her are if not for Duke Red. There's a brief moment when we first see him that gives a potential reason that links back to the original film. He's glancing at an old picture of Duke Red's daughter. But that's all we get. You know, considering that this is a Japanese film, and that the Japanese aren't know for being subtle when it comes to film, you would think they'd clear that up somehow. But they don't, so I'm just assuming this is a nod to the mad doctor character from the silent film, and settling for a character with less dimensions to him.
* Some robots that die to make the viewer feel sympathetic about it, when the average viewer probably wouldn't give a flying monkey shit about them.

So, what could've been done better then? Well, the above two points could've been easily resolved with more footage and an expansion upon the subjects. But the finale, well, why not link things back to what happened midway through the film? Duke Red creating the ziggurat with the intention not to make the city/nation more grand and beautiful, but also as a way to gain power and threaten the world with the power of the ziggurat, which can shoot lazers at the sun and cause the sun's radiation (the sun's rays) to hit the Earth and mess up the robots (not to mention the citizens themselves if the radiation was bad enough). Is it so difficult to have crazy blonde Tima just hijack control of the lazer and threaten to use it to destroy humanity or something? Or just control all the robots in the city and eventually the world (it does that already, but they need more More MORE!)? Build upon what you've laid the groundwork for movie! You can't just pull shit out of the blue for the hell of it. We've already got Takashi Miike for that.
The main characters, Kenichi and Tima, their relationship with one another isn't all that well developed, so when the turning point of the story happens, the emotional impact isn't as great as is needed (not to mention that Tima's turn happens a bit too drastically with no hint that it would happen in that way).
This film has some heart to it, but not enough. I rewatched this with the intention of enjoying it again, but I can't enjoy it like I used to. Unless there's something I'm missing, or some other way of looking at the film that I haven't comprehended. Still, all in all, it is a beautiful looking film. The CGI may not mesh perfectly, but it's the next best thing compared to Memories. Three stars is the best I can give it, and 1/2 of those stars is due to sympathy.
PS: And yes, I have read the manga this is (very loosely) based on.  All things considered, even though it has characters of the same name and of similar drawings, it has less relation to the manga as it does with the silent film.  Because unlike both film adaptations, the manga is something not to be taken seriously hardly at all.  In fact, the main robot acts more like Astro Boy than the girl we get in either film (mainly because the author of the manga is also the author of Astro Boy).  In fact, the robot has the capability of seamlessly changing genders.  Honestly, the manga is its own beast.  But it did have this one moment in it I found very amusing, where it takes a clear potshot at Disney through Mickey Mouse.  That gave me a chuckle.  Other than that, it does carry the theme of robots/technology being nice and all until technological power is misused to the point where technology turns on the creators.  It ends somewhat similar to this film, but with a sort of King Kong reference (the author was clearly inspired by American films, and had no problem satirizing them, which honestly makes me appreciate the manga more than the anime; but I'm weird that way).