"There's a difference between having black skin and black thinking."

— Spike Lee [1]
Long Introduction
So lately I've been told to lighten up.  To not take things so seriously.  Just lighten up, stop looking for metaphorical messages within films that you find insulting, and just enjoy the damn movie.  That's the message I got from at least one individual in response to my Red Sparrow review.
Well, its well acted, well written and directed, good production values and that torture, knife fight scene was incredible. While all of this happened on screen you were pissed off, angry for what?
Well-acted is a bit more on the subjective side in this case, considering the use of Russian accents (or more accurately, the brief moments they weren't used). In any case, the acting isn't the main problem. It's the portrayal.

Well written. In what way? It's because of how they wrote some of these characters that irritated me in the first place.

Well directed. So well directed that it gets in your face (see strangulation scene). Though I won't deny the director has talent.

Production values. That alone never makes a movie good. Especially when a large portion of that is spent on actors more for their name than for their talent and being best suited for the role. At best, production values can make a movie look good, not be good. The other factors determine if those good looks are put to good use.

The torture and knife fight. It's decent. Not near enough to save this film. I've seen better.

As I stated in the review, I was pissed and angry about the depiction of both the men and the women, how they were largely charicatures made more to convey a metaphor, and it being a metaphor I despise from films made in this day and age that know fully well what kind of shit message they are peddling. That's also why I disagree with the writing, enough to not even bothering to consider what leaps in logic this film may have in it, assuming I did get past the charicature issue. But considering that issue is something that negatively affects society today…

Or is it not obvious that this is one of those female empowerment films that empowers women at the expense of men by making the men out to be morally and mentally inferior? If I wanted a film about female empowerment, I'd watch fucking Thelma & Louis, or Basic Instinct, or Mad Max Fury Road, or Aliens, or Blood of Heroes. If I wanted a film about Russian espionage, I'd watch Gorky Park, or The Hunt for Red October, or No Way Out. And if I wanted a film where a lady gets revenge on despicable men who wronged her, I'd watch I Spit on Your Grave (preferably the remake).

Every single one of those films, for one reason or another, is superior to Red Sparrow.
WaldoOh my, all of what you say doesn't have anything to do with the movie itself. Are you angry when watch movies? Methapors and hidden messages? In this movie?! You're reading way too much into a simple spy film.

In Thelma and Louise, isn't Darryl inferior then too? In Aliens, what about the Paul Reiser character? You gotta loosen up a bit. Just a bit.
I've seen Citizen Kane and Refeer Madness. So my education so my education in film is done. Decency is a big point with you. I don't get it. You got too many issues going on while watching a movie. That's all right. Enjoy them in your way. Everything's good.
It may be true that I have a few too many issues with films in general, but there's a reason for that. 2 reasons actually.

1. I'm naturally picky about films, from the little things to the big things. I have no problem with this mainly for the sake of battling consumerism. The less films there are that please me, the less there are that tempt me to buy them. That, and there's too many films out there in existence that set the bar high enough that I see no reason to lower it.

2. Protection from brainwashing. Particularly from elements like those in this film, among others that promote SJW virtues. I have been a victim of similar stuff in the past, and I'll be damned if I drop my guard and allow it to happen again. So I aim to spot these little "lessons" that are in films like this, determine how deliberate and volatile they are, and if it's bad enough, call them out on that bullshit.

The way I can ensure I don't go over the edge with this is by being open to challenges on my position, and meeting them head-on, and see if my position stands up to scrutiny. That is one way I find out if I've been buried under the muck after a period of time, under the spell of one agenda or another. Losing a debate where much of what one was taught most of your life can be quite liberating and enlightening. Pity many on this site won't allow for that anymore. And why? Because they've become the same brainwashed victim I used to be in the past; only difference being they're not willing to see if their position stands up to scrutiny even while attacking the positions of others.

So now you know the why of my position. If you think I'm exaggerating on the influential powers films can have over people, I can link to a 20 minute youtube video that can show otherwise, but I have a feeling an escapist fellow like yourself isn't ready for the black pill yet. Hopefully you'll never need to be. It's a funny thing though. I recall about a year ago you had no interest in debating the merits of a certain film, that you were on this site to have fun, not to debate. Nice to see you're making progress. Who knows where you'll be next year, or the year after. As for me, make no mistake. Having my position challenged and argued over is something I not only find fun, but also find that it tends to enhance the viewing experience of the film being discussed.
So yeah, I'll admit, I'm a real hardass when it comes to these things.  So I agree, there are times when I need to learn to lighten up; though that's probably a poor choice of words given that it's currently black history month.  I should be darkening up.  Regardless, I aimed to find a film appropriate for the occasion.  Some film that, at least from the outset, seems like something I can take in a fully lighthearted manner.  Have a little fun.  Not be so judgemental.  Not attack it for its devious subliminal intentions (assuming it has any).  It's a wish some ask of me.
Well…
… be careful what you wish for.
Soul Man (1986) review
Rated: 3 / 5
"I'm riding my man Obama.  I think he's a visionary.  Actually, Barack told me the first date he took Michelle to was Do the Right Thing.  I said, 'Thank God I made it.  Otherwise you would've taken her to Soul Man.'"

— Spike Lee [1]
Now for those of you who aren't familiar at all with this film, well, it has garnered a reputation for being one of the most offensive movies ever made.  Why?  Because it's about a student who just got accepted into Harvard, but doesn't have the financial means to get into Harvard; so in order to get the scholarship funds needed to support himself in Harvard, he changes his skin color from white to black (via tanning skin pills; 'cause apparently that's a thing), making him the prime candidate for gaining a black scholarship.  Oh yeah, this sounds right up my alley, one without the black muggers to fuck me up and steal my shit.
That's right, it's going to be one of those kinds of reviews people.  Brace yourselves.  I'm well past the point of giving a fuck.
Anyway, I went into this film expecting a lighthearted, albeit very non-PC, comedy with plenty of black jokes along the way, plus some intentioned and unintentioned morality race-relations lessons.  And for a while, that's basically what I got.  The jokes were landing well a good portion of the time.  But there were a couple sequences that went on for too long that just ended up being cringe-inducing.  In particular, the sequence where Mr. Soul Man is playing basketball and failing (too) miserably at it.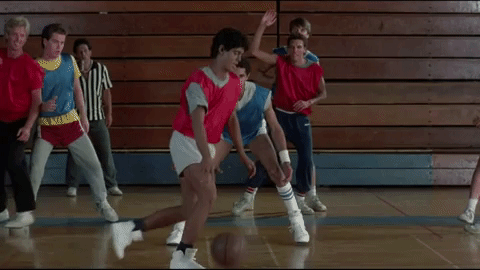 There's also the scene where he tells his girlfriend and parents that he's white/black that also ended up being cringe.  You know, one of those scenes where the protagonist is on the verge of having his secret uncovered and landing him in serious trouble, and shenanigans happen where he tries to juggle one problem after another, until it all inevitably falls apart.  Those types of sequences drive me nuts simply because they exist just to prolong the inevitable.  All I can think it, "Just get it over with already!  Just let the fucking hammer fall!"  The only film that ever got away with that, mainly because the entire film is all about this, is The Talented Mr. Ripley.
Thankfully, those moments are few and far between.  There's plenty of great dialogue which, while one would think it would get dated, only becomes more legendary due to events that happened over the last few years.  For example:
"Gordo, it's going to be great!  These are the 80s man!  It's the Cosby decade!  America loves black people."
Although, without a doubt, the most hilarious and anti-PC moment in the entire film has to be the dinner sequence with Leslie Nielsen (yeah, he's in this, and to my shock, he plays the whole thing straight-faced).
That sequence is easily the pinnacle moment of this film.  It had everything condensed during that minute and a half that I hoped would be in this film.  A play upon stereotypes, taken to the extreme, in the most over-the-top and hilarious (in my personal opinion) way possible.
"[Soul Man is a] cheaply-made cynical viewpoint of black involvement in American life."

— Benjamin Hooks, then-executive director of the NAACP headquarters in Baltimore [2]
Normally this would be the point where I would set up some barriers for some who would take offense at me enjoying an offensive movie there-bye making me an offensive person who has offensive tastes, and mention how this is a segment that parodies black stereotypes just as much as it parodies white people who view blacks in that stereotypical fashion (thus making this satire and not just exploitative for exploitation's sake), but what would be the point?  Plus I'd be lying to myself if I didn't say I would've enjoyed the hell out of this film if it was racially offensive just for the sake of being racially offensive.  Because despite what people may say about how, "We all need to get along, and the way we must do that is by not exploiting minorities in any fashion no matter how well or ill-intentioned," or, "Jokes like thee should never be made because someone will inevitably find them so offensive they'll get all depressed and either commit suicide or harass/murder someone," they're all hypocrites who are completely and utterly full of shit (yes, that means the majority of you negative letterboxd reviewers; go ahead and block me and unfollow me, I'm used to that by now).
"Anyone who disagrees with my outlook on the world calls me a racist, in the hope that they'll draw attention away from their own beliefs."

— Spike Lee [1]
While they condemn any form of mockery done at the expense of, oh say, black people (of any gender and sexual preference), they would fully endorse the mockery done at the expense of white people.  Which in this case, I guess one could say the equivalent of this would be that film White Chicks.
And of course many films today usually make a mockery of straight white men, and Christians.  And many condemn the mockery from whichever direction because they proclaim it puts down one gender/race/belief in order to empower another.  And to that I say everyone, every gender, every race, every belief, deserves to get mocked.  Because I think we can all agree that there comes a point in your life when your just minding your own business and then something happens that makes you think, "…  You know what?  The human race is stupid."  And we are.  No matter what race you belong to, what gender you are (in spite of what you may identify with to clash with reality), what belief you hold, there will always be something about you because of your gender/race/belief that deserves some mocking in one fashion or another.  So I say just sit back, relax, take the blunt of the jokes, and give some back, and enjoy the jokes made at the expense of others.  Sometimes if a joke is done well enough at your own expense, you'll laugh along with it too.
Even the whole race-relations thing is a joke.  This film makes fun of black people just as much as it does white people.  For example, back to that dinner sequence, one could say it makes a mockery of black people by stereotyping them (let alone having the whole blackface thing).  One could also argue it makes a mockery of white people because it portrays them as individuals who look at black people in that stereotypical manner.  Some stereotypes elevate black people to a higher level than the average is capable of, such as when the mother fantasizes about the blackface guy ravishing her.  Some stereotypes demote black people as those who are heroin-addicts who mistreat their wives/girlfriends while eating watermelon.  And sometimes, dare I say, the stereotypes are accurate.  And every race has a stereotype.  From the black guys with big dicks, to the black girls with the fat asses, to the bitter old white guys who hate everyone non-white, to the white chicks who bitch about everything.  And I say it's alright to have all of the above portrayed so long as it is done with the awareness that not everyone conforms to those stereotypes.  The danger would be in believing only in those stereotypes.
Back to the film.  So throughout the course of the film, the protagonist has this arc about understanding what it's like to be black, kind of.  And this arc is accomplished by inserting even more stereotypes, done at the expense of white people.  You have the white stalker cop waiting to bust Soul Man for any little error made while driving.  You have the two white college guys always making black jokes.  You have the guy who owns the apartment building who is racist.  You have the bitter old white guy who hates black people.  And you have the hippy daughter who wants to sleep with anyone non-white so she can experience some of their repression, which should theoretically become liberated during intercourse.
And it's that moment where I believe the film has a relevant message for all those people around nowadays who think they understand the alleged plight of the black race and wish to help them at the expense of others, and going to extremes to do so.  The message being, they're friggin' idiots.
To my surprise though, the film actually had some solid emotionally investing moments.  I wasn't expecting that in this film.  And these emotional moments revolve around three specific characters.  The protagonist (played by C. Thomas Howell), his potential love interest (played by Rae Dawn Chong), and their teacher (played by James Earl Jones).  James Earl Jones plays his role in the most dead-pan manner, not once cracking a smile at any joke, only smiling when he's sincere in something he is about to say, which does not happen often.  He's the kind of instructor all teachers should consider to be a role model.  He doesn't bullshit, doesn't tolerate students that bullshit, and never accepts late work, no matter the excuse students may come up with.  Either you work as hard as is necessary to complete your studies, or you're not good enough.  I loved how his commanding presence humbled Howell's character at multiple points, not just wiping the smirk off his face, but also dismantling his goofball/asshole attitude.
It's a similar scenario with Chong's character, who is there strictly to work hard and learn, having no time to play along with Howell's shenanigans.  Howell eventually learns, slowly albeit naturally, that he can't approach his time at Harvard the same way he approached his previous schooling.  By not taking the school work too seriously, and trying to goof off and have fun a good portion of the time.  You know, like the majority of those college comedy flicks from the 70s through the 90s.  Hell, I'd say that attitude is still prevalent in most films of this genre.  Not that I have anything against those types of films per-se, it's just refreshing to see a film that's a bit more humbling towards films with that attitude, showcasing that hard work is necessary to succeed.  And the professor and female classmate demonstrate this clearly to Howell's character.  And so he matures, and becomes a more responsible individual.  It's a surprisingly solid arc I wasn't expecting to be pulled off in this manner, especially in a film like this.
"A white man donning blackface is taboo. Conversation over — you can't win.  […]  But our intentions were pure: We wanted to make a funny movie that had a message about racism."

— C. Thomas Howell [4]
Where the film does tend to falter, in my opinion, is where many critics tend to primarily bash the film for, though more harsh than necessary because racism.  The whole thing of Howell's character gaining insight with life from a black man's perspective.  The segment with the cop tailing him and eventually putting him in prison.  How he brushes off the black jokes done by these two white guys until he starts to find them more and more offensive the more he becomes acquainted with the black lifestyle.  And, of course, the speech near the end where he gets in a serious conversation with the professor.  It becomes too much, and unnecessarily preachy.  Granted, I could tell the film was eventually going to arrive at a point like this, but that doesn't mean I have to like it.  There are a few issues with this.
1.) The film starts to come off as having the attitude of that crazy hippy chick who wants to bang black people because she pities them.  As in the film starts to pity black people with how society treats them.  The typical portrayal of cops similar to how they are portrayed in films like Higher Learning.  The typical attitude that blacks are treated unfairly and are less able to attend college as a result of systematic racism.  I can't fault the film entirely for this considering this was a mindset that is somehow just as prevalent today as it was back then.  But this is due to a misconception that is easier to swallow than some inconvenient facts to this narrative because society has been conditioned to believe this.  Several studies by those with PhDs, one of the more popular ones being published in a book known as The Bell Curve, indicate that the differences in race are more than just skin-deep.  Muscle mass and bone density aside (let alone average height), there has been shown to be an average IQ difference between the races.  That, on average, blacks have a lower IQ than whites.  Similarly, Asians tend to have a higher IQ than whites.  This is a study that has proved controversial, to say the least, to the point that these scientists who do these studies are shamed, publicly ridiculed, and sometimes have their careers ruined, even though all they had in mind was to report the facts in their studies when it came to their studies on the intelligence factor.  Today, it gets bad enough to the point where Asians are the ones being subjected to racial discrimination by universities, because the Universities give preferential treatment to blacks and latinos.  Not to say blacks weren't subject to systematic racism in the past either.  And I can't say in all certainty that this wasn't a reality back in the mid-80s.  But the contradiction lies within the film itself.  How there is a black professor who is quite intelligent, and a few other black students studying at the same university, enough to match up with the average population statistics in the country.  Making the implications of the racial struggle a bit questionable.
2.) The film already had a strong (albeit overly convenient) plot point on how Howell's character's black impersonation to gain a scholarship had actual consequences, by having another black individual lose out on that scholarship opportunity because of him.  That development had enough of an emotional gut-punch to carry the film the rest of the way through to the point where all the other messages regarding discrimination look weak at best, pointless at worst.
3.) The worst of the film's problems in this regard come near the end, when Howell's character punches these two white guys who were making black jokes throughout various segments of the film.  For one thing, these two are just another typical white stereotype.  For another, it puts forth the message that it's not ok to joke about black people.  Even though a good portion of the film (some would say the entire film) was spent doing just that.  And joking about white stereotypes in the process.  It's not a good attitude to have.  As I said earlier, everyone deserves to be made fun of.  Everyone has stereotypes and flaws that could use some lighthearted mockery at their expense, so that they can learn to toughen up, not take them seriously, and learn to have fun at the expense of others as well.
"Our little film was maligned by the black community led by a jealous Spike Lee, who has never seen the film."

"If you watch the movie, it's really making white people look stupid."

"It is adorable and it didn't deserve it."

"I always tried to be an actor who was doing a part that was a character versus what I call 'blackting,' or playing my race, because I knew that I would fail because I was mixed.  […]  I was the black actor for sure, but I didn't lead with my epidermis, and that offended people like Spike Lee, I think. You're either militant or you're not and he decided to just attack.  […]  I've never forgiven him for that because it really hurt me.  […]  I didn't realize [at the time] that not pushing the afro-centric agenda was going to bite me. When you start to do well people start to say you're an [Uncle] Tom because you're acceptable."

"I am somewhat baffled by the big upset about Rachel Dolezal [former NAACP chapter president].  […]  Why is it such a thing now about her wanting to ID black? I say welcome her in — let her dress up in brownface and frizzy hair. It's a compliment and refreshing. … I am tired of how the white liberal community, which is racist, and the black community, which is also racist, [is] overreacting yet again. We have bigger fish to fry these days like ridding the streets of guns [and] funding for mental health organizations to assist those in need."

— Rae Dawn Chong [3][4]
And, of course, there's the inevitable backlash over this film.  Something people still harp on today.  Spike Lee raised hell about it.  The NAACP raised hell about it.  And it has garnered enough of a cultural disdain (despite being a financial success at the box office) to where the film in of itself is considered taboo.  Some say that the film in of itself is racist.  Others will say that, despite the film's good intentions (or what it believes to be good intentions), its effect on society could only be negative.  I say let's turn the tables back on those people.  Rather than say the films "good intentions" are misguided, let's say that those who decry the film as offensive and racist and harmful, are the ones who proclaim to have good intentions, but they wind up being the ones affecting society for the worse.  Rather than stating the film should be given the taboo label, say that it should be taboo to label a film as such when it has no intention of being anything more than just a fun comedy with a bit of heart to it.  At the very least, its heart is in the right place.  And I'm sure those who decry its existence believe their hearts to be in the right place as well.  Because, in all honesty, from what I've seen and heard about the incidents surrounding the film, it's those who decry the film as racist who wind up causing more harm to society than the film itself.  Because they won't allow more films like this to be made anymore, alongside other films that have no problem portraying whites as stereotypical as possible, portraying straight men and women as stereotypical as possible, in all the negative ways; while at the same time portraying blacks, latinos, and gays in a stereotypical fashion that is as positive as possible.
I say it's time for society to learn to loosen up.  And hopefully generation Z will lead that charge.  Because if only some people can be made fun of, but not others, then that will lead society down a dangerous path.  So get back into the attitude and groove of the 80s and 90s.  We shouldn't have any care about who we offend, so long as it is done in earnest jest with no harm intended.  Because when making a joke, it is often (if not always) done at someone else's expense.  Well, let everyone get a taste of that expense.  For fairness.  And because everyone deserves to have a laugh.
"Soul Man [is a] very positive motion picture that is meant purely to entertain."

— Bob Rehme [2]
Sources
[1] Mattera, Jason.  Hollywood Hypocrites.  p.104-5.  Retrieved on February 20, 2019 from: https://books.google.com/books?id=ZBZkt71qP8kC&pg=PT116&lpg=PT116&dq=spike+lee+soul+man+obama&source=bl&ots=uUriOrsW0K&sig=foVO3CK8RaZZ7spSZbpL_m9PvBs&hl=en&sa=X&ved=0ahUKEwjXtIjts-fPAhUQ_mMKHb_DBsEQ6AEIITAB#v=onepage&q=spike%20lee%20soul%20man%20obama&f=false
[2]  Thomas, Bob.  "Los Angeles NAACP Chapter Calls 'Soul Man' Movie Racist."  The Lewiston (Maine) Daily, Friday, October 31, 1986.  Retrieved on February 20, 2019, from: https://news.google.com/newspapers?nid=1928&dat=19861030&id=lwUgAAAAIBAJ&sjid=_WQFAAAAIBAJ&pg=1221,6139469
[3] Doty, Mariah.  October 19, 2016. "Rae Dawn Chong Blames Spike Lee for 'Soul Man' Racial Stigma 30 Years Later."  The Wrap.  Retrieved on February 20, 2019, from: https://www.thewrap.com/rae-dawn-chong-spike-lee-soul-man/
[4] Higgins, Bill.  June 25, 2016. "Throwback Thursday: 'Soul Man' Star Rae Dawn Chong on Rachel Dolezal: "I Say Welcome Her In.""  The Hollywood Reporter.  Retrieved on February 20, 2019, from: https://www.hollywoodreporter.com/news/throwback-thursday-soul-man-star-rae-dawn-chong-rachel-dolezal-i-say-welcome-her-804252