I was willing to give them a chance.  I was willing to link my wordpress site to twitter so that you all can see my tweets.  I was willing to hope that they would show reason.  But they didn't, and they won't.  When everyone else banned Alex Jones and InfoWars from their platform for entirely hypocritical reasons but Twitter didn't, I was hoping it would be a legit act of restraint, in spite of the shadow-banning they've done up to that point.  It was just an act attempting to save face when they wanted to eliminate AJ just as badly as the other Silicon Valley Twats.
So I'm leaving Twitter, and that bar of tweets to the right of most pages will eventually disappear.  But I'm not leaving peacefully.  I'm not just going to delete my account and only post on Gab.ai from now on.  No.  I'm going to raise Hell and make a lot of noise on the way out (with however many will listen, given the small amount of followers I have).  I'm going to do stuff that will make them ban me.  Links to InfoWars, links to Minds.com posts and BitChute videos done by InfoWars.  Expect me to do likewise on this site for the next few weeks, maybe months, until I cool down (assuming future events will allow me to cool down).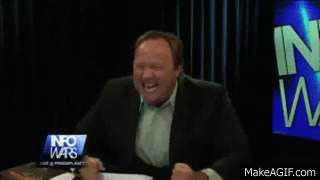 PS: Fuck the Senate hearings.  That's as big of a waste of time and money as I've ever seen.