So having watched Babylon 5 and Farscape, I'm left wondering what else there is that is considered excellent among the best sci-fi shows ever made (ones that are live-action, have an actual ending, and isn't Star Trek, because Star Trek is the default sci-fi show to fall back on in every situation).  I heard about this one, so figured I'd check it out.  After watching the first episode of the first season, I immediately purchased the whole series on eBay for roughly $20, a pricetag I thought was worth it just for the first episode alone.
Season 1
The first episode of this series is a masterpiece if I ever saw one.  Mind-bending, confusing, unique, different, dark, unpredictable.  It contains a lot of elements that I hope to find in the sci-fi genre.  You are dropped into the middle of a story with no background or information given; next thing you know the series jumps thousands of years into the future where we're dropped into yet another setting with no information given.  A dystopia planet where all but the high classes are slaves in a harsh slave-labor-intensive environment where punishment is harsh and common.  Then a whole bunch of shit happens involving love slaves, undead assassins, talking brains, hellraiser-inspired shit, escape, and a ship capable of destroying planets with ease.  I mean, good lord, the first episode set the bar so high for this franchise I wondered if it would be matched or raised in later episodes.
Well, for season 1, which only consists of 4 episodes, each 90 minutes in length (originally a Showtime series with a movie per episode), episodes 2 and 3 are largely filler episodes that do little to progress the story, but to allow viewers to become more familiar with the main cast of anti-hero protagonists, and they are fun in their own way.  But episode 4 is when it starts to reach back to the heights of the first episode, adding up to a decent finale.  The crew of 3 (plus a robot head) on a planet destroying ship going up against the Shadow (or the Divine Shadow).  The fate of the universe is at stake.  A crew of anti-heroes who honestly could be considered villains if you read into it enough, going up against a being who is most likely more evil than them.
Themes related to Brazil (the movie, not the country), rebelling against authoritarian rule, potentially being just as bad/destructive as those you are trying to overthrow (leaving nothing but destruction in your wake, while at least something existed under their rule), becoming independent, and how even the most powerful can become too arrogant and make mistakes leading to their downfall.  Similar traits shared by all.
The first of the 4 seasons is a rock solid entry into the sci-fi genre.  I dare not spoil who the protagonists of the series are for those who haven't watched it.  Just take my word for it, you have to see the first episode, if nothing else.  The first episode is easily a 4/5 for me, maybe even higher upon repeated viewings.  And if the franchise ended on that first season, and if it didn't have a bit of a cliffhanger, I would say it's one of the greatest sci-fi series ever made.
Season 2
But then comes the next season, season 2.  It starts out fine (even though it now resorts to be standard 40-50 minute runtime episodes), though you begin to realize that the captain of the Lexx is as big of a dunce as the first season implied.  He becomes very difficult to root for much of the time.  I'm pretty sure that's the point, as the series wanted to do something different by having the main protagonists be those whom no one would want as a role model.  They fuck things up, sometimes try to do good, but ultimately cause destruction usually doing more harm than good.  It's not a bad idea, but it needed a better script to make it work.  That, and a little more budget.  Seasons 2-4 don't have the same quality as that of the first season when it comes to special effects and set design (though Season 4 does make the Lexx ship look its absolute best).  But that's the least of their problems.  They opt for a more light-hearted goofy tone as opposed to a very dark and grim tone with some moments of humor thrown in here and there.  It's tonal whiplash from the first to the second season.
Aside from the first few episodes of season 2 (which does come with a shocking moment I honestly didn't see coming), the first half of the season is a bit of a drag.  Stand-alone episodes with only vague hints to an over-arching story, and many of them just aren't that great in my opinion.  But once the latter half of season 2 comes, the episodes become less stand-alone and begin to progress the plot episode to episode.  And, to my amazement, it actually pulls off something that I normally despise, but makes it work.  There's a stage-play musical episode that delves into the backstory of one of the protagonists.  As much as it sounds like this shouldn't work and make it one of the worst episodes in the entire series, it's quite the opposite.  The episode is fantastic, somewhat emotional in its own way, and does its job in getting the viewer pumped for the finale.  And the finale is actually quite good.  So despite the bullshit that is most of the first half of season 2, and the overall decrease in quality, it actually feels worth it in the end.  And it offers a more satisfying conclusion than that of the first season.
Themes of admitting one's own faults, owning up to them and trying to turn things around, before you're past the point of no return.  And being courageous in the face of destruction.
If the series ended there, it would still be good, though flawed.  A 3.5 / 5 rating.  But it doesn't end there.
Season 3
Fuck this season in it's dull monotonous boring as fuck asshole, with a sandpaper condom with cactus pricks glued onto it.  While the first couple episodes may be interesting, and the season has every episode progressing the plot with no stand-alone episodes, the pacing is motherfucking slow!  The crew gets continually stranded on the same 2 goddamn planets (while in the last couple seasons they usually visited a different planet each episode), where it becomes the same old shit over-and-over again.  I wanted this season to end by the time I got to episode 6.  But noooooooooo.  They just had to drag it on for 13 fucking episodes.  Here's how each episode goes:
"We need to leave!"
"We can't!"
"Why not!?"
"Because so-and-so."
"Let's go to the planet to deal with so-and-so."

"We did it, let's get off the planet."
"We can't!"
"Why not!?"
"Because so-and-so."
"Let's deal with so-and-so."

"Ok, we're back on the ship, let's go!"
"We can't!"
"Why not?"
"Because so-and-so."
"Fuck you and fuck me and fuck everything and fuck this fucking season! GHAAAAAAAAAAAAAAHHHHHHH!!!!!! MOTHERFUCKER!!!!!!!!!!!!!!!"
This season should've been half as long as it is.  But it isn't.  So it's a slog to get through.  I'd honestly recommend just watching the first 3-4 episodes, then skip to the last 2.  You'll be able to pick up enough information to get a general idea of what's happened between that time.  You're not missing much, trust me.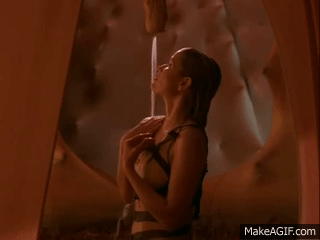 Themes of what one can look forward to in the afterlife, facing punishment for all the harm one has done, or facing reward for all the good one has done.  Yin yang with good and evil, though this aspect isn't put forth anywhere near well enough.
This season drags the show rating down to a 2 / 5.  But there is one more season.
Season 4
…
Ok, yeah, it's better than season 3.  And on-par with season 2.  But seasons 2-4 pale in comparison to season 1.  The main reason to watch this season is to get to a more definitive end for the series, even if it doesn't tie up every loose end (I think this is intentional for some thematic reason regarding the fate of this other group of people who aren't the main protagonists).  In this season, the Lexx gets to Earth, in the present day (though it's sort of an alternate reality version of Earth; at least that's my theory, otherwise it's possible to drive rocket ships as easily as you can drive a car, sometimes with a joystick).  There are some tidbits dropped here and there that link back to the lore setup in season 1 (which isn't really developed at all in seasons 2-3).  But these tidbits, in hindsight, aren't satisfactory.  This season acts as satire for the U.S. and its stereotypes and capitalism and politics.  Some of the satire is great, some is so-so.  But I can't say I ever got completely bored with it.  It does have some build-up to the finale, but season 2 had better build-up for its own finale compared to season 4.  On the other hand, season 4 has a greater amount of entertaining episodes compared to season 2.  Pros and cons, but at least neither are season 3.  When it does get to the final episode, it does end by giving the best character in the series the ending he deserves (without this one character, I would've stopped watching the show long ago).  So despite other protagonists still being around, who gives a shit?  Once this guy ended, the series ended, and that's fine by me.
Aside from the ending, there is a stand-out episode I rank up there with the stage play episode from season 2.  The episode where these two guys are playing a chess game on some inter-dimensional plane.  And it shows the full chess game with every move, with nice commentary between the moves.  And the tension is high throughout, making you wonder if the protagonist is confident for a reason, or is being overconfident.
Themes of destruction and rebirth.  A society doomed to fall, but hopefully has accomplished enough to carry on from the ashes.  How love can cause one to do things terrible as well as things that are wonderful.  The things we do for companionship.
At this point, I'd give the series overall a 2.5 / 5, which pains me because there are some great moments to be had here and there.  It's just that they get spread too far from each other after season 1, and are practically nowhere to be found in season 3.
Other Notes
The first season is the one and only season that takes the premise and the content seriously and doesn't ever really get tongue-in-cheek with it.  That all changes for the worse with the other seasons, though they each still have some great moments in them (though season 3 only has a few, which isn't enough to justify its 13 episode length, which is practically half the number of episodes in seasons 2 and 4).  Seasons 2 and onwards gets quite pervy at times.  I'd say the perviness goes a little too far in season 2 where every other episode is perverted in some manner.  They ease up on it with seasons 3 and 4.  Would've liked the show a lot more if the captain of the ship was a less annoying and more like-able character (though that might defeat the purpose, as the series wants anti-heroes as protagonists whom the viewers are supposed to get frustrated with at several points in times).
If there is any show that could use a reboot, it would be this one.  And honestly, the timing is just about perfect for it.  SJWs are prime candidates for satire, but the show can also get away with having a lamebrain wimp of a male protagonist who represents everything feminists and PC people despise to even things out.  Hell, I think the series could do with a stronger female protagonist (aside from season 1, she didn't really do all that much other than be naively innocent in her view of the universe and with her view on getting laid, despite her strengths and what she is capable of, which never really amounted to anything significant).  The show can take shots at everyone, but should also take itself more seriously than the original version does (save for season 1).  There is still potential within this series that has remained untapped due to the lack of good creative writing.
So despite the 2.5 / 5 rating, I can give the first season a rock solid recommendation, season 2 a cautious recommendation, but the rest I would advise watching at your own risk.  The later seasons are good only for having a fitting end for one of the main leads (well, I guess a fitting end for 2 of the leads if you think about it).  And even then, you have to slog through a lot of bullshit to get to the good parts.
PS: Oh, in case you were wondering, Babylon 5 and Farscape are leagues beyond this show.  I'd recommend those for anyone who wants to get into live action sci-fi series (and Star Trek TOS and TNG, of course, which should be assumed to be included to any list such as that by default).  From what I've researched, nothing else really comes as close as these when it comes to sci-fi shows to recommend, though Stargate SG1 and X-Files aren't half-bad either.  As for Battlestar Galactica, the old series was never finished.  The Sci-Fi remake/reboot, however, turned into ass by the end, so I can't in good conscience recommend that.