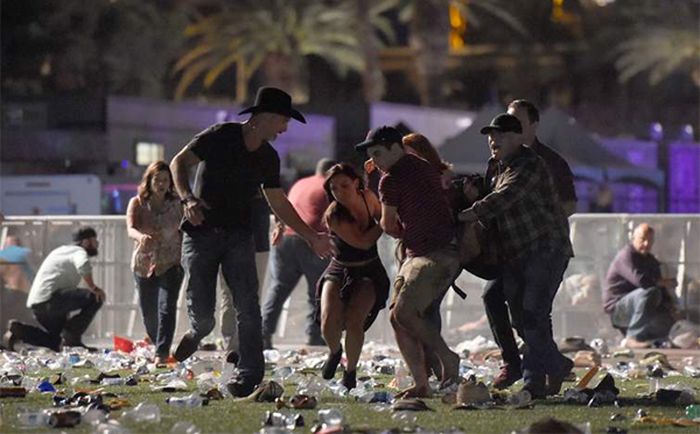 I know what's going to happen. Regardless of the shooter's affiliation, whether he's just some crazy old man who decided to go insane at this moment in his life, or if some organization convinced him to do this (be it religious or political), the same thing is going to happen that always happens in situations like this, regardless of how high or low the body count is (though from what I've gathered this is the highest body count yet from a shooting massacre). Most mainstream media outlets are going to call for gun control and a ban on guns. So that this won't ever happen again. Late night talk shows are going to preach this message, most news organizations are going to preach this message, and trolls on any website that has a comments section will be blaring as loudly as they possibly can that guns should be removed from everyone. They never let a crisis go to waste. Hillary Clinton sure doesn't.
Some sources say the shooter did all this because the crazy old man converted to Islam and joined ISIS a few months prior to this incident, but this could happen whether or not that is the case. For all we know, it could just be some old guy who despises country music and anyone who listens to it. Besides, information like this can't be trusted or relied upon during the first 24-48 hours after an incident like this. Too much misinformation flies around.
My position on this matter is to disagree with those statements entirely. Banning weapons is not the answer, otherwise places like Chicago would be a better place to live. However, when a gunman is able to store a bunch of rifles in his hotel room including a machine gun in a state that has lax gun laws to the point that you don't need a permit or license to purchase any (at least when it comes to non-private sales), that tends to raise a few eyebrows at the very least. While I don't believe guns should be banned, I do believe that only responsible people should be able to purchase them, which is why I do believe that permits should be mandatory. It just saddens me that some people can be so violent and crazy and untrustworthy that it makes this necessary.
On the other hand, even those with permits could still pull something like this off. Even those with insane evil intentions can act proper, mature, and of sound mind when it comes to acquiring weapons before they decide to use them.
It all reminds me of a post I made (long before I established this website) regarding a shooting incident in December 2012, in regards to a school shooting:
God o'mighty, another big news story that will last for weeks, only to get gradually more and more politically and media biased in some form or another, until you get sick of hearing about it. Personally, I'm already sick of it on day 2. The media won't handle this any differently than the death of a single celebrity, except that there's more tragedy in it (a bunch of children killed).

Don't get me wrong, this event is sad as hell, but I hate the discussions that spawn from stuff like this. There's always some uptight radical asshole (religious or otherwise) who will say something on the event that will piss people off for the wrong reasons. There's always some news channel that will spin it in a despicable way. There will always be a dipshit politician who will try to make his/her own political gain/agenda from the event. There will always be some guy/gal who will say the law should change in some way that involves removing someone's right and/or giving more power to the higher-ups (or in some rare cases taking it away). And last of all, all of the above (and more) will have me pissed off enough to post a rant about it.

Let's face it, stuff like this has been going on a lot longer than some of us would believe. 1902. Year 1902 A.D, October 10. That's when the first school shooting ever took place, in Altona, Manitoba, in an event known as The Altona Schoolhouse Shooting. It happened then, it happened a few years ago, it happened recently, and I have no doubt it will happen again. If guns didn't exist, people would be using knives instead, because there is always some person out there who becomes fucked up enough to do shit like that.

Basically what I'm saying is, it doesn't matter what law is passed, what actions are taken, or what year it is, tragedies like this are inevitably going to take place at some point in time. Only thing we can do his get over it and move on. If an agreeable way can be found to make such an event have a less likely chance of happening in the foreseeable future, that would be a bonus. No point in trying to make other people's lives miserable by moping over it for too long, or by imposing your own set of laws/standards that hurt more people than it helps. Just let everyone be. If another f'd up person shows up wanting to start a killing spree, hope that there is another person (or multiple people) on the scene with the freedom (that no one should take away) to stop that person ASAP. You don't have to be a security guard to do so, you just need to realize you can do so yourself, and have the balls to do it (ladies, we all know you can also grow a pair too; don't think your excluded).
My feelings haven't changed much in that regard since. If someone really wanted to kill a lot of people, there are alternative means to guns. If guns were banned, assuming they couldn't get a hold of guns on the black market, they would use explosives instead. Every bit as illegal once cobbled together, but more difficult to track.
And there's another thing to consider. This is one major incident that doesn't happen very often. If guns were banned in order to stop a major incident like this from happening, what would the consequences of that be? Thankfully there are examples to make my point. In 1996, Australia implemented a gun ban, with the intent to cause violence to plummet. Well, gun violence did plummet (although didn't altogether disappear, still making up for 20% of all homicides even after the ban), but other types of violence rose, such as sexual assault, manslaughter, armed robbery, kidnapping, and unarmed robbery (Source). The same thing thing happened in the UK with the same results (Source). And other studies, including by John R. Lott, have shown consistently that crime rises when guns are banned or made difficult to get a hold of (Source).
The bottom line, even if guns are banned, even if we disregard the purpose of the second amendment and why every citizen of sound mind should be able to have access to a gun, even if that does prevent major incidents of massacres such as the one that happened recently in Las Vegas, this would inevitably lead to an overall increase in crime that would defeat the purpose of banning guns in the first place. Sure, that would most likely prevent a massacre that would kill 5-80 people within the course of an hour or less; but this would be offset by having just as many people killed, if not more-so, overall, only more spread out over a series of days/months/years.
And people ask for the government to help them out. Has the government ever been that efficient at helping out citizens? Can you honestly say that with a straight face without lying through your teeth? I say that there is a reason why they say freedom isn't free. It's because the free have to work everyday to maintain their freedom. That includes being capable of defending your freedoms and defending yourselves. Because we will always be susceptible to dangers like this. Live with it, because it could be worse than it is now.
Besides, a lot of them speak as if banning guns will enhance our security and our safety, as if its possible for someone to live life without any danger, with a full sense of security, without needing to worry about anything. Bullshit! Danger will always be in our lives, in one form or another; ok that's a lie, it will be in multiple forms. The point is, you have to live with danger. Besides, saying there can be safety without danger is like saying there can be light without darkness, good without evil. Live with danger. Live being prepared for danger. Hope for the best, prepare for the worst. Be tough, not weak. Be independent and worthy of living free.
Edit:
The only reason I'm including this little bit of information here is because it ties into the next movie post I'm making on this site.  So apparently ESPN (and Fox Sports from what I understand) was planning on not airing the national anthem segment of football games so that the controversy can be ignored and that the protesting players won't get their free air time.  It pisses me off that it's come to that, but that was their plan.  But now, as a result of this shooting, ESPN has decided to reverse this decision for the Monday game, 10-2-2017.  Let's see if these assholes decide to kneel this time.