Rated: 3.5 / 5
I question how much I actually enjoy stealth games.  Aside from Thief I and II, I don't normally go out of my way to play these sorts of games.  On the other hand, certain RPGs like Deus Ex, while not primarily a stealth game yet can be played as one, do end up causing me to take the stealth-tactic route.  Mainly because it seemed more logical to me to not try and be a one-man army, since games like those try to have a sense of realism.  Plus they subtly encourage you to try more pacifist tactics, lest you risk causing hostages to be butchered or something.  I don't know, maybe it's because of some subliminal shit that causes me to take the stealth approach in those games.  Or because I'm not that great of a shot (at least compared to online players), so I just play like a pussy.  But since this game was getting rave reviews, I thought I'd try it out.  And overall, it's not too bad.
There are 13 missions in the game, each one getting progressively longer, complex, and challenging.  First mission is a great intro to the game system, the 2nd mission is a decent progression.  But from the 3rd mission and onwards, it doesn't pull any punches with the difficulty.  You have to learn the capabilities of the characters inside and out, just as you'll need to learn to utilize the controls for quick maneuvers to get the timing right, plus to utilize the ability to see the line of sight of specific soldiers/samurai/civilians.  Shadow mode for simultaneous character actions, each of their special abilities, knowing when to move by quickly, or crouch and move; when you should kill someone, when you should just try to avoid them, etc.
In other words, I strongly recommend using a controller for this one, rather than a mouse and keyboard.  This game seems more designed for control pads.
If it wasn't obvious, this takes place in medieval Japan, during a time when the way of the samurai was ending.  So of course there's going to be some challenge to their traditional ways, especially with the questions asked to or about the Mugen character (one of the five party members you'll have through much of the game).  And, of course, they have to throw in a bit of women power (mainly with this one character who can disguise herself to blend in with the enemy), but they thankfully don't go overboard with it.  It's the same kind of thing you get with the film The Last Samurai, except the war-mongering samurai are given a more antagonistic light this time around.  Two significant events happen in the game to thematically represent this way of life coming to an end, signified by two major characters having their lives ended.
Theme aside, the game controls fine for the most part.  I found myself frustrated at points for not being able to pull off these plans I had in mind to get through a section, but that's mostly on me.  Overestimating the capabilities of my characters, underestimating the number of enemies and their patrol routes (I needed to learn more patience, even if the whole thing seems like trial and error), and just getting angry knowing that, in hindsight, there was a better way to go about completing a portion of a level (if not the entire thing).  However, there were a few times where the NPC movement seemed glitched, with one or two guys being stuck together or to some object on the map and being unable to move.  This was rare, and I think it only happened at 3 points throughout the entire game, but it was noticeable when it did.  Nothing game-breaking, thankfully.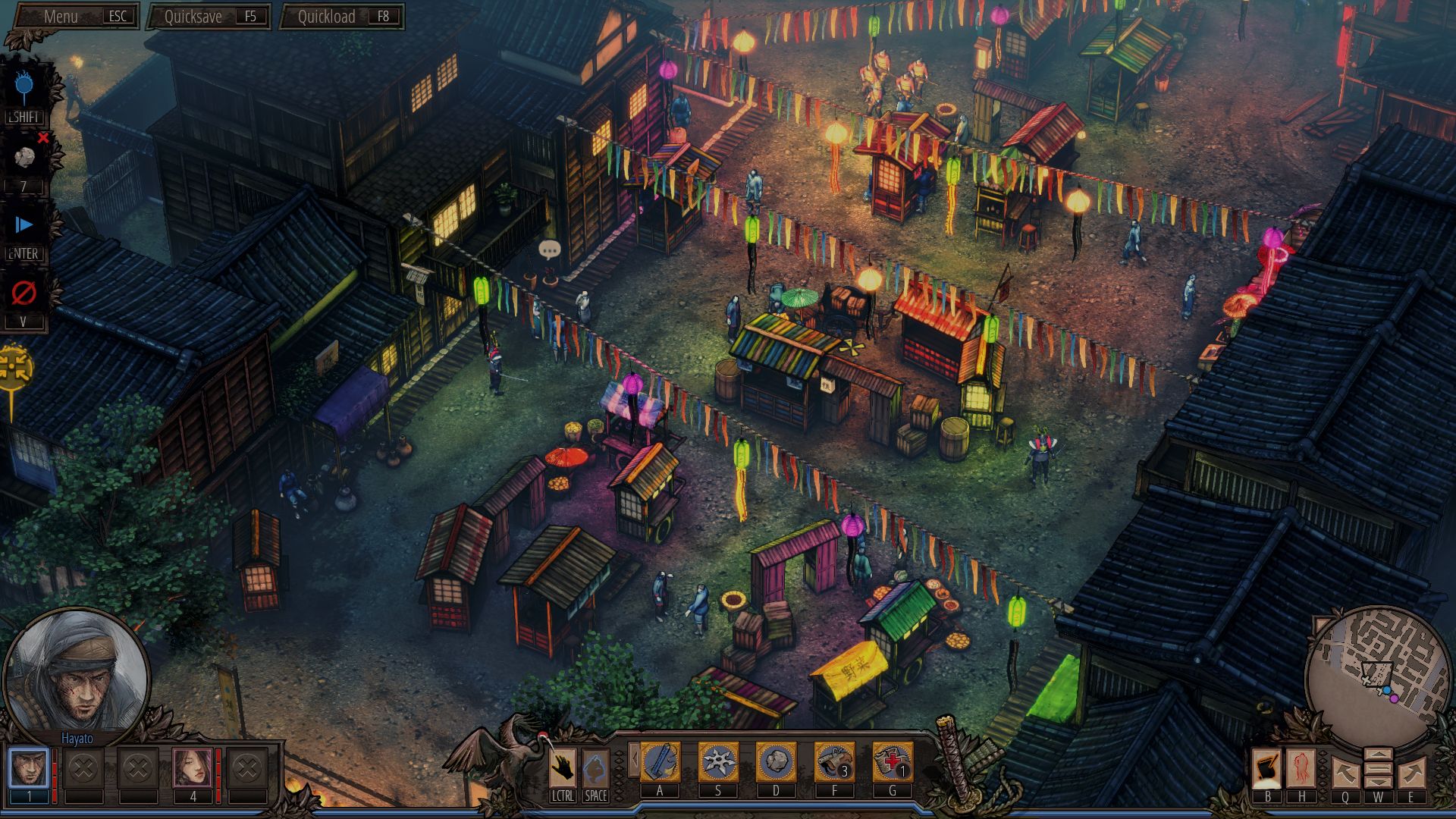 There are some caveats though, which I noticed during the last 3 missions.  Sometimes there's a portion of the map that juts out just enough to stop you in your tracks unless you go around.  I'm not talking about a section of a cart or something, I'm talking about one or two fucking pebbles that your character should be able to just fucking walk/run across, but can't, so you have to learn to go around these things and not hug the walls too much or else you'll get stuck and then get caught by the asshole NPC you thought you were about to avoid until that shit happened.  So, you know, little frustrations like that, which again aren't game-breaking, just irritating.
After the first 2 levels, I'd say each stage took me roughly 2 hours each to beat (on Hardcore difficulty mind you, I'm not that much of a pussy to settle for normal mode, especially when it felt like the game was pulling it's punches, let alone beginner mode).  Which gives this game a playing time of roughly 25 hours.  A solid enough length for a game of this type.
And even after you finish a level, you can replay it again to complete challenges (of which there are 9 per level).  If you beat a level on hardcore mode, there's a chance you will have completed at least 2 of the 9 challenges on a first try.  For the first level, I completed 8 of the 9 challenges (including a speed-run of beating the level in under 11 minutes).  I enjoyed them, at first.  But then I came to realize some of these challenges are just downright stupid.  For instance, one of the challenges in the first level is not to kill anyone.  You can knock them out, but they'll come-to after about 40-60 seconds (I never timed it).  And it seems impossible to get through a level only by knocking people out.  But then I figured out the trick.  Knock someone out, dump their body in a well (I think there's only 2, at most, in this level), rinse and repeat for everyone else in the way.  But this gets really fucking tedious when you realize there's only 1 well that you can use for this purpose for a good portion of the level, so you'll be knocking guys out, carrying their fatasses for up to a minute at a time trying to get back to this cocksucking well, dumping them, and doing it again and again, having to travel further and further distances while doing this.  When a challenge gets that tedious, I tend to stop giving a shit about them.  Seriously, don't worry about the challenges, at all, during your first playthrough.  Don't go back to those missions and repeat them just to do those challenges until you've completed the game.  These challenges have the potential to increase the amount of times it takes to complete a mission exponentially, sometimes for ridiculous reasons.
Or so I thought.  But then it turns out there was a way to do this quickly without needing to KO all that many people.  This hot shit Korean gamer (you fuckers and your god-mode Starcraft skills) makes me look bad:
So it's watching this video that made me realize I'm nowhere near close to being a master at these types of games.  I may be capable of beating them, but I'm not capable of being great at them, at least not on my own without looking up how someone else "did it."  This is one of those games that every stealth game ultimately ends being in a glorified sense: a puzzle game.  It's not just about figuring out a way to progress though a stage, it's also about figuring out the best most efficient way to do it.  And I will admit, I am not the best at figuring out that stuff on my own.  It infuriates me, but that's on me, the game isn't to be faulted for that.  You hearing me you asshole game journalists who bitched about the difficulty in Sekiro: Shadows Die Twice!?
But anyway, if stealth games like these seem right up your alley, I say go for it.  It seems like one of the better ones released in recent years that I've learned about.