So in celebration of cocksucking California passing bullet legislation, I figure I'd talk about the best defining first-person-shooters ever made, outside of Doom (made after Doom).
Surely everyone has heard of Doom being the first major defining first person shooter game, which is still awesome to this day.  True, Wolfenstein came before it, and was made by the same company (iD).  But let's face it, Doom in superior to Wolfenstein in every way.  But there are at least 2 other first-person-shooters which have defined the genre and made it what it is today (well, one would hope; plenty of today's games could take lessons from these).  Recently played through both these games.  So let's start with the earliest one.
System Shock (1993)
Rated: 4 / 5
While Doom may be the first major first person shooter, it was limited in how the player could move.  In that the player could only turn on a 2-dimensional plane.  They couldn't look up or down, only side to side.  Well, System Shock not only allows the player to look up and down, but also to crouch, to lay flat, to lean left or right, and even enter a virtual world where they basically get full 360 degree freedom of movement.  All this just one year after Doom hit the market.  Quite a feat, even if the controls were clunky as hell (this has since been mostly rectified thanks to the Enhanced Edition which grants the ability to play in a fashion more similar to shooters of today; believe me, you'll want to play it this way).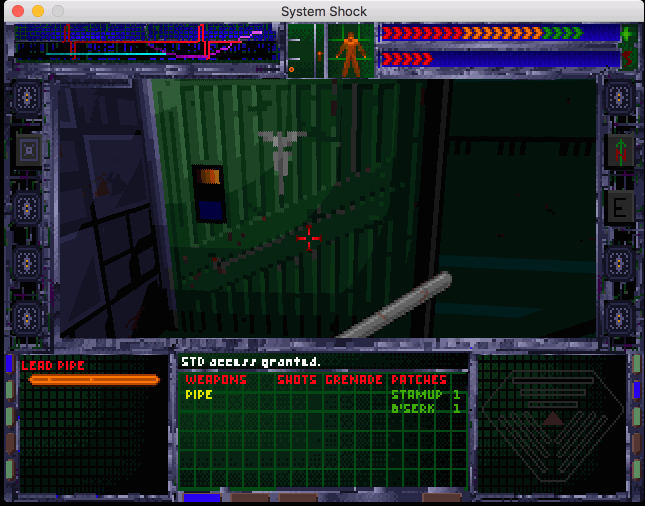 And what else did this game accomplish?  It's arguably the first FPS game to have narrative immersion.  You aren't just playing the game just to get guns and ammo, and rack up a body count, and discover secret rooms, gain a high score, etc.  In this game, you are actually involved in a developing plot, with a flawed protagonist (you) against an antagonist partly made because of your past misdeeds.  It has warnings of the future, about AI, about cybertechnology (in the same vane as the Cyberpunk universe, except in space, on a space station).  And it's also likely the first game to have "logs" littered throughout to give you insight as to what happened on sections of the space station prior to your arrival (just about every FPS game nowadays incorporates this).
And I'll be damned if I wasn't invested into what was going on.  The last third of the game is quite a ride.  And it's great when you're first starting out, because it's like a survival horror.  Especially when you learn of the fate of the crew, and what SHODAN did to them, and what the origin of these mutants are.  But you get stronger as the game goes on, becoming more of a threat to SHODAN (the AI), which initially thought of you as insignificant in the grand scheme of eliminating all human life from the world, and replacing it with a new race of machines.
If there's any fault I can give this game, aside from the clunky control scheme and interface, it's the level design.  Don't get me wrong, it works just fine, but you can't help but think that it was designed more for gameplay-sake than narrative sake.  In that the designs don't make all that much sense in terms of how one would want to design a space station.  Alien: Isolation did a much better job by comparison (to make a more recent example).  That, and you could find yourself lost on what to do and where to find something if you miss it early on (like some notepad that has a passcode on it, or the numbers on certain screens).  That being said, the stuff that you can get stuck on isn't anywhere near the worst I've seen from FPS puzzlers, especially from that time period.  Even Doom and Duke Nukem 3D had levels which players would find themselves stuck on for a while.
Regarding the difficulty (at least on Normal mode), it started out challenging, but after a while the game mostly feels like a breeze until the last couple levels.  If you spend enough time picking up ammo from each enemy you take out, and each crate that you find, you'll have more than enough for whatever meets you later on.  Especially once you get the lightsaber (yes, this game has lightsabers).  You'll be using bullets, and energy (the latter of which can be recharged through one-time use batteries, or an energy core located in various areas).  Every now and then, there will also be a first aid station that fully recharges your health (and you'll be provided consumables for health as well).  Overall, it took me roughly 15 hours to beat.  That being said, there is a hard mode where you are given a time limit for beating the game.  7 hours.  Go longer than 7 hours, you lose.  Good luck with that.
Aside from the historical impact this had on gaming, it's still a solid experience to this day.  Though it does end a little too abruptly once you beat the final boss (I mean, there's no epic explosion or anything; it literally cuts to the epilogue after you hit SHODAN with the last bullet).
And did I mention they're remaking this game?
And for the next step in the evolution of FPS games:
Quake (1996)
Rated: 4 / 5
This was the game that set the standard for every FPS game made afterwards, in my opinion.  Especially if you play with the HD graphics.  That's a bit tricky to do though, for a few reasons (more on that later).  You move around like a normal modern FPS, shoot guns and collect ammo like a normal FPS (none of that "press a button to pick up the ammo pack" bullshit, you just walk over it to collect it), etc.  And it doesn't try to be as ambitious as System Shock control-scheme-wise.  There's no laying prone, or leaning left or right.  It's just move, run, and jump, and that's it.
While there is a story, it's not something that will be at the forefront anymore than it was in Doom (made by the same company, iD).  This game is all about the gameplay and shooting the shit out of demons, pure and simple.  Over the course of the game you get more guns to shoot, and more enemies to shoot at.  However, it's not as diverse as Doom.  By comparison, the variety of enemies will seem limited.  In Quake, you get 8 weapons and 7 enemies.  In Doom, you basically got 8 weapons and 10 enemies.  But what it lacks in diversity compared to Doom it makes up for in some of the best level design (and enemy placement within said levels) I've ever seen in an FPS.  The design is tight, every door, hallway, secret, platform, enemy; it all seems designed with intent, with everything very well thought out.  Masterminds designed the levels for this game.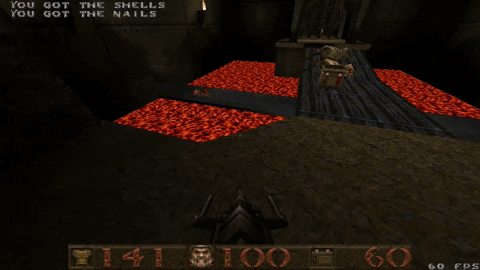 And while there isn't a story per-se, you do get the sense that you're in a sacriligious place.  A place outside of your world, your own dimension.  Why are you even there?  Why even visit a place like this?  Well, reading the instruction manual, pretty much for the same reason you visit Hell in Doom: demons are invading through a portal, so it's time you return the favor and invade their world, and throw them a very big hello party, courtesy of humanity from Earth.  Our protagonist doesn't like illegal aliens invading his fucking turf.  So, naturally, he decides to gear up and blow some of them away.  It's a challenge of his manhood and masculinity, which is why the gun is always front and center, like it's your massive erection, blowing out bullets and beams and shells and rockets.  And if you're into it enough, you might also get a stiffy and cream yourself in the ecstasy of all the carnage.  At some point you'll probably scream like you're having an orgasm.  Like Trent Reznor does.
And to stand apart from most other shooters, this is more of a gothic horror.  It's like you're in a fucked up medieval castle that's out of time in some hellish realm with hints of sci-fi thrown in.  It's rather unique.  And to make it even more unique, the soundtrack was done by Nine Inch Nails (NIN).  And to make their presence even more significant, there's a Nailgun, with ammo packs containing the NIN logo.  It's more atmospheric rather than in-your-face; it conveys a more subtle horror and disturbance that slowly seeps into your skin.  The music is every bit as important as everything else contained within the game.  It would feel incomplete without it.
Unfortunately, incomplete is the standard version people tend to get nowadays with this game.  Whether you purchase it on Steam or GOG (I prefer the latter), the soundtrack is missing (because of rights issues).  Well, that's no completely true.  GOG did manage a workaround, though you are forced to play it with the inferior graphics (more sprite-based than 3D model based).
So on that note, here's the 3 main ways you can play it once you purchase it on GOG (assuming you're not using an alternative method):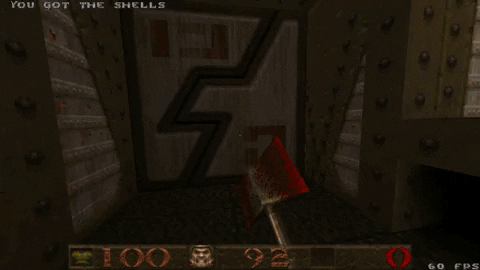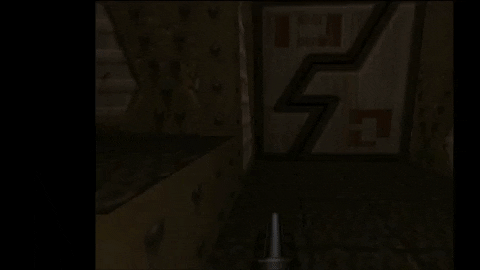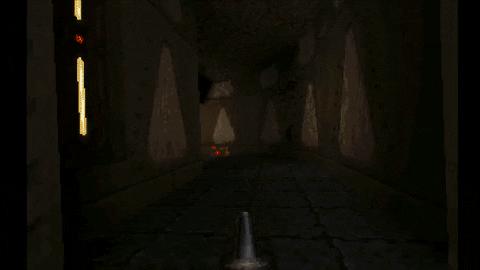 Otherwise, if you can manage to play a version of it with the best graphics and the music thrown in, it's a great experience.  The only downside to it is that there's only 2 boss battles, when clearly there should've been 5.  There's basically 5, uh, "dimensions," with each dimension having a certain number of levels.  Only in the first dimension is there a boss at the last level, and the fifth dimension is basically a glorified (get to the final boss of the game) level.  There were some production troubles that prevented them from having the time and budget to program in the other bosses, so they scrapped them and made the last levels of dimensions 2-4 basically be like any other level, except progressively more difficult.  Not necessarily bad, as the challenge is still great and the level design is impeccable as always.  But it's just tragic to think of what could've been.
Mods (for Quake only)
Ok, so first things first.  While there are a couple bits of software out there that basically do the same thing, this is the one I used.
Download this, put in the files/folders (from the GOG download) needed in the Quakespasm folder, and you're good to go.  Will run in the best quality.  However, it still won't include the music, not right off the bat.  Still needs some tinkering to get that to work.  You'll need to either copy-paste over the mp3 music files the GOG game has stashed away in one of the folders and put them in the Id1 folder; each music file should be titled track02.mp3 or track02.ogg (.ogg is the best format), with the "02" number being anything from 02-11 (there is no track01, there isn't supposed to be).
And honestly, that's really the only mod you'll need.  However, if you want more levels out of quake, there are several fan-made campaigns which add a crapload of content, including cutscenes (in a similar vane as Red vs. Blue, except these guys try their best to take it all seriously).
This is a fan-made campaign that is absolutely massive.  If you want to check out fan-made content, this is the absolute best place to start (though the cutscenes do run for too long in my opinion).  There are others in existence, to be sure, but this is the best starting point.  Unfortunately, I don't think it works with Quakespasm (at least I couldn't figure out a way to make it work with it), so you'll be dealing with the more sprite-based graphics.  It's still good.
PS: And yeah, I know, I didn't really have much to say about these games other than just recommending them.  I'm not the best when it comes to video game reviews, I'll admit.  Difficult to summon the willpower to discuss the graphics, audio, gameplay, story, and replay value.  I tend to be more about philosophical aspects, or food for thought, when it comes to my reviews, and games tend to be difficult about that stuff because they're more about challenging yourself, and seeing if you can take on that challenge and succeed, and have fun along the way.  Adding a narrative is a bonus.  If you want a solid review for each game, I provided videos to LGR.  He is second to none when it comes to reviews for games like these.  So consider this article a recommendation for the games and the LGR reviewer.  That being said, there may come a day where I come across a game that is so narrative dependent, so devoid of any real gameplay, that I may just end up reviewing it like a movie.