Members of 2 Live Crew formally charged with obscenity in Florida. 400 New Kids on the Block fans treated for heat exhaustion in Minnesota. 2 Live Crew release "Banned in the USA" the lyrics quote Star Spangled Banner and Gettysburg Address. "Jetsons the Movie" by Hanna-Barbera with Tiffany, premieres. First Three Tenors concert featuring Plácido Domingo, José Carreras and Luciano Pavarotti at Baths of Caracalla in Rome – recording of is world's best-selling classical record. Andrew Dice Clay cries on Arsenio Hall Show. NYC police arrest "Dartman" (stabbed over 50 women with darts). "Howard Stern's Summer Show" premieres on WWOR-TV (NYC). Civil trial by parents of Suicide victims against Judas Priest begins. NYC's Empire State Building catches fire-no fatalities. Rick Dee's "Into the Night" premieres on ABC-TV. Ukraine declares independence. Richard Nixon library opens in Yorba Linda, California. Pink Floyd's "The Wall" is performed where the Berlin Wall once stood. Roseanne Barr sings the National Anthem at Cincinnati Reds-San Diego Padres game, and caused controversy because of how she sang it. US President George H. W. Bush signs Americans With Disabilities Act.
---
---
---
Music
The Afghan Whigs: Up In It; Jeff Lynne: Armchair Theatre; Devo: Smooth Noodle Maps (received negatively upon its release, but some say it's misunderstood; even then, no one would really call this a masterpiece on a good day); Steve Earle: The Hard Way; Harry Conick Jr.: Lofty's Roach Souffle (if you want some nice Jazz); The Time: Pandemonium (funk isn't really my thing, but the rest of you might find the song "Jerk Out" interesting, and the title of another song "Donald Trump (Black Version)" amusing); Aztec Camera: Stray; Three Hypnotics: Live'r Than God; Boogie Down Productions: Edutainment (certified gold); The Neville Brothers: Brother's Keeper;
Suicidal Tendencies: Lights… Camera… Revolution!
No, it's not something I'd listen to regularly. It's included simply because of their popularity, particularly from this album (some would call it a 90s essential). The music video "You Can't Bring Me Down" on MTV contributed to that. That being said, I do fancy the lyrics to the track "Lost Again."
Took my dreams, ya left them there shattered
Took my hopes, ya dug 'em and they splattered
Took my mind like it didn't even matter

Entered a world that I didn't belong
Thought I could take it but I stayed too long
Thought I could handle it, boy was I wrong

Fighting a war I can never win
Where the nightmare never ever ends
And I'm, not into playing

Got into a war with reality
That motherfucker it was waiting for me
And I lost again
---
The Allman Brothers Band: Seven Turns
No comment.
---
Santana: Spirits Dancing in the Flesh
Again, not a fan of this stuff. But considering how big this band was, and how revered this album is…
---
Harry Connick Jr.: We Are In Love
Another one I'm not a fan of (it's just the music style in general, Jazz normally isn't my thing). But since it hit multi-platinum, and was a major it across the Jazz and Pop scene, it can't be ignored. Plus this maniac released a solo album alongside this one.
---
Iggy Pop: Brick By Brick
Yet another album with a famous musician which made a music video directed by David Fincher used to promote a film. Except the film, Black Rain, was released last year.
---
Poison: Flesh and Blood
Had the hits "Unskinny Bop," "Something to Believe In," "Ride the Wind," "Life Goes On," and "(Flesh & Blood) Sacrifice."
---
Adamski: Liveandirect
Normally wouldn't have much interest in this. Rave music isn't my thing. However, according to Dazed Digital, stated that this is the first rave album ever released, so it has that historic thing going for it.
---
2 Live Crew: Banned in the U.S.A.
Again, I'm normally not into Hip-Hop and rap. However, this is one album can't be ignored. Why? Because around this time 2 Live Crew became highly controversial. So controversial that the highlighted album "Banned in the U.S.A." being sold today doesn't contain the song "Fuck Martinez," with Bob Martinez being the at-the-time Florida governor; and the song also says "fuck Navarro," referring to Florida police sheriff Nick Navarro. Why fuck them? Because they filed obscenity charges, and arrested store owners for selling the album (likely for their previous album As Nasty As They Want To Be). And most importantly of all, this was the album responsible for the creation of the Parental Advisory sticker that is imprinted on obscene albums. Historic for its impact on culture, and bringing a spotlight to the issue of censorship.
---
Ian Gillan: Naked Thunder
I'm partial to "Gut Reaction" and "Sweet Lolita."
---
Mother Love Bone: Apple
Another one of those grunge pioneer groups (though it doesn't sound too much like grunge). What makes them notable is that the lead singer Andrew Wood OD'd on heroine and died in the hospital a few days before their first and only full-studio-length album was released. A short run that is all the more tragic considering this is a solid album in of itself, and it would've been nice to see what else they could've produced.
---
Jellyfish: Bellybutton
This is probably one of the most underappreciated pop/rock albums in existence.
---
Winger: In the Heart of the Young (24)
Good glam metal.
---
---
---
Movies
Films that didn't make the cut: Jetsons: The Movie (disappointing, even more-so considering two of the voice actors died prior to the film's release, one even died while doing the voice recording).
Die Hard 2: Die Harder
Ok look, I didn't care too much for this one, many others feel the same, yet it was big enough to be constantly mentioned and referenced and advertised. So there, it exists. Take it or leave it.
---
The Adventures of Ford Fairlane
This movie has become a cult classic, but it's only because it stars Andrew "Dice" Clay who was one of the most popular stand-up comedians at the time. Because other than that, this film really isn't anything special. And it bombed in theaters, and critically reviled, and given the Raspberry award.
---
Ghost
Well, we've got ourselves another all-time classic that got released this year (how many are we at now? 5?). Major box office success. And the highest grossing film of 1990. Plus it has this scene that was referenced and parodied a lot since then:
---
Arachnophobia
Oh yes. Now this is the best, and most terrifying (for those who are scared of spiders) spider film that will ever exist. Another classic (though more on the cult side compared to Ghost).
---
The Freshman
Some people give this movie crap, but I liked it for what it was. Plus, it's got a komodo dragon in it; that gives it some cred.
---
Navy SEALs
It's a dumb fun action movie. That is all.
---
Prisoners of the Sun (aka Blood Oath)
Relatively unknown film about Japanese prisoners post-WWII in Australia, having their fates determined by the court, and how some political relations bias interfered with some judgments, causing some to be punished who shouldn't have, while others were able to get off Scott-free. Tragic, but important.
---
Presumed Innocent
Another blockbuster hit, and one of the top ten highest grossing films of 1990. A thriller mystery that's actually quite good. Harrison Ford was on a roll with films like these, alongside the earlier films Frantic and Witness.
---
Problem Child
Oh God. This is one of those films I can't stand to watch today. It has a lot of that stuff in kid flicks, especially during the 90s, that drive me up the fucking wall. I wanted this kid to die, in multiple ways. But of course, we all know that's not going to happen. And the kid manages to do and get away with stuff that shouldn't be in the realm of possibility. At least Michael Richards (aka Kramer from Seinfeld) is in this to elevate it a notch or two. I don't like this film, but it was a box office success (and an even bigger success in the video market), which would leave the door wide open for a sequel to be made.
---
My Neighbor Totoro (13, foreign from Japan)
The English dubbed version wouldn't come around until May 1993 in a limited release. Anyway, this is the Studio Ghibli classic that I believe put this studio in the American spotlight. This is the film that made fans out of American audiences, though I don't believe it went major until Princess Mononoke.
---
---
---
Games
There was a game called Image Fight on the NES, but it's a much lesser port of the arcade version. So much lesser, that I would be ashamed if I included it here (same thing applies to Bad Dudes). Bigfoot (NES) is a monster truck racing game that's too complicated control-scheme-wise to be considered good. The Amazing Spider-Man (Game Boy); not considered great (decent at best); but it would pave the way for things to come, as it's not only one of the first Spider-Man games to ever be made, but also one of the first Rare (game company) games to ever be made.
Little League Baseball: Championship Series (July 1990; NES)
It has its fans.
---
Dusty Diamond's All-Star Softball (July 1990; NES)
Another for those into sports games.
---
Dungeon Magic: Sword of the Elements (July 1990; NES)
Man, that image for the game is epic. As for the game itself, it's not considered one of the greatest, but again, there are people who enjoyed it. Difficult to get into, and requires some note-taking. Not something I would play personally, but you might be interested:
---
Crystalis (July 1990; NES)
Hailed as one of the greatest RPGs few have heard of, in the same vane as Legend of Zelda, and the later SNES game Secret of Mana.
---
Snake Rattle 'n Roll (July 1990; NES)
Before there was Sonic 3D Blast, there was this game. Tough and fun.
---
Wizardry: Proving Grounds of the Mad Overlord (July 1990; NES)
Jesus. I hate these types of RPGs. Confusing as fuck. Hard as fuck too. And it's not something I would consider fun. But it was influential, and spawned other superior games. So if nothing else, for historical significance.
---
Final Fantasy (July 12, 1990; NES)
Where it all started. While Phantasy Star may have been released prior to this in the U.S., this had been in Japan since 1987. It took 3 years for it to get here. And when it did, Phantasy Star had some serious competition, which would cause their downfall in the long run.
---
Michael Jackson's Moonwalker (July 24, 1990; Sega Genesis)
There's also an Arcade version, but the main one people are familiar with is the one on the Genesis. It was famous because it was released while Jackson was still at the height of his popularity. It's not a good game, but it has huge cultural relevance.
---
Gargoyle's Quest (July 1990; Game Boy)
Starring Firebrand, who makes an appearance in Marvel vs. Capcom. Considered one of the best Game Boy games ever made. For a Game Boy game, it's definitely a cut above the rest.
---
Lock n' Chase (July 1990; Game Boy)
It's like an alternative to Pac-Man. And a pretty good one at that. Another great Game Boy game.
---
Penguin Wars (July 1990; Game Boy)
Interesting dodge-ball-esque game. Port of an arcade.
---
Dexterity (July 1990; Game Boy)
Tile flipping game that will make you stressed enough to flip something else.
---
Daedalian Opus (July 1990; Game Boy)
Yet another puzzle game on the Game Boy. Well, let's face it, that limited spec system could only work with puzzle games as its primary genre. Fit the blocks in the space allotted.
---
Dr. Mario (July 27, 1990; NES, Game Boy)
Surely you've heard of this Tetris-inspired classic.
---
---
---
TV Shows
There was this one obscure show called Wish You Were Here, which was a scripted (yet tried not to act like it was) show where the "host" visited various locations, and basically pointed out the good stuff about it. Too obscure and unknown to really mention too much, but I recall seeing a bit of it back in the day. There was also this other sitcom show that ran for only a couple months called Glory Days, which is only worth mentioning because Brad Pitt was in it. Lastly, there was another show trying to capitalize on the popularity of America's Funniest Home Videos, Tim Conway's Funny America.
SK8-TV (July 4, 1990; Nickelodeon)
The skateboard variety show by Nickelodeon. It had a young and career-rising Tony Hawk, and was also created/produced by the original Dogtown and Z-Boys. Good lord, I've never heard of this show until now. I wish I'd known about it back in the day.
---
Wild & Crazy Kids (July 4, 1990 – December 1, 1992; Nickelodeon)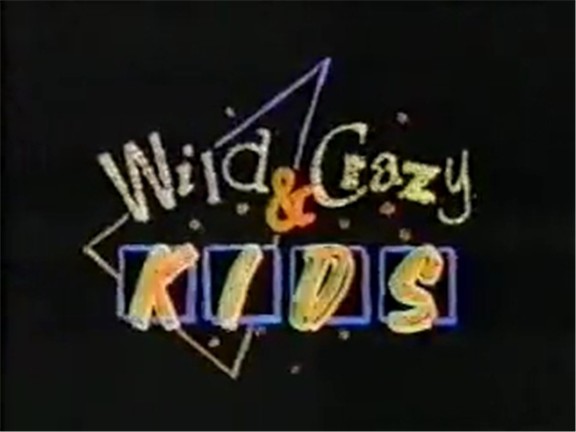 Nickelodeon always had a thing for wacky game shows. Great stuff.
---
Blossom (July 5, 1990 – 1995 [Pilot preview]; NBC)
A sitcom many would consider this show very dated and too corny nowadays, but it made a big enough impact to last 5 seasons. Doubt I'd ever watch it, but it was a thing at the time.
---
Dream On (July 8, 1990 – March 27, 1996; HBO)
Managed to run for 6 seasons despite never being all that popular, in terms of numbers of viewers. Yet it had a strong cult following in the day, with several proclaiming it to be the show Sex & the City wishes it could be. And it was geared towards adults, pushing the envelope of what was allowed on TV. Being on HBO, it could get away with a little more than normal. A bit difficult to track this show down, as only the first 2 seasons ever got a DVD release, and it's out of circulation. From what I've seen of it, I do rather enjoy the whole flashback to old movies/shows in an Ally McBeal style fashion, except this predates Ally McBeal, and uses old film footage instead of original FX gags. Probably what makes it difficult to put onto DVD, rights issues and all.
---
Northern Exposure (July 12, 1990 – 1995; CBS)
Considered one of the best and one of the most intelligent TV shows ever made.
---
The Howard Stern Show (July 14, 1990 – August 8, 1992; WWOR-TV (Syndication in 1991))
It is what it is. You've probably heard this guy's name at some point in your life. Hard-cutting and extremely controversial satire show where threats of censorship and pulling the plug on the show happened frequently.
---
Swamp Thing (July 27, 1990 – May 1, 1993; USA)
Yup.
Edit (7-8-2019): Miscalculated the release date of this album by Jellyfish. It was released this month, it's a good album, so it's been added to the Music section.
Edit (4-7-2021): Removed Blind Guardian: Tales from the Twilight World from Music. That belongs in October 1990.
Edit (02-05-2022): Added My Neighbor Totoro to Movies.
Edit (2-12-2022): Added Winger: In the Heart of the Young to Music.