If you want peace, prepare for war.
Rated: 4 / 5
So I'm sitting in the theater, and watching all the trailer for the upcoming films this year.  And I felt nothing.  Felt no anger at all the PC feminist SJW NPC moments in practically all upcoming films.  I'm burned out from being angry.  I'm just bored with it all.  I'm just waiting for it to end.  And if it doesn't end, that's fine by me, 'cause I'll just find something else to do.  Like trying to find employment somewhere where I'm not going to get circle-jerked everywhere between cities and states.  Or maybe even try writing a fucking fantasy book again.  Dare I try making a video again?  Not today with the latter (just to squish any of your hopes).
Honestly, there are only two films coming out this year that I have any semblance of interest in seeing.  One is Godzilla: King of the Monsters, but each new trailer I see of that movie crushes my hopes a little more.  It looks like it's pushing the same bullshit diversity message that I'm sick of seeing, to the point where it's going to knock the enjoyment factor down a couple notches (these talentless hacks have spread far and wide enough to fuck up Star Wars and Game of Thrones, I should've figured Godzilla would be next on the chopping block; next sequel will probably have him kill some white nationalists and some albino monster or something).  The other is Joker.  After all, life isn't a tragedy.  It's a comedy.  Sometimes I just have to look back at everything and laugh.
John Wick hasn't succumbed enough to those attacks yet, but I'm sure some pushback is building from this successful franchise.  To make my case, consider what happened near the end of John Wick 2.  He kicked Ruby Rose's mute ass so hard, she got pissed at him and men in general.  Pissed enough to regain the gift of speech, start trashing on men, get hooked up with a black lesbian lover, and steal Batman's persona (along with a black butler pretending to be related to Alfred), dress up as Batman while calling herself Batm'am, try acting more "handsome" masculine and manly (penis envy), and start kicking dude's asses while trash-talking men in the process.  John Wick is sending some serious shockwaves (as Atomic Blonde will attest).  But that's one of the main themes this film is carrying: consequences.  He's not the only one feeling them.
I was expecting this film to be the conclusion to the franchise.  Up until this point, I've been hearing, "trilogy," and some talk of how the 2nd film ended on a cliffhanger because the writers didn't think they could condense the story they had in mind into a single film.  Well apparently, that story didn't involve wrapping things up in a satisfying manner.  So, yeah, this film ends wide open for a sequel.  Not quite as cliffhanger-heavy as the 2nd film, but definitely not as conclusive as the first.
That disappointed me a tad, but that was simply due to my expectations (I don't have much of a problem with those kinds of expectations being subverted; you listening Rian Johnson and David Benioff and D.B. Weiss, you fucking hacks!).  But I got over it quickly, because this film is expectedly awesome.  I'd even go so far as to say that it's the best John Wick film to date.  The first film was an unexpected solid surprise introducing us to gun-judo-fu (it was Equilibrium that introduced us to actual gun-fu, John Wick just threw in the judo aspect, and ultimately does it all better than Equilibrium).  The 2nd film was a solid follow-up, but the gun-fu started to get monotonous.  This film mixes things up with a pleasant mixture of gun-fu, judo, martial arts fights, various non-gun weapons, motorcycles, horses, dogs, and iron chefs.  Seriously, Keanu Reeves actually fight Mark Dacascos, and that is something I never thought I would ever want to see, let alone ever think it would happen.  But it does happen, and it's fun as fuck.  And Dacascos is practically winking at the audience at various points in the movie letting them know he also thinks it's fun as fuck.  That would probably be the best martial arts and blade fight in the film if not for the fight that precedes it, where Reeves goes against those two guys from The Raid films (it's not Iko Uwais).  Goddamn if I wasn't having a fun fucking time with this thing!  I recommend this highly over Triple Threat (what a disappointment that ended up being; it wasn't terrible, it just wasn't "great," and any self-respecting martial arts film with the cast that film had needed to be "great" at the very least).
I won't spoil all the action stuff that's in this film, but I will say the only moment where the action felt like it was dragging too much was this sequence where Reeves and Berry and the dogs were going on a killing spree.  That sequence lasted too long.  Mainly because they wanted to prove Berry was capable of kicking ass in something outside of Catwoman (huh, maybe that's also why she's a dog person in this film, plus this joke metaphor acting as a callback to the first film).  Goes on a minute or two longer than it should have.
So I guess my worries about this franchise running out of steam were unfounded.  Plus I was pleasantly surprised to gain insight into John Wick's origins at one point in this film.  Seems like each film manages to not only build upon the lore, opening up this assassin world even more, but also showing more about John Wick himself.
Still, as far as action sequences are concerned, I am starting to get a tad bit irritated at seeing these faceless bad guys running into the open and becoming easy targets, hesitating a bit too long during some of the close-quarters-combat sequences, etc.  You know, the kinds of irritations we're not supposed to have when watching any shoot-em-up and martial arts flick where one or two protagonists go up against multiple opponents at the same time.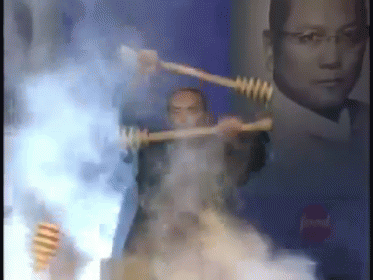 Plus the plot and situations get more fantastical than in the previous film, and that's saying a lot.  A part of me started to hope it would get ridiculous enough to where the Iron Chef's cat would face off against John Wick's dog.  Honestly, wouldn't that be great?  Maybe in the next Dog Wick parody they come up with (please oh please make a sequel to that, I'm begging you; come on, people loved it enough to where they included it as a special feature of the blu-ray release of the 2nd film).  Considering how the 2nd film ended along the lines of, "Everyone is an assassin," at that point my level of disbelief went to, "This does not take place in the same dimension we're living in."  You either go along with it or you don't.
Go see it.  It's likely the best action film we're going to get all year.