The "Ha!" comedy Channel on cable TV begins transmitting. Wrestlemania VI, Ultimate Warrior fights Hulk Hogan. World's largest bunny hop at Radio City Music Hall (NYC). Madonna starts her controversial Blond Ambition Tour in Tokyo, Japan. Hubble space telescope is placed into orbit by shuttle Discovery. The Earth Day Special, a two-hour commercial-free special event, premieres on ABC. The long-lost pilot show for I Love Lucy is broadcast by CBS as a special.
---
---
---
Music
Honorable mention to the soundtracks that have their fans but that I can't personally get into: The Lightning Seeds: Cloudcuckooland; Fleetwood Mac: Behind the Mask (I was never into this band, though it was difficult to get through the 90s without hearing them mentioned); Suzanne Vega: Days of Open Hand (won a Grammy); Lou Reed and Jon Cale: Songs for Drella; Barry Manilow: Live on Broadway (eventually reached Platinum status); A Tribe Called Quest: People's Instinctive Travels and the Paths of Rhythm; The Dead Milkmen: Metaphysical Graffiti; Hunters & Collectors: Ghost Nation; The Afghan Whigs: Up in it.
En Vogue: Born to Sing
This is the type of music you would expect to hear in those gangsta teenage/adult flicks that have a romantic main plot or subplot to it. Decent music to fit those type of films where they couldn't think of something better to play over the opening or closing credits of a 90s film. But in all seriousness, this did make Platinum, so it has to be up there for consideration. It may not be my type of music, but this is some definitive 90s hip-hop, soul, and r&b. "Strange" is the track that stood out for me.
---
Public Enemy: Fear of a Black Planet
Now while I usually don't prefer giving significant mention to rap groups (because rap isn't really my kind of music), when we're dealing with Public Enemy, and with the album that released the track Fight the Power, I kind of have to make an exception.
---
Green Day: 39/Smooth
Yep. The debut album from Green Day. You know their name. And as far as debut albums go, this is a pretty damn good one. Top song pick: I Was There.
---
That Petrol Emotion: Chemicrazy
This was supposed to be the "make or break" album, their "do or die" attempt. Some say it is the best stuff the band has ever put out, and is one of the best hidden gems of music out there. Which pretty much says all you need to know as to whether or not the Irish alternative rock band made it. They didn't. But there is this stuff to look back on and remember them by. And I have to admit, this album isn't half bad.
---
Death Angel: Act III
A band that attempted to be the next Metallica, and many would argue they succeeded when they released this album.  Considered their magnum opus.  Unfortunately, they would break up soon after this album's release, but reunite during the next decade to release some more albums.  Personally, I think the album is just ok.  No single track is fantastic or terrible.  The whole thing is consistent, and decent.
---
Every Mother's Nightmare: Every Mother's Nightmare (10)
---
Nick Cave and the Bad Seeds: The Good Son
Huh. I'm honestly at a loss for words for this one.
---
Johnny Gill: Johnny Gill
So this isn't an album I would listen to. But, this is one of those albums whose style screams 90s. Well ok, so it's more like mid-80s to early 90s, which is basically when this style of music called New Jack Swing burst onto the scene, but it was definitely prevalent during much of the time period. It had 4 hit singles: "Rub You the Right Way," "My, My, My," "Wrap My Body Tight," and "Fairweather Friend." While I wouldn't purchase the album to listen to, I would eat up these songs when they play in a movie or 90s tv show.
---
Warrior Soul: Last Decade Dead Century
Fairly good grunge rock album before Nirvana came along and popularized the genre. A pity they ended up not catching on to popularity.
---
Consolidated: The Myth of Rock
This one is interesting. That's all I'll say. This is one of those strange hip-hop, hard-rock, and industrial mash-up styles.
---
Fugazi: Repeater
Interesting punk-rock style, which basically has some genre titled post-harcore. Well whatever you want to call the style, the album itself, it's not bad.
---
Beats International: Let Them Eat Bingo
Some damn infectious funky stuff. If you should ever seek this album out, try to get the out of print Japanese 2-disc release. Otherwise, it might either be missing a couple songs, or trimmed down a few.
But anyway, the album of the month for me would have to be, undoubtedly:
---
Bathory: Hammerheart
Now this is more like my kind of metal. And not just metal, but Viking Metal! In fact, one could argue they created the genre, starting in 1988 with their album Blood Fire Death; only to completely define the genre here with this album. Just listen to this epic masterpiece (assuming it's your kind of music, like it is for me).
---
---
---
Now for my highlights for films of the month.
Movies
Honorable mention to a film called Spaced Invaders. Not because it's good, but because it's a notorious piece of shit. And there's this horror film called The Guardian which has a bit of a cult status, but I personally didn't think much of it. Some people who like Ernest will likely enjoy Ernest Goes to Jail, but I didn't find that movie all that appealing; but it does highlight kiddie 90s humor at some of its most extreme. With that out of the way…
Cry-Baby
The only real reason to mention this movie is because this was Johnny Depp's performance that put him in the spotlight. Otherwise, the film itself is a lesser version of Grease, and just meh overall.
---
Q&A
An interesting enough police procedural, with Nick Nolte giving a great performance. That is all.
---
Miami Blues

Bit of a cult classic, with a role that Alec Baldwin is actually good in (because he plays an asshole). Sort of like Payback in that you get ready to root for the bad guy. And this film doesn't beat around the bush with his character, he stays villainous, with only small slivers of good that temporarily peek though, until the very end. And this film had the plot of a criminal stealing the identity of a police officer before that show Banshee did it decades later.
---
Wild Orchid

One of the very few erotic films I actually kinda enjoyed. I wouldn't call it "one of the best ever" or anything, but a good enough watch for the genre.
---
I Love You To Death
This is one of those movies I wouldn't enjoy so much, if I didn't know that it was based on a true story, and some of the most insane events that take place during the film's second half actually happened. Truth is stranger than fiction. This would be the most criminally overlooked film of the month if not for…
---
Backtrack (aka Catchfire)
I reviewed this film. A misunderstood masterpiece that has been crippled by a theatrical cut, only for the Director's Cut (the way it is meant to be seen) to pass by largely unnoticed, only given a VHS release.
---
---
---
Now for my highlights for videogames of the month.
Games
There was sort of a sequel to Metal Gear called Snake's Revenge that came out on the NES, but that's one of those Metal Gear titles everyone would like to forget about. There was also a Fist of the North Star release for Game Boy, the system's first fighting game. But it didn't seem all that great, despite the existence of a few people who seem to enjoy it.
NAM-1975 (April 1990; Arcade, Neo Geo)
Gotta point out the first major Neo Geo game.
---
Galaxian 3 (April 1990; Arcade)
This wasn't just an arcade game. This was a motherfucking 90s event!
---
Ivan "Ironman" Stewart's Super Off Road (April 1990; NES)
Oh yes.
---
Phantom Fighter (April 1990; NES)
---
Pinbot (April 1990; NES)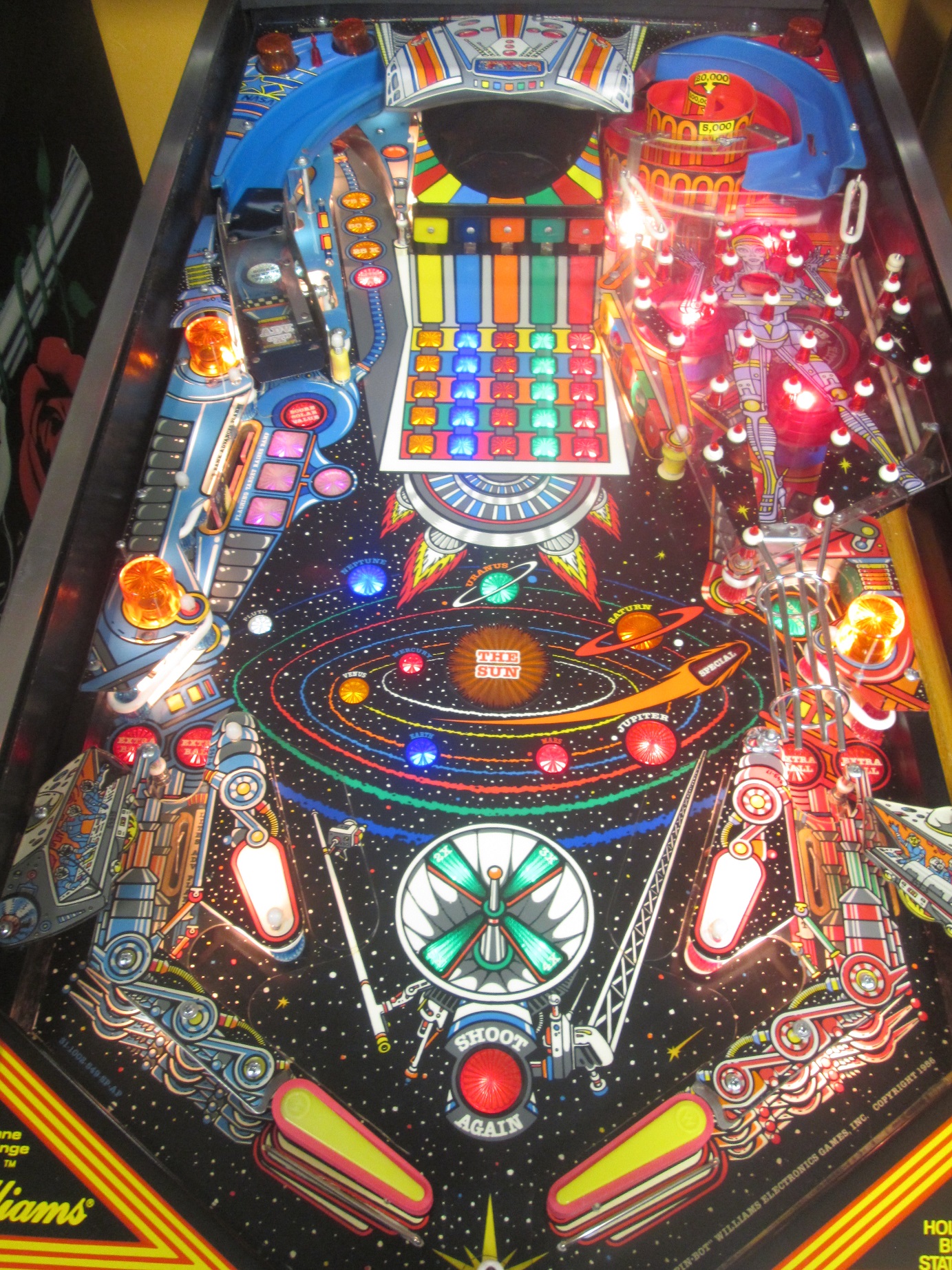 ---
Tecmo World Wrestling (April 1990; NES)

Some call this the greatest wrestling game of all time. Eh, I don't know about that, but many loved it back then.
---
Super C (April 1990; NES)

The sequel to Contra. And it was better.
---
WCW World Championship Wrestling (April 1990; NES)

Well, they weren't going to let Tecmo have all the fun. So here's the other good NES wrestling game:
---
Wrath of the Black Manta (April 1990; NES)

Despite just about every video reviewer bitching about this game today, it holds a lot of nostalgia for many, who still proclaim this game to be good for a Shinobi knockoff. It may be inferior to Shinobi and Ninja Gaiden, but it had its fans.
---
Xexyz (April 1990; NES)

Oh lord yeah!
---
Air Diver (April 1990; Sega Genesis)

Well, the Sega Genesis had to have at least one decent one. The system was still just getting going. It would get better titles and be more capable of competing with Nintendo down the road. Until then, this was their Top Gun (more like Firefox, the Clint Eastwood film).
---
Nemesis (April 1990; Game Boy)

Basically an inferior port of Gradius. But everything on the Game Boy was inferior, so…
---
Heiankyo Alien (April 1990; Game Boy)

This game is unique and weird, and that's all I'll say.
---
Flipull (April 1990; Game Boy)

Man, just when I thought the Game Boy had no more surprises in it, we get this unique little puzzler. There's a Famicom version with better graphics.
---
---
---
TV Shows
The Vietnam series Tour of Duty ended this month; originally aired in 1987.
Afterdrive (April 1, 1990?; Ha!)
The Ha! channel before it became Comedy Central. They had this little show with Dennis Leary and Billy Kimball. Never saw it, but people seem to remember it for Dennis, the theme song, and a couple comedy sketch bits that they retained in their memories over the years.
---
Marshall Chronicles (April 4 1990; ABC)
Only ran for one season. Many loved this show, but it never had enough viewers to keep it maintained. The fans claimed it had a great combination of intellectual and slapstick comedy.
---
Shannon's Deal (April 16, 1990 – May 21, 1991; NBC)
Another short lived 2 season series that had its fans who wished the show ran longer, or at least got a legit video release. About a lawyer/gambler. I mean, seriously, there are fans of this show who legitimately love it and consider it one of the best ever. And I never heard of it until doing research for this month.
---
Cartoon All Stars to the Rescue (April 21, 1990; 4 major TV networks)
Gotta inform the kiddies about the war on drugs.
---
And now for the big 3:
Wings (April 19, 1990; NBC)

Famous comedy series that ran for 8 seasons. Though the show did decline in quality during the last 2 seasons.
---
In Living Color (April 15, 1990 – May 19, 1994; Fox)

Of course, who can forget one of the best skit-comedy shows that is probably only topped in terms of popularity by Saturday Night Live? Not to mention all the celebrities who were made famous because of this (again, like SNL). Watch how long it takes before the anti-PC jokes start to fly.
---
Twin Peaks (April 8, 1990 – June 10, 1991; ABC)

Undoubtedly the most influential prime-time television series of the year, let alone of the month. The show that broke ground of having an ongoing story progress from episode to episode, as opposed to having most episodes be stand-alone events (like sitcoms). Everyone was in a frenzy over the first season, to the point where even news broadcasts would ask the question, "Who killed Laura Palmer?" Unfortunately, the second season answered that question, and many have mixed opinions about it, mostly negative. But then we got a third season in more recent years that is far more difficult to approach for casual viewers.
---
---
---
Edit (1-30-2020): Added Wild Orchid to Movies.
Edit (2-17-2020): Removed Mister Johnson from Movies (didn't appear until next year, in April).
Edit (9-4-2021): Added Every Mother's Nightmare to Music.