Rated: 3.5 / 5
So I've been curious to see this movie after watching the trailer.  The trailer actually made me laugh, plus I was curious to see how Winona Ryder and Keanu Reeves would work together again, considering how long it's been since Bram Stoker's (or Francis Ford Coppola's) Dracula.  Unlike that time, Keanu doesn't speak with an accent in this film, though I do wonder if it would've been more hilarious if he did.
Unfortunately the film wasn't playing at any theater near where I lived.  Figures, considering it's a small budget indy film (though that doesn't mean the film suffers for it, it still looks great).  So I decided to put it off and wait and see if it will be on the rental shelf of my local library a few months from now.
That was, until I read a single-sentence review of the film.
What's this, a film that makes tranny jokes?  Well now I was more curious to see it than ever.  But being the smartass I am (more emphasis on the "ass" than the "smart" in this case), I decided to make a joke in the comments section of this review.  Bit difficult to resist, considering she took a John Wick assassination jab at Keanu's character in this film.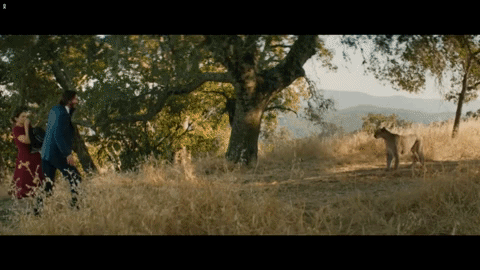 Unfortunately, despite my inner warnings telling me I should take a snapshot just in case, my comment was deleted a couple days after being made, and after having several people remark on it.  From what I recall, the comment went something like this: "Nah, he's off shooting trannies and pansexuals."  I was tempted to add on to that, "You know, because the pansexuals raped his dog and the trannies shot it."  You know, in an attempt to consider this a shared universe where John Wick and Destination Wedding can coexist.  But I didn't want to go that far, so I just stuck with the first sentence.  Had to show some restraint after all.  As for the replies I got…
So first of all, it probably would've been more appropriate if my name was Donny.
Second of all, they obviously didn't see that I gave favorable reviews/ratings for Priscilla: Queen of the Desert and The Crying Game (though I do still need to see Bound and rewatch Boys Don't Cry).
Third of all, now I realized how sensitive they all are.  Probably should've known better, considering the author of the review stated in the comments section that she walked out of the film after the film made its pansexual and transphobic joke.  But now I knew for sure just how uptight their assholes really are.  You probably couldn't even stick a chopstick up there.  It's no wonder their so pissy all the time, they probably can't even get laid the way they want because there's no one in existence with a dick small enough to penetrate that region of their anatomy.  And on top of that, they probably don't even remember the last time they squeezed a turd out of their ass, considering they're so uptight they're incapable of doing so.  They're so full of shit they spout out this pro-outrage culture bullshit while virtue signalling, which inevitably happens when you get so backed up the shit starts to seep into your brain.  They make themselves and everyone around them unhappy.  People who are this pissy and this full of shit need to sit on the toilet for at least 20 minutes, learn to relax, and remember what it was like, how blissful it is to have that turd just slide out of you.  They might actually be able to walk around more normally in society without feeling like someone's jammed a broomstick up their ass.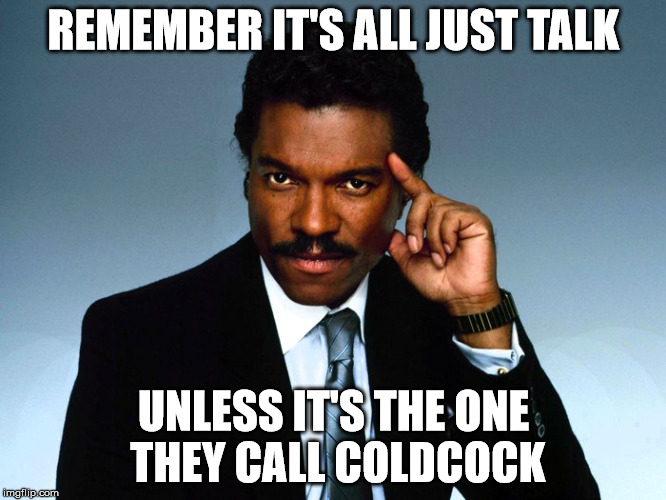 In other words: STOP BEING SO UPTIGHT AND POLITICALLY CORRECT!!!  Learn to take a joke for Christ's sake.  Oh wait, they may not believe in Christ.  Let me rephrase that: Learn to take a joke for fuck's sake.  Hell, according to Zack and Miri Make a Porno, being less uptight so you can get fucked in the ass while congested actually helps.
But I digress.  That whole incident made me want to see the film even more, which I eventually did, after seeing that it could be rented on the Playstation Store.  And it didn't take long before I realized I was really going to enjoy this movie.  Aside from the nice laughs provided early on, it had this dialogue exchange (for the record, the whole movie is basically just Keanu and Winona's characters conversing with each other), starting with Keanu:
"What do you do anyway?"
"I prosecute companies and institutions for culturally insensitive actions or speech."
"You're the politically correct police."
"Pfft, no."
"You parse what people say and do and then accuse them of being racist or misogynist or otherwise horrible. You destroy lives and reputations for money."
"Uh, no."
"Is that what you dreamed of, a career in reverse fascism?"
"I can't remember dreaming."
It's at this point that I'm starting to realize why it is the film didn't get a mainstream release, outside of the fact that it's an indy film, aside from the fact that it's made differently than most rom-coms (with emphasis on the "com" in my opinion) by having the entire movie stay with these two protagonists who pretty much only converse with each other throughout the runtime.
Ah, but I know what you must be thinking.  "What was that transphobic pansphobic joke that was made earlier?"  I'm glad you asked.
"Why is the minister in a seersucker suit?"
"Because he's not a minister. He's Keith's friend from college."
"Levy, I think his name is."
"Kaplan?"
"Kaplan, right. Is he wearing makeup?"
"Always. Usually the Nars Radiant Creamy."
"If memory serves, he's gay."
"The correct term is 'Effeminate American.' And actually, he's pansexual."
"What does that mean?"
"He's attracted to all genders, gender identities, and sexual orientations."
"Come on."
"I'm telling you."
"How'd he get the gig?"
"He fucked the bride and the groom."
"Which was like no big deal."
"Vanilla."
"I mean, because he would fuck, for example, a man who believes he's a woman?"
"Absolutely."
"Or a straight woman who believes she's actually a gay man?"
"Not a day goes by."
"What about hermaphrodites?"
"You'd have to think."
So in other words, it's a joke about pansexuals who take it to trannies and pannies in the fannies.
But in all honesty, I don't see what the big deal is.  People make jokes all the time about how straight cisgendered men are pigs who always want to fuck the next straight hot female they see, yet you can't joke about who or what trannies and pannies want to fuck because… they're underprivileged or underrepresented or misrepresented or something?  Well what the fuck makes you think straight people who are steadfast in their sexual orientation and are confident that their gender matches their DNA and what they were born with aren't being underrepresented or misrepresented either in numerous cases (nevermind that there are plenty of white people who are underprivileged; go see American Heart for an example).  Because that's the hill they want to die on.  And I can't help but laugh and treat it as a joke.  Because it is a joke.  That's why stand-up comedians from pre-2005 were taking jabs at that sort of shit all the time.  And make no mistake, it's ok to joke about everything and everyone.  Jokes are universal and gender-neutral, and I'm not talking about the watered-down kind.
Which brings me to the point of this movie.  Yes, with all that talk of trannies and pannies (I'm lazy and I prefer using less syllables and less letters, regardless of how blunt and anti-PC it is) and assholes and shit-talk I've been doing, there's actually a way to come back full-circle and tie that in with this movie.  And for the record, that dialogue exchange quoted above is the only instance I could find of the film making a joke about sexual orientations.
The two protagonists are individuals who have built walls around themselves throughout a good portion of their life, whether due to their upbringing, a failed relationship, or a combination of both.  They resist any attempt at having a relationship with others to avoid feeling that pain again.  This resistance comes in the form of bickering, both to and about each other, and about everything and everyone around them.  They are pessimists to the extreme.  Anything that can be viewed in a positive light they always find a way to look at in a negative light.  From the petty things such as airplane food, massages, various locations hobbies and trivial things; to more significant things like relationships and an overall outlook on life (and the afterlife to a small extent).  It's done primarily for comedic effect, but it can be taken in that serious manner as well, especially during the last act of the film.  The film does have it's traditional 3-act structure similar to most rom-coms by having the couple starting out by hating each other, to finally having sex with each other and developing a friendly (at the least) relationship, to the (sort of) break-up and ending with the (potentially) getting back together at the end.  But it does this by having the characters talk to each other like the writers from The Social Network wrote the script for them (they didn't, it was just one guy named Victor Levin, who also directed the film, who is mostly experienced with writing for television shows rather than full-length feature films; but the fast-paced dialogue reminded me a bit of that).  And they don't beat around the bush during the third act, they straight up tackle the subject of long-term relationships head-on.  They are aware that it is highly unlikely that it would ever work out, they weigh the pros and cons (primarily focusing on the cons).  They don't treat their chances any differently than the chances of the couple who's wedding they attended (who they also bad-mouthed and said they would likely turn out miserable later on in life).  Because while opening oneself up to such a passionate relationship can feel great at the start and for a while, there's a good chance you can be hurt and become miserable and bitter for a long while afterwards.  The protagonists know, because they've been through it once before.
In the end, they realize how much it sucks to be alone.  How could they not?  They've been reminded of what it's like to have a significant other.  As protected against such emotional attack can be when you've closed yourself off and stay isolated, looking for any and every excuse to not get close to anyone else again by having such a pessimistic outlook on everyone and everything; you're never truly happy by being alone.  So, to take a chance.  To take a chance by lowering your guard and to be optimistic for at least a moment, which may lead to more moments.  Chances are it could end badly, and thus lead to one becoming just as bitter and pessimistic and closed-off as before (if not more-so); but then there's the off-chance that it won't.  It is uncertain.  Such is life.
Recommended movie.
PS: Thank you lauren for giving me that push to shell out money to see this flick, and for providing me with enough content to pad this review out to a length that satisfies me.  Here's to you; may you learn to be every which way and loose, and find happiness in your future.
PPS: For all those pansexuals who read this and didn't like it, you thundercunts can piss off and go watch Rey getting fucked by a robot.
Edit (11-16-2018): So Letterboxd may have shown its true colors (either that or my account on that site got hacked; but I doubt that considering they only did 1 thing as far as I can tell).  They took down my review of this film, which I had already redacted considerably, removing any mention of names of site users like lauren who has such a hard-on for pansexuals and trannies that she easily takes offense at any joke made at their expense, but had no problem making a joke at Keanu Reeve's expense.  I also removed entire paragraphs of this review just to keep it safe from censors.  Well, not good enough they say.  And like the last two times, they removed it without warning.  Well that's fine.  Now I've got no problem not holding back on any of my reviews I make on that site from now on.  I'm looking forward to them burning me.  I'll lose much, but I've learned that digital friends and family are easy to replace.  They have nothing on friends and family that you can socialize with outside of the digital realm.
So here's some images that tell of the story, from when I became aware of it yesterday: