Rated: 4.5 / 5
Exhausted.  Weary.  Done.  Finished.  I first played this game when it first came out; finished my first playthrough after roughly 80 hours.  I enjoyed the experience, though I was glad to see it end.  3 years later, I got back into it again, knowing that there were expansions to play, updates that polished the rough edges (reducing the number of bugs and annoyances), and graphic enhancements which make the game look spectacular (something only the modding community provides, but CD Projekt Red is a beast of a game company that truly cares about its customers and its product, so they did the enhancement themselves with the update).  With the expansions, I think I clocked in at over 100 hours, maybe 110.  And I don't intend to get back into this for a long time.  I started this up again soon after I finished a playthrough of The Witcher 2, which was several months ago.  I thought I could plough through this and then play on New Game+ and take that into account for this review.  But I don't have the willpower.  I don't think I can invest that many hours into something like this without taking so long of a break I forget some story elements.  I don't intend to get back into this game for a long time, even though I enjoyed the experience.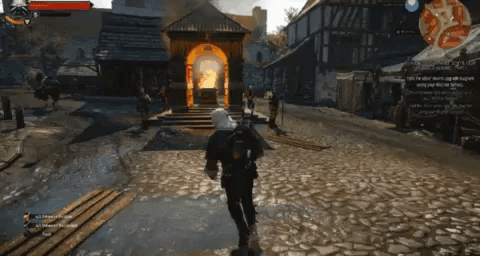 Make no mistake, this game is a masterpiece. The gameplay has improved that found in Witcher 2.  They did away with Quick-Time-Events thank God (combat in of itself should be its own natural sort of QTE; come to think of it, aren't all non-turn-based videogames QTEs in their own way without having to be obvious about it?  Press this button now or you die?  Jump now or you'll fall?  Shoot this enemy or he'll shoot you?  You know what, QTEs suck.).  The leveling system is as good (if not better) than it's ever been.  The (open) world is more immersive than its ever been in any other Witcher game.  The diversity of choices and the short/long-term consequences they entail are numerous to the point of mind-boggling (there's like, what, 20 different endings you can get with just the main story, never mind how the side quests can turn out.  And no rational individual will complain about the game being too short or lacking in content (as if they could bitch about that with the other 2 games).
While the story isn't as good as that of its predecessor, it's a solid enough conclusion to this game trilogy, and easily ranks among the best game franchises that has ever existed.  And it went out with a bigger bang than Mass Effect 3 (I've been comparing the Witcher games to the Mass Effect games so far, why stop now?).  The characters are all as memorable as ever, and some of the side quests are just as memorable, if not more-so, as the main quest itself.  And like the other Witcher games, you will be faced with decisions that will challenge you on an ethical level.  Many players have different experiences with the story due to the decisions they made, due to their thought processes, and it can be a real conversation-starter when discussing why they chose one path or another.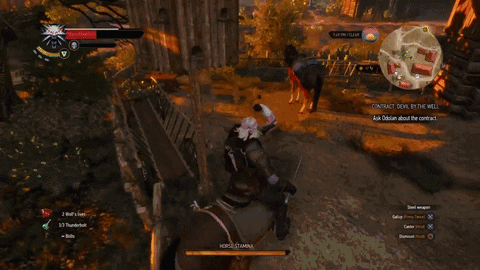 So why do I give this only 4.5 / 5 rather than 5 / 5 like I did the 2nd game?  It's not because of the bugs and glitches, though they are there (no open-world game this large is ever going to be bug-free, not in this day and age).  It's not because the gameplay is worse (it's better).  It's purely for selfish and personal reasons.  There are two reasons, and both have to do with the narrative (what can I say, the narrative is the main reason I play these games).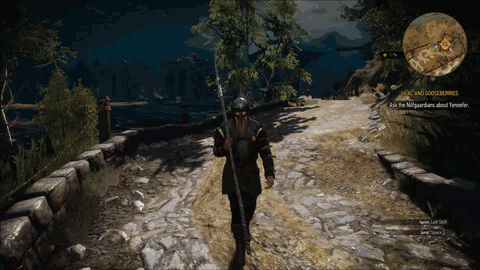 1.) The main story gets docked a partial point.  Why?  Because of Ciri.  Don't get me wrong, her character is fine, the motivations she has and everyone has for seeking her out is fine.  But the whole, "She has powers greater than anyone else," element got on my nerves at a couple points, especially when the Wild Hunt lays siege to Kaer Morhen.  Once a significant character gets killed, and it looks like the Hunt will finally get Ciri, she all of a sudden goes apeshit and scream forever (arguably to the point where it gets comical) and emanates this power that the Wild Hunt can't take and are thus forced to retreat.  That's the big eye-roll moment for me.  I was willing to take her powers of fast movement and exceptional strength.  She was strong, yet still vulnerable.  But once that bit happened, it just comes off as a deus ex-machina.  And the whole, "She can't control her powers," excuse just makes it worse.  I hate this shit of pulling magical saves out of your ass at the last minute.  The other two Witcher games had magic, but kept them firmly grounded with their strengths and weaknesses.  But that moment reminded me of the most irritating elements many animes contain.  Thankfully, this only happens once, maybe twice, tops.  But since it impacts the story, I can't ignore it.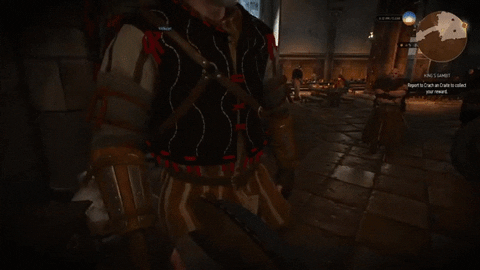 2.) The side-quests and in-depth lore.  Again, the side-quests are fine and all, and the lore is great.  But I can only stand delving into them for so long before my, "Can we just get this fucking over with already!" personality gets unleashed.  Perhaps I am to blame, I don't tend to play these games in small doses.  I sprint through them for consecutive hours on certain days.  But just because I do that doesn't mean I'm not invested and interested in all the little details the world has to offer.  But there was too much for me.  And the side-quests get monotonous after a while, despite the differences ins stories and characters, and the way some progress and how occasionally they throw a curve ball at you (like how taking on a monster contract usually has you tracking and killing a monster and going back to the one who posted the offer for a money reward, but sometimes something happens along the way the links to another quest, or takes an unexpected yet refreshing turn).  Patterns begin to emerge after playing for a while.  I suppose this is inevitable for any game that runs this long.  And I shouldn't complain since the secondary quests are optional.  But some of them can have an affect on the game ending, including the choice of ignoring some specific side quests.  It's what I call too much of a good thing.  Many won't mind that the game has all this, and that's fine, to each their own.  But I base my ratings on my personal experience and on my own personal tastes, and that's just how it is.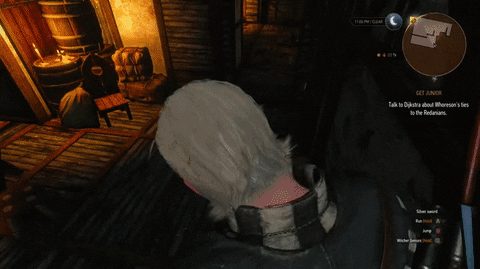 It makes me compare this to Skyrim.  I enjoy all the side-quests much more in that game.  I can't get enough of them.  So at some point, I had to ask myself why that is?  Why do I enjoy spending just as much time (if not more) in Skyrim (modded, mind you) than I do in The Witcher 3?  Then I figured it out.  It's not because one is primarily first person and the other is primarily 3rd person.  It's because Skyrim is more of a true RPG experience, where you have more control over your character, how he/she/it levels up, and what they do in the world.  You have more control, more customization, and aren't playing as someone else so much as you are playing as yourself, or playing as someone you want to be in that world.  With the Witcher, you're playing as Geralt.  You can decide which choices he is going to make, but ultimately it's still Geralt making those choices rather than you.  Geralt will always act and talk in a way that is appropriate for that character and his personality, and no choice made in the game will contradict that.  In Skyrim, it doesn't matter as much because you have more control, it's more about you.  It's also more immersive when comes to how you play and what your lifestyle is like.  Being a sneaky thief, a sneaky assassin, a blunt-force warrior, an all-powerful spellcaster who shoots fire/lightning, a spellcaster who heals, a chemist, a smith, a mixture of any or all of the above.  It's a more personalized experience.  With Geralt, you can only play a Witcher.  Sure you can determine if you want to focus more on sword-based combat, magic-based combat, or being an alchemist who makes the swords or magics stronger due to alchemy, but you're always going to play the same way in terms of fighting enemies in the open and slaughtering them in order to get things done (though some dialogue choice could prevent a couple battles from happening).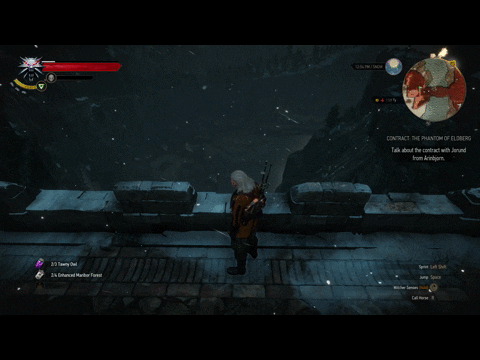 Because of those intentional limitations, the game is more narrative-based.  The narrative is good, but it's long.  It's not perfect, but it's not disappointing either.  Too good to say it's terrible, not good enough to justify the game length.  I felt a bit guilty when I stopped caring about what some of the books were telling me about the world and its history.  I felt I was missing out when I stopped reading every letter I got.  Because ultimately they all resulted in the same thing, go to point A to get this or kill that, then go to point B to see the resolution or see how to get to point C.  In Skyrim it's not much of a problem because you can see yourself as a character who goes through the world not giving a shit.  But in the Witcher, it seems like you should give a shit.  And it's exhausting to give a shit for that many hours, even with the breaks, because it gets monotonous.
So this will make the game experience different for some people.  Some will relate more to Geralt and the world, and will thus stay invested no matter what.  Others who don't relate as much will eventually grow tired of this and start ignoring some books/letters, and start skipping through various dialogue conversations in many parts of the game just to get through it faster.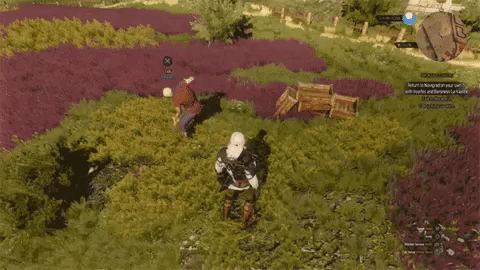 I sort of had that issue with the first Witcher game, had much less of an issue with that in the second Witcher game (probably because it's the shortest, though 30 hours is nothing to scoff at; plus it had the best story that I can always get invested in), but began to have that issue again with this game after about 30-40 hours.  It sounds like I'm being ungrateful that there's so many hours of content, but I would prefer to have every hour investing and enjoyable rather than just a certain percentage of those hours be enjoyable.  And that's the risk of having so much in a narrative-based game like this that isn't as personalized as Skyrim; the monotony becomes more apparent faster.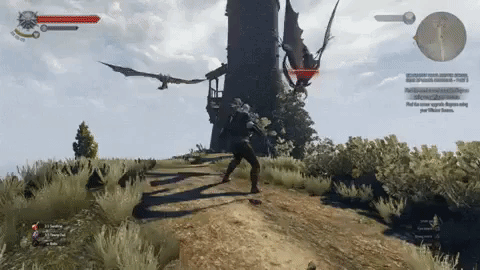 But regardless, when those great investing moments are there, they hit hard, and make it worth playing through to the end.  And the endings are a gut-punch in their own way.  Some are satisfying, others a bit more devastating.  It encourages replay to see how different decisions result in the different outcomes.  But considering how exhausting this game can be, I'd rather just see the alternatives played out on a YouTube video by players who are more into this game than I ever could be.  The two times I played, I was perfectly happy with the outcome (if you ask which ones I got, I'll answer in the comments).  And yes, the outcome was different for each playthrough.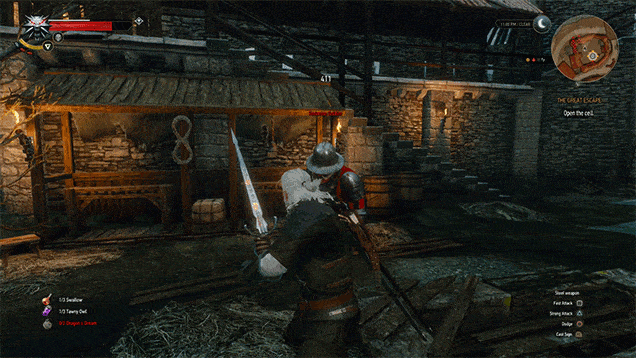 The rating is one of respect and admiration.  I wouldn't feel good about myself if I gave it anything lower than a 4.5.  I feel bad enough not giving it a 5.  But a 4.5 is nothing to scoff at.  This game is a masterpiece in it's own right, and it's made by people who are passionate about it and who give a damn about their fans (because of that, I pre-ordered this game, and I never do that; and I will do it again when Cyberpunk 2077 comes out because CD Projekt Red has earned that much of my respect).  The game may be a labor at times for me to get through, but it does feel worth it in the end.
Mods!
Oh, right, there are mods for this game.  I'll only mention the ones that I used for my playthrough.  There are others, but I don't feel like re-researching through them all again to recommend what are considered the best.  Keep in mind, the ones I've downloaded aren't likely the latest versions.  Some might have made mods that are similar but better or easier to implement with less work.  And I'm not going to lie, I thought the gameplay was pretty much fine without the mods.  The weight limit seemed right, combat was fine, the graphics were good, everything seemed perfect.  Except for the nudity and sex.
I didn't use this mod just because I'm a pervert (though I am).  It just always felt off going into a sauna covering your private parts.  Kind of defeats a bit of the purpose in my opinion.  Though this does relate to another issue I had with the non-modded version of the game.  Compared to The Witcher 2, there's an awful lot of covering up and hiding the sex scenes and nudity.  Which brings me to…
Just seemed like some of the women in the brothels and whorehouses needed to be skimpier, or just altogether nude to advertise their assets.  But that's just to see those you come across as you journey through some cities (and no, I don't use the "all nude" version, just the version that alters specific women types).  It's more for immersion, I swear.  But the nude mods don't stop there…
The Wild Nudity Project and Vagina's For Everyone and Naked With Genital and Naturally Bushy

I don't remember if I used some or all of these mods, but at least two are needed to work together to overcome removing the bra and panties during the sex scenes.  There's a few versions of these mods.  But because I'm only a half-assed pervert, I didn't opt for the whole, "All females are naked everywhere," version.  Just the one where it removed the undergarments.  I went for this mod after dealing with that one witch who sought a plague and/or cure for the plague.  The cinematic with her at the lake, it didn't seem to fit the dialogue while she was wearing bra and panties.  They talked like she was fully naked.  It lead me to do a little research, and I found out they censored the game a bit to make it internationally friendly, mainly because some assholes in the Middle East won't accept a game with that much nudity and blatant sex.  But I'm a fair man.  I believe in equality.  No anti-game-censorship would be complete without…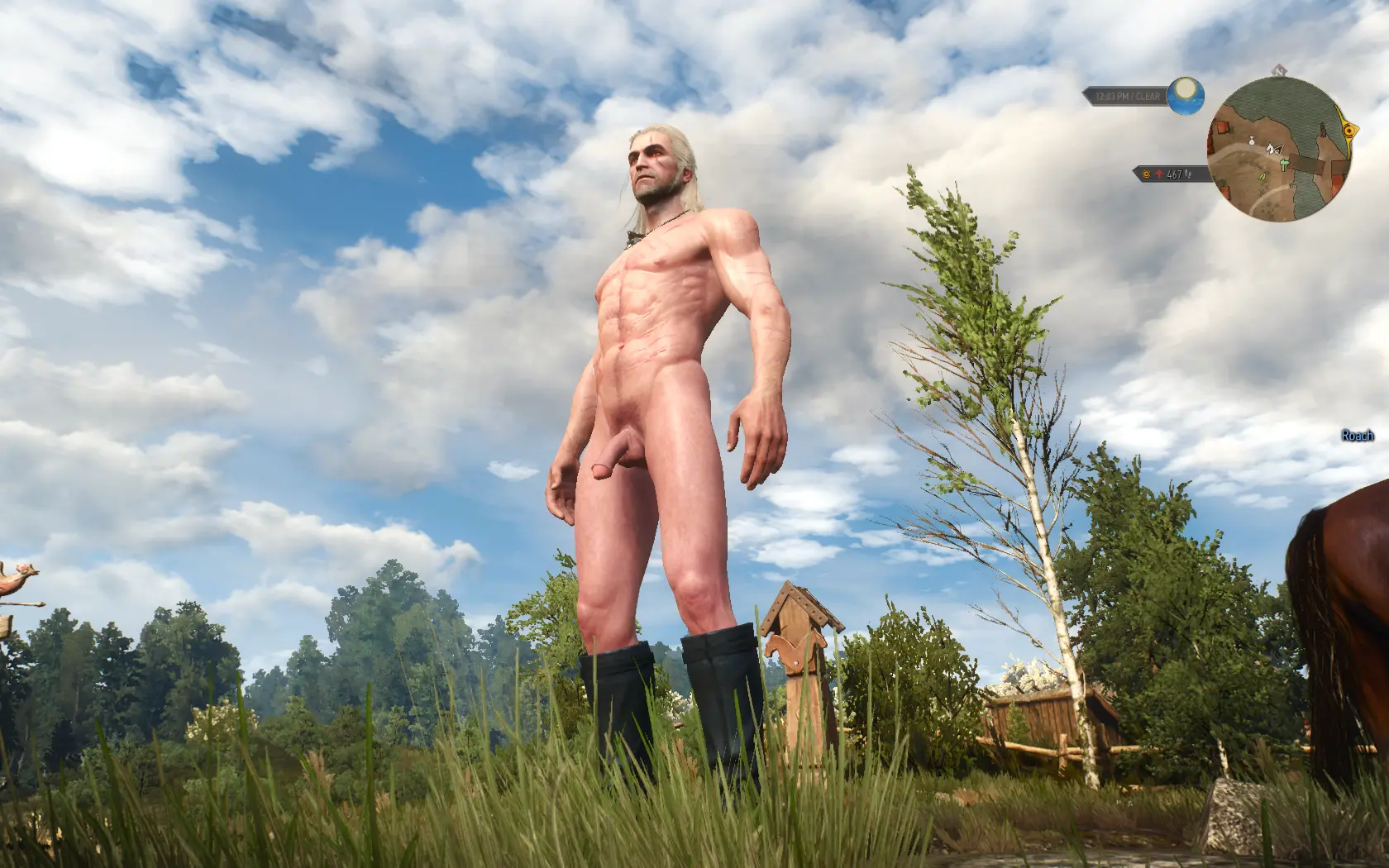 Finally, a proper naked Geralt mod.  Unlike the version in The Witcher 2 which made him dickless and without balls, his whole man-package is on display for everyone to see.  And there's one last thing to take into account…
…which contrary to some opinions doesn't require a mod.  It's clearly obvious with the way the sex scene went with Triss that the camera angles got altered to the point where it's distracting that there's more going on than with what is being shown.  Too many close-ups and weird cuts.  If you don't want to track down a video showing how raw they can get, you can enable Free Camera.  To do so, you need to edit a file titled user.settings.
[General]
DBGConsoleOn=true
Once you type that in under the [General] section (assuming you don't just need to switch it from false to true), you can press the '~' key to activate the camera, fiddle with where it's aimed at, and try to capture the good moments.
So, yeah, those are the mods I use.  Feel free to do the same if you want more adult content (plus making it closer to the intended uncensored version that those pansy Middle Eastern people can't handle).
Ah, but there is one non-adult mod I use, and it's a simple but necessary one in my opinion.
Open menu during dialogues and cutscenes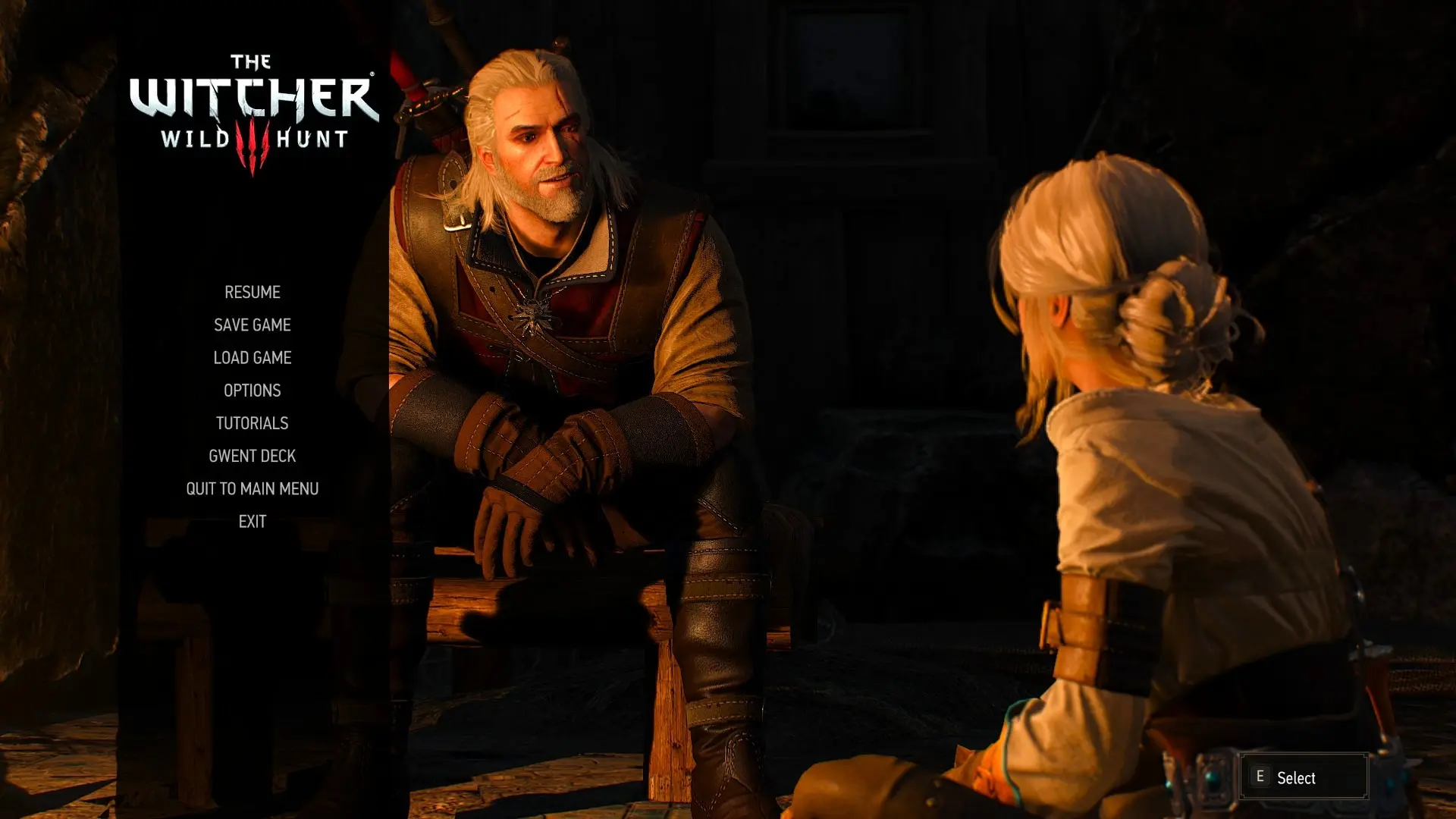 This allows you to go to the menu during cutscenes, in case you need to answer a phone call, take a shit, or actually interact with real non-digital people (just in case you have a real social life).  This is a lifesaver mod.
And, so, there it is.