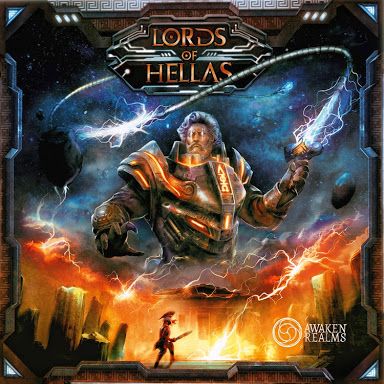 Rated: 5 / 5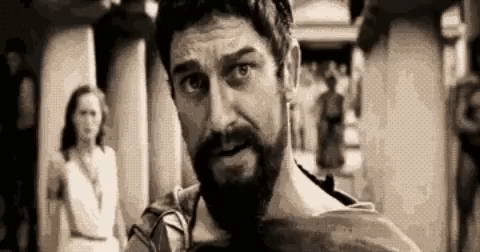 I backed this game on kickstarter, and I believe I can say this could turn out to be my favorite kickstarter backed game next to The Lord of the Ice Garden (which also originates from Poland, along with the novel series which that game is based off of, which currently doesn't have an English release, sons of bitches).  There are expansions that are coming out for this, which last I checked are still being tested and developed, let alone not released yet.  I have played the core set 10 times at all player counts (though have only done a 4 player game once), and can safely say the game plays well whether it's with 2, 3, or 4 players (though it does play best with 4).
The first thing that attracted me to the game was the theme (which is the main thing I tend to go for in games now, as my collection is covered in the gameplay department at this point, for the most part).  It's not enough that this takes place in Ancient Greece, with the mythological heroes, gods, and monsters present; they had to make it sci-fi too.  Which I think is awesome, and something to consider next time they release a Cthulhu-based game by making Cthulhu turn his tentacles on his face into missiles that shoot out and blow shit up (or something like that).  Certainly makes it more unique, as I don't think I've seen this done before.  Not only is Hercules (or Heracles, as this game likes to spell it) still strong and buff, but he's also enhanced with cyberpunk technology, enhancing his strength.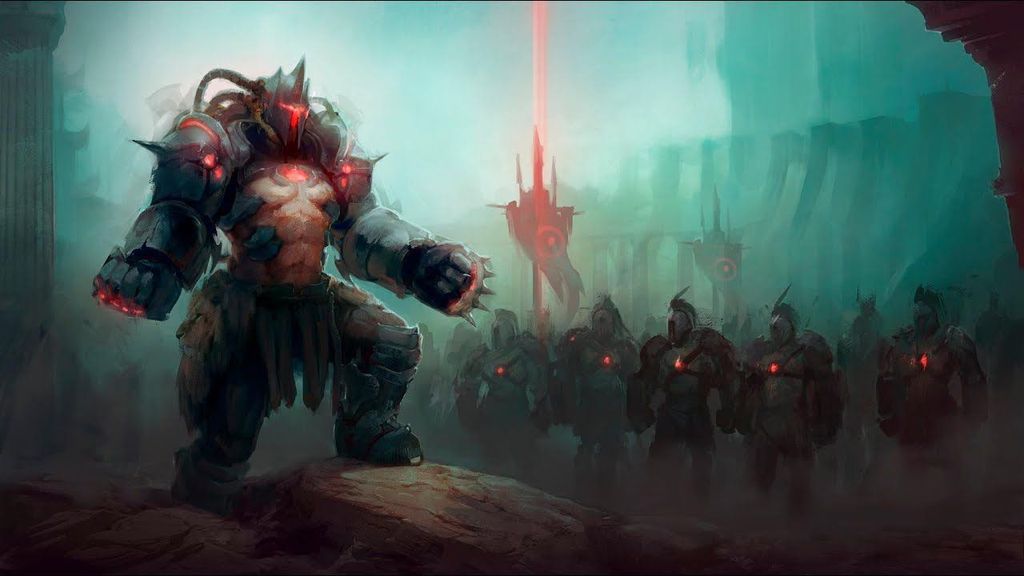 The second thing that interested me, and this is what sold me on it (as it should any serious gamer) is the gameplay.  Having multiple paths to victory, and none of them involving accumulation of victory points.  Because let's face it, games that allow for winning a competitive game in a manner that doesn't involve victory points doesn't happen often enough; same thing with games that have multiple ways to end the game.  In this game, you can win by traditional area control (control 2-3 lands), by gaining control of specific regions (control 5 temples), by killing 3 mythological beasts (kill 3 monsters), or by controlling a region with a fully-built monument.  Not to mention you get a choice of 4 unique characters, with unique starting conditions and unique abilities.
It reminded me of Runewars, which plenty of users on boardgamegeek.com have mentioned.  It's similar in that controlling regions can net you certain resources to help you win (in this case, controlling temples can get you priests which can upgrade your hero, and in essence your army), but the main similarity comes with the heroes.  In both LoH and RW, heroes are sent to go on quests, and gain artifacts/treasures that give the hero and/or army special advantages.  However, heroes play a more prominent role in LoH compared to RW.  In RW, it's perfectly playable if heroes are removed.  In this game, heroes are mandatory.  They're needed to allow hoplites to moves around faster, so it becomes easier to gain control of regions, and to reorganize to defend your borders against other player's hoplites.  In RW, your army operates optimally regardless of what the hero does (though the hero does allow for a minor impact in combat in that game, plus some items they gain can help you win, but it's very downplayed in that game compared to this).
However, upgrading your hero's leadership to allow more hoplites to move isn't the only option.  It's not always that easy.  There are 2 other stats to upgrade on your hero, strength and speed.  So sure, you can focus more on hoplite area control and focus primarily on upgrading leadership (you can move 1 hoplite per leadership point your hero has).  But then you could upgrade your hero's speed so he can move around further, and thus get to quests and monsters faster, or in the case of Athena and Achilles, move to a strategic position to prepare for or dissuade combat from happening in a region.  Or you could upgrade your strength so you can draw more combat cards when facing monsters.  What you may want to upgrade depends on the hero you choose, and the current state of the map (and how the other players are threatening to win).
The other decision-making point comes in where you wish to start off on the map.  At the start of the game, you place your hero along with 2 hoplites in one region.  From what I've seen, it's best to start in a region that you can immediately gain control of, as in a region that only requires 2 hoplites for initial control.  There are choices of whether you want to start in a region where a temple can be built, or a region that has a city.  If you start off in a region (and control it) where a temple can be built, you can build a temple early on to get a priest who can be sent off to a monument to pray and upgrade one of your hero's stats.  On the other hand, if you start in a city, it becomes easy early on to gain hoplites (especially if you get control of a second city on your first turn, and then use the Recruit special action on the next turn to recruit multiple hoplites in each of those cities).  Both are good options, and your threat level for winning will increase either way.  And, once again, it depends on the initial state of the board and your hero when determining what the best path to take is.  And it will take multiple plays to figure that out.  'Cause, you know, replay value is a nice trait for a board game to have.
I had a few concerns with this game prior to playing it.  The monster combat.  Now, one of the other things that attracted me to this game was card-driven combat.  No dice.  There is only 1 die in the game, and it's only used for monster movement or attack (or doing nothing), which I'm fine with.  However, I worried that battling monsters could get too easy.  Each monster has a sheet with wound slots on it.  Each monster varies, some having only 5 wounds, others have as many as 8 (sometimes more if they get upgraded due to an event).  Each combat card you have (save for 2 types, one of which is a wild card) has a symbol on it, indicating what type of wound it can deal to the monster.  Each monster takes different types of wounds.  So you can get involved in a hunt by prepping ahead of time by building up your combat hand until you have combat cards of the right type (each card representing a weapon; heroes have to go through a lot of weapons to take these beasts out), or go in without the right cards but hoping you'll draw the right ones.  But you're limited to a hand size of 4, unless you get a blessing that increases it (more on that later).  At the start of a hunt, you draw cards into your hand equal to your hero's strength (that's why that attribute matters), going over your hand limit, which is legal during a hunt.  So the more strength your hero has, the more likely you'll draw cards of the right type to discard against the monster and kill it before it has a chance to counter-attack.
From my experience, monster hunts actually work better than I anticipated.  Assuming you do wind up with the max strength of 5 and draw that many cards into your hand, and holding 9 cards in total, even then, there's a chance you might not win the battle.  First, there's no guarantee that you have all the cards needed to deal all the wounds.  Second, while most monster attack cards tend to be 3-5 strength, indicating you must either discard a number of combat cards which strength number adds up to that amount or greater to block the attack (which results in you adding 2 more cards into your hand, giving you extra incentive to block), there are a few curve-ball cards in that deck to make sure victory isn't guaranteed.  For example, there's a card who's strength is greater the more cards you have in your hand, or one that is stronger when there's less wounds on the monster, or stronger when there's more wounds on the monster.  That being said, more often than not, a hero with a strength of 5 who has the right type of cards in hand initially prior to the hunt is usually going to win.
On the other hand, it's also possible for someone who doesn't have max strength, or even a max hand size, or holds cards of the right type(s), to still defeat a monster when starting a hunt against it.  At that point, it becomes a push-your-luck battle.  Sometimes a player may want to defeat the monster, in which case he must consider which cards to discard for dealing wounds, and which cards to hold onto so that he can brace for the monster's counter-attack.  Battles can be prolonged by successfully blocking attacks with 1 or 2 cards, which allows the player to add 2 more combat cards to his hand for the next round, thus making for an interesting back-and-forth feel.  Alternatively, a player may just start a battle just to deal specific wounds which could allow him/her to gain a priest or artifact (each monster has at least 1 wound slot of that type), thus providing another reason to fight a monster outside of just defeating it (though another reason for defeating it could be so the monster stops messing up their army by killing of their hoplites, that can get annoying).  And then there's the 3rd reason to fight a monster, though this isn't something used often (most games I've been in went by without anyone doing this): starting a hunt just to draw combat cards in preparation for a battle against other hoplites, and having no intention of using any cards to wound the monster.  Sure, this results in the hero taking a wound (which happens at least once when a hero fails at a hunt), but it is worth it if it helps out the hero's army.  Let alone going after a monster so that another player trying to win by monster kills has one less monster to kill, assuming you wipe out the monster.  Because if you fail to kill a monster and deal plenty of wounds to it, those wounds stay, making it an easier target for every other player/hero in the game.  Plenty of reasons to engage a monster, and plenty of tough decision-making to go along with it.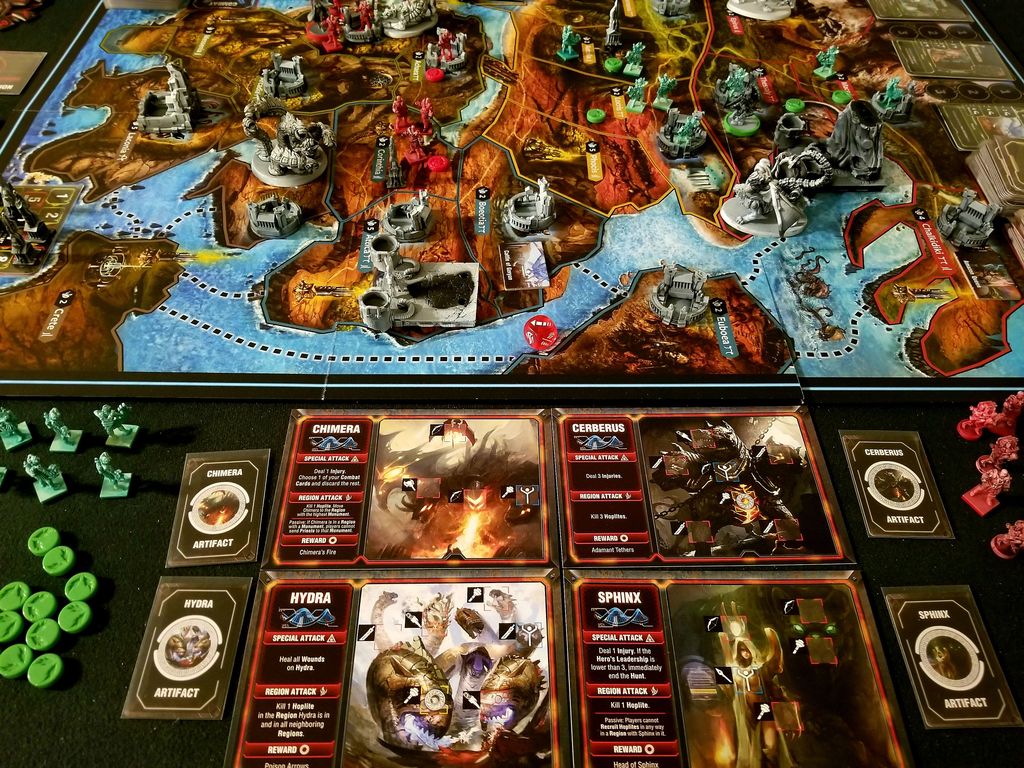 There are ways to slow a hero down when it comes to accumulating strength.  Each monument only has 2 slots to place a priest.  Once 2 priests are on a monument, no more can be placed there until things basically "reset" via the Build Monument special action.  So having other players dogpile on the monument can prevent a potential monster hunter from gaining the strength necessary to make hunting monsters an assured way of winning the game (yet another reason why I recommend playing with 4 players, greater chances of blocking off priests at certain monuments).  But that's not the only way to slow a hero down.  You can also intentionally start combat against their armies, forcing them to play combat cards they may have wanted held for hunting monsters and using them to help their armies win instead (a great game design example of having cards with multiple uses).  After all, controlling lands/temples is an alternate way to win, and you can't just let a player run away with victory via land control anymore than you should allow someone to run away with a monster kill victory.  And lastly, there's the Zeus monument artifact, which can be used to wound a hero who is in the lead.  Thus the early-mid-game is a very important part of the whole thing.  How you start out, and how you choose to slow the others down while attempting to get ahead of them, is all part of the game.  Thus you shouldn't allow a player to get their hero upgraded too far too fast (easier to do in a 4 player game).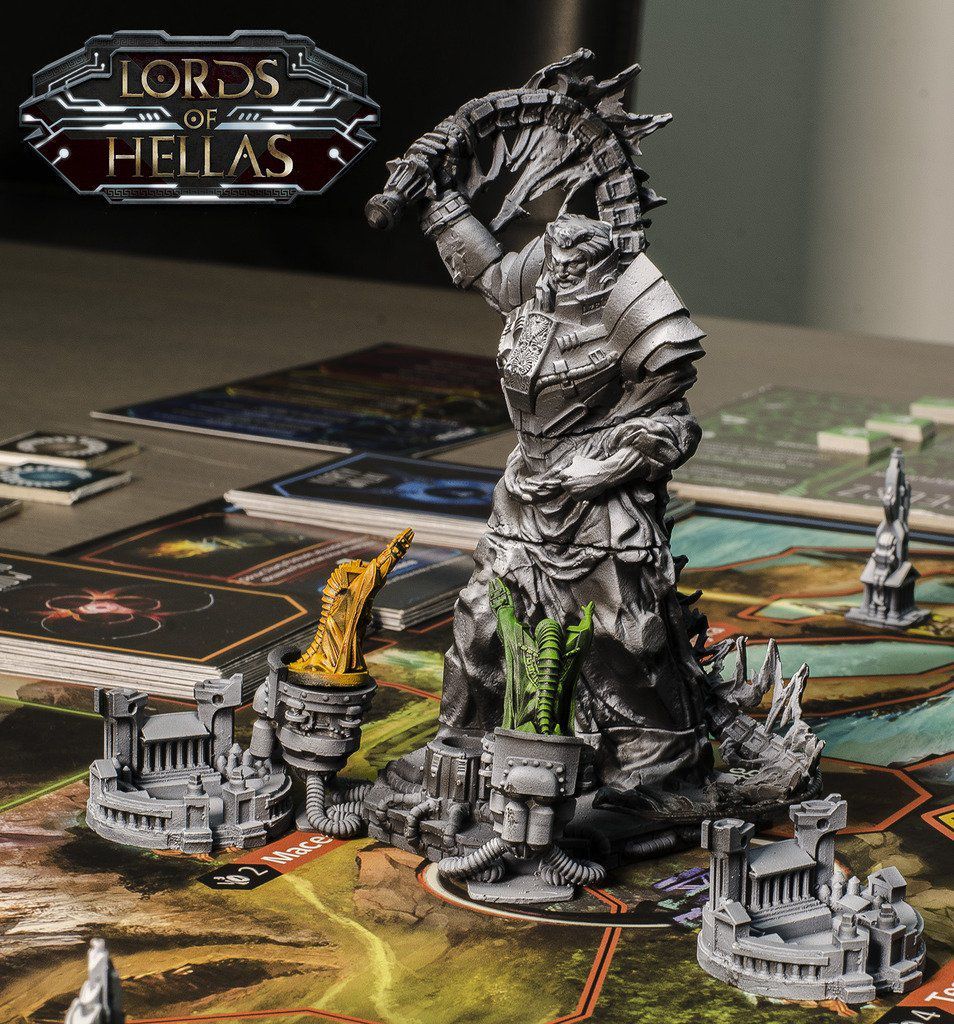 Regarding the monument control victory, this one doesn't happen very often, and it especially doesn't happen if all players know what they (and their opponents) are doing.  It mainly exists if all players are at a stand-off, unable to gain victory via monster kills, and very good at preventing the taking of certain territories.  Thus getting a monument built triggers a sort of end-game timer, where whoever controls the monument at the end of a certain number of rounds wins the game.  One way in which this can become problematic, indicating a broken system, is with the Glory tokens, which can be gained by killing a monster or completing a quest (thus you gain the glory token that matches the color of the regions you completed the quest or killed the monster).  When a hero has a glory token, they can do the Usurp special action to immediately take control of a region, and recruit a hoplite in that region, and force any enemy hoplites there to retreat to an adjacent region.  If the player who built the monument has the glory token for the land the built monument is in, then victory seems assured assuming no other victory condition is met up 'till then.
However, as I've learned from experience, one shouldn't attempt to rush towards the monument victory.  Because this causes more and more events to get drawn, and thus allows for more quests and monsters to appear, which provides opportunity for a quest/monster to appear in the region with the built monument, which provides opportunity for another hero to complete the quest or kill the monster, and thus steal the glory token from the player who had it.  And that's assuming you don't cause more monsters to appear for someone attempting to win via monster kills.  And the more often you do the build monument action, the more opportunities you give other players to upgrade their heroes and do the same special action multiple consecutive times.  On top of that, the monument build action can be utilized by other players for the purpose of drawing more monsters/quests and adding them to the map to gain glory, or just to move a monster into the land with the monument, kill it there, take the glory token from the player, and use his own strategy against him.  Thus the monument victory doesn't seem broken either, considering the dangers of rushing it, and the risk factor of usurp.  It's more of a long-term plan, just in case all else fails.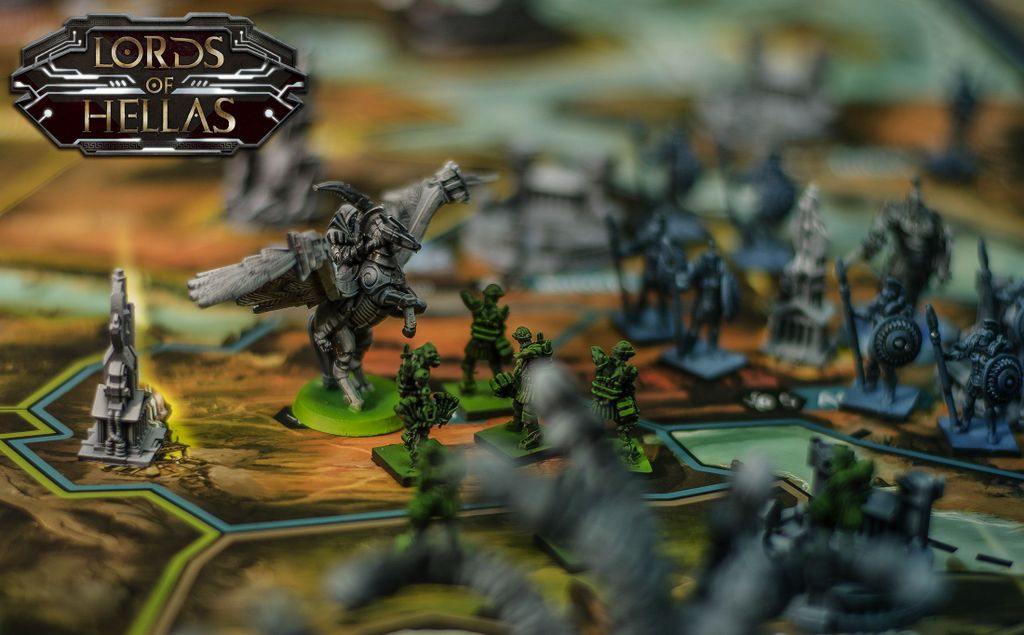 As for the other 2 conditions, controlling 2 lands or 5 temples, those victory conditions can be pulled off suddenly and surprisingly with well-executed maneuvers.  You have to keep an eye on players who control 1 entire land and a couple regions in some other land, and keep an eye on players who control 3 temples (and when there's at least 5 temples built; you built temples to get priests so they can be sent to monuments to upgrade your hero in case you're wondering).  Because if you overlook that, then they can use a combination of normal hoplite movement and a march action to take the regions needed to win the game.  While these victories can be the most surprising, they are also the ones players can most often see coming if they're paying attention.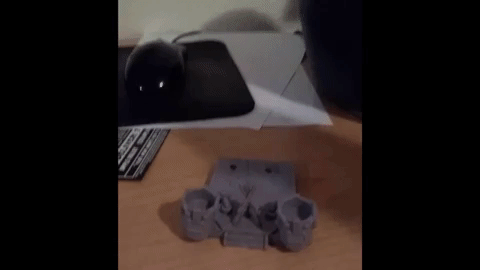 I've noticed that the easiest way to win via controlling 2 lands is in the lower lands, the green and brown lands, both of which are adjacent to each other.  The reason this allows for an easy victory is two-fold.
1.) The city of Sparta, where 4 hoplites can be recruited there at a time rather than the regular 2.  Thus your army can be built up faster if you control the region with that city.
2.) The brown land only has 3 regions, while all other lands have 4 regions, thus requiring more territory to take in order to control the entire land.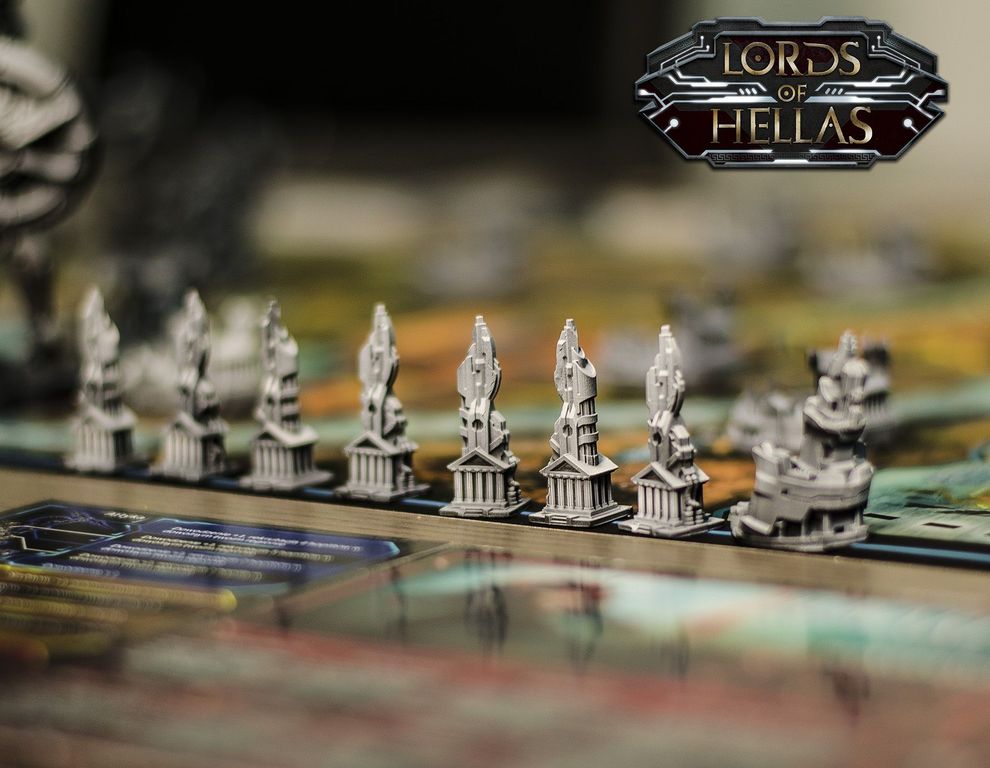 So one shouldn't allow Sparta to be taken too easily, else they risk the player controlling it to build up forces quickly and start flooding the lower regions with troops.  However, this can be mitigated, as invading from the blue and yellow regions can allow for territory takeover.  It also helps that each player has a limit of 15 hoplites, so you won't have an insane amount of hoplites on the board to flood territories, which helps out against whoever winds up controlling Sparta (assuming they don't lose it via Usurp, or a regular battle).  That's why region control markers are necessary, so you can maintain control even when you have no hoplites in the region (heroes can't control regions).  However, if you leave a region vulnerable like that, all it takes is for 1 hoplite to move in there to steal the region, or have an opponent's hero move into there to do the Prepare special action and recruit a couple hoplites into the region to steal control that way.  And on top of all that, even with the high number of troops, if they keep fighting multiple battles, sooner or later, that player will start to get drained of combat cards.
Despite the fact that this game was still in-development and being play-tested during the kickstarter campaign (and I believe briefly after the campaign ended too), it has turned out remarkably well.  The game developers responsible for this game (Marcin Swierkot, Adam Kwapinski) seem to know what they're doing.  This game isn't just good looks, there's some real depth to it.  How deep it goes, I'm not sure.  But what I do know is that the base game is this good, and there are expansions on the way, which will definitely increase the replay value.  Each time I think there's a way to break the game, I discover some strategy/tactic that proves me wrong.  And while it does play best with 4, with 2 and 3 players, it still seems surprisingly balanced, even if I question the land change-up for control with 3 players (the blue land doesn't matter for land control victory; I still wonder why they don't just make brown the irrelevant region, but it still seems to work fine regardless; but I still need to get more plays to determine the strength of the Sparta city strategy).  But most importantly of all, I find the game to be quite fun.
Highly recommended game.
PS: If you're wondering why there isn't a monument for Ares, the god of war, I honestly don't think that's necessary.  Here's why: war is already being fought all across the game.  So Ares is already being entertained by all this, just sitting back, relaxing, and chowing down on his popcorn that's been dipped in blood and wine (rather than caramel, because he's too good for cracker jacks) and cooled in his cyberpunk refrigerator, and enjoying the whole show.