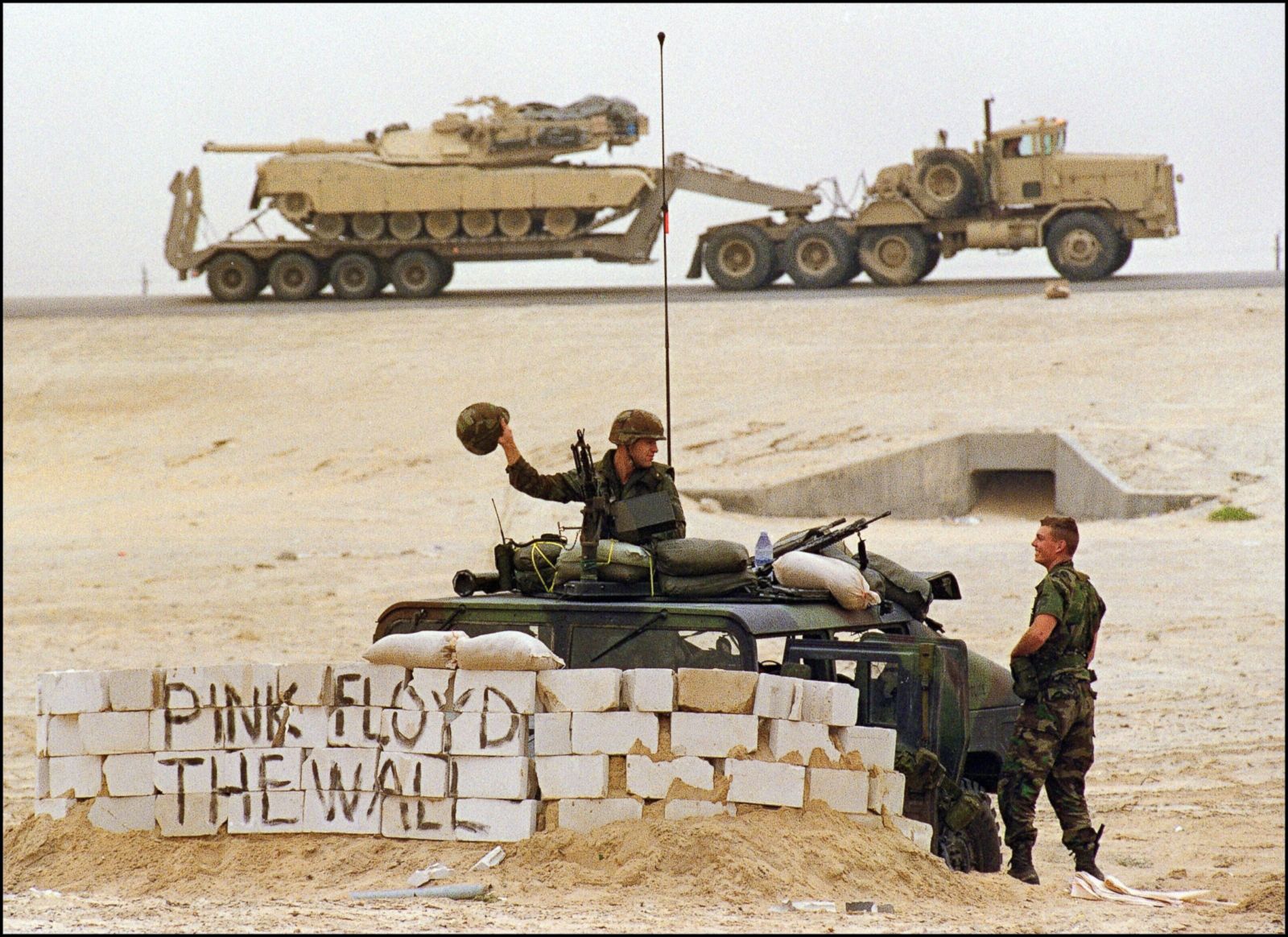 Wayne Gretzky becomes fastest and youngest player in NHL history to score 700 goals (886 games at age 29 years, 342 days) in LA Kings' 6-3 win over the NY Islanders at the Nassau Veteran Memorial Coliseum. Saddam Hussein prepares his troops for what he says will be a long violent war against the US. Baseball officially bans Pete Rose from being elected to Hall of Fame for betting on baseball. Ric Flair wins NWA/WCW wrestling title. Operation Desert Storm begins, with US-led coalition forces bombing Iraq, during the Gulf War. 48th Golden Globes: Dances with Wolves, Jeremy Irons, & Kathy Bates wins. CBS News correspondent Bob Simon and four TV crew captured and held for 40 days by Iraqis in the Persian Gulf. Kuwaiti oil facilities are destroyed by Iraqi forces. John Bardeen, American physicist, electrical engineer and co-inventor of the transistor (Nobel 1956, 1972), dies of heart disease at 82. The first television sets with built-in closed-caption display are introduced in the United States. All major television network schedules are pre-empted by Gulf War coverage right after the evening news broadcasts. The planned broadcasts included Seinfeld. NBC breaks away from their telecast of the NHL All-Star Game in the third period to televise a briefing from The Pentagon involving the Gulf War; SportsChannel America included the missing coverage in a replay of NBC's telecast. A new all-star rendition of the John Lennon song "Give Peace a Chance" is released, featuring Yoko Ono, Lenny Kravitz, Peter Gabriel, Alannah Myles, Tom Petty, Bonnie Raitt and many more, billed as "The Peace Choir". Three people are crushed to death during an AC/DC concert in Salt Lake City, Utah, when audience members rush the stage. The massive nine-day festival Rock in Rio II is held in Rio de Janeiro, Brazil.
And then, as if making up for last year's travesty of Roseanne singing the National Anthem at a baseball game, Whitney Houston delivered her legendary rendition of "The Star Spangled Banner" during the pre-game ceremonies for Super Bowl XXV. Everything about this moment, from how the song is sang, to the orchestra, the troops, and the crowd that filled the stadium all waving their mini-American flags in unison, as those proud of their country and proud to be Americans, as if everyone there was part of one big family… glorious. And a bit sad too, considering we just can't seem to go back to being this way anymore.
---
Alright, another year to tackle for Entertainment Industry Nostalgia. This time, I'll try to be more organized than before, with the films/games/shows/music more organized beforehand so that I'm not constantly going back and forth editing posts over a year after they were initially made with dumb release date blunders. But if nothing else, at least going through the first year got me comfortable with the manner I find best for organizing this stuff. Music first (so that there are tracks to play as you go through this list), then film (because that's probably the main thing people remember), then games, then tv shows (while there were some great TV shows in the 90s, by-and-large, they tend to pale in comparison to much of what would hit the airwaves in the next decade; but they did triumph when it came to animated shows for the most part, though the 80s was the only other decade to rival them in the animated show department).
Taking a glance at the films that came out this year, I will say this: they pale in comparison to the epic films 1990 released. But I only say this at a glance, without having seen all of them. But I'm not seeing anything that's currently in the same league as Total Recall, TMNT, Tremors, or Home Alone (just to name some off the top of my head. That being said, this year wouldn't be a complete slouch either.
As for games, music, and shows, well, I'm just as curious as you are as what will be brought out on a month to month basis.
---
Music
Honorable mentions: Chickasaw Mudd Puppies: 8 Track Stomp. DJ Quik: Quik is the Name. Book of Love: Candy Carol; the track Quiver is interesting. Jesus Jones: Doubt. Gerardo: Mo' Ritmo.
I'm not going to lie. I didn't think this was a good month for music. It's the weakest month yet, even compared to all the months I've been through in 1990. Hopefully things will improve.
Drivin' n' Cryin': Fly Me Courageous (8)
Ended up becoming a bit popular because the title track was considered patriotic amidst the Gulf War outbreak. The band would never become more commercially successful or popular as they were here.
---
David Lee Roth: A Little Ain't Enough (15)
the album featured the lead guitar work of Jason Becker, a then up-and-coming guitarist who was diagnosed with amyotrophic lateral sclerosis (ALS, aka Lou Gehrig's disease) a week after joining the band. He managed to finish recording the album, but was unable to tour in support of the album, as his condition left him with little strength in his hands.

When the album was first released, controversy ensued surrounding the promotional music video for the album's first single, "A Lil' Ain't Enough," which featured scantily dressed women and oddly dressed little people. The video was banned from MTV shortly after its initial airing.
— Source
The rise of Grunge and Nirvana would cause many to consider this artist, album, and music style obsolete. That being said, midgits in blackface will always be timeless to me.
---
Gang Starr: Step In The Arena (15)
Some association with Spike Lee and the film Mo' Better Blues.
---
Sting: The Soul Cages (21)
The title track won Sting the first ever Grammy Award for Best Rock Song in 1992.
---
Front 242: Tyranny (For You) (24)
---
Gloria Estefan: Into the Light (25)
It's a slow month in the music industry when I'm including something like this.
---
Susanna Hoffs: When You're A Boy (29)
See above.
---
Screaming Trees: Uncle Anesthesia (29)
A little more like it.
---
Gerardo: Mo' Ritmo (29)
Mr. Rico Suave.
---
Gruntruck: Inside Yours (?)
Originally released in Germany in 1990 for some reason (if my research is accurate), despite this being a band from Detroit, before getting an official stateside release at some point in 1991 (I'm guessing January just because Amazon says so). The early onset of grunge is noticeable here in this metal band. They're quite solid too, and very overlooked.
---
---
---
Movies
Dishonorable mentions: Ski School, a typical dumb perverted comedy which is only marginally better than last year's Ski Patrol. Then there's Too Much Sun, which has too much of the Downeys in a rather irritating vanity project film. Lastly, some other adaptation of the Shakespeare play Macbeth titled Men of Respect, which is just a meh film at best. We've already got enough Shakespeare this month.
Lionheart (11)

For me, this is just another typical JCVD movie. But for fans of his, they tend to like it more.
---
Awakenings (11)

A decent Robin Williams and Robert DeNiro flick about trying to cure vegetables, while dealing with side effects.
---
Not Without My Daughter (11)

One of those movies Hollywood wouldn't be caught dead making today. Anti-Islam (though, in my opinion, is fair about it), pro-mother, female empowering in the wrong ways as far as today's mainstream is concerned. The movie itself, it's ok.
---
Eve of Destruction (18)

Surprise of the month for me. This film isn't great by any objective standards. But it is entertaining. A Terminator inspired film, but with a female cyborg this time around. A cyborg with the memories of those it resembles. And it goes berserk after a bank robbery gone wrong and starts killing all the asshole men she comes across. Now, this is likely a film that is a message against white misogynist men, mainly because just about all of them are assholes who "get theirs" by this lady terminator. But then there's the subtext that this robot is acting on uninhibited emotion supplied by the scientist who created her, feeding into the idea that deep down, despite any visible emotion to the contrary, women do want to beat the shit out of and kill any men that show any form of disrespect to them. Add in that the other main protagonist is a black military guy, and that pretty much shows the blueprints for modern day SJW trends being formed in the early 90s (1990 seemed mostly void of this). But it does have this one moment where the dude gives this scientist lady a great reality check speech.
"So do you have any more teenage sexual fantasies you want to tell me about?"

"Excuse me?"

"God. I SAID… .do you have any more teenage sexual fantasies you want to TELL me about?"

"Oh my God. Am I suppose to book myself to a guy who's probably read nothing more then an ARMY REFUEL MANUAL?"

"Oh, get over it lady! Look, there's five dead cops out there, thanks to your surveillance device! And with their deaths, comes grieving families. And I don't think their grievances, and their LOSS, can amount to any embarrassment, because you gotta talk to me! And you gotta talk to me! Look, we got to work together on this, all right? Now, I want a list of all your memories, good memories and bad. And I also want the names of the schools you went to. And I want the names of your favorite foods, your favorite television programs, and if necessary, how you like it done to you!"
Regardless, it's a fun time, or at least I thought so.
---
Flight of the Intruder (18)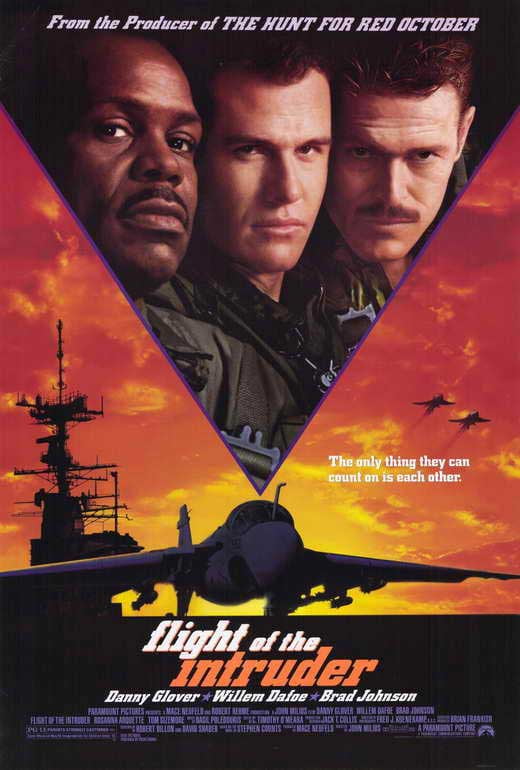 This film is mediocre to me, but entertaining (albeit cliche) enough for a popcorn B movie watch.
---
Hamlet (18)

It's a so-so reader's digest version of the famous play. I have issues with it, particularly the casting choice (and performance) of Ophelia, and how the changes and reorganization of events make Hamlet out to be a bigger asshole than ever. But this film has its fans. Thankfully, for people like me who want adaptations more faithful the the original material, we would get one a few years later. But that's another story.
---
White Fang (18)

Well what do you know? A solid live action Disney flick with great nature shots and dog acting, not to mention an early star vehicle for Ethan Hawke. Sure, it has the usual Disney touch of simplifying the novel and making it a bit more on the family friendly side, and definitely takes considerable liberties here and there. But on it's own, the film is relatively solid. Though films like these are cheap shots, because they use puppies and dog whining to bring out the tears, especially during this one scene near the end which in hindsight ends up being completely unnecessary. It still made me cry a bit, but that's why I'm fucking pissed at how easy these methods emotionally manipulate me!
---
The Grifters (25)

Another solid gritty Indy flick keeping up the momentum last year's After Dark, My Sweet brought about. A cult classic about as revered as the aforementioned film. And so far, the only other solid John Cusack film I've seen next to Room 1408, and Gross Point Blank.
---
Come See the Paradise (?; limited release December 23, 1990)

Not often a film comes along showing this dark a time in America's history. A love story with the imprisonment of Japanese Americans during WWII in the background. While I wanted to like this movie, it's about as preachy and melodramatic as you would expect. Made well enough, but it's not something I would consider exceptional. You may like it, you may not.
---
Hidden Agenda (?)

While not perfect, it's a very well-made slow burner of a film about political corruption, fighting back against government overreach and hatred against a certain demographic, the grey area between it all, and how hopeless certain situations can be even for those who mean well. Quite relevant and strong, but not exactly uplifting. You Irish boys might enjoy it more, yet get more depressed at the same time. As for the Brits…
---
---
---
Games
Honorable mentions: The Hunt for Red October (NES). The Krion Conquest (NES); rip-off of Megaman that is unique enough to stand out, but with higher difficulty and worse controls. Davis Cup Tennis (1991; TurboGrafx-16). Rolan's Curse (Game Boy), wants to be Legend of Zelda.

Also worth noting that there were some Advanced Dungeons & Dragons, and Dragonlance computer games released with some frequency. RPG games that are take it or leave it depending on how much you enjoy the genre, and that type of old-school gameplay. Titles like Death Knights of Krynn.

---
---
---
Time Traveler (1991; Arcade)
This was something else… back in the day.
---
G.I. Joe: A Real American Hero (January; NES)

Fun platform shooter in a similar vane as Contra.
---
Kabuki Quantum Fighter (January; NES)

You're a samurai who can attack people with your hair. Comparable to the NES Batman game.
---
Zombie Nation (January; NES)

The cult classic NES game where you play a floating samurai head that shoots stuff.
---
Gain Ground (January 2, 1991 Sega Genesis)
Port of the arcade game. Considered a hidden gem.
---
Wings of Wor (aka Gynoug) (January 25, 1991; Sega Genesis)

---
Ultimate Qix (aka Volfied) (January 25, 1991, Sega Genesis)

---
Sword of Vermilion (January 28, 1991)

The other Sega Genesis RPG outside of Phantasy Star that was hyped up considerably. Some say it hasn't aged well, but it was big back in the day, and still has its fans.
---
Air Buster (aka Aero Blasters) (January 31, 1991, Sega Genesis, TurboGrafx-16)

Same games, different titles, different quality of sound and graphics.
---
Dick Tracy (January 1991, Sega Genesis, Sega Master System)

Better than yesteryear's NES version.
---
Crossfire (January 1991, Sega Genesis)
You may get caught up in the…
---
Sinistron (January 1991; TurboGrafx-16)

Fancy mechanic with using the ship's jaws as shields.
---
Sid Meier's Civilization (January 1, 1991; PC)

The classic that launched the 4X genre in gaming. Inspired by the 1980s Avalon Hill board game. Ironically, Avalon Hill would go on to make an expansion/revamp of the original board game and call it Civilization Advanced, which they would eventually port onto the PC, which would doom their company to oblivion when they would get sued by the owners of the PC game, and eventually bankrupt the Avalon Hill board game company. Oh well; thanks for the memories.
---
Supaplex (1991; PC)

---
Metal Mutant (1991; PC)

---
Leisure Suit Larry 5: Passionate Pattie Does a Little Undercover Work (1991; PC)

Yep.
---
Rise of the Dragon (1991; Amiga, [1990 PC])

More famous from its later Sega CD release, but that's years away.
---
Police Quest 3: The Kindred (1991; Amiga, MS-DOS)
The best of the Police Quest games from what I understand.
---
Elvira II: The Jaws of Cerberus (January 1, 1991; MS-DOS, Amiga, Atari-ST, Commodore-64)
More difficult than the last one.
---
Alien Breed (January 2, 1991; Amiga, [1993 PC])

---
---
---
Shows
Honorable mentions: The Party Machine with Nia Peeples; a show that would get dancers to show their stuff, which was ok, but got better when they got a different host. Also a terrible tv series adaptation of Harry and the Hendersons. Davis Rules; I don't know, some people seem to like this, but it's not all that funny to me.
Talk Soup (January 7, 1991 – May 2002; E!)

A talk show that showed highlights of and made fun of other talk shows. Sounds like something like this should be brought back, making a mockery of talk shows that exist today. Plenty to choose from.
---
Dark Shadows (January 13, 1991 – March 22, 1991; NBC)
Remake of the original series, which didn't last all that long (but it definitely has its fans who claim this didn't get the chance it deserved).
---
Edit (4-3-2020): Added Alien Breed to Games.
Edit (6-21-2020): Removed Flicky from Games (that was released in April 1991).
Edit (7-25-2020): Removed Alien Invaders '91 from Games (believe that was released in April 1991 too).
Edit (1-5-2021): Added Elvira II: The Jaws of Cerberus and Police Quest 3: The Kindred to Games.
Edit (8-2-2021): Added Gruntruck: Inside Yours to Music.
Edit (1-14-2023): Added Time Traveler to Games.
Edit (3-11-2023): Added Gerardo: Mo' Ritmo to Music.