Jerry Lewis' 25th Muscular Dystrophy telethon raises $44,172,186. Iraqi President Saddam Hussein urges Arabs to rise against the West. US citizen is shot in Kuwait; oil markets surge on aggressive US statements toward Iraq. Ellis Island Historical Site opens on Ellis Island NYC. Hard Rock Cafe opens in Las Vegas Nevada. Pirate Radio NY International begins transmissions on WWCR. 500 lb 6′ Hershey Kiss is displayed at 1 Times Square, NYC. US performs nuclear tests at Nevada Test Site. South Ossetia declares its independence from Georgia. Motion Picture Association of America creates new NC-17 rating. Gunman holds 33 people (killing 1) hostage in Berkeley Calif. Marvin Gaye gets a star on Hollywood's walk of fame. Washington National Cathedral construction is completed after 83 years. Tom Fogerty, rocker (Credence Clearwater), dies of tuberculosis at 48.

— Source
Jesus, this was a rough year to cover. I thought it would be easy after getting through the film offerings this month provided (aside from a couple picks, nothing too noteworthy). Boy was I wrong. Every other category had so much to offer, I had a hard time narrowing things down to selected highlights (you know, for the sake of having less images and videos to load on this page).
---
---
---
Music
Now this was a great fucking month for music. It was an unbelievable month for the music industry. There were so many solid albums, it pained me not to give them a big mention in this section (via title, brief description, and accompanying video). So consider most, if not all, all of these in the "Worthy Mentions" section worth checking out in addition to the main ones (some of which I only included due to reputation and cultural impact more than personal taste). It's just that this whole section would get so jam-packed full of videos, or even posters, that it would take up an entire month's worth of content, when I also have to cover the films, games, and tv shows.
Worthy mentions:
Ministry: In Case You Didn't Feel Like Showing Up

, normally not my kind of music, but this "live" album contains tracks superior to the versions contained in past studio album versions, much like Judas Priest's Unleashed in the East album (see Sinner); Burning Inside is a standout track from the album.

Los Lobos: The Neighborhood

.

Dan Fogelberg: The Wild Places

, Blind to the Truth is decent.

Betty Boo: Boomania

.

Bob Dyland: Under the Red Sky

.

Dave Stewart and the Spiritual Cowboys

.

The Posies: Dear 23

.

My Bloody Valentine: Glider

, honestly sounds like the music The Pillows would do when they scored FLCL.

Meat Beat Manifesto: Armed Audio Warfare

.

Cocteau Twins: Heaven or Las Vegas

.

The Flaming Lips: In a Priest Driven Ambulance

.

The Call: Red Moon

.

Obituary: Cause of Death

.

Indigo Girls: Nomads Indians Saints

.

The Replacements: All Shook Down

.

An Emotional Fish: An Emotional Fish

.

The Vaughan Brothers: Family Style

.

The Associates: Wild and Lonely

.

Soul Asylum: And The Horse They Rode In On

(It's a decent mixed bag of music styles. That is all.)

London Beat: In the Blood

(particularly the song I've Been Thinking About You).

The Rembrandts: The Rembrandts

(Now this isn't my kind of music. But, this is the band that would later go on to make the hit theme song for the hit sitcom series Friends. So it's worth noting where they began).

Reba McEntire: Rumor Has It

(Another type of music I'm normally not fond of. But I can't deny this woman's popularity, especially when the song Climb That Mountain High would be used in the ABC sitcom Delta. And especially when she is known as the Queen of Country. And especially when she played a role in that films Tremors.)

Celine Dion: Unison

(Not my kind of music, but this was a name you couldn't avoid, especially when it released Platinum status nationwide, and in other nations.)

Betty Midler: Some People's Lives

(It won a Grammy for best song of the year, with the track From A Distance. I hate this kind of music, but I gotta include it.)

Carly Simon: Have You Seen Me Lately?

(Another music hit that I don't really care for. But her song "Better Not Tell Her" peaked at #4 on the music charts, so what can you do?)
---
Talisman: Talisman (?)
---
Vanilla Ice: To the Extreme (3)
You've all heard that Under Pressure knockoff song Ice Ice Baby.
---
George Michael: Listen Without Prejudice Vol. 1
The album was not a big hit in the United States, but it was a major hit in the UK (at least compared to his previous album). George blamed Sony for lack of supporting him. Normally this wouldn't be my kind of music, but the lyrics to the song Praying For Time, and what he had to say about the album, make it impossible for me not to give this a big mention. Plus the album has its fan following today.
"No event inspired the song, just life in general," Mr. Michael said. "It's my way of trying to figure out why it's so hard for people to be good to each other. I believe the problem is conditional as opposed to being something inherent in mankind. The media has affected everybody's consciousness much more than most people will admit. Because of the media, the way the world is perceived is as a place where resources and time are running out. We're taught that you have to grab what you can before it's gone. It's almost as if there isn't time for compassion."

If Mr. Michael sees television as the enemy of hope and compassion by spreading more bad news than people can deal with, he also sees it as the enemy of his own musical creativity. "Although for a long time I felt perfectly comfortable making videos," he said, "for me they have also been a large distraction from doing the one thing that makes me happy, which is writing songs and making records. Ultimately, I feel video has made artists very nonprolific. Today, the whole process of making and selling an album is something that takes up to three years. To me, coming out with only 10 songs every three years is ludicrous. I'm embarrassed that I've released only four albums, and I'm going to change that. I want to get at least one album out every 18 months."
---
Judas Priest: Painkiller
Now this is my kind of music. Currently my favorite Judas Priest album. So many good songs on this album, from the opening Painkiller, to All Guns Blazing, Leather Rebel, and Night Crawler. My pick for album of the month.
---
Queensryche: Empire
Fairly good metal band and metal album. Stand out track for me was Jet City Woman.
---
Jimmy Barnes: Two Fires
This guy has quite a voice.
Neil Young: Ragged Glory
Considered one of the greatest albums of the 90s.
---
Warrant: Cherry Pie
You've heard the song Cherry Pie at some point in your life.
---
Annihilator: Never, Neverland
Now this is my kind of metal. Stand out tracks include "Never, Neverland" (of course), and Fun Palace.
---
The Wall: Live in Berlin
As a sort of celebration for the collapse of the Berlin Wall November of last year (1989), Roger Waters put on a concert performance in Berlin of Pink Floyd's The Wall. Kind of a moment in history if you ask me.
---
AC/DC: The Razor's Edge
You've all heard Thunderstruck before, among other tracks, from this famous band.
---
Megadeath: Rust in Peace
Everyone should've heard the legendary Hangar 18 song at least once. The music video is fun stuff too.
---
Redd Kross: Third Eye
I have a fondness for the song "Elephant Flares."
---
INXS: X
Groovy. "Suicide Blond", and "Disappear" were not only the big hits, but were also used in the upcoming film Mystery Date.
---
Grateful Dead: Without a Net
Bit of a history with this album. Previously, Grateful Dead's stuff tended to be studio releases, and little to no live performances. Problem was that the fans were adamant in saying that the Grateful Dead was a different beast when they were live. As in far superior to how they sounded in studio. This is one of the live albums that demonstrates this.
---
Steve Vai: Passion and Warfare
The track For the Love of God has gone down in legend. That aside, the whole album is good. If it wasn't for Judas Priest, the win for album of the month would go to this one.
---
---
---
Films
Worthy mentions: Don't Tell Her It's Me, a guilty pleasure of a rom-com for me, but it's not a film I would consider to be great by any means. There's also this film called Pacific Heights which had Michael Keaton playing a villain for the second time in his career up until doing that one Spiderman film; honestly, I thought this film was stupid, but people know about it, and some enjoy it regardless.
Postcards From The Edge

A quaint little film that's based on Carrie Fisher's experiences with being an alcoholic and drug-addict behind the scenes of her films. Despite this film likely pulling some punches on the reality of it all, it's not bad.
---
Dark Angel (aka I Come in Peace)

A fun Predator-inspired low-budget sci-fi flick starring Dolph Lundgren. Worth a watch if you're in the mood for that sort of thing. Seriously though, this movie is great cheesy fun, with a bitchin' weapon that Predator 2 would later borrow from. And this film beat it by at least 2 months!
---
King of New York

Arguably Christopher Walken's best film that he was the main character. And I reviewed it.
---
Repossessed
This is also a guilty pleasure, but I had so much fun with this and laughed so hard so many times at this stupid humor, I don't care. Look, if you've seen one Leslie Nielson comedy, you've seen them all. But I consider this one of his most hilarious, and one of his most overlooked. More entertaining riff on The Exorcist (with the Exorcist girl Linda Blair reprising her role after all these years) than the Scary Movies ever managed.
---
State of Grace
This film isn't as good as it thinks it is. It's too ambitious for its own good. That being said, it's still a solid enough ride, with Gary Oldman and Ed Harris stealing the limelight from Sean Penn (who Repossessed made fun of), and ending on one of the best shootout sequences ever to grace the silver screen.
---
Texasville
A decent ho-hum sequel to the classic The Last Picture Show. Also worth noting that there's a director's cut that made it onto Laserdisc, but never onto any other format, at least as of this article.
---
Narrow Margin

An ok thriller, that honestly would be forgettable if not for this insane train sequence during the finale. Also worth noting it's a remake.
---
White Hunter Black Heart

My pick for film of the month. One of the less appreciated of Clint Eastwood's works. And yet it has cinematography that puts all his other films to shame by comparison. It's about the director of the film The African Queen wanting to hunt and kill an elephant in Africa.
---
Goodfellas
One of the most influential (and greatest) mobster films of all time. Easily ranks alongside The Godfather.
---
Henry: Portrait of a Serial Killer

While this film was technically ready for release in 1986, it got left on the backburner because the executive producers didn't have any faith in it, not even enough for a straight to VHS release (didn't help that it initially got branded with an X rating, prior to the NC-17 rating being made this year). Eventually they got convinced by a director, who would go on to make the sequel to this film, to give it a chance with a limited release, which made it a successful enough cult hit that they okay'd a mainstream theatrical release for this month. Controversial, and a cult favorite among horror/slasher fans. Personally, I think it's just a so-so film, but it has a solid position in film history.
---
---
---
Games
Worthy mentions: Low G Man (NES). Battle Tank (NES). Skate or Die 2: The Search for Double Trouble (NES). Play Action Football (NES). Mission: Impossible (NES). Pipe Dream (NES, Game Boy). Spot: The Video Game (NES, Game Boy). Time Lord (NES). Thunderbirds (NES). Skate Or Die: Bad 'N Rad (Game Boy). Their Finest Hour: The Battle of Britain (Amiga). Infestation (Amiga).
Maniac Mansion (September 1990; NES)

The classic Commodore 64 game (which was also the first LucasArts game) gets ported over to the NES. But it would suffer from censorship compared to the PC version.
---
M.U.L.E. (September 1990; NES)

A video game that's more of a board game in nature. Not very well known, but does have a cult following.
---
Little Nemo: The Dream Master (September 1990; NES)

Best thing since the movie. Hard, but fun.
---
Journey to Silius (September 1990; NES)

Originally going to be a Terminator adaptation, but ended up being a mixture of Terminator, Robocop, and Aliens, while being a sort of Megaman clone. Which resulted in one of the best (and difficult) hidden gems in the NES library. A bit of the music sounds Doom-inspired, before there was Doom. In fact, the music is the primary element people remember from this game.
---
Kickle Cubicle (September 1990; NES)

Decent little puzzle game, ported from a 1988 arcade title.
---
Dragon Quest II; aka Dragon Warrior II (September 1990; NES)

Sequel to the first J-RPG ever made. Opinions about it tend to be mixed. On the one hand, the story is a tad bit less cliche, and is overall technically better (lack of battle background screen not withstanding). On the other hand, the last act of the game is an insanely ridiculous grindfest, one of the worst in gaming history.
---
Gauntlet II (September 1990; NES)

Another port of a classic arcade game, that is inferior to the arcade version in every way. Regardless, it's a famous title. Gameplay isn't particularly deep, and is ever only designed as a party game, or arcade game; either way at its best with a group of players. But it's not something I'd ever pick up and play today. Never was the biggest fan of the franchise. Respect it more than enjoy it.
---
Castlevania III: Dracula's Curse (September 1990; NES)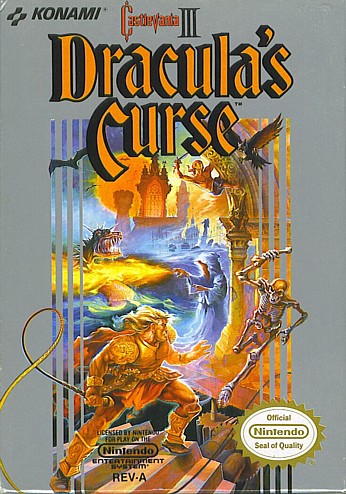 Arguably the best of the NES Castlevanias.
---
Destiny of an Emperor (September 1990; NES)

So Dragon Warrior II wouldn't be the only J-RPG released this year. Similar style, but has a more historical story (and thus less cliche). A bit different kind of combat system too.
---
Rollergames (September 1990; NES)

I don't care how hard or ridiculous this is, it's fucking awesome. Rollerbalder beat-em-up that gets over-the-top (more than you would think).
---
Solar Jetman: Hunt for the Golden Warpship (September 1990; NES)

Getting some Subterrania vibes from this.
---
Street Fighter 2010: The Final Fight (September 1990; NES)

No relation to the Street Fighter fighting game franchise.
---
Ultimate Basketball (September 1990; NES)

---
The Final Fantasy Legend (September 1990; Game Boy)

Very mixed opinions about this game, which is more of a SaGa game than a Final Fantasy game. But it made waves and has a reputation, so… So you get to kill God with a chainsaw.
---
Heavyweight Championship Boxing (September 1990; Game Boy)

It's no Punch Out, but it's one of the best attempts the Game Boy could muster for something like this.
---
Cosmo Tank (September 1990; Game Boy)

Such potential… Such a shame it didn't turn out as fantastic as it was ambitious. Seriously, this pushed the limits of what the Game Boy was capable of.
---
Catrap (September 1990; Game Boy)

A decent little puzzle game, which about the best type of game you could get on Game Boy, generally speaking.
---
Super Monaco GP (September 1990; Sega Genesis, Amiga, Amstrad CPC, Atari ST, Commodore 64, ZX Spectrum [port of arcade])

A true racing classic.
---
Devil's Crush (Turbografx-16)

One of the most awesome-looking pinball games ever created.
---
Wing Commander (September 1990; MS-DOS)

Close runner for game of the month next to Castlevania III. The beginning of the legendary game franchise, which would only get better from here. The only downside to the first game in the series was the monotony that would set in before reaching the end. Regardless, it is a legend in gaming.
---
The Legendary Axe II (September 1990; TurboGrafx-16)

Some say it's better than the first one (which is already considered one of the best games on the TurboGrafx-16). Even though it has no relation plot/character-wise.
---
---
---
---
---
---
TV Shows
So up until this point in the year, you may have been wondering where all the animated kids shows were at (barring some carry-overs from the 80s, and a couple series here and there). Well, this was the month where they showed up, with a vengeance. But the other more teenage/adult shows weren't going to cut any slack either, as this became a legendary month in television.
Just to give an example of how kid shows would come back, September 10 marked the day when The Disney Afternoon hit the small screens. Airing on UPN (Channel 13 where I was at back then), a 2 hour block of animated shows, lasting until August 1997. The shows that would air on it were Adventures of the Gummi Bears, Ducktales, Chip n' Dale Rescue Rangers, and Talespin.
Slightly less than honorable mentions: Big Brother Jake. True Colors (the main thing to know is that it is a show about a black widower and his two children getting married to a white Jewish woman, and dealing with family shenanigans; yeah). Kid 'n Play (you may recognize some of them from the film House Party; their attempts didn't last, but they were a notable presence; also did a cartoon show). New Kids on the Block (September 8 – December 14, 1990; ABC). Uncle Buck (September 10, 1990 – March 9, 1991; CBS). Babes (September 13, 1990 – May 19, 1991; Fox). Maniac Mansion (September 14, 1990 – April 4, 1993; The Family Channel). Pete McTee's Clubhouse (September 15, 1990 – 2004; WPMT Fox-43). The Adventures of Don Coyote and Sancho Panda (September 16, 1990 – December 8, 1991; Syndicated). The Trials of Rosie O'Neill (September 17, 1990 – May 30, 1992; CBS).
Midnight Patrol: Adventures in the Dream Zone (September 1 – November 24, 1990; Syndication)
---
Parker Lewis Can't Lose (September 2, 1990 – June 13, 1993; Fox)
Another one of those school teenage sitcom comedy-dramas that got cancelled after only 3 seasons. Inspired the style of Scrubs and Malcolm in the Middle. A cult classic by today's standards. If nothing else, it's a fantastic early 90s time capsule.
---
Barnyard Commandos (September 4, 1990; First Run Syndication)

Damn straight!
---
Captain N & The Adventures of Super Mario Bros. 3 (September 8, 1990 to January 5, 1991; NBC)

I'm not going to lie, I didn't really care for this show at all. But, I can't exactly ignore its existence, considering how many fanatics remind me of it today. Plus it has Mario.
---
Attack of the Killer Tomatoes (September 8, 1990 – November 23, 1991; Fox Kids Network?)

An adaptation of a notoriously so-bad-it's-good movie made into an animated kid series? Honestly not a bad idea.
---
Gravedale High (September 8 – December 1, 1990; NBC)
High schoolers who are monsters.
---
Zazoo U (September 8, 1990 – January 19, 1991; Fox Kids)
Artsy and different.
---
Bobby's World (aka The World According to Bobby; September 8, 1990 – February 23, 1998; Fox Kids)
One of the definitive kids shows of the 90s.
---
Peter Pan & the Pirates (September 8, 1990 – September 10, 1991; Fox Kids)
One of the more accurate depictions of Peter Pan as a character.
---
Tom & Jerry Kids (September 8, 1990 – December 4, 1993; Fox)
Didn't think it was all that great, even back then. But…
---
The Wizard of Oz (September 8 – December 1, 1990; PBS)
---
Trump Card (September 10, 1990 – September 6, 1991; Syndication)
You remember that time when there was a game show made by Trump in Trump Tower? Heheheh.
---
The New Adventures of He-Man (September 10, 1990 – December 7, 1990; Syndicated)
Sequel to the original series, which received mix results with the time travel and sci-fi elements. But it has fans.
---
The Fresh Prince of Bel-Air (September 10, 1990; NBC)
Alright, you all know the opening song! Sing it!
Now, this is a story all about how
My life got flipped-turned upside down
And I'd like to take a minute
Just sit right there
I'll tell you how I became the prince of a town called Bel Air
In west Philadelphia born and raised
On the playground was where I spent most of my days
Chillin' out maxin' relaxin' all cool
And all shootin some b-ball outside of the school
When a couple of guys who were up to no good
Started making trouble in my neighborhood
I got in one little fight and my mom got scared
She said 'You're movin' with your auntie and uncle in Bel Air'
I begged and pleaded with her day after day
But she packed my suit case and sent me on my way
She gave me a kiss and then she gave me my ticket.
I put my Walkman on and said, 'I might as well kick it'.
First class, yo this is bad
Drinking orange juice out of a champagne glass.
Is this what the people of Bel-Air living like?
Hmmmmm this might be alright.But wait I hear they're prissy, bourgeois, all that
Is this the type of place that they just send this cool cat?
I don't think so
I'll see when I get there
I hope they're prepared for the prince of Bel-Air
Well, the plane landed and when I came out
There was a dude who looked like a cop standing there with my name out
I ain't trying to get arrested yet
I just got here
I sprang with the quickness like lightning, disappeared
I whistled for a cab and when it came near
The license plate said fresh and it had dice in the mirror
If anything I could say that this cab was rare
But I thought 'Nah, forget it' – 'Yo, homes to Bel Air'
I pulled up to the house about 7 or 8
And I yelled to the cabbie 'Yo homes smell ya later'
I looked at my kingdom
I was finally there
To sit on my throne as the Prince of Bel Air
---
Gabriel's Fire (September 12, 1990 – June 6, 1991; ABC)
They had a show with James Earl Jones as the star, as a cop/detective. And they decided to fucking cancel it? What the fuck is wrong with these people!? Guess it was too racially/politically hot, especially with the Rodney King incident that was soon to come.
---
Tiny Toon Adventures (September 14, 1990 – May 28, 1995; CBS (pilot only), Syndicated (1990–1992), Fox Kids (1992–1995))
The precursor to Animaniacs. And a damn good one. Told you kids shows were going to hit with a vengeance.
---
Captain Planet and the Planeteers (September 15, 1990 – May 11, 1996; TBS)
Every 90s kid saw this at some point in their lives, and got hooked on the theme song. There would even be a live action pilot of a show that never took off called E.A.R.T.H. Force, with a similar theme of saving the planet from pollution that came on during the same month. Something tells me these would be big hits with the millennials.
---
Bill & Ted's Excellent Adventures (September 15, 1990 – November 16, 1991; CBS)
"What color is an orange?" "Ted you bonehead, the color is the same as it's name, just like a lemon"
It actually had Keanu Reeves, Alex Winter and George Carlin doing the voice-overs for their roles. At least until the later episodes which nobody liked.
---
Piggsburg Pigs! (September 15, 1990 – January 26, 1991; Fox Kids)
Look, I don't care how good or terrible people say this show is. The opening theme song makes me lose it every time I hear it. I nearly blacked out from laughing so hard just from that alone.
---
Wake, Rattle, and Roll (September 17, 1990 – 1991; Syndication, Disney)
Man, what a wacky show.
---
Married People (September 18, 1990 – March 16, 1991; ABC)
This show is actually quite funny and entertaining. At least I thought so.
---
The Flash (September 20, 1990; CBS)
A show that wasn't given a fair chance and suffered to time slot changes and studio bumbling. But its existence is acknowledged in future adaptations of this comic book character. Arguably ahead of its time.
---
Going Places (September 21, 1990 – March 8, 1991; ABC)
It has become a cult classic in some areas.
---
Evening Shade (September 21, 1990 – May 23, 1994; CBS)
I'm running out of things to say about sitcoms.
---
Get A Life (September 23, 1990 – March 8, 1992; Fox)
Chris Elliot FTW! In this hilarious comedy sitcom that was cancelled FTL!
---
Cop Rock (September 26 – December 26, 1990; ABC)
A lot of people don't know if this is the greatest thing ever, or the worst thing ever. Neither do I. It's a show that is set up like a cop crime/drama, but then it turns into a musical, with cops and criminals and judges breaking into song and dance. It's such an anomaly of a series, it deserves a mention as a, "Only in the 90s" thing. If it's a failure, it's a failure so epic and spectacular you can only marvel at it.
---
Widget, the World Watcher(September 29 1990 – 19th December 1992; Syndication, USA Network)
This is not a figment of your imagination.
---
Dracula: The Series (September 29, 1990 – May 11, 1991; Syndication)
You know, for kids.
---
Good Grief (September 30, 1990 – February 3, 1991; Fox)
Man, I didn't think the 90s had it in them to create a tv show with comedy this dark. Just the opening credits…
---
The New Adventures of the Black Stallion (September 15, 1990 – May 16, 1993; The Family Channel)
The real sequel to the famous classic film that I would rather get into than the shitty movie sequel I didn't really care for (and thought the Arabs were assholes who went about getting their horse back in all the wrong, and implausible, ways). Despite how cheesy it is (though, honestly, I think that was the norm back then, especially on television), it did manage to last 3 seasons, and it has Mickey Rooney reprising his role from the film… before he gets a "cramp in his chest."
---
Law & Order (September 13, 1990 – ; NBC)
You all know this show. If nothing else, the intro has been parodied to death.
---
The Civil War (September 23, 1990 – September 28, 1990; PBS)

A 9 part documentary series on the American Civil War that is so comprehensive, in-depth, educational, that it has become a legend in documentary miniseries that set a standard not many have been able to reach. I may not be fond of Kevin Burns' later documentaries, such as The Vietnam War, but he hit this one out of the ballpark. This is one of those miniseries you have to see at least once in your life. It's creation was inspired by the hit film of yesteryear Glory, and this also caused a domino effect of historical war films that would come out later in this decade, including the well-renown Gettysburg.
---
Edit (11-6-2019): Apparently music album Testament: Souls of Black wasn't released until October 9, 1990. Have removed it from this post.
Edit (12-2-2019): Added info about The Disney Afternoon premier on UPN.
Edit (1-30-2020): Added Henry: Portrait of a Serial Killer to Movies.
Edit (1-31-2020): Added Legendary Axe II to Games.
Edit (2-10-2020): Added The New Adventures of the Black Stallion to Shows.
Edit (12-17-2020): Holy shit. How the fuck did I forget to add Goodfellas!?
Edit (2-20-2023): Added Vanilla Ice: To the Extreme to Music.
Edit (3-11-2023): Added Talisman to Music.