Cowboy Channel on cable TV begins transmitting.  "Turtle Power" by Partners In Kryme hits #13.  Greyhound Bus files bankruptcy.  Dr Jack Kevorkian assisted an Oregon woman to commit suicide, beginning a national debate over the right to die.  "It's Garry Shandling's Show" last airs on Fox-TV.  Supreme Court says law prohibiting desecration of US flag unconstitutional.  "Mariah Carey" debut album by Mariah Carey is released.  Supreme Court rules police check for drunk drivers constitutional.  "U Can't Touch This" by MC Hammer peaks at #8.  Asteroid Eureka is discovered.  NYC's Zodiac killer shoots 4th victim, Larry Parham.  At Yankee Stadium rally, Nelson Mandela dons a NY Yankee baseball cap and proclaims "I am a Yankee!".  Adam Sandler joins "Saturday Night Live".  A rally to save Alien Nation from cancellation held at Statue of Liberty.  Police find marijuana at Chuck Berry's home.  "Dave Thomas Comedy Show" last airs on CBS-TV.  NBC decides to air episodes of "Quantum Leap" for 5 straight days.
This month, it was all about the videogames.  What a glorious month for gaming.  But first, as a warm-up…
Music
Stuff I don't care for (that either wasn't a big enough culture hit, or it managed to make the top charts in some category) that you might dig: Tiamat: Sumerian Cry (I may like heavy metal, but I despise death metal); Anita Baker: Compositions; Keith Sweat: I'll Give All My Love To You; Colin James: Sudden Stop; Deicide: Deicide; Dusty Springfield: Reputation (her big comeback album after 11 years without releasing new material); Sonic Youth: Goo; Cheap Trick: Busted; James: Gold Mother; Robert Cray: Midnight Stroll.
New Kids on the Block: Step by Step
Oh Jesus.  Ok, so this is not my kind of music.  But considering how famous these guys have gotten, how heavily they were being promoted, and all the goddamn merchandise they were selling, I can't exactly ignore them.
Teenage Fanclub: A Catholic Education
Very rough around the edges (though this was their debut album, and I hear they improve later in their career), but it does have some nice beats to it.  Kinda groovy once you get past the rough stuff.  The track "Heavy Metal II" won me over.
Bad Company: Holy Water
Mariah Carey: Mariah Carey
Debut album from this famous singer.  Personally, I don't care for this music, at all.  But considering how well known she is, kinda have to include it.
Mike Oldfield: Amarok
This is more on the unique side.  It's intended to be listened to in its entirety rather than have a single standout track.  And, uh, I don't know if I like it or don't.
Alias: Alias
The band seems on the verge of going more hard edge than it is in this album.  But this was a big debut for this new band, and I do enjoy "Haunted Heart."
Green on Red: This Time Around
I like this album.  That is all.
Uncle Tupelo: No Depression
Normally not interested in country music, though I will admit this is a tad above average.  Plus it's classified as "alternative country" rather than just plain country, which is probably why it appeals to me a little more.  Main reason I'm including this is because it is considered one of the most important alternative country albums ever released, mainly because of its impact on the alternative country genre.  Not to mention it helped kick-start the "Americana" music movement.  Can't ignore it because of the impact it made.
His Name is Alive: Livonia
Interesting.
Nelson: After the Rain
It's just ok.  But their single "(Can't Live Without Your) Love and Affection" was the #1 hit for a while.  And considering this was their debut album, in that time period, that does make it an achievement.
Danzig: Danzig II Lucifuge
While not containing a single that ever got as popular as "Mother" (from their previous album), it's a pretty damn solid album.  My choice for album of the month.
Sonic Youth: Goo
I initially didn't want to add this here, mainly because the single "Mildred Pierce" sounded like nails on a chalkboard to me.  But since this album is considered one of the most important alternative rock records of all time, primarily for its contribution to the music culture, how influential it became…  Well, the whole album is very hit and miss for me.  And when it misses, it misses a lot harder than it hits in my opinion.  But that's just my subjective opinion.
Gene Loves Jezebel: Kiss of Life
It's worth listing just for the title song alone.  The single "Jealous" was considered a hit from what I understand; but the other song I really enjoyed was "Why Can't I?"  Especially because that latter song would be so appropriate for Captain Marvel when you consider some of the lyrics.
Movies
Movies that didn't make the cut: Another 48 Hours was an inferior sequel to the solid first film, and is ultimately forgettable.  And there's Betsy's Wedding, a film that I kinda liked, but it didn't have enough to it.  Lastly, Monsieur Hire, an interesting French film.

With that out of the way, you're about to witness why this is one of the best months in 1990. And it's primarily because of one movie.
Frankenhooker
I personally didn't care for this movie, but it is a cult classic for many.
Total Recall
Now we're talking.  One of my all time favorites, and one of the most well-known sci-fi flicks of all time.  Everyone knows (or should know) about this classic masterpiece.  Easily the best film of the month, by a mile.  Maybe even best of the year.  One of those movies that MADE this year.
Dick Tracy
Christ, all the build-up and hype for this film.  Even Madonna was hyping it up, mainly because she was starring in it too.  But this is one of those films that is not as good as it's hyped up to be, it's overlong, a bit tedious, and Warren Beatty is full of himself (and so is Madonna).  The first 15 minutes is as good as it gets.  Make-up effects are pretty damn good too.
Gremlins 2: The New Batch
This is one of those sequels where there is heated debate to this day as to whether it's better or worse than the first film.  Sometimes it can go so far as people saying you'll either love it or hate it.  I'm one of those who finds it superior to the first, but that's just me.
Robocop 2
It's not as good as the first, but it has some good stuff to it.  Just got a little too goofy at times.  Well, at least it wasn't as bad as the 3rd film.
Days of Thunder
Here's that other Top Gun-like movie.  Except with race cars.  And, it's alright for what it is.
Ghost Dad
Despite its bad rap, I find this film both intentionally and unintentionally hilarious.  I even made a drunk review of it.
Games
Others not listed that could be worth checking out: Shingen the Ruler (NES),
ESWAT: City under Siege (Sega Genesis), Batman (Game Boy), Shanghai (Game Boy), Little League Baseball: Championship Series (NES).  With that out of the way, get ready for bombardment of goodness.  This month offered gaming overload.
Dragon Spirit: The New Legend (June 1990; NES)
It's a solid port of the arcade version (by NES standards).  But one of the things people remember about this game is the music.
Boulder Dash (June 1990; NES)
A classic, in my opinion.  The name is so familiar and nostalgic.
Bad News Baseball (June 1990; NES)
One of the more fun baseball games.  It may have some issues, but that's because, in this game, you can play ball like a girl!
Adventures in the Magic Kingdom (June 1990; NES)
It's not that good, but people have, uh, memories of this one.  Left too much of an impression to ignore.
Arkista's Ring (June 1990; NES)
It's ok.
Chip 'n Dale: Rescue Rangers (June 1990; NES)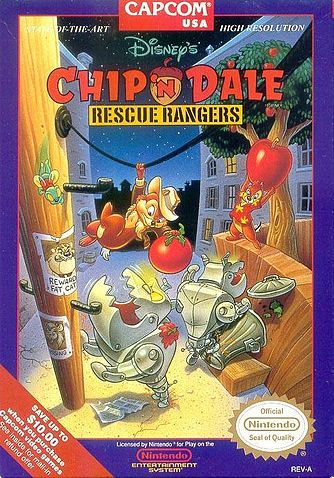 When we didn't have Ducktales (woo-ooo), we had this.  There were enough times where licensed games were legitimately great.
Cabal (June 1990; NES)
This is not to be confused with hunting simulators.  When it first came out at the arcades in the 80s, it set a standard for arcade third person shooters.
Captain Skyhawk (June 1990; NES)
An ambitious NES game that simulated a 3D flying experience in the same way Sonic 3D Blast on the Sega Genesis (much much later) simulated a 3D Sonic game. About as good of graphics as the NES was capable of putting out.
Silkworm (June 1990; NES)
Yep, another shoot-em-up that was cool.  With co-op, the way it is intended to be played.
Rad Racer II (June 1990; NES)
One of the most famous racing series to ever hit the NES.  Plus the first Rad Racer is also well-known particularly for the power glove scene in The Wizard.  Some prefer the first to the second, but the second has its fans too, and people enjoy it either way.
Pinball Quest Jaleco Entertainment (June 1990; NES)
What a fascinating concept for a pinball game.  A sort of pinball RPG.  The concept is great, but the execution is lacking, especially by today's standards.  It can be very frustrating and repetitive, especially for those not all that skilled at these type of pinball games.  But it really stood out from every other pinball game back in the day.  Hell, this would stand out in the present day.
Starship Hector (June 1990; NES)
Bullet hell.  Hard as fuck.  Good luck.
Solstice: The Quest for the Staff of Demnos (June 1990; NES)
Whew.
The Mafat Conspiracy (June 1990; NES)
One of the main ways Americans were introduced to Golgo 13, based on the famous manga (which became an anime series, and an anime movie).  If not for that, I probably wouldn't mention this.  I mean, yeah, there are people who enjoy it in spite of its faults, especially that cocksucking first person portion of the game.
Columns (June 1990; Arcade, Sega Genesis, Atari ST)
Yes, it's time for the Sega Genesis to shine.  And it got an all time classic puzzle game.  True, it was also on the arcades and the Atari, but what mattered is that the Sega Genesis had it.  There's just something about that music and sound effects.  So enchanting.
Ghostbusters (June 29, 1990; Sega Genesis)
Oh yeah.  Damn right.  One of the most revered Sega Genesis titles ever.
Budbrain (aka Megademo; June 1990; Amiga)
This has become a cult classic.  It's just a demo for the Amiga system, or something like that.  But it's a big thing for some people.
Target Earth (June 1990; Sega Genesis)
Don't let the reviewer fool you, this game was fucking awesome.  Hard as balls, but so damn rewarding.
CyberBall (June 1990; Sega Genesis [ported from 1989 arcade])
This is one of those games that could get people who don't normally enjoy football to play football.
Budokan: The Martial Spirit (June 1990; Sega Genesis, DOS)
A non-streamlined fighting game.  Intentionally complicated so you're forced to play methodically.  Either you're into this type of play style, or you're not.
Sid Meier's Covert Action (June 1990; MS-DOS, Amiga)
I'm just going to leave this here.  Don't make the mistake of believing Sid Meier was only good at developing Civilization games.
Ultima VI: The False Prophet (June 1990; MS-DOS, Amiga)
The last in the "Age of Enlightenment" trilogy.
TV Shows
Jack shit for tv shows this month.  Some attempted game shows like Monopoly and others that never caught on and never became anything special.  So, yeah, we're ending the month on that note.  But let's face it, we can't become spoiled with every category in every month.  We had an unbelievable dose of great games, and that's good enough as is.  Never mind that we also got Total Recall.
Edit (6-29-2016): Added Ultima VI and Budokan to the Video Game section.
Edit (8-16-2016): Added Monsieur Hire to the Movie section.