Rated 4 / 5
The film starts off with an eerie title sequence, beginning with a full moon with some dark clouds around it, which disappears as a lone blue 2D drawn house comes into view along with the title words "Home Alone," as the single window of the house lights up. It emanates a light creepy and paranoid vibe, with a sense of isolation, a lone individual surrounded by the darkness. If I didn't know any better, I would say this is setting up for Night of the Living Dead or some werewolf movie. The HOME ALONe title only has the lone letter "e" not capitalized, intentional to foreshadow that it is a young immature individual who will be isolated rather than all the mature people who are capable of being independent and looking out for themselves. A line is underneath these words and the house to give a comforting ground to stand on, but soon disappears at the same time as the title, leaving the house alone, as it grows smaller and smaller within the surrounding darkness. It wouldn't take much to convince audiences that this could be a slasher film, like this:
Thankfully it gets more cheerful right away, showing a well decorated and lit house. With a cop inside trying to get anyone's attention. On the one hand, this could be seen as a way to show that (spoilers) villains won't disturb this family's fun/holiday. But on the other hand, at least one of the adults could have noticed that a POLICE OFFICER was in the house, which is something that demands attention.
"Kevin, out of the room!"
"Hang up the phone and make me why dontcha?"
The appropriate response would be, "Hang on I'll call you back," and then start smacking the shit out of that little asshole so he can learn some discipline and respect his parents, so that he doesn't grow up to be an even bigger asshole. But that doesn't happen. Even his dad doesn't provide any sort of discipline, and it becomes obvious that Kevin is a spoiled brat with irresponsible parents.
"All kids, no parents! Probably living in a fancy orphanage."
More indications on the theme of parents being around for their children, to raise them/discipline them properly. Or a lack thereof in this case. All the children in the household are living breathing walking representations of the result of irresponsible parenting, and because of that they are selfish with no thoughts of helping others, because their parents never acted accordingly towards them. This is indicated even later on when they're on the plane to France, where the parents are all in first class, but all the kids are in coach. Only Kevin's mother questions this, though to be fair first class tickets are expensive, but on the other hand the family seems to be fairly wealthy, what with all the items they have at their house, and that they can even afford to take such a large trip with so many people. The kids are being setup to be the next Alex from A Clockwork Orange.
The first individual seen outside of the household is Marley, a man dressed in black, including black rubber boots, who is shoveling snow off the sidewalks and sprinkling salt so that they won't be slippery. One of the on-looking kids states, "Maybe he's just trying to be nice," which is exactly what he's being. But Buzz, the owner of the tarantula and BB gun in the house (symbolizing his fascination for things that are creepy and dangerous) builds up paranoia for the two kids looking on the man, including Kevin, by telling them a false urban legend about him. This unfounded gossip builds up an unnecessary sense of dread, which makes them want to keep themselves isolated from the dangers that lay beyond the familiar, a callback to the title screen earlier with the lone house and the darkness surrounding it. Therefore the darkness can have 2 meanings in this case, a sense of dread, or a sense of comfort. There can be nice things, or bad things, in the dark unknown. There are some things to be afraid of, but it's no good having paranoia add to the legitimate fears, especially when they're misplaced, such as with the crook disguised as a cop at their house.
This isn't the first time Buzz has made Kevin terrified of something, as the scenes in the basement show later, where Kevin imagines the radiator as a monster.
"I don't want to see you again for the rest of the night."
"I don't want to see you again for the rest of my whole life, and I don't want to see anybody else either."
"I hope you don't mean that. You'd feel pretty sad if you woke up tomorrow morning and you didn't have a family."
"No I wouldn't."
The way Kevin is acting, this could be attributed either to a light abusive family, or a lack of discipline making him spoiled, or a combination of both. Then again, there are other films and real life scenarios that have kids who act the same way, even if only for small amounts of time. For example, Tree of Life. Either way, the problem's with Kevin's attitude can be associated with the parenting. And once he gets his wish for not having any parents around, getting his wish, he celebrates, doing whatever he wishes around the house, having a ball.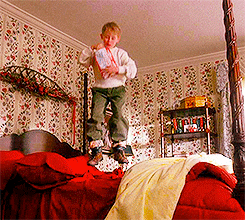 1990. Back then, airport security wasn't too bad, because you could drive from your house, and get to your flight within an hour in that amount of time. Also, plenty of groceries only cost less than $20 bucks, which can get someone by for at least a week. And this movie was made. God the 90s was so fucking awesome.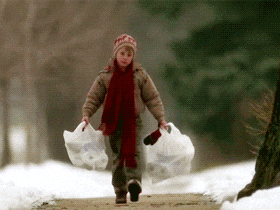 The film Kevin watches, "Angels with Filthy Souls". Right after that scene ends, we see Kevin's dad on the plane reading the book "Nobody's Angel". I believe this implies that many children, Kevin included, are angels, but they are naughty on the inside. They are capable of doing much good and providing much love, but Kevin at the start of the movie is dirty on the inside. Watching this film makes him shocked and scared at what he sees, a reflection of later when he realizes how terrible he has been to his family. And the father, well, I guess it's implied that there's not much left to him. And let's not even get started with the uncle.
Eventually Kevin's mother is the first to realize that Kevin isn't on the plane with them, after a long amount of time, an unusual amount of time. It soon dawns upon her that she's a neglectful parent, just like her husband. But she is now in a situation where she may have realized this too late.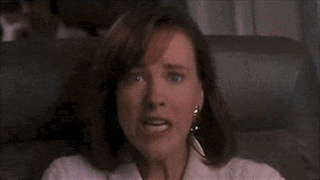 As for more consequences of neglect and fear, this is exemplified by Kevin unintentionally stealing a toothbrush from a store. He accidentally stole it by running out of the store with it because of his unjustified fear of Marley, thanks in part to Buzz. There is a twofold message here. One is that paranoia can cause one to do bad things that they normally wouldn't do if they weren't afraid. The second is an indirect reference to parental neglect, how that can drive a child to a life that is not respectable, such as a life of crime. The latter scenario is not something that is a plot point or direct lesson in the movie, but simply a subtle lesson within the movie that can be found if one looks hard enough, like the adult humor in an episode of Freakazoid. Or with Marv stating, "We're the wet bandits."
Despite how much of an asshole Buzz is, he does have a point when he says that Kevin could use a couple of days in the real world, implying that this would be a way for him to learn some self-responsibility and be less helpless. Sure enough, that's exactly what happens to Kevin through the ordeal. He learns how to run the house responsibly, go shopping (without stealing), become less afraid of the outside world (and the basement), and learn to appreciate family as the loneliness gets to him.
"Have you been a good boy this year?"
"Yeah."
"Swear to it?"
"… No."
"Yeah, I had a feeling. Well, this is the place to be if you're feeling bad about yourself."
The scene in the church, where Kevin confesses his faults to the man he had been afraid of the entire film, even on how there are times where he says he hates his family, even thinks he hates his family, but really doesn't. Every child tends to have moments like that during their life.
"You can be a little old for a lot of things. You're never too old to be afraid."
And that's the thing. Fear of the unknown isn't limited to criminals and monsters. It's also about what could happen with relationships, if they could get worse, or become irreparable. The fear that you could lose what hope you have left of reconnecting with someone and become more alone than you were before.
I have to admit, for a kid who didn't know how to pack a suitcase, he sure does know how to lay traps for the burglars. And that's the part of the film everyone remembers. And it is glorious. The stuntwork combined with the hilarity. That said, this movie is responsible for spawning the terrible kids films that would follow suit for the rest of the decade. The 90s were full of children's films that had bumbling criminals/jerks who are outdone by kids or animals and their ingenious methods. And they all had the same thing in common, they had some dumbass fucks who are much more stupid then the protagonist(s), and/or the protagonist(s) were ridiculously smart. The 90s had the worst of it. Unfortunately, the 2000s weren't exactly victimless of this either, but at least less and less of them made it to theaters. This includes Home Alone 4 and 5 (I can't believe they made that many of these fucking unnecessary sequels).
One other thing. Is that "M" on the doorknob a tribute to the movie M?
---
---
---
Now, I believe I've got a critic's review that I near to tear to shreds. I'm talking about Aaron and his negative review of this movie. He had this to say:
"Home Alone is terrible because it is a mean-spirited film populated by nasty people that emotionally manipulates its audience in the most cynical, unconvincing ways possible. It is a misanthropic hatefest masquerading as a jovial holiday jaunt."
Alright then, show me.
"The McAllisters, we may stipulate, are awful people. [] They treat each other deplorably with little-to-no regard for the impact of their actions on others."
Well, yeah, especially the uncle and Buzz. But you may be exaggerating that a bit.
"This creates several problems for Hughes' and Columbus' goals. For one, little Kevin is supposed to be the put-upon youngest child, alternately pestered and ignored and viewed as a burden, such that he has our sympathies. But little Kevin, disrespectful budding sadist that he is, is no more sympathetic than his self-absorbed, hate-filled relatives. Perhaps we shouldn't be too harsh toward Kevin—after all, he has learned his behavior from a pack of howling mongrels—but a child who says to his parents things like, "Hang up the phone and make me, why don't you?" and "I am upstairs, dummy," is not some meek, beleaguered urchin. He is a child who has willfully entrenched himself on the naughty list and deserves at best a stocking full of coal (or perhaps hot manure), not our rooting interest."
Most children who get raised like this do turn out this way. But I would say it's too early to be rooting for Kevin. More importantly, the intention was to have the audience shocked at the current relationship between Kevin and the family. It's not until later in the movie when he learns to take a look at himself and realize how terrible he has been, and tries to be better, starting with taking some responsibility.
For another, this deplorability makes the entire goal of the story—the reuniting and reconciliation of the McAllister family—an impossible proposition to desire.
Or to see that at least some members of the family learn the neglect is not a good trait to have. The biggest problem is lack of discipline, which we never see any parent do. Well, not do well enough, as the worst they did was a "Go to your room!" type of line, but even then Kevin had to be escorted there. That's not just a fault of the movie, but I feel a fault with society in general. When's the last time you've seen a children's film where the kid gets punished, a film made within the last decade? At least A Christmas Story kept that element in, and used it well.
Even if one overlooks the thorough reprehensibility of the protagonists, contrivances and inconsistencies of convenience abound. The McCallisters, for example, apparently live on the only street in America where every single family (save one deus ex old man) leaves home for Christmas
Well, 5 families. But for a film with a concept like this, there's going to have to be some contrivances. Hell, I can find a bust-load of contrivances in the Kill Bill films, that doesn't make them terrible (at least not for you).
And not only is the street deserted, but it has no small amount of bad luck, what with power and phone outages that are, incidentally, central to the film's plot– [] We need the McCallisters to seem like concerned parents, after all, even if nothing that goes before would so indicate. And we need Kevin to be phoneless so as to make the central dilemma harder to solve—until, of course, Kevin needs to demonstrate what an "adorable scamp" (read: entitled enfant terrible with unchecked anger issues) he is by ordering a pizza solely for purposes of torturing the delivery boy. How, with no phone and no internet, does Kevin order that pizza?
Good point. Only thing I can say in the film's defense is that the phone lines were repaired at that particular time, and the parents never bothered to call back when the lines were repaired, because they assumed they would be down for the holidays. Even so, you could argue for another contrivance, which again is one that a film like this needs in order for the concept to work. Otherwise, the concept would either have to not be tried at all, or the film would need to be set back a century or two, back in the day where if there were robbers, the kid could probably easily get a hold of a gun his papa taught him to use and blow the crook's heads off if he didn't kill them with bear traps first. As for the pizza thing, I think he just wanted pizza, and figured he could do so with help from the video tape, and thought he mine as well as have fun with it in the process. I mean come on, you have to admit, that would be really tempting for anyone age 13 and under. People do pranks like that (or worse) all the time, even people who are older and more mature than Kevin.
Even worse are the character inconsistencies. Granted, Home Alone is not intended to be King Lear (though its implications are just as tragic), but requesting some sort of plausible character arc is not exactly asking for the moon. At the beginning of the film, Kevin is presented as something of a dullard (what the French might call les incompetents), so thoroughly inept that he is panic-stricken at the thought of having to pack a suitcase. Yet once left to his own devices, Kevin becomes something of a wunderkind, able to leap tall plot contrivances in a single bound. As Roger Ebert put it, Kevin "single-handedly stymies two house burglars by booby-trapping the house. And they're the kinds of traps that any 8-year-old could devise, if he had a budget of tens of thousands of dollars and the assistance of a crew of movie special effects people."
That part can't be defended. I wouldn't exactly call being able to lay such elegant traps a character arc so much as a flat out impossibility for a kid that age in that time period to do without the aid of the Internet. I certainly wouldn't call it a character arc, it's a skill capability. The character arc of him turning from asshole to less of an asshole, on the other hand, was handled well.
"Kevin needs to hate his family? Eh, sounds good. Now Kevin, for no apparent reason, sorely misses them? Great, alright, swell. [] But Kevin's wild veering from ill-tempered holy terror to wise-beyond-his-years lover of family is so obviously driven by cynical plot manipulation that it rings utterly hollow.
I wouldn't say it's wild, but it is cynical plot manipulation. I've seen the same type of arguments made against just about every Steven Spielberg movie ever made, and especially against Forrest Gump. When it comes to this, it's more a matter of personal taste. What some may find cynical, others may be ok with, and vice versa. But I can see where you're coming from with this, such as when he sees a family in a house all happy and celebrating. Or when he's at the church. That said, it is not for no apparent reason that he misses his family. The first indication is when he shouts for his mom after watching that scene from that movie. The second is when he's watching television, again, but is starting to get bored with it (and at the same time is starting to do less and less crazy "freedom" stunts because after a while the excitement is bound to wear off), and he starts to get lonely. So no, it isn't for no apparent reason. It's due in small part to fear, in large part to loneliness.
"But the mercenary emotional contortions of Hughes' and Columbus' story and its myriad gimmicks wouldn't grate so intensely were it not for the mendacity of their true (not pretended) central thesis: That how you treat others doesn't matter"
On that I disagree. Kevin eventually realizes that he treated his family like shit, and his mother realized how far she has gone with her negligence. Both make a journey to fix these flaws in their traits. I doubt either one has fully succeeded in completely fixing these flaws, but they're not as great at the end of the film as they were in the beginning.
Guess I didn't shred the review as much as I'd hoped I would, but I do believe I've left some scars.