Sonic Generations
Rated: 3 / 5 (good, but may be a while before I play it again, if ever)
So I haven't played a Sonic the Hedgehog game ever since Sonic Heroes (2003) on the Nintendo Gamecube (GCN).  Up until that point, I enjoyed virtually all the games found on the Sega Genesis, which is why I've purchased a few retro Sonic Collection discs for a few systems off and on.  The best 2D Sonic game being Sonic 3 & Knuckles, and the last decent one being Sonic CD.  I did play Sonic Adventures 1 and 2 on the GCN, and enjoyed them at the time, but I'm not so sure if I'd enjoy playing those 2 nowadays.  Those games work when the levels are designed for Sonic and speed, but they were still a bit finicky and glitchy even when those levels were being played.  But regardless, it showed potential in what the 3D setting had to offer, more-so than Sonic Blast.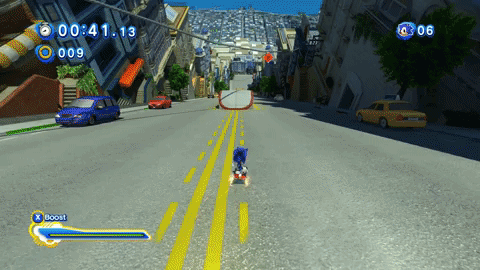 Unfortunately, it also showed everything the 3D setting had to offer.  Playing Sonic Generations, it doesn't seem like anything has really changed since Sonic Adventures other than getting their priorities straight in knowing what the best things have been about putting Sonic into a 3D platforming environment.  Restricting movement so it's more 2D-ish.  The jump-spin-dash.  Grinding on rails.  And that's pretty much it, and even now they seem unable to make it glitch-free.  There were numerous times playing this 2011 game that I got pissed whenever there was a glitch, a bug, a misstep and a cheap-shot with the level design.  Moments where I should've been running along the wall until I hit the speed ramp only to either fall off the wall for some reason, miss the speed ramp due to circumstances a bit beyond my control, or the speed ramp launching me on the wrong direction.  That's just one instance in one level where things irritated me.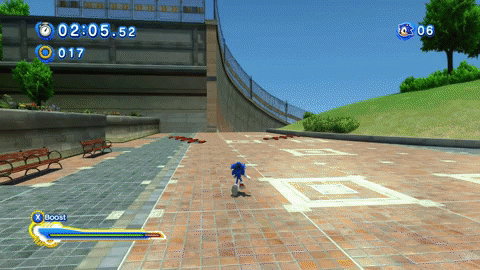 And the game has at least one moment like this in every other level that involves the 3D gameplay.  It never got as bad as that one abomination that came out on the PS3 and X-Box 360, not even close.  But still, considering how much practice they've had at this, and considering how much it rips off levels from older 3D titles, you'd think the experience would be more slick.  It doesn't ruin the game, but it provides needless irritation.  And at this point, this seems to be the best they can do when putting Sonic into a 3D setting.  This is it.  The limit has been reached.  3D platformers aren't meant to be this fast-paced.  They can't handle it without resorting to some form of 2D restriction, which defeats the purpose if you ask me.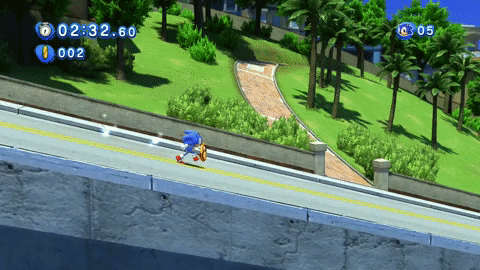 But since this game calls itself Generations, it also let's you play as Sonic in the 2D setting.  And guess what?  It has less bugs and cheap shots compared to the 3D segments.  Easier to play, and still challenging in all the right ways (but it never got too challenging, or arguably not quite challenging enough by the end).  It reminded me of why I enjoyed these Sonic games in the past, but it never got to the point where I thought this succeeded in being its own thing.  Mainly because a good portion of the levels were straight up ripped from previous Sonic games, both that I've played before, and those that I haven't (Sonic Colors being one of them).  But at this point, I missed playing good Sonic games badly enough that I was willing to give the game a pass like I did Star Wars: The Force Awakens and just enjoy it for what it did provide.  Though it had nowhere near enough boss fights considering how often they showed up in previous games.
Oh, and the cutscenes were a bit annoying.  I never really got into any of the new characters past Sonic Adventure DX (even that one brought in some annoying side characters).  Shadow is an emo only millennial retards who think they're Generation X believe is cool.  Don't know or care about that white/silver hedgehog.  And most of those individuals who are supposed to be friends of Knuckles all suck.  The only solid characters in this franchise has ever been Sonic, Tails, Knuckles, Robotnik/Eggman, and Metal Sonic, and that's it.  I'm willing to cut Amy a small break, but everyone else I just tolerate as best I can while enjoying the gameplay.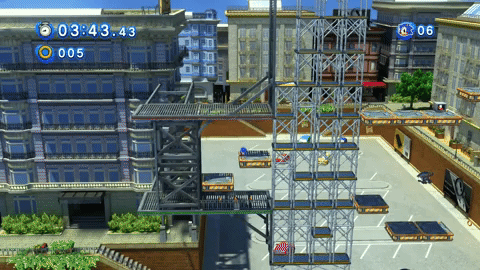 So the game is fun, but it could've been more if the bugs were worked out and it tried to be more of its own thing.  The 2D gameplay worked far better than it did in Sonic 4 Episode 1 (I didn't bother with episode 2 considering I wasn't digging the way the mechanics worked in Episode 1), but it just made me miss the gameplay in Sonic 1, 2, and 3 & Knuckles.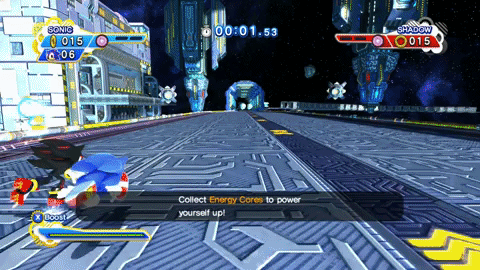 That being said, it is worth noting that there is a mod for this game that allows you to play the Sonic levels from Sonic Unleashed, which many say was the best part about that game.  I haven't tried it myself, but if I ever get the urge to play this again, I might give it a spin.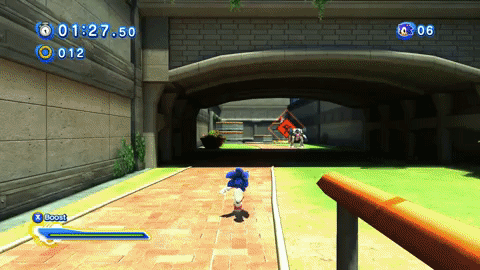 Anyway, I found out about another Sonic game that I ignored for a while until the praise for it became deafening.  So what was this one all about?
Sonic Mania
Rated: 4 / 5
I don't fucking believe it.  They got it right.  This shouldn't be possible.  A Sonic game that has sprite-based graphics released in this day and age?  A Sonic game that finally replicated the gameplay of the old classics perfectly?  Feels like the old games?  Just as long as the old games?  Has more content than the old games?  That just might be better than the old games?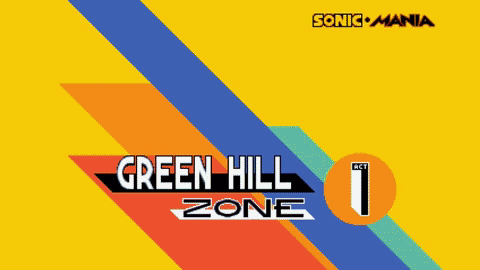 Well now I believe in miracles.  The hype and word-of-mouth is true.  This is the best Sonic game to be released since Sonic 3 & Knuckles.  Sonic accelerates and runs and jumps just like his old self (fuck you Sonic 4, this is how it's done!).  There is a boss fight in every act (making this the most boss-heavy Sonic game in existence).  And the challenges move gradually in an upward curve with perfect precision.  This game offers the challenge that's been missing since the first 2 Sonic games (as much as I love Sonic 3 & Knuckles, it lowered the difficulty level down a notch or two compared to the first 2 games), while building upon the perfection in gameplay with the 3rd Sonic game.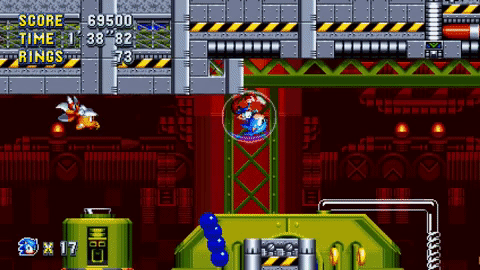 Now, like Generations, this game has a decent number of levels that are rip-offs of the old levels from the old games.  But unlike Generations, it tweaks the levels in such a way that they feel more fresh, and isn't afraid to add in brand new additions of their own that fit the classic setting like a glove.  I worried that I'd just get another Sonic game that people praised just because it's too much like the classics.  But my worries began to go away after getting through Act 2 of the first level, and completely evaporated by the time I was halfway through.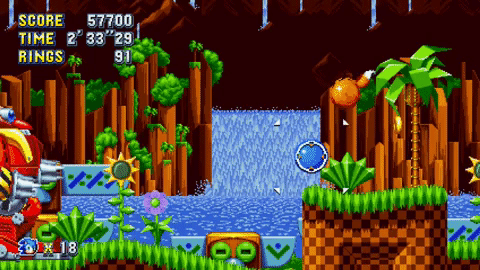 And the bosses, for the most part, are something different compared to what I've seen in previous Sonic games.  Sure there are those that are a bit familiar, but none of them are carbon-copies of those from the old classics.  They all feature Robotnik, or Metal Sonic, or on of Eggman's creations as usual, but they are all implemented in a way that is fresh and challenging.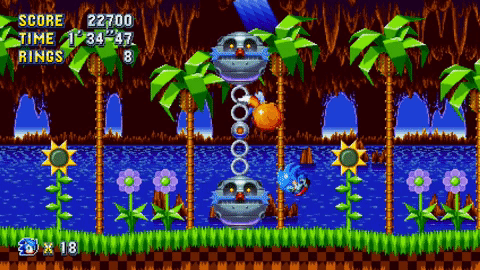 The levels are pure Sonic design.  All begin and end at the same point, but there are at least 3 ways minimum per level to get from point A to point B.  And to further encourage repeated plays, there are 2 elements.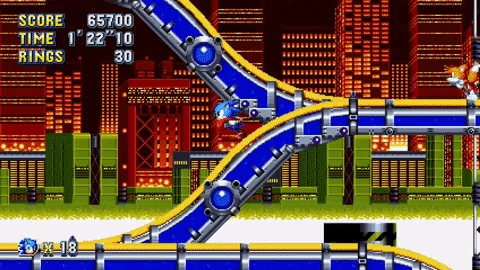 1.) If you got to a checkpoint with the minimum amount of rings (I think it's 30 rings), you can jump into the stars and go to the classic "Get all the blue spheres" level, just like in Sonic 3.  As brain-burning and adrenaline-pumping as ever, and they get hard as hell too.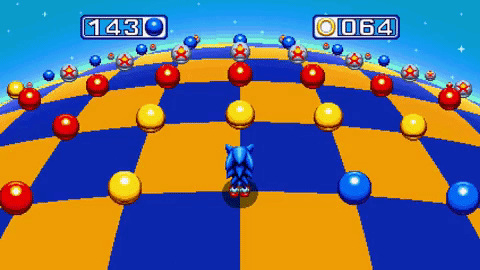 2.) But then there's something completely new (unless I missed some 2D Sonic game that did something like this).  When you jump into a hidden giant ring, you enter into 1 of 7 levels where you can get a Chaos Emerald.  And this is the most challenging part of the game in my opinion (though some of those Blue Sphere levels may have a say in that).  It becomes semi-3D, in the sense that it feels like a classic 2D system emulated 3D using sprites, where Sonic has to run around in a seemingly 3D environment that's a bit on the rails.  Racing around a track, speeding up each time you collect a set number of spheres, needing rings to stay in it while you lose a ring each second, and catch the balloon/ship/thing holding the emerald before time runs out.  And you can't catch it until you boost your speed twice.  Trying to find each spot in each level where this giant ring is at increases the replay value enough as-is with the game.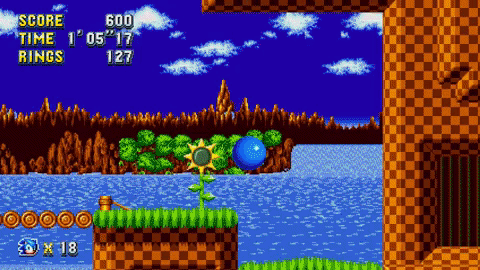 Similar to Sonic 3 & Knuckles, if you don't have all 7 emeralds by the end, you just fight the end boss and treated to a decent ending.  But if you do get all 7 by the end, in addition to being able to go Super Sonic (with 50+ rings), you gain access to a final secret boss and the true ending (which doesn't add much more than the original did, but it's enough so as not to get taunted by Robotnik after the credits).  I'll admit I haven't collected all the chaos emeralds (have only done 4 so far, and I got too stressed out trying to get the 5th, so I bowed out and watched a video to see what's supposed to happen).  This game really makes you work for them, and really makes you work for that ending, more-so than Sonic 3 made you work for those emeralds.  Which is why it's optional in terms of making it through to the end.  You won't reach the secret final boss, but that's the breaks.  This is a game that isn't afraid to make players work for the reward.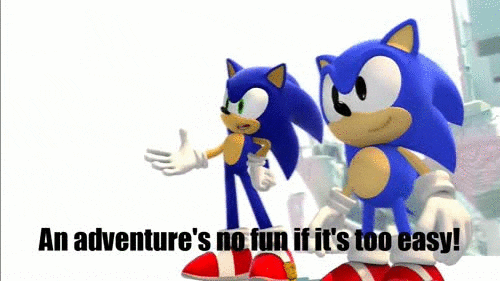 And there is more.  After playing through a game, you unlock the ability to play as Knuckles, like you could in Sonic 3 & Knuckles.  And as usual, the game is more difficult when playing as him.  On top of that, there's DLC which adds 2 new characters into the game for you to play as for even more challenge (I haven't purchased the DLC yet, but I'm currently job-hunting right now, so I'm intentionally limiting myself in what I will purchase).  The game offers everything an old-school Sonic fan can want, and offers everything current videogamers need in a game with platforming at sonic speed.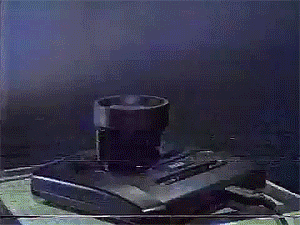 If there is one thing that I can dock the game for, it's with the story it tells.  Don't get me wrong, I'm not going to lower the score for this, as this isn't a game where the story matters all that much.  It's more of a comparison to the story told in Sonic 3 & Knuckles.  Eggman seems to have come across some emerald that can alter time or dimensions, and Sonic is forced to go through various places to track Eggman down, all the while he's building up a giant mecha.  It's a bit difficult to determine the story from what is shown in the gameplay, which is reason enough to hold the story told in Sonic 3 & Knuckles in higher regard.  The story is told in a more straightforward manner, shown more simply (Sonic and Tails fly to the last known location of Eggman after destroying the Death Egg in the previous game, but run into Knuckles who impedes them every way he can, because he's working for Robotnik, but is deceived by him as Robotnik only wants his chaos emeralds, something that belongs to Knuckles, and the emerald is used to repair the Death Egg and to be taken off-planet for some unsaid purpose; all the while there are hints here and there indicated that the chaos emeralds making Sonic go Super Sonic is etched in legend among Knuckle's people, as shown in an ancient image carved long ago, Super Sonic being a being that can save the world from the evil that invades it).  Sonic Mania tells the story in a more confusing abstract manner, allowing for only vague understanding outside of reading the story online somewhere.  Again, nothing I'll bash the game's score for, but it's one thing that Sonic 3 & Knuckles did better.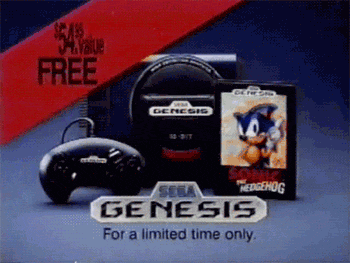 In fact, now that I think about it, this game seems to be missing that one other element that Sonic & Knuckles provided.  Lore hints dropped within the game.  We see Knuckles and his secret chaos emerald temple early on, and we see all that stuff in the Hidden Palace Zone in Sonic & Knuckles.  It's only 2 brief bits in the entire game, but they're there.  With Sonic Mania, it opts more for just telling the story through sprite cutscenes at the end of each level.
Outside of that, this game is better in almost every way.  Though I will say this regarding the music.  The new music scores are fine, and renditions of classic tunes are fine.  Except for one.  The music from Hidden Palace Zone in Sonic & Knuckles, that is a classic theme that is easily my favorite among the classic Sonic games.  The remix is a step down from the classic beat in my opinion.  I don't think many, if any, 16-bit scores are going to top that beat for me personally.  That being said, this remix is still good in its own right, providing its own epic feel with that guitar riff.  I think it's just the nostalgia factor in me that overpowers the new stuff.  You be the judge.
And lastly, this game did the one thing I wasn't sure was possible.  It made me enjoy playing videogames again, and not just make it feel like a chore being done in the hope that I would find the spark to rekindle that joy.  This game is a gamer's game, and it's the game that Sonic fans can't point to for all the non-believers and say, "This is Sonic!  This is why Mario can suck our dicks!"
Highly recommended game, for both Sonic and non-Sonic fans.