Rated: 3.5 / 5
Note: I have only played this game with the Full Combat Rebalance (FCR) mod. Any input I provide based on the combat gameplay will be a reflection of this, as this mod does give the game a significant overhaul.
Yep, regressed from the 2nd game into the first one. Why? Because I recall from playing it years ago that it was decent so long as you were patient about it. Also because I wanted a refresher on some of the characters before getting back into The Witcher 3. And like in my previous review, I did a (modded) playthrough which I recorded, edited, and uploaded as videos in a movie-like format (currently ongoing). This proved to be more difficult than editing footage for the 2nd game because:
1.) I was nowhere near as familiar with this game as I was with the 2nd.
2.) It's longer. Five chapters plus a prologue and epilogue vs. the 3 chapters and prologue/epilogue of the 2nd game. This game can easily run you 50 hours of playtime, and unfortunately not all of those 50 hours is fun (more on that later).
3.) Much of the stuff that I wished was a meaningless sidequest, uh, isn't, exactly. Some of the minor stuff in some of the chapters ends up playing into the main quest of each chapter.  That may sound nice, but it isn't, because most of these side quests just aren't very interesting (something rectified to the extreme in the 3rd game).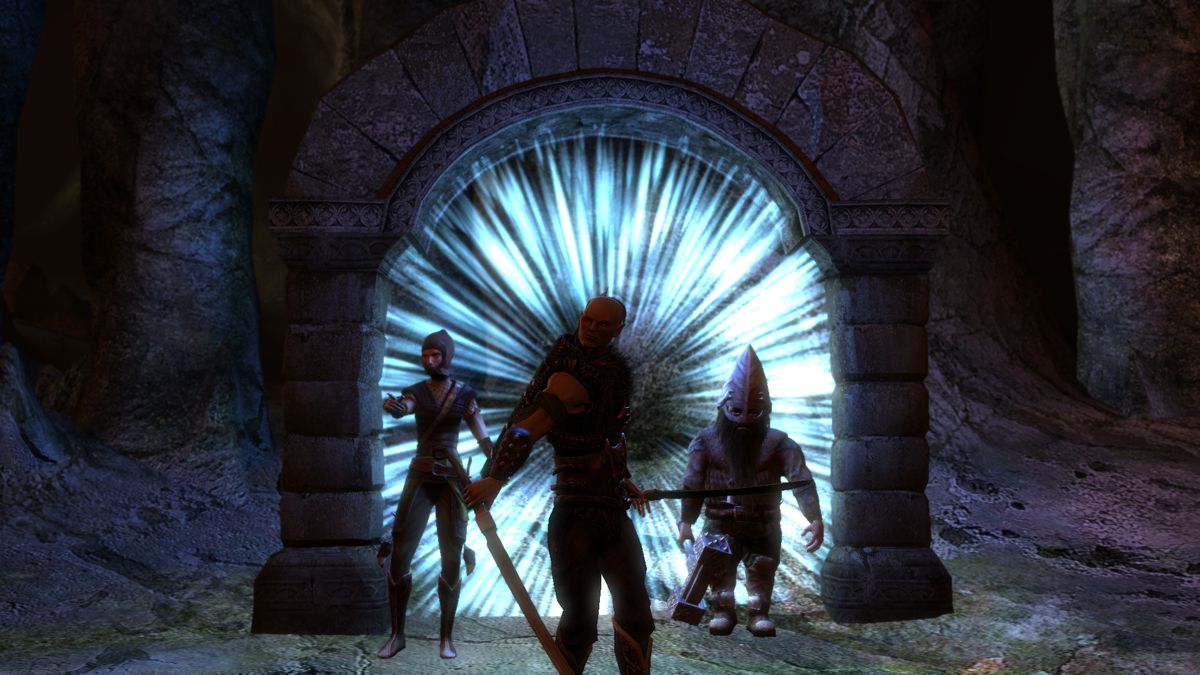 Gameplay and Comparison to Witcher 2
So here's the thing about this game vs. it's sequel. Aside from this being graphically inferior (that's expected), the gameplay is also considerably different. This isn't an over-the-shoulder (sort of) run-around hack-and-slash like the 2nd game. It plays more like a top-down point-and-click hack-and-slash ala Diablo and Titan's Quest and Torchwood. You click where you want to move to, your character moves to that spot. You click on an enemy to attack, Geralt will proceed to do a sword combo on it (a combo that increases in sword swings and damage the more you upgrade Geralt, assuming you spend time upgrading his swordsmanship). And there's 3 different attack styles: fast, strong, and group. Strong attacks are effective against enemies who are unarmored, fast attacks are good against those that are armored, and group attacks are great for when you're surrounded by foes (though it's usually best not to get surrounded or flanked). Of course, there's also magic spells to cast, but I used those rarely in my playthroughs. Granted, if I played on a higher difficulty, that would likely force me to adapt to using spells more often, but the game isn't worth putting that much effort into in my personal opinion. Others may find it more to their liking.
In any case, I found that I had to think more tactically in combat in this game compared to the sequel.   In Witcher 2, I could mostly just hack-and-slash without much worry, especially on the later levels. In this game, I couldn't do that, even when I was leveling up pretty high. The game succeeds at this partly by not increasing your vitality when you level-up, thus keeping things tense with each combat situation in each chapter. Plus it adds an extra level of interactivity by giving you a small window of opportunity to chain moves together by clicking on the enemy at the right time when the sword symbol changes to a certain shape/color.  Click at the right time, you land more seamless blows.  Miss it or click too soon, the enemy will likely get more decent hits in before you can start chaining sword blows again.
Leveling up is also different compared to the 2nd game. When you gain enough experience points to level-up, you don't just gain "talents" to be spent on whatever, oh no. There are 3 types of talents, bronze, silver, and gold. Bronze talents you get on every level-up, silver talents occur less frequently, and gold talents less frequently than that. And these talents aren't just spread across magic, swordsmanship, and alchemy like in the 2nd game, it's more branched out than that. There's a section for strength (increase damage), dexterity (increase dodging/parrying), stamina (increase resistance to poising/bleeding/etc.), and intelligence (making magic and alchemy stronger). That's just one section. Then there's a section for upgrading each spell type (Aard, Quen, Yrden, etc.). A section for upgrading silver sword attacks (good against monsters) in either fast, strong, or group style, and another section for doing the same with steel swords (good against humans). Don't like it as much as the simplified leveling system in the 2nd game, but it's decent enough. Did make for some somewhat difficult decision-making, which isn't much of a bad thing, especially when you can see the results of your leveling choices and see where you may need improvement depending on your play-style. I don't prefer use of magic, but others likely will.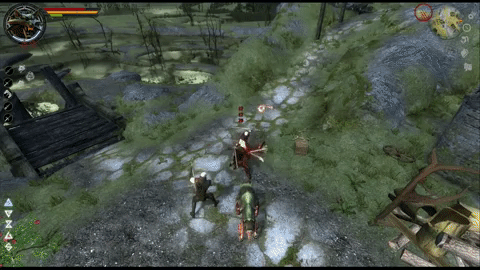 And then there's the potions and oils, which you make using an alchemy process.  Potions strengthen you in some way, while oils are put on sword blades to make them stronger against specific enemy types (humans, specters, insectoids, etc.).  Only 1 oil type can be applied to a sword at a time, while you can drink as many potions as you want (theoretically), but each potion you drink poisons you more, and if you go too far into the drinking, your health will start getting sapped, so you need to choose your consumption wisely.  The main potion I consumed throughout most of the game is the Swallow potion, which regenerates your health faster than normal.  So, yeah, you'll be swallowing a lot.
Another thing about the gameplay is, like in Witcher 2 and 3, there's a day/night cycle. Time moves, and NPCs will be in different locations depending on whether it's day or night, or even dawn/afternoon/dusk/midnight. But unlike those games, this mechanic, while immersive, proves to be frustrating. It gets goddamn annoying when you realize time dictates when and where characters are that you need to interact with in order to complete quests, and you can't fucking find them until you either wait or meditate to the right fucking time. This wouldn't be so bad if this game had a tracking system as good as Witcher 2, where you see the destination/objective on the map which is tracked in real-time. Not so in this game. Each quest objective is always listed in the same static map position, regardless of the time of day, so you have to wait for that time of day to interact with so-and-so. This is why I liked Grand Theft Auto V, and least in that game, when you reach an objective and it's no the right time of day, the game fast-forwards until it is the right time and lets you carry on from there. The day/night mechanic is more trouble than it's worth, and it drags on the game length needlessly. The immersion is not worth this.
Another little annoyance is the running from one destination to another.  Really wish Geralt could run faster from place to place.
Lastly, a lot of the NPCs are recycled.  As in it won't take long to notice that many of them look the same.  Get's particularly frustrating when some of the npcs that play a role in the main plot are hard to distinguish from some anonymous merchant on the street.
The Story
So that's the gameplay. Then there's the story. Long story short, it's not as good as The Witcher 2's story. Mainly because it's not as intriguing with the plot and characters and political intrigue (though this game does still provide that albeit in watered down doses), but also because it takes a while for things to click into high gear. The prologue is typical introductory fluff. Chapter 1 is more of the same, with most of the events proving to be insignificant to what would come later, and is more of a stand-alone chapter to get the player more acquainted with the gameplay and the "decisions have consequences" feel. Oh, right, you do get to make choices in this game that produce different outcomes, but unlike the sequel, there are no alternate endings. Only 1 endings, and how you get there can alter slightly, and almost no decision you make will alter how the sequel(s) play out; save for saving or killing Princess Adda (whom you get to bang, of course), but even then it's just a minor afterthought brought up in Witcher 2, and hardly even noticeable in Witcher 3 without a mod if I remember correctly.
So like I was saying, the Prologue does get the story going, giving you a goal and motivation. Chapter 1 more-or-less just gets you acquainted with the gameplay and only 2 other significant characters (for about 5-8 hours). Then comes Chapter 2, which is easily the slowest fucking chapter in this entire fucking game. So many sidequests that, to this game's credit, do link up to the main quest. But in hindsight nothing really significant happens in Chapter 2. Chapter 2 exists to get you familiar with the main city you'll be spending most of the game in, and those who live within it, and some backstory.  The gangs, thugs, drug addicts, poor people, old people, the hospital, those infected by the plague, the knights of the Order, the town watch, the grave-digger, the humans and non-humans, some people from Geralt's past, etc. It sounds nice and all, but not for 10 fucking hours with the plot progressing at a pace so slow even snails would be feeling sorry for you. Chapter 2 is a glorified detective/mystery, where solving it doesn't really accomplish much or move the plot forward hardly at all. It's just for atmosphere and getting you familiar with the world.
Thankfully, once you get past Chapter 2, it only gets better from there. The political intrigue picks up in Chapter 3, where you wonder about Triss' intentions and ulterior motives, you get more involved with the conflict between the Order of the Flaming Rose and the Scoia'tael, learn some interesting things about the criminal organization the Salamandra, and how they link into different sects high and low, and how they are used by those sects. And it only gets better from there. And I have to admit, by the time it got to the epilogue, a plot twist came up that, to this game's credit, I honestly did not see coming, even if in hindsight I should have.
Chapter 4 slows things down a bit, but not to the extent of Chapter 2.  And, again, it slows things down so you can get familiar with a particular character who pops up off and on throughout the previous chapters (excluding the prologue).  Then when it gets to Chapter 5, full steam ahead all the way through to the prologue.  It becomes pretty damn difficult to stop playing the game once Chapter 5 hits.  And it all leads to a potential "end of the world" scenario.  You know, like just about every single fucking RPG game ever made because creators/writers/corporations think having the stakes set that high is the only way to have a rousing and intense finale.  I always roll my eyes at plots like this about as often as I roll my eyes at forced love interests in both games and film, because both usually come off as cheap and easy ways to get the player/viewer invested in the character(s) and/or plot.  If you want my appreciation, make the characters interesting via their interactions with one another, their motivations, their personal journey and character arc.  Which is why I have an appreciation for Witcher 2's plot because it accomplished exactly that.  The plot isn't about the end of the world so much as the fate of a nation (or several), and how the leaders have their own personal goals, how they each treat their own people, and how your character feels about that and if he will side with any of them, or none.  On top of that, there are also character well aware of his amnesia who may or may not be trying to take advantage of him because of that.  Is he being used?  Is he choosing to be used?  Does he (or anyone else for that matter) have free will?  What's the price to pay for existence?  Did you do the right thing?
Now in this game, it does focus primarily on the purpose of Geralt, what's his motivation, what's his character.  They make this simple by starting the game off with him as an unknown prisoner who breaks free to make a name for himself and save the world.  Wait, I got that wrong, that's like every Bethesda game ever made.  They make it simple by starting the game off with him running through the wilderness being chased by some ominous unseen figure calling his name (like the opening to the Witcher 2, but with worse graphics and camerawork), and he awakens at Kaer Morhen (home to a school of Witchers), with no memory.  Then the place gets attacked, and he is off on his own to find out about the attackers, get their Witcher shit back that was stolen from them, and learn about himself in the process.
Now, it's the "learning about himself" that is key here, in an attempt to make the players become attached to Geralt.  The player is faced at several points in the game to make decisions that not only have consequences, but determine just what kind of a character Geralt is going to be now.  Will he be like his old self?  Will he follow the Witcher's code?  Or will he choose a side in the ongoing conflict between the Order and the Scoiatel?  This may seem a bit more common in today's RPGs, and I can't say this is the first game to do this (the earliest in current memory is Star Wars: Knights of the Old Republic), but 2007 seemed to be a big year for games like this where this sort of "choose your own adventure" RPGs became more prominent.  After all, this game was released in the same year as Mass Effect (though it doesn't look as good from a graphic's standpoint).
Now, while this "choose your own adventure" element seems nice and all, the game becomes a bit of a dick about the whole thing during the later chapters.  If you choose not to remain neutral during the events of Chapter 4, characters in Chapter 4 and 5 won't let you hear the end of it.  Basically, the game is just straight up telling you, "How dare you play it your way!  How dare you not stay lore friendly and true to the Witcher's code!  For shame!"  Basically made me flip them the bird before reloading to an earlier save prior to one of those "choices" and go for the more neutral path.  Yes, I'll admit it, the game shamed me into doing it, and I was pissed about it.
So anyway, the story does get good, it just takes a while to get there. And by a while, I mean 15+ hours. This is not a short game. Hell, I positive it takes longer to get through than Assassins of Kings does.  According to howlongtobeat.com, this game is anywhere from 10-15 hours longer than Witcher 2, and it feels that way during the early sections.  But, again, if you have the patience, and can withstand some mediocre voice-overs and some slow slogs, the game does manage to feel worth it in the end.
Comparison to Mass Effect
It's worth comparing the two (briefly) because, despite the fact that both games play completely differently and occur in entirely different settings, both games share similar flaws, and were released in the same year (2007).  I'll be the first to admit that Mass Effect is the better game compared to The Witcher.  That being said, I'd be hesitant to play either game again in the near future, especially Mass Effect.  Why?  Because the decisions you are forced to make in The Witcher are more thought-provoking and intriguing than in Mass Effect, in my opinion.  Plus, while the side quests aren't THAT interesting in The Witcher, I'd take those over the monotonous side quests of Mass Effect.  In The Witcher, at least the side quests involve some preparation and learning, where you have to prep yourself for the monsters to go after, and fight differently for each one.  Some of the environments are similar (particularly the caves), but most of the time the encounters are in distinct areas to give them a different feel.  In Mass Effect, holy Christ!  The side quests sucked ass!  Similar levels/rooms/buildings (to the point where I'm positive they were clones of each other), the same fucking enemies making the same fucking comments (which they took comedic jabs at in Mass Effect 2), and it became a chore real fast.  But when it came to the main quest(s), I'd have to give the edge to Mass Effect.  The story was told better and paced better, if you discount the side quests.
And also like Mass Effect 2, Witcher 2 could be played by carrying over your save file from Witcher 1 and have some influence over the plot in that game.  However, it was much more significant in Mass Effect 2, just about everything you did in the first game had an impact in the 2nd game, a significant and noticeable impact too, even with those shitty side quests from the first game.  In Witcher 2, to be honest, it really doesn't matter that much if you carry over the save or not (again, something heavily rectified in Witcher 3).  And that's all the comparisons I'll make for those 2 sequels.
In regards to the gameplay, Mass Effect is more involving, where you have to constantly aim and shoot (or aim and cast, depending on your preference), and had a greater variety of play-styles compared to that of The Witcher.  Granted, Witcher has variety too, where you can focus on spells or swords, or a combination of both, but the variety is greater and more noticeable in Mass Effect.  Plus Mass Effect had more tactics where you could direct squad members to attack other enemies in a certain way, or hang back, or use an item/ability, etc.  In The Witcher, it's only your character Geralt, and his fighting styles, and that's it.  But Mass Effect's tactical play comes at the cost of pausing the gameplay so you can click on an ability, aim it at an enemy or ally, and then un-pause it.  Some people like this style of play, and to be honest it didn't bother me all that much in Mass Effect.  But games like Dragon Age: Origins (released 2 years after Mass Effect and The Witcher) where you're doing the same thing except from a top-down perspective just didn't gel with me.  So I probably would've hated The Witcher if it incorporated this aspect so heavily.  Granted, you can pause mid-battle to get a better angle on things, but this didn't happen very often with my playthrough.
I know that CD Project Red was a small-time indie company at this point, so they had less finances to work with when making this game, and it is admirable that it turned out as good as it did under the circumstances.  But it is what it is, and I can only judge it by how I feel now, and I'm not going to take it easy on it just because of the circumstances surrounding the making of them game, I'm just going to judge the game as-is.  Both games are good, both have faults, and Mass Effect is probably the better made one overall.  But neither one is something I would likely want to revisit while it's still fresh in my memory, especially when the sequels to both games are so much better.
Mass Effect's strongest point is its story and universe-building, getting into the races, their interactions, and how the main character can impact all of them. The central character(s) tend to be secondary to that. This does not mean the characters are weak, they each have their motivations and such. However, they seem too influenced by what you (acting as the protagonist) do and want to happen, being less independent in their own right. The game cuts a fine line between them acting on their own and acting based on how you want, and it works fine as is. It tends to be on the fan-service side in regards to characters.
While the Witcher has a world-building aspect to it in terms of Temeria and its occupants, it's focus is less on that and more on the character of Geralt himself. How much is he influenced by others? Should he be influenced by them? The characters in The Witcher come off as more independent and self-motivated than those in Mass Effect. While Mass Effect has the aspect of, "Your leadership and influences those around you."  In other words, the lives of most other major characters seems to revolve around the main character, and thus revolve around you.  The Witcher seems to be the reverse of this. It's more like, "How much are you influenced by those around you?" Because the game continuously jabs at you for the decisions you make, making you wonder if you made the right decision, or if there ever was a right decision to make. In this case having the game end the same way no matter what, while changing the way it gets there, fits perfectly because of the whole fate/destiny theme being brought up. The free will theme being an extension of the player pulling the protagonist's strings. Or is it the player having their strings pulled by others in the game?  Either way, the message is the same.  You may or may not choose to get caught up in a cause, or to stay neutral to them all; but no matter what you do, do not forget about yourself and what really matters to you, what your principles are, and if choosing or not choosing a cause runs the risk of you being forced to violate your principles.  The fact that Geralt is imperfect and is guaranteed to make mistakes (regardless of players trying to choose the lesser of evils, or not) is what makes him a fascinating character, and is what makes the game every bit as memorable as Mass Effect.  That, and he's capable of banging more broads, and of different races too (speaking of similarities to Mass Effect).
Plus the last act of the game will have you questioning whether or not you're doing the right thing, and I love games that provoke that thought.  Indicates it's smart enough to make a lot of grey rather than keeping things black and white.  Mass Effect tends to be more on the black and white side of things.  If you make a decision that doesn't involve saving/sparing lives, sometime down the road you will be punished for it.  In the case of the Witcher, sparing a life or killing someone doesn't always result in a good or bad thing.  And even if it does result in a good thing, down the line it could lead to a bad thing, and vice versa.  It's what makes the better moments of The Witcher stick with me.  That being said, the sequels took this element and did it better, especially in Witcher 3.
The Witcher is a more deep thought provoking philosophical and character study at its core, while Mass Effect is more of a fun sci-fi ride with plenty of story and lore and, dare I say, universe to keep it interesting. That being said, both games have a bit of both, I'm just mentioning the main narrative strengths of each.  Looking back on both, the main thing that stuck with me regarding the Witcher was Triss' mysterious backdoor political dealings in Chapter 3 (which ultimately made her a fully realized 3-dimensional character), and the whole finale from Chapter 5 and onwards which provoked a sense of guilt and wonder.  With Mass Effect, I enjoyed getting introduced to the universe and all that lived within, how the races worked, what their personalities and traits are, the first appearance of Saren, the confrontation with Liara's mother and the spider monster, and everything from when the original creators of the Citadel are revealed and all the way to the action-packed finale.  Both games know how to put on a finale.
Why I revisited the game
I brought up earlier that one of the reasons I wanted to play through this again was to get familiar with the characters again. Because some characters who are in this game are not in the 2nd one, yet they make reprising roles in Witcher 3. Sure I could've just watched one of those 3-6 hour "movie version" videos online, and I was tempted, and that sure as shit would've been less time-consuming than this game, but I wanted to experience this game again, even if it's for one last time. Plus I wanted to see if it's still fun to play today. And I must admit, if you have the patience and are willing to invest into it and become immersed in the world, it is worth it. If you can get to Chapter 3, the rest of the game is a breeze in terms of pacing and progression. It becomes quite captivating at that point.  Plus it does have some unintentional hilarity with the dialogue.
So, the game is flawed, tests your patience, but is a decent enough experience. If you're to play any version, makes sure it's the Enhanced Edition (like how Witcher 2 got an enhanced edition, and how Witcher 3 got a Game of the Year edition). Despite the annoyances and frustrations, there's enough here to make it worthwhile.  But it's only worthwhile if you play all the way to the end.  That will run you around roughly 50 hours.
Pros:
* A good storyline with some intrigue and questions on morality and destiny, and will leave you pondering on some points.
* Some colorful characters.
* Combat on any difficulty above Easy can prove challenging in a fun way, encouraging tactics and positioning and timing, plus some prep-work that fits with the whole theme/lore of how witchers work.
* Great finale.
* Immersive and interesting world.
Cons:
* The plot pacing is spotty, and requires much patience before getting to the good stuff.
* Graphics are dated, even with the mods.
* Too many NPCs that look exactly the same.
* Voice-acting ranging from acceptable to laughable.
* Running from one objective to the next gets tiresome.
* Uninteresting side-quests.
* The dice-poker still sucked as much as it did in the 2nd game.
* The brawl mini-game is really not that good (gets better with the sequels, especially #3).
* The camera angles during some of the dialogue bits are terrible some of the time.
And should you choose to undertake the endeavor of playing this game, I know of some mods that will make it less painful. Which brings me to the other reason I've decided to go through this again. None of the videos are of the modded version, at least not in terms of graphics mods. Well, time to bring them up:
Mods
This is THE main graphics mod to get. Makes the game and characters look so much better. I mean, look at the comparisons between the vanilla game and modded game version of Geralt:
[Geralt image comparison]
And it not only makes the major characters look better, but also enhances the look of the UI. There's one other mod next to this one that I consider mandatory. The only thing I don't like is what they did with the druid chick and the water nymph.
[druid image comparison]

Would not play this game without this mod. Makes combat more tactical and deep using a very simple method. It makes Geralt more susceptible to high damage when taking hits from the sides or the back (especially the latter). Something the developers liked so much they incorporated it into the second Witcher game. On top of that, enemies no longer just appear wherever just for the hell of it, they are more focused in areas they live in. Drowners stay near the water, swamp monsters stay near the swamp and/or islands in the swamp. In other words, enhances the immersion and lore, and gives a heavier dose of tactics to the combat.
Witcher High Res Character Models
Improves the looks of most other characters in the game that Rise of the White Wolf missed (though you will need to remove some files if you don't want them overwriting that particular mod).
Witcher Overhaul Project
A mod that improves not only the textures, but also the sound.
-Dontforceminreqs Low Res Texture Fix
Unlocks the high textured graphic capability, so that you can see some detailed textures to take advantage of the mod(s) above.
Witcher Perfect Blood
Blood looks better, and so do the slashes on the characters. Worth noting that using this mod requires the Perfect Blood Fix
Permanent Bodies
Sick of not being able to teabag your enemies when they're dead? Well now this makes it possible, at least when they get around to making a tea-bagging mod.
Perfect Rain Mod
Rain looks more natural.
Stop the Rain
If you think it rains too much, you'll be given access to a scroll that, when read, gradually stops the rain. Immersion-breaking in the sense that Geralt has the ability to control the weather, plus I've never personally used it. But hey, for those who are interested.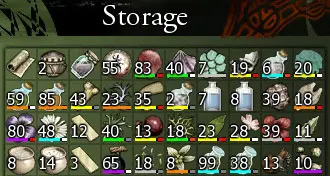 Makes alchemy ingredients easier to see/identify in the inventory panel.
Plentiful Herbs
Increases the number of herbs you get for each time you pull from a plant. Good time-saver so that you're not out picking every single bush and going out of your way to do so.
Leuvaarden Buys Salamandra Badges
Hey, now he actually does what he said he would do.
Missing Kalkstein and Leuvaarden Clues Fix
Makes Chapter 2 less of a hassle. And believe me, the less of a hassle Chapter 2 is and the faster you can get through it, the better.
Scabbard Mod
This mod is a bit buggy, so I've heard, and for that reason I haven't tried it. But it is a bit popular, so I'm including it. Gives you actual sheaths for your swords.
Installation guide, if you're interested:
1.) Create "Override" folder inside "Data" folder. Install everything into this with the (Override) indicator.
2.) Install (exe) Rise of the White Wolf https://www.nexusmods.com/witcher/mods/669/?
Don't select the skyboxes option if you wish to use the skyboxes from Witcher Overhaul Project.
3.) Install (exe) FCR http://www.moddb.com/mods/full-combat-rebalance1/downloads/full-combat-rebalance-v16
(optional, buggy) 4.) Install (exe) Scabbard Mod http://www.moddb.com/mods/scabbard-mod/downloads/scabbard-mod-v104
5.) Install (Override) Witcher High Res Character Models http://www.moddb.com/mods/witchercharactermodels/downloads/the-witcher-hi-res-character-models
Delete the following files from the previous mod:
an_sheep_c1
an_sheep_c2
cr_adda1_g1
cr_assas1_c2
cr_beren1_c1
cr_beren1_g1
cr_bruxa1_c1
cr_bruxa1_g1
cr_deidre1_c1
cr_deidre1_g1
cr_drown1_c1
cr_drown1_c2
cr_elf5_c1
cr_elf5_g1
cr_eskel1_c1
cr_folt1_c1
cr_folt1_g1
cr_golem1_c1
cr_golem1_g1
cr_grav1_c1
cr_guard1_c1
cr_guard1_c3
cr_guard1_c4
cr_guard1_c5
cr_guard1_g3
cr_guard1_g4
cr_guard1_g5
cr_guard2_c1
cr_jaskr1_c1
cr_jaskr1_g1
cr_kalks2_c1
cr_knigh1_g1
cr_knigh3_c1
cr_knigh3_c2
cr_knigh3_g2
cr_lamb1_g1
cr_maggot_c1
cr_naked3_c1
cr_order2_c1
cr_order2_g1
cr_order5_c1
cr_order5_g1
cr_order5_g2
cr_order5_g3
cr_order5_g4
cr_order5_g5
cr_order6_c1
cr_order6_g1
cr_pries2_c2
cr_pries2_g2
cr_prof2_c1
cr_prof2_g1
cr_rayla1_g1
cr_scoia5_c1
cr_scoia10_g1
cr_toruv1_g1
cr_triss1_g1
cr_triss2_c1
cr_triss2_g1
cr_vanes2_c1
cr_vanes2_g1
cr_vesem1_c1
cr_were2_c1
cr_wicht1_c1
cr_wicht2_c1
cr_wicht2_g1
6.) Install (Override) Witcher Overhaul Project https://www.nexusmods.com/witcher/mods/703/?
7.) Install (Override) -Dontforceminreqs Low Res Texture Fix https://www.nexusmods.com/witcher/mods/649/?
8a.) Install (Override) Witcher Perfect Blood http://www.moddb.com/mods/the-witcher-perfect-blood-mod/downloads/the-witcher-perfect-blood-full-dl
8b.) Install (Override) Perfect Blood Fix https://www.nexusmods.com/witcher/mods/258/?
9.) Install (Override) Permanent Bodies https://www.nexusmods.com/witcher/mods/703/?
9a.) Install (Override) Perfect Rain Mod http://www.moddb.com/mods/the-witcher-perfect-rain-mod/downloads/the-witcher-perfect-rain-full-dl
(optional) 9b.) Install (Override) Stop the Rain https://www.nexusmods.com/witcher/mods/30/?
10.) Install The Witcher Alchemy Mod https://www.nexusmods.com/witcher/mods/197/?
Replace the RotWW files in "\ata\z_zrotww\items_optional".
11.) Install (Override) Plentiful Herbs https://www.nexusmods.com/witcher/mods/31/?
12.) Install (Override) Leuvaarden Buys Salamandra Badges https://www.nexusmods.com/witcher/mods/659/?
13.) Install (Override) Missing Kalkstein and Leuvaarden Clues Fix https://www.nexusmods.com/witcher/mods/657/?