Introduction
So, it starts. My trip back into the 90s, digging up old memories, returning to the nostalgia, and bringing it to light for those around today, who visit this site. At first I thought this was going to be an endeavor that would take a few months to do to cover the entire 90s decade. Nope. It's going to take a lot longer than that in order for me to do the decade justice. Considering how much work it has taken just to do this month alone, I'm not even sure I'll be able to complete the project. But I will do what I can, so long as I have the willpower and don't allow other priorities to overtake this one (that's inevitable).
This is not a definitive retro-trip. I'm not going to be covering every single thing. That's nearly impossible, and it would get too muddled. Instead, I am going to be covering what I consider to be good (or even great) about each month, covering film theatrically released, games released, music albums released, and some tv shows that aired in the month. So this is going to be a biased coverage, to some extent, but for the sake of fairness I will also include a few things that don't personally appeal to me, but were respectable hits back in the day. Except for music, because fuck anything that isn't rock and roll or heavy metal.
---
---
Notable events:
Sting joins pro wrestling's legendary "4 Horsemen" (Ric Flair, Arn Anderson, Ole Anderson). Panama's leader General Manuel Noriega surrenders to US authorities. Tower of Pisa closed to the public after leaning too far. 64th US manned space mission STS 32 (Columbia 10) launches into orbit. China lifts martial law (imposed after Tiananmen Square massacre). NCAA approves random drug testing for college football players. Civil rights activist Reverend Al Sharpton is stabbed in Bensonhurst, Brooklyn. 42 year old former world heavyweight boxing champion George Foreman stops Gerry Cooney in 2 rounds in Atlantic City in a non-title bout; Cooney's last fight. Who, Simon & Garfunkel, 4 Seasons, 4 Tops, Hank Ballard, Platters & The Kinks inducted into Cleveland's Rock & Roll Hall of Fame. 47th Golden Globes: "Born on the Fouth of July", Tom Cruise, & Michelle Pfeiffer win. Super Bowl XXIV, Louisiana Superdome, New Orleans, LA: San Francisco 49ers beat Denver Broncos, 55-10; MVP: Joe Montana, SF, QB. LA center Wayne Gretzky sets NHL record by scoring his 100th point of the season for the 11th straight season; milestone comes with an assist in a 5-2 Kings' win over visiting New Jersey Devils. 1st McDonalds in the Soviet Union opens in Moscow. All My Children broadcasts its 20th anniversary special on ABC. Time Warner was formed. NBC broadcasts the National Hockey League All-Star Game from Pittsburgh, the first NHL game of any kind to be televised on American network television since Game 6 of the 1980 Stanley Cup Finals on CBS.
---
Movies
Films released in theaters that are worth revisiting today:
Tie Me Up! Tie Me Down!

"I tried to talk to you, but you wouldn't let me, so I had to kidnap you so you could get to know me. I'm sure you'll fall in love with me, just as I'm in love with you."
This film is basically a more light-hearted remake of the 1965 film The Collector, and I found it to be quite fun. It has Antonio Banderas in it, a good amount of humor, suspense, romance, and thought provocation. But here's something about the film that cements its place in film history:
[Tie Me Up! Tie Me Down!] was the last film to receive the MPAA's X-rating due to its depiction of forced bondage and rape – however, it was re-rated and released as an NC-17 film. — www.filmsite.org/1990-filmhistory.html
And like several films that suffered at the hands of the MPAA for reasons related to this, this film is not that intense, in my opinion. There's a scene of a toy scuba diver swimming up against a woman's vagina, and one long sex scene, but other than all that, there's nothing else all that edgy about it. It sucks how an NC-17 rating harms a film since most theater chains won't show films with that rating.
Internal Affairs

"I think most people want to be bad."
"That's because it is bad. That's why we've got cops."
"Except the cop is the guy that wants to do it worst of all."
Solid film, albeit with an ending that wrapped up things far too conveniently in my opinion. In any case, it's a solid thriller with an otherworldly soundtrack to it. It played on the concept of distrust in police, a trend that was growing even during that time period (along with Maniac Cop from the previous decade). It also took Richard Gere, who normally played roles as a heart-throb ladies-man in light-hearted films up to that point, and put a very dark twist on it. Quite brilliant in that regard.
Brain Dead

"By the perception of illusion we experience reality."
Now this movie. This movie is a fucking head trip. It's weird, but seemingly straightforward and easy enough to follow for the first half hour, even if there are hints here and there that something is up with what we are seeing. And sure enough, once the film reaches the midpoint… Well… Let's just say you're going to start questioning what is real and what isn't, if any of it is real, what story should be believed, if they should all be believed, etc. Think of it as the anime film Perfect Blue, but taken up a couple notches on the "What the fuck is going on!?!?!?" factor. It may seem low budget, and it is. But it has Bill Pullman in it (doing ok, nothing too spectacular), and Bill Paxton (also does alright) in it, and enough of a weird factor to it to make it worth watching. And despite the insanity of it all, it is cohesive and everything is linked and comes together in a bizarre fashion. That doesn't mean you'll be able to make sense of it all on a first or even repeated watch, but, well, there it is.
Treasure Island (TV movie)
Considered by some to be the most faithful adaptation of the novel, and the best version we're ever going to get. And I have to admit, it's not half bad, especially by TV movie standards. Definitely worth checking out.
Tremors

"This valley is just one long smorgasbord. We have got to get out."
Now this. This is easily the best film of January 1990. Still one of my favorite films today. Arguably the last good practical effect monster film, which is fitting because it was made to pay tribute to older monster films. If you haven't seen this movie, you've been living under a rock, and that's the last place you want to be when graboids are squirming around. This is the only film on the list I saw when I was a kid in the 90s, and we watched at home via VHS rental. Good times with my mom, dad, and sister. We we enjoyed the hell out of this movie.
This film also, unfortunately, marked the end of creature features that had life-sized models (at least in terms of making those for films on a regular basis).
But you know what? People may bitch about people seeing trash in theaters today and overlooking the great stuff. But I gotta tell ya, it's been going on since forever. And with this film, it's no exception. Motherfuckers.
Although "Tremors" was not a big hit during its theatrical run, the film became a runaway smash in the home video market, and ultimately tripled its original box-office gross with VHS sales and rentals. — IMDB
I also would've liked to have seen the R-Rated audio version.
Was originally given an R-rating by the MPAA not for violence, but for language. The film included as many as twenty f-bombs. As an appeal, producers removed all utterances of the "f" word, with the exception of two. Many of the swears were dubbed over with other words, including "can you fly you sucker?", "we killed that motherhumper," and "what the s***" when Val is overlooking the dead sheep. — IMDB
Commercial Break
I thought about taking clips from various commercial videos and making my own custom vids of what I consider "best of the best" of the 90s commercials, but then decided, "Nah, I'm too lazy for that." But I will point out clips from certain commercials that I believe stand out from the rest.
3:00, the Ring Raiders. I wish I had that shit back in the day.
3:30, Flying Fighters
5:11, Hot Lixx (God I love that name). Before there was Guitar Hero, there was Hot Lixx.
6:11, SqueezeIt Fruit Drink. Seems sexually suggestive to me.
8:19, Typhoon Hovercraft
10:31, SqueezeIt returns, this time with a girl doing the sexually suggested squeezing.
11:01, Zero Gravity Cliff Hangers
17:09, an amusing Corn Flakes commercial
19:13, Bug Out
19:52, Dino Riders. These look cool.
22:43, Tiger hand-held games. These things sucked ass, but I found the beginning of the commercial amusing considering the idea of hand-held games.
Television Shows
A couple notable shows ended during this month. One you might not have heard of, Fantastic Max (from 1988). But another you most likely heard of: Miami Vice (from 1984).
Drug Wars: The Camarena Story
3-part miniseries. The DVD version doesn't do it justice, as it cuts out several scenes. Very irritating that video releases have a bad habit of doing that for miniseries from this and the previous decade.
Grand
I must confess, I haven't seen this show. And it's not readily available on any film site I'm aware of (including sites like Amazon where you could normally buy a DVD version or something, that doesn't exist either). It's just a sitcom, and those are a dime a dozen. But some people state that this show is great, especially the opening theme song, but there's mixed opinions about the actual quality of the show itself once it got started.
There is potentially one way I could get a hold of some episodes to watch, but it would require me to spend seventy-five fucking dollars on BluJay.com, and I don't feel like doing that for a show I'm pretty sure isn't going to be all that memorable for me personally.
So just consider this a reminder that this show existed, and it had its fans at the time, but I was never aware of it until now. Don't worry, I don't intend to do this for very many shows on this nostalgia trip, I prefer to watch a few episodes before deciding if they're worth putting on this blog series or not. That being said, if anyone wants to donate $75 to my blog site, and specifically requests I use that money for purchasing and reviewing the series, I'll see what I can do (fuck knows why anyone would want to spend that much money for something like that).
Pirate TV
So this isn't technically a show per-se, it's more like in the same vane as Tom on Toonami, with little tidbits between shows/commercials and whatnot. That being said, there were some fairly entertaining comedy bits that this came up with. This show didn't last very long. And to be honest, watching some of these clips again, I'm getting very vague memory lapses.
The Baby-Sitters Club
Originally ran January 1 – March 26, 1990 on HBO.
Yes, this show is girly as fuck. It's also 90s as fuck. The acting, the camera shots, the video quality, the clothing, the music. Everything about this show screams 90s. And despite the fact that I probably can't stand to watch more than 2 episodes in a single day else risk my balls falling off, it's a show I recommend for families who want some good moral lessons. The friendships are good, the lesson to take away from each episode is good, the girls have an amount of professionalism about them, and it only ran for 1 season (in stark contrast to The Simpsons which is still ongoing). Oh, and you probably won't get that theme song out of your head once you hear it.
The 1995 movie that came a few years after this show isn't half bad either.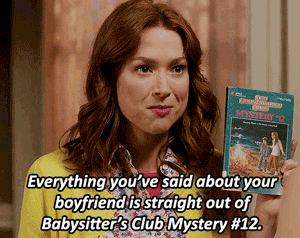 Zorro
Not to be confused with the Disney series from the 50s, this show ran from January 5, 1990 – January 30, 1993 on The Family Channel. You might be wondering what The Family Channel is, since it's a channel that no longer exists. Well, it was eventually acquired by Fox and being renamed the Fox Family Channel in August 15, 1998, before eventually being acquired by Disney and renamed ABC Family, and then later renamed Freeform. But anyway, while the channel was still The Family Channel, it aired this little series that's a decent family-friendly swashbuckling adaptation of Zorro.
And I'm not going to lie, I haven't actually seen an episode in its entirety recently (I only remember small portions of it from my early days). I was tempted to purchase a copy of the first season, since I can't seem to find it anywhere online, but decided against it, since I'm currently not making any money off this blog site anyway, yet. But from what I remember, it was fun enough, though by my present standards it probably wouldn't do enough to keep me interested past the first few episodes.
America's Funniest Home Videos
Technically it originally aired as a 1-hour special in 1989, but was popular enough to where it became a long-running (and still going) series on January 14, 1990. Originally had Bob Saget as the host. The show is basically what many people watch gifs and youtube videos for today. People caught on camera doing dumb shit that makes you laugh, or are just victims of circumstance. And it was a show me and my family watched regularly. Great laughs, great host, but not likely to be something one would revisit regularly, given the nature of the program. But every once in a LONG while…
The Simpsons
While the first episode did technically air in the previous year (December 17, 1989), the first regular episode aired on January 14, 1990 on FOX. Until then, they were first seen as short sketches on The Tracey Ullman Show (April 5, 1987 – May 26, 1990). I don't think much needs to be said about this show and its legacy, especially since it's still running to this very day. Oh yeah, 1990 really did start off with a bang. And it would only get better and worse at the same time from here on out.
Commercial Break
0:42, racial tensions, prior to the 1992 LA riots.
19:59, Encyclopedia Britannica
21:29, what a difference, Blockbuster Video!
23:10, now this, THIS is a true bona-fide 90s commercial! Street Hot court shoes.
25:56, arguably the most epic Mario commercial ever created.
26:26, an amusing Bill Cosby commercial, doing a picture page (be warned, it's a long one).
32:50, Nick Jr. ad for Eureeka's Castle
36:14, I actually remember this fucking bizarre Nick Jr. ad.
33:48, jeans commercial.
44:18, shoe commercial, because these shoes will cause skateboards to spontaneously appear and make you play basketball better than the pros.
Music
Ok, I'm not going to lie, I'm not the right person for the job when it comes to this subject. Unlike films where I'm usually willing to watch just about anything, that is definitely not the case with music. With very few exception, I prefer hard (alternative) rock and heavy metal (but not that type where you can't understand what they're saying because of the deep hoarse voice ala Metalocalypse). So when it comes to music for the month, I'm only going to list hits, and stuff I personally liked, and bands that made an impact with their presence. In other words, this portion is going to be quite biased.
And honestly, when it comes to music, the 90s was the beginning of the end of the era of great music. Just my opinion, but music for me never really took off until the late 70s (with some obvious exceptions such as The Doors and The Beatles). Because it wasn't until the late 70s that some semblance of heavy metal came into the picture (and ironically enough, the magazine series too), which got established in the 80s, and slowly eroded away in the 90s. The true destruction of all that is good and holy with the music industry came with the arrival of Nsync and The Backstreet Boys. When they first arrived, things were ok. But it was no longer cool when every-single-mother-fucking-major-band ended up just being replicas of those two. At least that's the impression I'm getting with the shit I hear on the radio all the time, and in clubs that blast music, let alone at school campuses (Christ, no wonder the youth is so fucked up today).
Gwar: Scumdogs of the Universe
Typical trash metal by today's standards. A satirical shock rock band. Guess those were common back then, considering Ween also came out with an album in the same genre in the same month. But what makes them really stand out is seeing them in person, live, with those insane fucking costumes that they wear and how much they pushed the envelope.
---
---
There was also a Hank Williams Jr. album released titled Lone Wolf. But I honestly don't care about that, 'cause his music isn't my type. What is worth mentioning is that he is responsible for making the intro to football fun. Monday Night Football. ABC. Now technically I'm kinda cheating here, since this Monday Night Football song technically started in 1989. But fuck it, it carried on over through the 90s up until around 2005. "Are you ready for some football!?"
---
Fish: Vigil In A Wilderness Of Mirrors
I'm not saying anything.
---
The Black Crowes: Shake Your Money Maker
Not bad actually. A nice little rock album from a band I've never heard of (though that's probably not saying much coming from a guy who's been living under a rock when it comes to the music industry throughout most of my life). Was received well and was quite popular at the time. You may know this band by their hit song (also from this album) Hard to Handle.
---
Slaughter: Stick It To Ya
Now this is my kind of music right here. A metal band. And yes, it was big back in the day. And I think this album is still pretty damn great to this day. Burning Bridges is my personal favorite track. But it does get rather monotonous after a while.
---
Circus of Power: Vices
---
---
---
Commercial Break
0:29, funny that they decide to spell out the names of the kind of people their mother is likely to have an affair with.
3:25, I could never stand that smug fucking bear, but he does manage to stick with you. Golden Crisp.
---
---
---
Video Games
The main home console system out at this time that was pretty much wiping the floor with all other competition was the Nintendo Entertainment System (NES). It was 8 bits, but at least it had graphics superior to the Atari ST (also still around at that time). However, having been released since October 1985, it had been out for nearly 5 years. And when it comes to video game consoles, it's usually about 4-6 years before the next big thing hits the market.
But that's not all Nintendo brought out to the fore. There was also the Game Boy, released in the U.S. in July 1989. The first major hand-held game system. Too bad a lot of the games sucked and were just inferior ports of console counterparts.
And that next big thing is the Sega Master System II, or so Sega thought. Unfortunately, that system crashed and burned. Thankfully, since August of 1989, the Sega Genesis was released with its fancy 16 bit graphics to give it an edge over the NES. And it was definitely giving Nintendo some much needed competition in the home console market. But it wasn't alone.
There was also the NEC Turbo-Graphx-16, which also had its own decent line-up. Unfortunately, it's popularity would never get as high as that of the Genesis or the NES.
One other main competitor for the games of the early 90s was a glorified PC system that was built for the purpose of gaming and video graphics/editing. And that PC system is the Amiga. Of course there's the MS-DOS and all that, but the Amiga stands apart from those as being a PC built for gaming first, everything else second.
The other minor mentions due to games still being released for them during this time period is the Atari ST, and the Commodore 64 (January 1982).
But make no mistake. It was the Sega Genesis and the NES that were dominating the game market in 1990. That would change (sort of) in the next year. And now for the major memorable games that came out this month for those systems. Some of these games are ports from older Arcade versions, just an FYI:
---
A Boy and His Blob (NES)

This game was nearly impossible to beat without a strategy guide. Hell, players were lucky enough to know how to play it back then. Yet its style was enough to make it a revered classic that later got a (much more playable) remake on the Wii decades later. Not my kind of game personally, but it has its charm. But I agree that this game is far too fucking frustrating to play without a guidebook, and it's at that point that you have to wonder, "Why bother?"
Not something I would play today (or even back then), but it has cultural appeal, so I'm including it here.
---
Clash at Demonhead (NES)

Now this is more like my kind of game. Not to mention it's the inspiration for that one scene in Scott Pilgrim vs. the World. However, it's hard as fuck, right off the bat. Those goddamn flying bees piss me off. It's a basic platformer/shooter where you run around and dodge bullets, hop on platforms trying to get from point A to point B and not fall to your doom, collect a few important items, and then make it to the end for a final boss encounter. The thing that sets this game apart from most others at the time is that it has an impressive amount of narrative elements within the game. You'll encounter characters who start a dialogue with you. Plus you have multiple paths to choose from to determine in what order you'll collect things to beat the game. Sounds a bit like Megaman doesn't it? Granted, Megaman beat this game to the punch, and is better from a gameplay standpoint. But this game makes up for it with the narrative element, and the more natural open-world nature of it. And you will be taking notes during this game when it comes to learning which route you need to get to.
Worth checking out.
---
Demon Sword (NES)
Now this is a fun game. It's like if Sonic the Hedgehog was a bit slower but could jump higher, climb trees, swing a sword (that gets longer as the game goes on), and can climb and jump through trees. It's like you're playing one of those Chinese martial arts films where everyone is on a wire and leaping in the air for too long (ex: Crouching Tiger Hidden Dragon). The one thing that brings it down is that, if you're to play it proper and playing to win, you're going to have to grind a bit in some of the levels.
It's ok.
---
Kings of Beach (NES)
It's actually a fairly a solid beach volleyball game. That's all.
---
River City Ransom (NES)
A decent beat-em-up with RPG elements. The Scott Pilgrim vs. the World game released a few years back ripped this game off tremendously, even if it had better graphics and better gameplay and is the overall superior game.
---
The Chessmaster (NES)
Surely you're familiar with the Chessmaster series. This is where it all started. Simple, but effective and perfectly playable to this day.
That being said, I personally wouldn't play this version when there's superior alternatives out there nowadays.
---
Top Gun: The Second Mission (NES)
Now this, this is easily the best flight simulator that the NES has ever had. It blows the first Top Gun game out of the water in every way. Gameplay is better, landing is easier, graphics are better, more variety in music and sound effects. This game is fun.
I'd still play this game to this day.
---
A quick note. It's worth mentioning that while this is the best flight simulator on the NES, this isn't the best flight simulator experience available at the time. There's one that predates this, in the Arcades, that is very much worth mentioning even if it's before the 90s. But it was still played in the 90s damnit! Hell, I played it in the 90s back when my local mall actually had a decent arcade room. Now I have to drive all the way to Dave & Busters to get anything decent! Anyway, After Burner, by Sega, released in 1987. That's the ultimate arcade flight simulator experience.
Kickass! I would kill to relive this experience again (don't take that literally, unless you're talking about killing digital 16-bit enemy sprites, in which case: gladly).
---
Motocross Maniacs (Game Boy)

The only decent game that I know of released for the Game Boy during this month. The programmers were perfectly aware of the Game Boy's limitations, and thus made this game more of a puzzle game rather than a straight up racing game. It's about knowing how to race and get through obstacles without crashing rather than making the best time.
Not something I'd play today, but I had to throw the Game Boy system a bone here.
---
Bases Loaded II: Second Season (NES)

I hate sports games. I really do. I've been through so many football and baseball games during this time period they make me sick just thinking about them. Monotonous garbage, all of them. If you've played one of them, you've played all of them. Yet for some reason people tend to have fond memories of this baseball classic. I'll just take their word for it. But what I do find interesting is that this game was released without an MLB license.
---
Zoom! (Sega Genesis [ported from Amiga version, 1988])
Pretty damn fun actually. Try the Amiga version for a different style of graphics.
---
Overlord [aka Supremacy: Your Will Be Done] (Amiga, Atari ST)
The Amiga version is superior to all others. And this is arguably the best game of the month unless I've overlooked and/or misjudged any. I mean, just look at this thing. It's like the precursor to Master of Orion.
---
Loom (MS-DOS, Amiga)

A point-and-click adventure game with an interesting story that makes you think. Honestly, with very few exceptions, point-and-click games, while I've enjoyed some in the past, usually don't interest me (with the exceptions being Riven, Obduction, and Blade Runner). They're nothing but glorified interactive stories, done better in RPG games like Final Fantasy. Most of them rely on these dumb fucking puzzles that most people can't solve without finding a guide somewhere or spending countless hours on something that should only take a minute. So I usually end up watching the "movie" version online, with someone playing through it who knows the game well enough to get through it. If the story is good enough, it has my interest.
But I'm not going to let my general disliking for point-n-click games get in the way of pointing out a classic for those interested in this genre. Plus it has a cool style to it. And Lucasfilm was killing it in the point-n-click genre during the 90s.
---
Wings (Amiga)
Now, while I did say that Supremacy was arguably the best game of the month, this one was easily the most popular. In fact, it's considered to be one of the best games ever put out on the Amiga. The other major flight sim next to Top Gun 2, except it didn't just focus on flying around and shooting planes out of the sky. There were a few different mission types with different perspectives, and stuff to do between missions. And it had a bit of a storyline to it.
---
---
---
Technology, Culture, Etc.
End of the Month
So if there's anything I missed that you think is important for the month of January 1990, let me know. Considering how much shit there was back in the day, I wouldn't be surprised if I overlooked something. If you bring up something that is important/significant enough, I will include it. But if it's something WWF related, I wasn't planning on getting into that until 1996, maybe 1995. Because that's when the company began to slowly get better, acquiring attitude.
Edit 10/25/2017: Added in 2 entries to the Video Games section, Loom and Wings. I can't believe I overlooked Wings for the initial post.
Edit 6/17/2018: Holy Christ! I failed to originally include America's Funniest Home Videos! Problem rectified.
Edit 5/14/2019: Added in Treasure Island (released January 22, made for TV).
Edit 1-15-2020: Removed Ween: GodWeenSatan: The Oneness, as that was released November 16, 1990, not January.
Edit (1-27-2020): removed Arrow Flash. That was released in Japan in December, and the U.S. release date isn't entirely known. So I've moved it to December 1990.
Edit (1-30-2020): Removed Phantasy Star II, that belongs in March.
Edit (2-10-2020): Added a proper intro, highlighting events that happened in the month.
Edit (10-1-2020): Added Drug Wars: The Camarena Story to Shows.
Edit (11-22-2021): Added Circus of Power: Vices to Music.