Source
First off, let me get this out of the way, I have not seen every season of the show, nor have I read every book (only the first 2, and that's as far as I'm going). I've seen the first season in its entirety, bits and pieces of seasons 2-5, and have seen season 6 and 7 in their entirety. Yeah, I know, that seems outrageous, just skipping over seasons where a lot of shit has happened (only catching glimpses of them) before getting back into it. Well, I have my reasons.
It's my philosophy when it comes to television shows in general to not watch them until they have been completed, whether due to cancellation, or just being seen to the end properly. It's a philosophy I have developed from my years of watching anime (did that much more often in the past than I do now). Most anime that I've seen either ends before it can be resolved (those motherfuckers, them making anime adaptations of ongoing manga; either write your own goddamn ending or adapt something that's been fucking finished!), or it just has the shittiest ending imaginable that tends to go along the lines of, "Everyone dead, or fucked, or sad and depressed at the end." You don't have to go off of Shakespearean tragedy mantra that fucking often!
So yeah, it started as skepticism for anime in general, to where I refuse to watch ANY anime series until it's finished, and only if I hear good things about it. That being said, it's not a philosophy I follow 100%. The last anime I watched was Attack on Titan, and that was a while ago. Guess what? It ends on a cliffhanger and it's not fucking finished! Granted, the chances of them picking it back up to finish it are much better than Highschool of the Dead (I loved every moment of that show, it was made for someone like me, and they won't fucking finish it, especially since the manga may never get finished), but it still pisses me off that I have to wait. On top of that, I may be waiting on something that's going to end shittily (that's a real word because I say so!).
Seriously, you've gotta watch this video if you haven't seen it already. It's one of the most absurd, ridiculous, defying the laws of physics and human biology, stupid, dumb, perverted, and downright fucking hilarious things I've ever seen in my life. You will fall out of your seat.
Which brings me to Game of Thrones. When I first started watching the first season (at the time I was also in the middle of the first book), my thoughts were, meh. It was just ok. The production quality is fantastic, the acting top-notch, the plot intriguing. But there was something about the presentation that never got me fully into it, something I can't put my (Little) finger on. There was also the fact that, and you're probably not going to believe I'm saying this, there was too much sex in the show. Too much sex and nudity littered throughout that was only there for the sole purpose of attracting more perverted viewers and to ride off the back of the Spartacus series on Starz. Now look, I like sex and nudity just as much as anyone else (assuming I find them attractive). I also like porn just as much as the next guy. But when it comes to a film or show that aims to be serious and deep/complex, the perverted side of me shuts off and the analytical film/show connoisseur side takes over. I look at what makes it work as a whole for me, and what works against it. This isn't a show that should have sex as it's main feature, which it seemed like it was trying to for the first season, or 2, or 3. However, it seems as if the show has lightened up on that regard (at least as early as season 6, maybe earlier), now only showing that stuff when its integral to the plot or character development. As it should be.
Sex and nudity aside, and the fact that I just couldn't get fully invested in the show, there's also all the stuff I've heard from other sources about how downright depressing the whole thing gets at times. "People you love will die." Especially when it got to the Red Wedding. It's at that point that I resolved myself to not get into the franchise unless there was a light at the end of this bleak tunnel. The ending of season 5 sure as hell didn't make me think there was.
But then comes season 6. I saw a preview of it from the Conan O'Brian show along with a couple interviews. They didn't spoil exactly what would happen, but they sure implied it heavily enough to where I saw where they were going with this. So John Snow gets resurrected, which makes me think that Amanda Pete (wife of one of the screenwriters) is successful at swaying her husband in how the story is to progress (seemed even more apparent with the finale of season 6 pretty much having women in high positions of power everywhere, replacing men who once stood there). And that wasn't a bad thing, in my opinion, at first. John Snow comes back, and they end up delivering one hell of an entertaining season. Especially that Battle of the Bastards episode. More optimistic than the previous seasons. A light appeared at the end of the tunnel which now appeared less bleak. And it felt earned after all the depressing bullshit that transpired previously.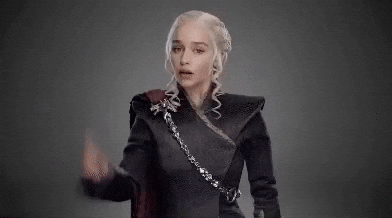 Then in season 7, it seemed to me as if we were getting too much of a good thing. Too much optimism. Too many saves at the last minute. Some of that was in season 6, but it became bluntly apparent this season. John Snow surviving a few near-death experiences, getting dragged into the icy water, getting the strength to come out, only to be charged by the army of the dead, only for his long-lost uncle to show up at the last moment to save him and sacrifice himself to do so; all this after Daenerys swoops in with her dragons to also save everyone at the last minute. This is the most extreme of examples, all packed into a few minutes of one episode. Shit like this seems to happen too often not just in this episode, but in others throughout the season. Granted, this all ended up leading to a great plot twist that would make the threat of the army of the dead even greater than ever before, but it could have been pulled off in a less "oh so convenient" manner.
The show is becoming the one thing it should not have been, that it has never been since its inception until now (unless you read the books that the first few seasons are an adaptation of, before they went beyond the books). Predictable. Formulaic. Say what you will about the depressing shit, but at least it kept the viewer on edge and wondering if someone was going to get out of an encounter alive or not. Now everyone has gone from, "Oh don't die! Please don't die!" to, "Oh come on, there's no way they're going to kill him/her off now." What has become a breath of fresh air has now become the normal air we breathe, and it's too healthy. I don't mind a dose of optimism to offset the pessimism, but it shouldn't overwhelm the pessimism.
So now I have a pretty good idea on how the show is going to end, and at least 2 characters that are going to be alive by the end of it. Granted, I predicted this earlier on before season 7 even started, but now it seems set in stone. So after season 6, I predicted that John and Daenerys would get together and be king and queen of the realm. My reason for this is because of the name of the series. The book series isn't called Game of Thrones, that's just the title of the first book. The series is titled A Song of Fire and Ice. So fire and ice would get together. Daenerys is the fire, John is the Ice (hence his last name, despite what the plot twist at the end of season 7 says about his name). The end of season 7 only cemented my theory further. So if nothing else, those two will by alive once everything is over.
But that's not the only predictable element. The other big one is with dickless Theon. They're obviously setting up a redemption angle with him, where he's going to encounter Euron Greyjoy and either kill him, or free his sister so she can kill him.
I also wouldn't be surprised if Samwell Tarly ended up doing something heroic in the next season, maybe killing the Ice King (doubtful) or the undead dragon (also doubtful). He's likely going to end up doing something along those lines, but I'm hoping he sacrifices his fat ass as a result. I've been waiting for his character to get killed off for a while. Him and the other Greyjoys, and maybe even Sansa Stark.
The newfound optimistic nature of this show that had arisen in season 6 and carried onto season 7 threatens to carry onto season 8. Make no mistake, I'm all for happy endings. But they need to be earned, and the only way they can truly be earned is if the threat of an alternate bad ending is real, just as the threat of death hanging over all the major characters was real up until last season. The series seems set on a path where everything is going to wrap up too conveniently. The only way I can see things ending on a satisfactory matter is if there's mass murder on a wide scale. Major characters should get dropped left and right, villains and heroes alike. And for the love of God, get rid of those fucking last-minute saves. They can be useful, but not if they're used often. There should only be two last-minute saves throughout one season of Game of Thrones tops, especially when the new seasons are only 7 fucking episodes in length.
PS: Oh, right. The other reason why I've actually gotten into this show, other than I think it's gotten a bit better, is because it would be impossible to not watch it and avoid spoilers with how often they show up online, even in the form of episode leaks online (which I have not seen nor do I ever intend to see). Plus it's nice to be capable of following along in conversations about this show with co-workers.