See part 1 to know the context of this whole discussion.
Anyway, this was the one that definitely had major back and forth.
Notes on the Boycott on Germany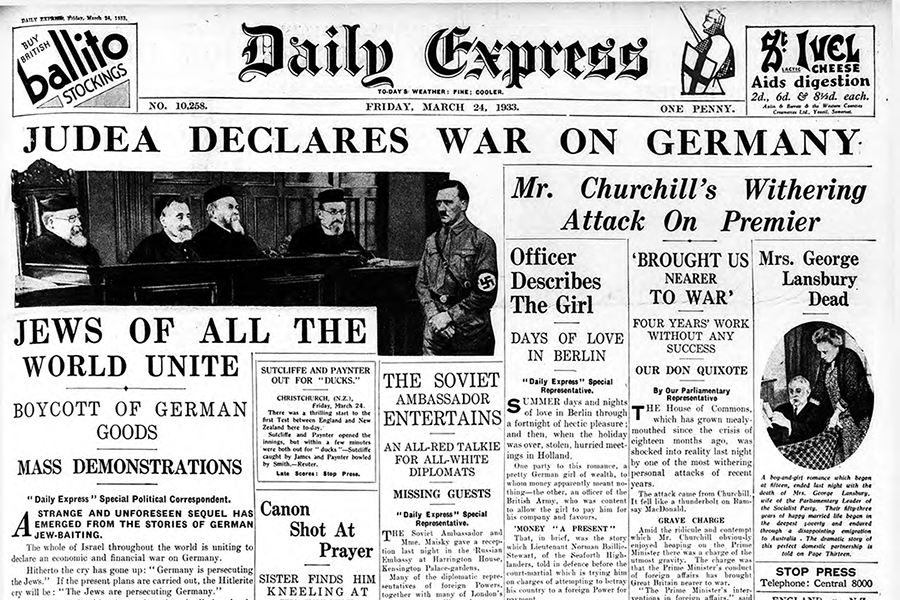 How is a boycott a declaration of war? And what was "Judea" in 1933? How many tanks, planes, what size were it's armies?

Yet there were essentially no boycotts. They were also not universally supported by Jews so it's worse than stupid to claim "Judea" (which didn't even exist) "declared war on Germany." Man, deniers get a lot of mileage out of the poetic license of one newspaper headline.
You know, it would've been better if you asked for evidence of boycotts rather than stating there were "essentially" no boycotts.

https://mk.christogenea.org/podcasts/1933-international-jewish-boycott-germany

Funny you should mention Jews not universally accepting this. Not all Jews were universally against Hitler either.
LOL, yeah, OK. Now, to be fair this does mention the US boycott but it didn't stop German trade.

https://library.cqpress.com/cqresearcher/document.php?id=cqresrre1939030900
But it did have a negative effect on the German economy.
They simply replaced trade with the US with South America and the Southeastern European states.

Not to mention places like Switzerland and Sweden.
Guess that was a solid economic substitute then. The equivalent to trading with the U.S., not to mention Britain. Good to know.

"How is a boycott a declaration of war?"

The same way economic sanctions against a country would be. Not that this response matters at all. I'm under the impression your asking rhetorical questions.
It is because to a large degree this isn't exactly news to me. A boycott does not equal economic sanctions. A boycott is voluntary. Frankly it wasn't even particularly effective, Germany's problems had more to do with a lack of foreign currency than any boycott.

It certainly didn't stop other countries from trading with Nazi Germany.
"first quarter of 1933, Germany's vital surplus of export was less than half the 1932 figure. Demands were […] made in the United States […] to have German private and public assets seized in compensation for her debts, thus dissolving German interna­tional trade assets."
I'm pretty sure the Great depression had something to do with that.
Now to be fair, he does have a point.  The Great Depression caused international economic suffering, which in turn caused a downgrade in international trading.  However, Germany was one of the few countries that was largely immune to this.  And you would think that adhering to calls for a boycott against Germany would be the last thing anyone would want amidst an economic depression.  It's like someone wanted to ensure Germany couldn't take advantage of this situation somehow.
Regardless, it can be stated the German economy had some hindrance (in spite of how well it was recovering since the Treaty of Versailles and the end of WWI) due to the international boycott and the depression.
---
---
---
Preemptive Strike on USSR, and how the Boycott did (not) Affect Germany
You mean after the Germans invaded the USSR in 1941? Kinda thinking that was a reason to fight all on its own.
Ah, about that. That was a preemptive strike on the USSR before they invaded Germany, which was their plan.

https://www.wintersonnenwende.com/scriptorium/english/archives/articles/stalwarplans.html
Nathan C

@NathanAngelus

Nope. Stalin's "plan" was to let the Capitalists fight each other out. Marxist ideology held that Capitalism was inherently unstable and that it was only a matter of time before they turned on each other, which Stalin saw play out in the war between the Nazis and UK.
Yeah, that's essentially horse shit. Hitler started preliminary plans to invade the USSR in the Summer of 1940. It was always his long term goal, FFS, familiarize yourself with what Hitler himself said.

Plus the fact that the Red Army was in a piss-poor state and it's best units were in Siberia facing off against the Japanese, that's a really bad way to plan an invasion.
But that's the thing. It was always Stalin's long term goal to invade Germany, and the rest of Europe. It's another one of those revisionist's beliefs that Stalin had plans for domination of Europe, and Hitler's offensive (and defensive), while failing to prevent the USSR from dominating Germany and Poland (among other territories), it did enough damage to halt their plans for European domination. And I know, this is speculation with little evidence. That can be said about Hitler's plans for world domination too.
Not impressed by memes regardless who makes them. Hitler wanted to be a European power but frankly lacked the power to go worldwide.
He was a European power prior to WWII, in spite of the boycotts (which threatened to make that economic power fleeting). And you've just made the argument as to why he wouldn't want global domination. Even if he wanted to, he didn't have the means, not even in WWII.
Now you are backtracking on the trade thing. Germany had trading partners. Not impressed by the world domination thing. So if you think you just scored a point you didn't. Now, had Germany conquered the USSR then we are talking about a major world power.

But even then this idea that Germany could conquer the world is laughable.
"Now you are backtracking on the trade thing. Germany had trading partners."

Excuse me? When did I ever make the claim they didn't? I just stated there was a boycott on German goods. Didn't make the claim that EVERY country was in on it.
So, even if there was a boycott then it didn't particularly harm Germany's ability to trade. Got it.
I thought it would be taken for granted that hindering Germany's ability to trade with the U.S. and U.K. does that country harm. Or did we fail to establish that line of thinking somewhere along the line?
BTW, did the Jews just do that for shits and giggles or were the Nazis an actual threat to the German Jewish community? What, Jews can't get upset over what happens to Jews in other countries? Wasn't their anger justified?
That argument would carry more weight if that Jewish boycott didn't take place prior to Germany making any laws that directly targeted Jews. From what I've been seeing, the Jewish boycott took place at least 2 weeks prior to any anti-Jewish law being passed in Germany.
I'm not talking about laws. The SA harassed Jews before Hitler took power and Hitler's rhetoric (along with other leading Nazis) demonized Jews.
The harassment of Jews was not something that was done purely, or even primarily, out of racism. Even so, not all Jews were against the Nazis, and not all Nazis were against the Jews. Fun fact, there were Jews in Hitler's army, voluntarily.
Fun fact, the "Jews" you are talking about were called "Mischling," a term used for half or quarter Jews. What the Nazis considered actual Jews were kicked out long before. Yeah, I know. There were some prominent "honorary Aryans" who received dispensation because They had value of some sort. But even the Mischling were kicked out by 1942 (though anomalies existed here and there).

You said Jews served and even volunteered. Full Jews were kicked out in (I believe) 1935. Mischling were allowed to serve until 1942. Hitler made exceptions but those were anomalies.
So 150,000 is an anomaly?

https://thegreateststorynevertold.tv/as-many-as-150000-jews-served-in-hitlers-military/
Um, yeah, you need to check your source…here. Let me help:

http://marcuse.faculty.history.ucsb.edu/classes/33d/projects/jewishlife/JewishSoldiersMark.htm

Jews were forbidden to serve in the military:

https://encyclopedia.ushmm.org/content/en/article/1935-key-dates
Fair enough.
Yep, found myself to be in error on that one.  Once again, Europa took information out of context to make the case that Hitler's hatred for the Jews wasn't that strong.  It already had decent arguments against the Holocaust (in spite of some of their arguments being flawed and not in-depth enough; see my RE: Holocaust Denial series for more on that.
---
---
Nathan C

@NathanAngelus

As part of the UK's well known appeasement, the UK allowed the Nazis to have Ruhr, Czechoslovakia and Poland. Because UK business interests were threatened in Spain, they also pressured France NOT to support the Spanish Republicans in the Spanish Civil war. But sure, "muh trade!"
Actually what we've established is that Germany continued to trade. Per the article I posted they set up trade agreements with individual countries that benefitted them. What hurt them was there lack of foreign currency, not some boycott that deniers obsess about.
Plus you haven't addressed an earlier point: "the boycott protests spread to the large cities of almost every country and even as far as Argentina and Australia, while, predominantly in Britain and the Netherlands, labor union­ists and Labor Party leaders supported the boycott

"In the first quarter of 1933, Germany's vital surplus of export was less than half the 1932 figure."

https://mk.christogenea.org/podcasts/1933-international-jewish-boycott-germany
That's nice. Read the article I posted.
Ok, I presume you're referring to: https://library.cqpress.com/cqresearcher/document.php?id=cqresrre1939030900

Which states that Germany was dependent on others for food and various raw materials. I don't see that as a currency problem so much as a material/goods problem.

They still traded, but the point I was making earlier was that their trading efforts were hindered to a noticeable extent because of the boycott. And since some argue this lead to Germany invading Poland (which leaves out the other reasons), that supports my point.
Not so much, no. They found trading partners to do business with. Another issue is that there was this thing called the "Great Depression" that hampered trade. Also other countries enacted tariffs to help their countries which naturally affected Germany. One thing no one acknowledges is that what we call the Great Depression actually occurred at different rates and included several smaller depressions that occurred throughout the 1930's that hampered recovery.
I understand that, and don't see how this goes against my position. There was still a boycott against goods which had a negative effect on Germany, as I pointed out in that earlier article, which hindered their economic growth. Yet they became a major power in spite of this.
And I pointed out there were other factors besides any boycott. But even if it did, boycotts are not a declaration of war and Jews had a reason to be upset with how the Nazi Party treated German Jews. BTW…German Jews did not agree with any boycott because they thought it would only hurt them.
And I pointed out that all of the above, boycotts and depressions, had cumulative factors that play into both our arguments. They're not mutually exclusive. BTW, how would some (not all) German Jews not agreeing with the boycott affect that if they still happened regardless?
What it shows you is that this literary license taken with the word Judea was ridiculous. German Jews did not support the boycott and neither did many British or American Jews.
Then you do see that not all Jews thought alike. It's not a matter of whether all Jews supported the boycott, it's a matter of which Jews supported the boycott. Not all Jews were Communist. Not all Jews were influential bankers/reporters/broadcasters/filmmakers.
OK. So what? It proves this incessant BS about "Judea" declaring "war" is exactly that. As for a boycott, are you denying them the right to be upset over what was going on with Jews in Germany? Were those that supported it wrong?
How is that BS if influential/powerful Jews utilized it to respectable effect, as I've already shown (which you haven't debunked)? What was there for them to boycott prior to this 1933 event? What were the Germans doing to them during that time period?
Sure I have. Germany found other trading partners and its trading problems were due to lack of foreign currency. Plus there was this little thing called "The Great Depression" that suppressed trade anyway.

As for what the Nazis were doing, the party used the SA to attack Jews and this became more pronounced after Hitler took power.
Which Jews? Be specific. It wasn't generalized.
Shopkeepers, lawyers, department stores…that or intimidated the owners and employees.
Oh, dandy. That ties into my other comment regarding the bankers.

"about 75% of the attorneys, and nearly as many doctors, were Jewish. All the major Berlin department stores […] were the properties of Jews."

https://zionismunveiled.blogspot.com/2009/09/jewish-dominance-in-pre-wwii-germany.html
Nathan C

@NathanAngelus

It literally did not happen, and your only source is some random tabloid that was doing the 1930s version of Clickbait. Again, this tabloid (the same one) complains that "Germany is waging war on England". Where is it? Why is there no war?
Oh, so that tabloid I pointed out earlier was yellow journalism? Guess that means we shouldn't pay any mind to the New York Daily News headline from March 27, 1933 where 40k protested against Hitler.

https://www.wintersonnenwende.com/scriptorium/english/archives/articles/jdecwar.html
So what? You already acknowledged that not all Jews think the same and that not all supported the boycott. You also need to acknowledge that they had a reason to be upset.
Like I said, it's not about ALL Jews. That's a common misconception. It's about which Jews. The rich banking Jews who wanted control of the German economy, which they lost when Hitler kicked the rich bankers out and set up an independent system. That's why they were upset.
No, they were upset about the treatment that German Jews received and even what Hitler threatened. That's so funny, yeah, bankers wanted to wreck the economy that supported them…. You act like Jewish bankers worked against the Germany they lived in. That makes no sense.
You forget that Hitler kicked out Jewish bankers in order to implement his independent banking system. Because the bankers previously in power were mostly Jewish. It's like kicking out those in charge of the Federal Reserve and instituting something besides the dollar.
Really? Like, what percentage of bankers were Jews in Germany at that time?

And actually what Hitler did was "Aryanize" banks. He replaced any Jewish owners with German ones.
In 1923, 150 of the 161 privately-owned banks in Berlin were Jewish.

https://zionismunveiled.blogspot.com/2009/09/jewish-dominance-in-pre-wwii-germany.html
And then I follow-up that solid point with something I didn't do enough looking into.  But it did end up creating an opportunity for me to research more heavily into it for a response.
Not to mention they paid back their debts (from the Treaty of Versailles) with their financial system, which once again, demonstrates they weren't weak in terms of currency, just in certain goods.
They stopped paying with Hoover's moratorium and then never bothered to pay anything after that.
Ah crud, you got me there. Hitler opted to ignore the debt because he labeled it as unjust, and created Reich Marchs which were not controlled by international banks (sometimes called a "debt free currency"). Primarily utilizing public works recovered their economy by 1936.

So I should've stated that Germany's economy had recovered by 1936, as opposed to having war debts payed off, since the Third Reich didn't acknowledge the legitimacy of such debts. And, honestly, they were right not to acknowledge them (WWI was too complicated to blame just 1).
But that's what happens when you lose wars. I am on some level prepared to say that the terms of the Versailles were harsh. Keynes certainly thought so. But what about the reparations paid by France to Imperial Germany at the end of the Franco-Prussian War?

Does that seem fair to you? Or is that a consequence of losing a war? What about the Treaty of Brest Litovsk? Germany forced the USSR to pay an enormous amount and cede a large percentage of it's territory that included its industrial base and important natural resources.

Do you concede that this is what happens when you lose wars? Or is your outrage selective?
Going off the subject aren't we? I'd say each of those is similar to a murder case. They must be dealt with on an individual basis, as there were different factors involved with each. This one isn't so cut and dry.
Sure it is. You lose a war, you pay in some way. And no Twitter pretend lawyering, please. I'm not impressed by such things. The Bolsheviks lost and the Germans extracted the most they could. What they did was far worse than the Versailles Treaty. The Germans (Prussians) beat the French in the Franco-Prussian War. The French gave up territory and paid reparations.
He doesn't get it.  WWI wasn't exactly a war Germany lost so much as decided to conditionally surrender due to the unpopularity of the war, and wanting to end it, move past it, and get on with a non-war environment.  But then the Treaty of Versailles happened which wrongfully put the entire blame for WWI squarely on Germany (that was false bullshit) and forced them to split off portions of their country and pay war reparations.  This isn't something so simple as losing a war cleanly, not by a long shot.  12841chelmno is grossly misrepresenting and simplifying things here.  In other words, the Black or White fallacy (aka the Excluded Middle fallacy).
---
Nathan C

@NathanAngelus

It wasn't merely that Hitler "ignored" the debt, but the reality that there was no "economic" or military war prior to 1939. As early as the twenties, the Western powers changed their minds about Versailles and believed that if it was reversed, Hitler would stand down.
Actually that's a myth. The primary driver of German recovery was rearmament.
British historian A. J. P. Taylor believed otherwise. "Germany's economic recovery […] was caused mainly by lavish expenditure on public works, particularly on motor roads, and this public spending stimulated private spending"

https://redice.tv/news/12-things-you-were-not-told-about-adolph-hitler-and-nazi-germany
That's nice. Adam Tooze in his extensive work "Wages of Destruction" stated that while some of the recovery was due to public works the majority occurred through rearmament. Red Ice TV….

Evans in his extensive work "The Third Reich in Power" said much of the same thing. Taylor is not the first, last and only word on Nazi Germany. He wrote much on the available information at that time. Research is always on-going.

Now, to be fair, besides the things like the Autobahn (which actually started before Hitler came to power) the Nazis also sank money into extensive building projects. But rearmament was extensive. Another thing that helped was rebuilding the armed services through conscription. Another trick was excluding the numbers of women and Jews unemployed (not that those numbers were extensive anyway).
Then this begs the question. What percentage was spent on military compared to public works? Didn't it start on a roughly 1:3 ratio (1 military for every 3 public works)?

Or was it a 1:2 ratio?
Can't remember and right now I'm a bit busy to look it up.
Nathan C

@NathanAngelus

Shit, as part of the great depression the US actually enacted the Smoot Hawley Tarriff act which placed huge fees on imports going into the US. Everyone else retaliated with their own tarrifs, so with or without your whining about Trade, it would have been restricted anyway!

Your made up stuff about "German assets" being seized in the thirties, and your whining about the Poor Germans' trade is completely irrelevant. Look at the big picture, and not the narrow one created by your sad, little ignorant bigotry. No war, economic or otherwise.
"Your made up stuff about "German assets" being seized in the thirties" Putting words in my mouth at worst, taking me out of context at best. Acknowledging this boycott grants insight into the bigger picture. Make no mistake, I'm not claiming Hitler was a saint.
Currently got nothing to add to this.  Uncertain about both positions.