Off-Topic Introduction
So the past few weeks I've been struggling to find something to write about.  There's a few things I've been wanting to get to, but being a spur-of-the-moment kind of guy, I just couldn't summon the willpower to get to them.  So first I'm thinking, "Hey, I've recently got through the original Star Trek series?  Why not review that and joke about how The Last Jedi pissed me off so much it made me into a Star Trek fan?"  But then I thought, "Oh Christ, it's going to take me forever to point out which episodes I liked and why, which episodes sucked and why (and why some episodes from season 3 didn't just plain suck, they sucked cock), let alone find some gifs that I want to use to highlight these moments."  Then I thought about posting up an old drunk review I made a long while back on Friday the 13th.  Because it's October.  I even got about halfway through finishing it, but then I thought, "It's such a pain in the ass to find the gifs I want to use for this; I wish I still had the fucking thing (illegally) downloaded onto my computer from way back when so I could do it with ease; now I gotta track down gifs from other sites and youtube videos to help make my point; which is making me put in more effort than when I reviewed the damn thing; fuck it, I'd rather stop this, get drunk, and watch an episode of Star Trek: The Next Generation, and then play Thief II and Quake."  And then I started getting stressed out and worried that I'm not going to get through that book Gosnell in time to make a review about the movie I saw in an early access showing of it, which made me worry that I won't get the review up by October 12 or 13 (I still don't know if I'll be able to do that), especially when I'm dealing with the death of my aunt and have to go drive out to the coast with my other family members to toss her ashes out to the sea during that time period.  At one brief point, I started just thinking, "Fuck all this and fuck the blog, if I don't feel like doing it, I'm not going to do it.  I'll just slack off for the next month or so and say to hell with all the viewers I'll lose in the meantime."
But then suddenly, one day, I manage to watch a film that finally lights a fire under my ass.  A movie I was driven (not by a vehicle or anything like that) to see thanks to some negative reviews I read about it.  So for those of you who follow this blog, sorry for keeping you waiting, and sorry for slacking off.
Rated: 3 / 5
So I saw this had some negative reviews (to say the least) on letterboxd.com, and at first I didn't want to think much of it; even though I don't trust most reviews on that website anymore (for reasons I won't get into, at least not for my review of this film). But after reading one review which mentions the guy catching the hockey puck, at that moment I knew I had to see this. Not exactly because I wanted to see that moment per-se, but because I realized this is one of those films from my childhood I caught a glimpse of (my mother was watching it at the time) that never really left my mind. And that, and the few minutes following it, are the only scenes I really remember from this movie (which basically spoils it for me, because that all takes place in the last 20 minutes, though they foreshadow the shit out of the ending, so it didn't really matter). So it was the nostalgia that drove me to seeing this.
And, as I suspected, the negative reviews weren't trustworthy for my experience, because I enjoyed this film. But it is worth addressing some of their points.
1.) The big one being that Christian Slater's character Adam is a stalker, a creep, and the film makes an attempt to make him seem like a great guy in spite of this by having him rescue Marisa Tomei's character Caroline from an attempted rape.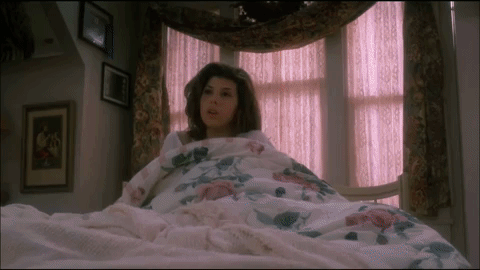 2.) That last note would be the other major strike many have against the film, using sexual assault and the rescue from it as a plot device to get their relationship started, and to make the creepy stalker boyfriend less creepy.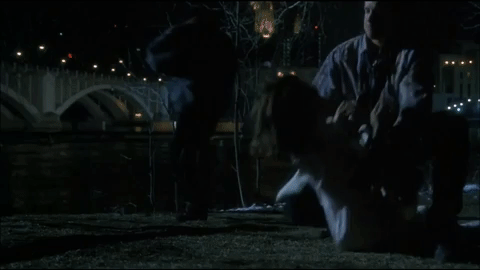 Regarding point #1, if that was all the information we were given regarding Adam's actions and motivations, yeah it probably wouldn't be much more excusable than that of Mr. Grey (but horny bitches still love the 50 Shades films, let alone the books, both of which are of lesser quality than this film, so…). However, that's not the only information given. It's clear that Adam is retarded, literally. He's had mental and physical issues during his early years, which prevented him from having a normal life, and kept him as a social outcast for most of his life. He's more of a child in an adult's body. And on that note, let's just say children have been known to do stuff like that, following around other girls/boys they have an attraction to. Their intentions aren't devious, they're innocent. It's adults who view it as devious and creepy because they know that adults who do this generally tend to be creepers will ill-intent. They don't even bother considering that ones intentions could be anything other than bad. Growing up and losing one's innocence sucks.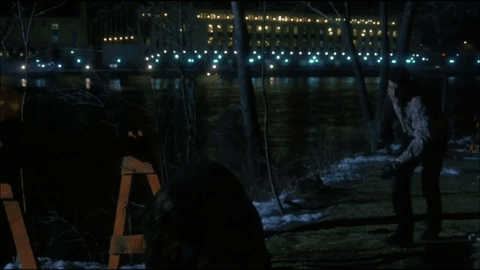 So in a sense, you could see the polar opposite of Adam with those 2 guys who attempt to violate Caroline. Men who are the same age as Adam, more fully developed mentally, but far less innocent. Just because one grows up and learns of the bad things that can happen in the world doesn't mean one should let go of that blissful feeling innocence and naivety can bring. It can reap heavy consequences for letting your guard down like that. But the rewards one can gain in spite of the risks (whether because they take a chance knowing the risks, or are unaware of them) is something magical, something this movie strives to show.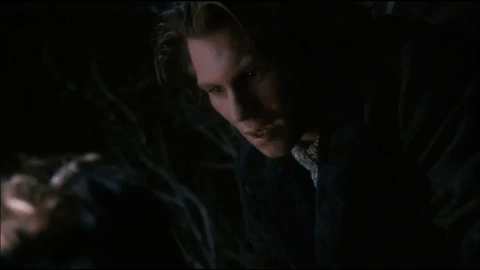 So while Adam does follow Caroline around unbeknownst to her, and sneaks into her house to watch her at night (this all happens off-screen), it's because of a childlike fascination, curiosity, and adoration rather than for lust. Obviously most adults aren't like this, but due to biological circumstances, Adam tends to be the exception to the rule. And that's another thing some people reject, or at the very least ignore, when it comes to faulting Adam. They act like this movie is promoting the idea that it's ok for men to follow women around without their knowledge because they enjoy that sort of thing. No. This movie is saying that in this case one should accept an exception. Because Adam isn't like other people. And Caroline learns this the more she gets to know him.
Point #2, sexual assault as a plot device, the event that causes Adam and Caroline's relationship to start after he rescues her from the perpetrators. Some take issue with the fact that the film uses such a device in this film, considering it tasteless. I say anything can be used as a plot device and make it work. It just depends on the context, if it ties into some theme/character/story that's in the film and fits within it to keep it cohesive rather than just jutting out like a pimple on the nose. In this case, as pointed out above, one of the reasons is to offer contrast between innocence and sinful. Not to mention Caroline's downward spiral with her luck in life (if you can call it luck), with her choice in boyfriends of the past, and eventually having one of her past acquaintances coming to do her harm. She wasn't seeing much to be happy about in life, and experienced much that would eventually make her as much as a sourpuss as many around today. That is until Adam showed up and became a bigger part of her life, a sort of savior who shows her how wonderful life can be, what joys can be found by the naive.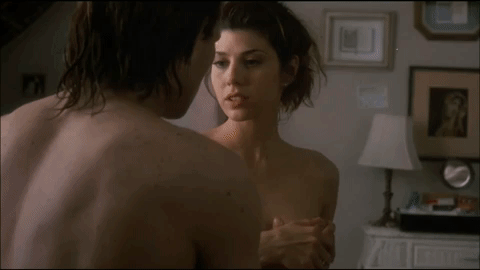 And because of what those 2 perpetrator assholes represent, it was only inevitable they would come back to do harm to Adam later on, showcasing that sooner or later, innocence would be tested. Such childhood innocence is bound to die out one way or another, whether due to actual death at the hands of the sinful because of their naive innocence, or because they lose that innocence when they see how terrible the world (ie people) can be at times. So when this other form of physical assault happens, done for hatred rather than lust, it inevitably leads to the hospital where the foreshadowing comes in more heavily from then on out.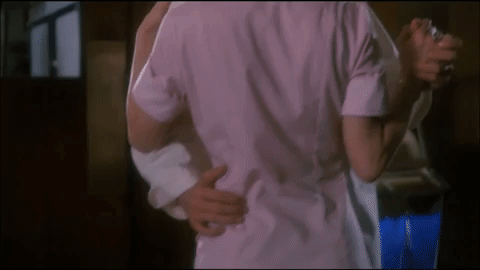 Indicated by the title Untamed Heart (as opposed to the originally proposed title "Baboon Heart"), Adam is one who won't be tamed. And by tamed, that means the taming of his innocence, of his childhood ways. While that does keep him to be the angel Caroline comes to adore, it also means he is destined to die by the end of the film. Being naive, after all, does have its downsides.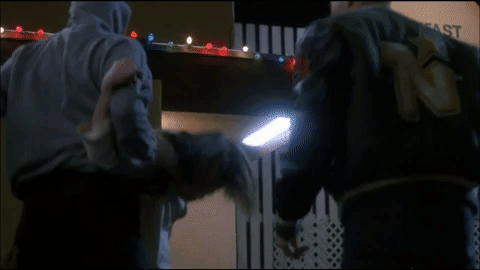 So by the end of it, I didn't take issue with either of those two points. Now that being said, this film isn't perfect. There are some elements I do have issue with. The film didn't have the talent necessary to make the last act work, where Caroline is expressing how much Adam has changed her life for the better because he made her aware of how wonderful life can be with love; true love; innocent love. The film couldn't figure out a good way to express this, so it stumbles with the last few lines of dialogue. In fact, you could say the last act, the third act, is when the film is at its weakest. It doesn't do anything to ruin the entire film, but it doesn't do anything to bring it up another level. It doesn't do enough to bring everything together in an impact way. And it goes a little too hard with the foreshadowing of Adam's death, when it thinks it's being smart and subtle about it. Like Adam, the screenwriters seem to have a hard time expressing themselves here.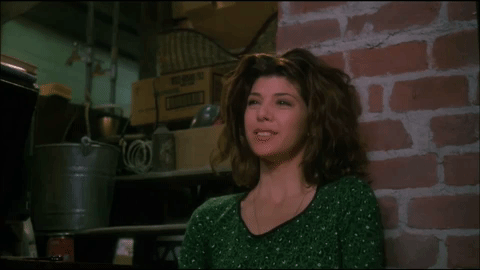 But for what it does provide, it's a nice charming little love story, showcasing a relationship built on a love only childhood innocence can provide. The highlight of this is when Adam and Caroline become romantically involved for the first time. It doesn't go down the way you would think, but the way it does happen I found to be emotionally powerful and perfectly fitting for Adam's character.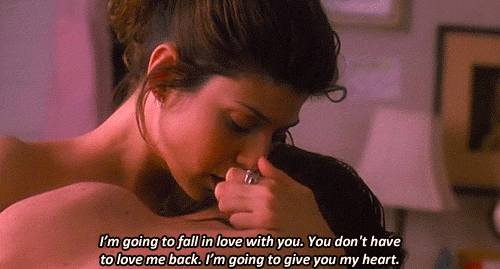 So yeah, don't listen to the haters. Give this film a chance. It's no "greatest romance movie of all time" or anything, not like Frankie and Johnny; but it's good enough to be worth a watch.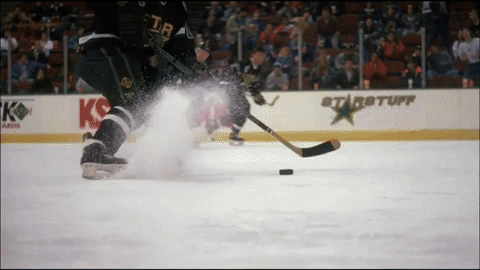 PS: Oh yeah, and be wary of the DVD version.  It has apparently edited footage from the VHS version.  I'm not sure which version I ended up watching, but I intend to find out at some point.