So it begins.  Been getting feedback from my Do the Right Thing review in my entry on letterboxd, and I'm hoping the same thing will happen on the other platforms the review is linked to.  I'm going to post the back-and-forth discussions I've been having.  Because I've learned from experience that if I end up posting something on a website other than my own that is on a very hot-button topic, there's a chance enough people will bitch about it to where they can convince the moderators to remove the entire entry, along with the comments and discussions.  This happened once without warning to my The Red Pill review on letterboxd.  This blog entry will be updated so long as the conversation continues.  Because racism is a topic that should be discussed.  So without further ado:
Me:
I'm willing to listen. I'm willing to learn. Are you?
Being ignorant means being uneducated, uninformed, unaware, sometimes intentionally so. I'm inviting conversation here, because I would love to see and hear opposing viewpoints from those who themselves are not ignorant, or at the very least don't believe they are (at the very least not being a troll). Making the assumption that I won't spend the time to learn arguably makes you the ignorant one. Care to prove me wrong on that?
As for racism, you imply that I don't know how it really works, or at the very least that my understanding on how it works is misguided. Can't know how I'm misguided unless it's pointed out to me. But keep in mind, this can go both ways.
I only enjoy conversations with people who intend to influence my thoughts/beliefs only if they themselves are willing to likewise have their own thoughts/beliefs influenced. I don't like one-sided conversations. This "review", it's every bit as much of a review as it is a strong encouragement for conversation starting. Do I not encourage such in the 3rd to the last paragraph?
Me:
Me:
Me:
Me:
racism does not go both ways.
Oh I can't wait to see where you're going with this.
racism is a systemic inequality based on race, and elevates a majority race to a higher social-political level than a minority race. a black person cannot be racist because black people do not have the same social-political power as a white man. i know you don't believe that, but research will prove me correct. i could explain why that is, but it'd take far too long and there's more efficient ways to learn (which i'll get to later). but i will summarize since i don't want to make my argument seem hollow. this goes back to days of slavery, obviously. after the 13th amendment came about, blacks were still far weaker than whites. Jim Crow came about, and once that was "abolished," came segregation. white flight (google it) was also a major aspect of racism that came about in the 1900s that will explain how black communities are often more impoverished than white communities.
Everyone knows that. So I'll answer with this common saying, "What the fuck have you done for me lately?"
What the fuck have we (white people) been doing to black people lately that would justify this dumb fucking white guilt complex? Better yet, what the fuck have black people done lately? Sure there' been great figures like MLK Jr. and Malcolm X, but that's well in the past by now. All I've seen lately is bitching and moaning and BlackLivesMatter encouraging violence against whites and police. Quite frankly, it almost seems reasonable to bring back racism against black people. Key word being "almost". I've seen a whole lot of sympathy for black people's supposed plight, not much for the plight of others. You want to talk about age-old victims of racism, why not bring up the Koreans who had their businesses looted and destroyed during the 1992 LA riots? Why not bring up the Chinese who got raped in Nanking by the Japanese? Why not bring up white-Euro slavery in the Middle East?
And I'll continue with another common saying, "Get over it."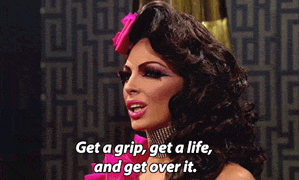 It's not healthy to hold old grudges, especially when the current generation not only had nothing to do with it, but would definitely not repeat the sins of their fathers, grandfathers, great grandfathers, etc. So get over the fact that things were bad in the past, realize you're living in a new time, the present, the golden years, and get the fuck over it. Don't waste your life searching for those wasted years.
many blacks are on welfare because of the hand America dealt them. i'm going to give a very specific example to make my point. this is not how all blacks on welfare came to be, but certainly how some came to be, and maybe you'll get a general idea of the bigger picture i'm trying to send.
Jim Crow laws, in case you're unaware, were laws that heavily penalized blacks for doing minor issues – such as loitering. for example. Jim Crow laws are still around, to some extent, though not legally. by this, i mean: many blacks have been arrested for smoking weed, not because it is highly illegal, but because it's an easy method of getting them into jail, which is the exact same ideal of Jim Crow laws. so let's say a black man, a father, is arrested and sentenced to 6 months in prison. that leaves his wife to be a single mother, which results in her resorting to welfare because she cannot alone support her family. when the father returns from prison, he is unable to get a job because of his jail record, which leaves him unemployed for a while, and the mother still on welfare. i could go more in depth on how that situation could spiral, but that's the main point of it. this happens very often.
Very often. Where? Which state? Which city? Is it widespread statistically? I can just as easily give a counter-example to make an opposing point. Such as the case of white firefighters in New Haven being racially discriminated against. I can do this all day. Try me. You wanna really make a point on all this? Show statistically that these examples of yours are not just small unfortunate instances in small unfortunate towns. I can just as easily make the point that this racial discrimination happens quite often against white people.
the other commenters on here made good points that i was planning to make myself.
And they've been addressed.
above i mentioned there are more efficient ways to learn about what i was discussing, and by that, i urge you to watch two documentaries: 13th and I Am Not Your Negro. i haven't gone through your films to see if you've already seen them, but if you surprisingly have, i'd recommend you watch them again, because you might've missed the point. in case you're unaware, 13th discusses how the 13th amendment and Jim Crow laws are still affecting the lives of blacks today, and goes in depth on why blacks "commit the majority of crimes," like you mentioned above. I Am Not Your Negro talks about the history of blacks in America and how racism of the early 1900s affects our society today.
Well now you have my interest. I'll see what I can do about watching those. That being said, you should already be aware that I have seen at least 1 film on this sort of subject, Ferguson. I've linked to it on your entry for Do the Right Thing. The other I have seen in relation to this subject is Burn Motherfucker, Burn!
you also keep talking about being "tough skinned." being "tough skinned" is what led us to have this bully as a president. if being tough skinned means accepting discrimination or bullying, count me the fuck out. blacks have gone over 200 years discriminated against and targeted, lived through slavery and segregation, and your answer to that is to grow tougher skin? hell no. how about the discrimination and hate ends, instead?
Do you really want to go there? Do you really want to start bringing the whole anti-Trump bully-racist-sexist-Russian influenced-hack subject and how it relates to the supposed current state of racism? You do not want to go down that road with me buddy boy. You will find a new meaning of pain and humiliation in getting your ass handed to you on a silver platter. I would say bring it on, but that would go off on a big tangent, of which you'll likely throw a bitch-fit and claim spam and try to get this entire entry taken down like the last cocksucker did with my The Red Pill review. Don't even think about it. I'm more than prepared for that outcome.
Do us both a favor and keep this discussion away from Trump-bashing. Don't let your liberal brainwashed colors shine that brightly.
Now, with that out of the way, tough skinned. I don't think you quite understand what that means and what the benefits are. That doesn't mean accepting discrimination and bullying, that means shrugging off petty insults, and learning not to take minor things too seriously (although this might not carry much weight from a film critic who bitches about minor petty stuff in films all the time). You know, the kind you hear all the time from elementary school all the way to college. If you want to fight against discrimination and bullying, it's not tough skin you need. It's wisdom and muscle.
And lastly, an end to discrimination and hate. At least we can agree on that. We disagree on how to get there. I've offered a step towards that solution, making this review make the point of it. And I'm openly challenging anyone who disagrees with me to offer a better way. Why should the word "nigger" be banned from the mouths of the white devil, as opposed to being spoken freely and in lighthearted fun among many who can handle it much as how they can handle any other curse word? All I'm hearing in response currently is, "Oh, the horrid dreaded past." Fuck the horrid dreaded past. The horrid dreaded past has everything bad in it. The horrid dreaded past has people getting eaten in half by sharks at the beach, yet people still go swimming and making Jaws jokes. The horrid dreaded past has women getting raped by men (or by other women, you don't hear much about that do you?), much less men getting raped by other men (or by other women, don't hear much about that either?), yet both sexes have ways of coping and moving on.
I've known a couple girls who were victims of rape, who entered into an argument two guys were having about how rape shouldn't be joked about, especially in front of rape victims, because they are emotionally scarred and can't take it. One of those girls, came into the conversation at said something along the lines of, "I wouldn't want to stop people from joking about rape. In fact, I can listen to and laugh at rape jokes all the time. Because it helps me, it stops me from being a victim. It proves that I didn't let him defeat me. To me it shows that he did not destroy me. That I am alive and still going, and still going strong."
That, my friend, is tough skin. Not staying as the victim the rest of your life. Licking your wounds, growing stronger, and moving on.
If a rape victim can get over a horrible thing of the past, and have a relationship with and get married to a male, then why the fuck can't black people get over this? Why is it that you and others believe this white guilt of the past thing should carry so much weight?
---
---
---
So I believe it's worth mentioning at this point that jeremyfizzy wrote a review soon after seeing mine and making his first comment on it.
Review by jeremyfizzy

What begins as a relatively lighthearted yet authentic slice of life of an African-American in 20th century Brooklyn, ends in a gut-punching reflection of our society. Because, as well all know (or should know), the life of an African-American in America is not at all lighthearted.
The film bursts with energy that brings to mind Scorsese's Mean Streets and utilizes it to drive forward a hard-hitting look at the deeply ingrained culture clash of urban America. Inevitably provocative and frustrating to the intolerant and close-minded while simultaneously educating and empowering to the open-minded and oppressed.
The most amazing aspect of this film is not what it says, but instead what it evokes its audience to say.
To which I responded and get in this brief exchange:
Me:
Me:
Of course the the BLM argument isn't valid when discussing this movie, that's not the point I was making with that link. The point I was making is that I'm not an ignorant fucking racist. I'd expect you to treat me accordingly if you choose to comment on my Do the Right Thing movie post again.
Me:
Then I guess you can blame a man for trying.
---
---
---
9:45pm, 7-10-2017
Me:
---
---
---
July 11, 2017, 10:17am
Me:
@G
Do the Right Thing.
As for how to go about doing it, you're not going to like my idea, so I won't say it, because that would take us on a big tangent you probably couldn't resist getting involved in, unless the thought of it ends up angering you so much that you've had it up to here with me and are done.
Me:
@G
Nice try with the bait. Too bad for you I never fall hook, line, & sinker. If your idea was any good you would have just said it. 😉
Ok, you asked for it. Don't say I didn't warn you.
The way to forge a path towards not taking the word "nigger" so seriously can be done by not overcompensating the preach-factor in regards to its hurtful insulting nature. To let things play out naturally. In order to do that, there needs to be some reform in an important area of many people's lives. The mainstream media, which includes the news, tv shows, and movies.
Enough of the biased news stories and how the cover murder and crime at a slanted angle which involves racism in the sense of pandering to and promoting white guilt. Enough with putting down the conservative angle (especially by you Disney ABC). Enough with the false implied statistics. Too many media outlets push forth this idea, which wouldn't be so bad if they didn't skew the reality of events to the extent that they do.
The other area that needs reform is the schools, which should be no secret now that many of them are liberally run and tend to crack down (unofficially) on conservative views, even though all views should have a fair say.
Those two main areas are responsible for causing racial divide and thus enforcing the taboo-stance of the word "nigger". One could argue its the parents passing down such teachings to the children, but the youth are more influenced by the culture rather than by the parents. The parents are a big influence, but not the only influence. And the odds of changing the minds of the adults are less great than changing the minds of a youth who is soaking in all information freely, assuming he/she wasn't taught to by into biases too early on.
Anyway, I think you know now why I didn't say it. It's a conversation that belongs in a different thread, in a different film entry.
Me:
@Xplodera
There's obviously a lot of words with multiple definitions, but this one – unlike many others – have one very clearly racist tone and reference which makes it offensive in some regards.
Now that's not true. Gook is racist too. Haven't ever seen it used in a positive way like nigger. Never seen anyone be called a cool gook, although I think that would be kinda awesome. Plenty of other words have one clearly racist tone that are more racist than nigger simply because, unlike nigger, they've never been used in a positive way. Sometimes you'll hear "My nigga!", but you never hear, "My gook!".
So when saying that everybody should claim it, it could be that people keep claiming it as a racist remark and thus continues to hammer in the oppressive message of the word.
Or, more accurately, they are told to keep believing it should only be claimed as a racist remark and should only be viewed as oppressive and nothing else.
Because let's be clear here, there's obviously a lot of other words without the same connotations that could be used
Doesn't that contradict your first sentence?
– so there's really not a reason for you or me to reclaim the n-word when we could just as well use a word without any such connotations.
Like "nerd"? Like "queer"? Both used for similar oppressive contexts in the past, but now those who were oppressed by it now own it, and not only own it, think it's cool.
"Sticks and stones may break my bones, but words will never hurt me." Gotta learn to not get hurt by the word, especially if it's not intended to hurt in the context it is used.
There's punishing people for saying something with the intent to harm, in which case any word they say can be considered oppressive because it's meant to be. But punishing those who say a word without intent to harm, treating it out of context, that's politically correct bullshit. It's just a way of promoting fascism under the guise of promoting tolerance and manners.
---
---
---
July 12, 2017
Me:
STAGE2

or you could save everyone some time and just make your icon a fucking swastika?