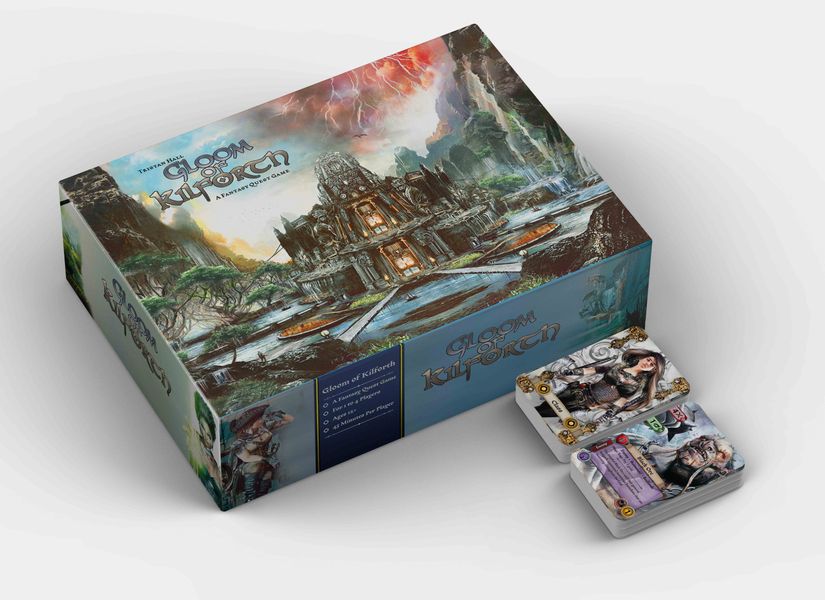 Image by Tristan Hall
Rated: 3/5
Introduction
So after bitching about the censorship of the artwork on one of the cards, and later apologizing for it since it ended up not being censorship at all, finally got a hold of the game and played it, solo. So small controversy aside, how is this "roughly 10 years in the making" big bad mamma jamma of a fantasy board game in the same vein as Mage Knight and Magic Realm? Eh, it's just ok.
The Visuals and Component Quality
Prior backing this game on Kickstarter nearly a year ago, my impression was that this game had artwork that was better than it, or any board game for that matter, deserved. This isn't artwork that belongs on playing cards, this is artwork that belongs on posters to hang up on walls, framed, and meant to be gazed at in wonder and fascination; probably even better if you're doing so while puffing the magic dragon or munching the eddies. The artwork is nothing short of amazing.
That being said, like most games, you tend to forget about how good it looks and look past that to focus on the gameplay. And to make the gameplay better, the component quality needs to be good, with easy to learn/understand icons, pieces that are easy to handle and move around without accidentally knocking something out of its place, etc. In all honesty, I have yet to play a deep fantasy board game that wasn't fiddly to some extent, and this one is no exception, even more-so if you're playing with more than 1 player/hero. That being said, it is less fiddly than Mage Knight and Magic Realm (good Lord, what isn't less fiddly than Magic Realm?). It plays fine without too much fiddliness, assuming you have the room for it.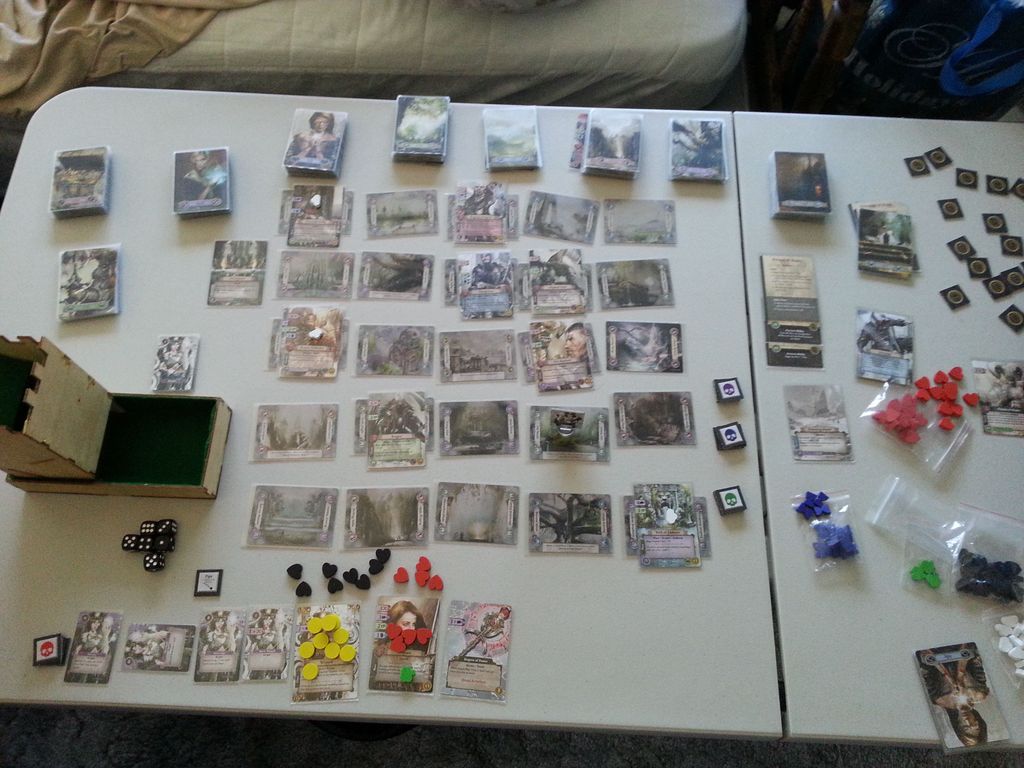 Cards are of decent quality, though when I started sleeving them in clear Dragon Shields (I usually never play one of my own games unless I have sleeved everything first, you know, for preservation), I did notice it ever so slightly chipped away at a small bit of the lower corner of the cards. Not all of them, but some of them. Other than that, the card quality is fine. Sturdy enough and thick enough to be considered standard.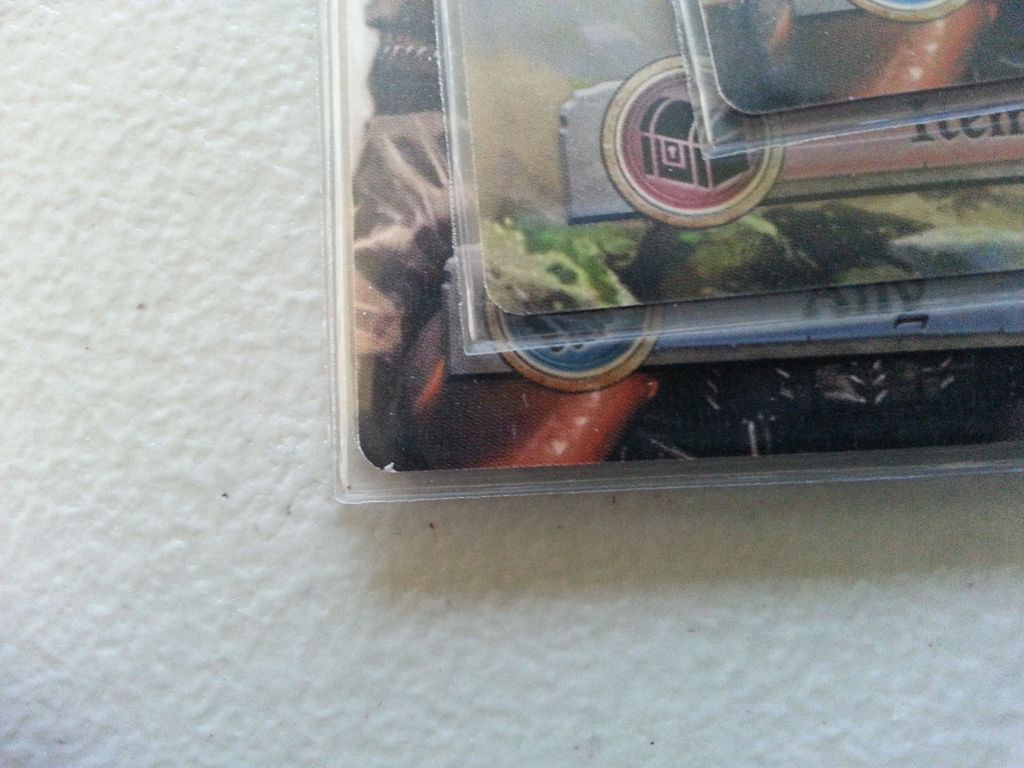 So aside from the cards, there's also Zelda hearts for health, black corrupted devil hearts for action points, clouds for obstacles, trees for hiding, sand timers for fate (what, no fate cards from Atmosfear?), Mario coins for gold, and solid sturdy chits for loot and marking enemies.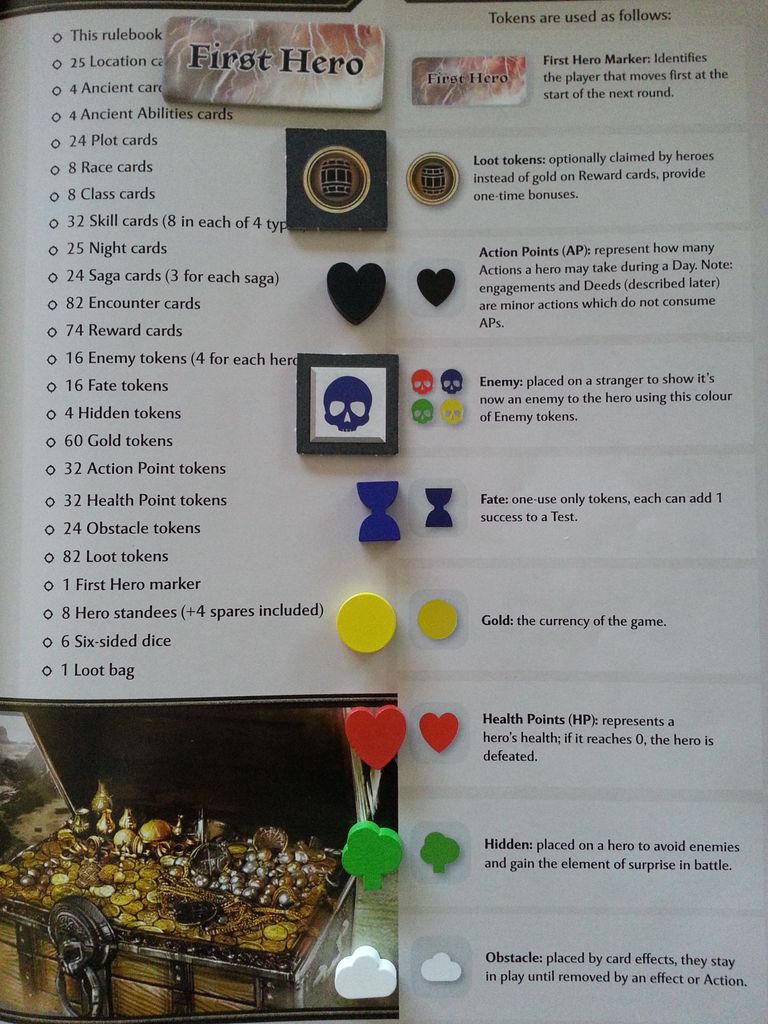 The Gameplay
So this is where games either excel or fall apart, or somewhere in-between. In the case of this game, it's in-between. You start out as a hero who seems too weak to beat the game as is. But once you complete the first part of you Saga (a 5 part story that you choose at the start of the game), and you level up, that's when things start to get rolling. Basically the number of actions you can take is equal to your health at the start of the day. You start with 4 health at the start of the game, so you can take 4 actions. When you level up, you get another health, and thus another action point, allowing you to not only do more stuff each day, but also take more damage in combat.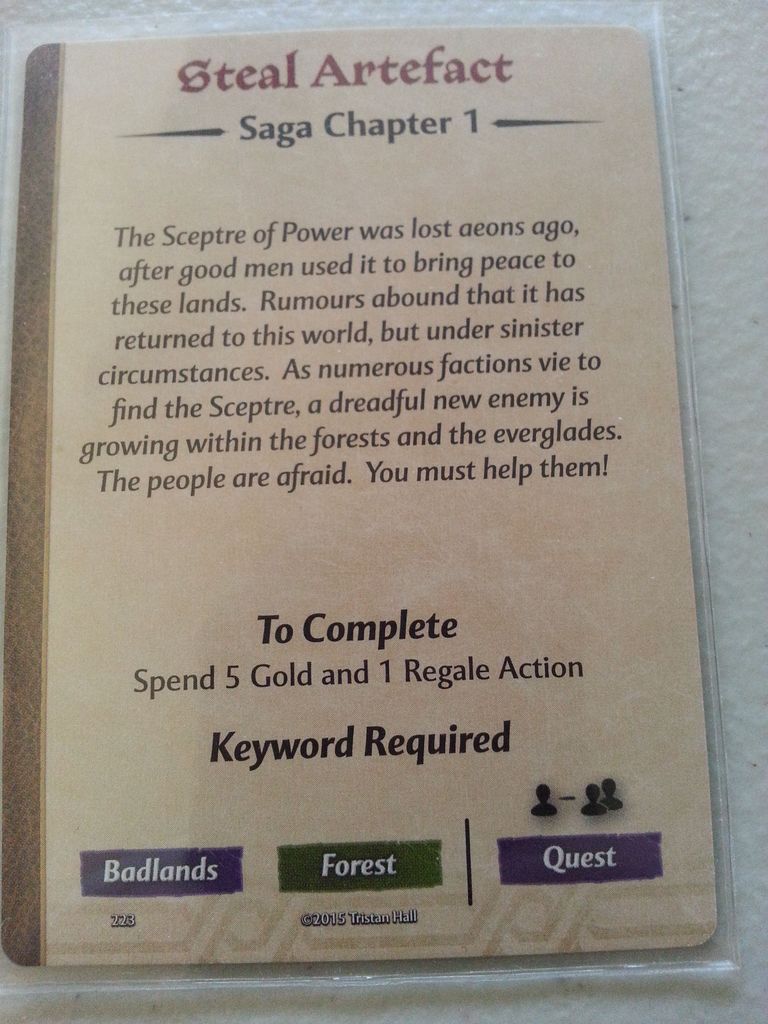 In order to level up you need to acquire cards of certain types, whether they be Quests, Titles, Places, Spells, Strangers, Villains, etc., they are all represented by cards. You can only acquire these cards by traveling around and having encounters in various locations, hoping that the card you draw will be the type you want. And then you have to go about getting the card in the same way you do anything in the game that involves acquiring cards, rolling dice.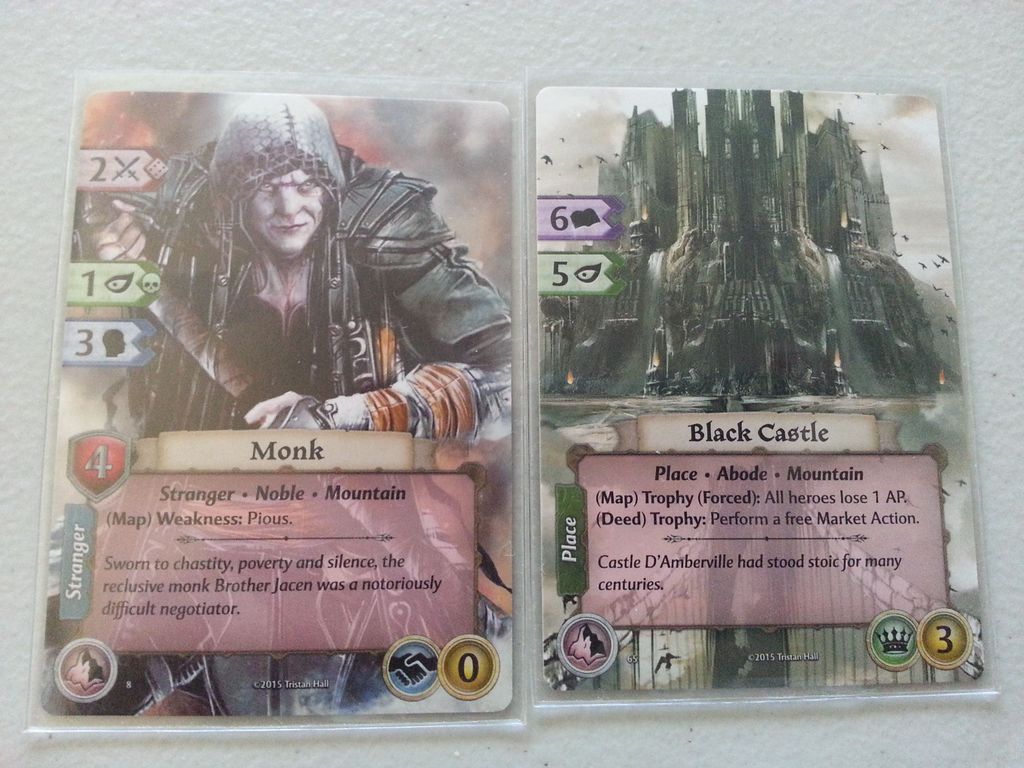 You see, when you move to a location where one of these cards is at, or if you move to a location with no encounter and one shows up when you move there, they each have a stat to roll against on the left side of the card. Depending on the card type, you can go for a Fight, Study, Sneak, or Influence test. For each test, you roll a number of dice equal to how much of those values you have (ex: if you have 3 Study, you get to roll 3 dice for Study tests), and get a success on a 5-6. Aside from Fight tests which pretty much mean you've entered in combat against a stranger or enemy, the other tests you can try multiple times over the course of a single in-game day until you get enough successes to get the card, or fail to get enough by the end of the day in which case all your successes go away and you have to try again the next day, starting from square one (or rectangle one in this case, you know, card shapes).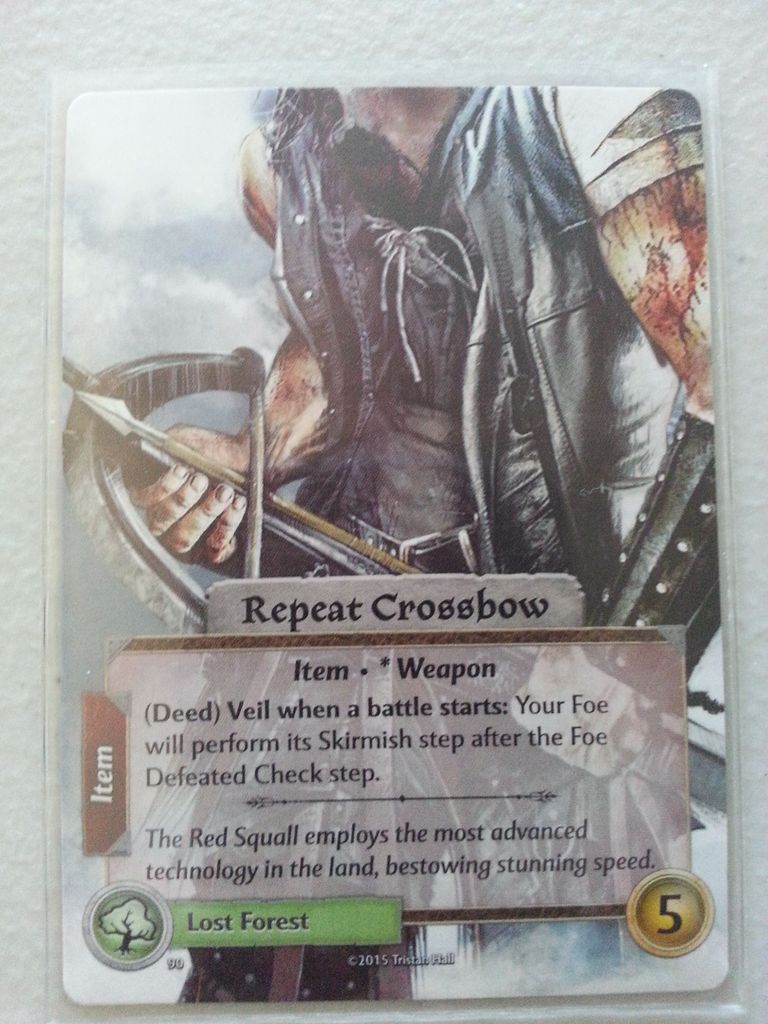 And once you get one of these cards, you can do two things with it (aside from getting either gold or loot): either keep the card in your hand as a Rumor for completing Sagas, or exchange the card for an Item, Title, Spell, or Ally (this depends on the card type you exchange; for example only Places can be exchanged for Titles). It depends on what you need the card for. But of course, it's not that easy. Once you get a hold of a Item/Title/Spell/Ally via rumor-trade, you still have to visit the location depicted on the card in order to get the ITSA. Because it's just a rumor you heard at the place you visited, from the individual/monster you killed, from the side Quest you went on, etc (thematically-speaking). On the one hand, Items, Titles, Spells, and Allies can give you ability/power boosts to make your life easier. But on the other hand, you can't fight the final boss without completing your saga, which requires sacrificing these cards to progress on the saga and level up. Personally, from my experience, it's better to level up ASAP, for at least the first 2 levels, so you can get stuff done faster. After that, it depends on the situation.
So pretty soon it falls into the same pattern. Move to a location, hope you get the card of the right type, hope you have good enough stats to beat it, otherwise move along and try for something better. Once something shows up, keep rolling dice until you succeed. Once you succeed, rinse and repeat until you get enough cards to get what you want/need, level up, do it all over again until the big bad Ancient One from Arkham Horror, I mean Eldritch Horror, I mean Lovecraft Gloom of Killing Forth demons from hell show up that you need to off by cutting it's head off with a sword, or blowing it away with a spell (if you're a good enough Arcane aficionado). And how do you do that? You guessed it, the same way you do in Arkham Horror, rolling a bunch of dice and hoping you get enough successes over the course of a few rounds (or maybe you'll get lucky and only have to do it for 1 or 2 rounds) to take it out.
And you have to level up fast enough to chuck the maximum amount of dice per combat round before the game ends. And at the end of each day, things slowly get worse, with 1 of the 25 locations you can travel around falling into gloom, threatening to suck a little bit of life out of you if you spend the night there. And with each life you lose, you lose an action point. For each life you get back, you don't get that action point back until the start of the next day. So the game does plenty to slow down your progress to prevent you from leveling up fast enough so that the game doesn't become a cakewalk.
And that's pretty much how the game goes. There are different ways to play it, either solo/co-op with multiple heroes, or competitively against others to see who the first hero to take out the baddie is.
Thoughts
This was the one factor I had my doubts on when backing the game, the dice-chucking. But I was willing to give it a shot (and my money) because it looked like there may be enough theme and immersion to where I could overlook most of that. Plus I kind of had to admire how much time and effort Tristan "ninja dorg (because that's a cool way of saying dog)" Hall put into this thing. Truly worthy of attention on Kickstarter, unlike those other board game companies who would probably do just fine without it, but still use Kickstarter to fund their board game projects anyway.
In all honesty, there is a good amount of theme to it, enough variability to make each game experience different. But the tactical depth is lacking by my standards. A bit too much luck for my tastes. Getting a hold of some ITSAs can be fun, the feeling you get when your character levels up and can do more is great. And the card draws, while luck-dependent, seem balanced enough to where you'll eventually find what you want (though I've only done 1 playthrough so far). But the dice-chucking, man, especially for the boss battle. It's basically the same reason why I did away with Arkham Horror years ago. All that exploration, adventuring, analyzing the best routes to take and the best course of action to do each turn/round/day. All for it to lead to a nearly mindless dice battle. Sure there are different bosses to choose from, and they hit you in different way, but it all devolves into the same thing at the end of the day.
I guess you could say it's not about the destination, it's about the journey. But the thing is, if the destination wasn't all that great, why would you want to go see it again? Especially when there's other games in the same genre to fall back on?
Don't get me wrong, I do intend to play this a couple more times, and with other players, before I decide if I'm going to trade this off or not. Game could be more interesting with player interaction. In fact, that's what I'm counting on. The whole game boils down to being a race against time, and mitigating luck and planning well enough that you get to the finish line before it all ends. Throw in other players, then it becomes trying to get to the finish line before they do, which can encourage heavier thinking and more optimal planning. Co-op could be interesting (I would only do that solo, but that's just me), with the way the rules force players to work together, requiring everyone to participate in completing each other's sagas. But as it is now, too luck-based for long-term enjoyment.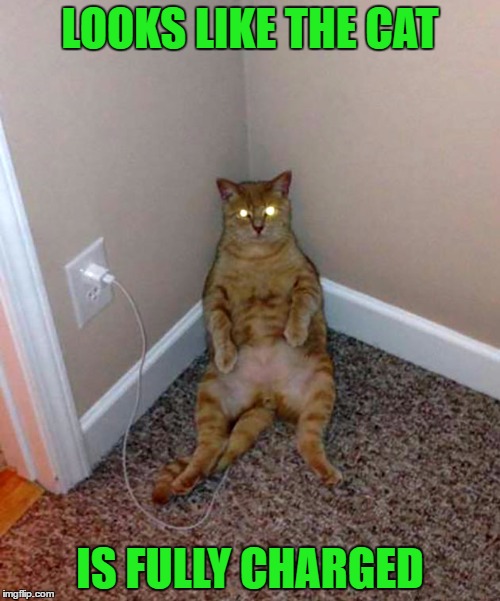 But keep in mind, I'm a very picky gamer. I prefer my games to be light on luck, or entirely absent of it. Or if there is luck, that there be extreme strategic decision making to go with it, or a heavy amount of immersion. The game doesn't have quite enough immersion or strategy to be a keeper. But it is worth trying out.
Comparisons

This isn't fair, but neither is life or the outcome of dice. How does it compare to Magic Realm and Mage Knight?
All 3 games are not dungeon crawlers. You travel along landscapes in each of them. It has a Mage Knight feel in that you get stronger the more you do, to where enemies that were difficult before get easier to beat. But Mage Knight has far less luck, and is absent of dice, and has the same working against the clock and optimizing your turns routine, but with deck-building. But in all fairness to Gloom of Kilforth, it handles taking damage and how much that slows you down, and how much time you have to take to recover from it better than Mage Knight. You feel each and every wound you take in Gloom of Kilforth, while in Mage Knight you can tend to shrug them off unless you take a lot of them. It makes you feel more, well, human, more vulnerable. And that's a good thing, because the last thing you want to feel in a game where the world is at stake is invincible. But on the other hand, Mage Knight is much more tactical with the combat system, giving you much more control and decision-making.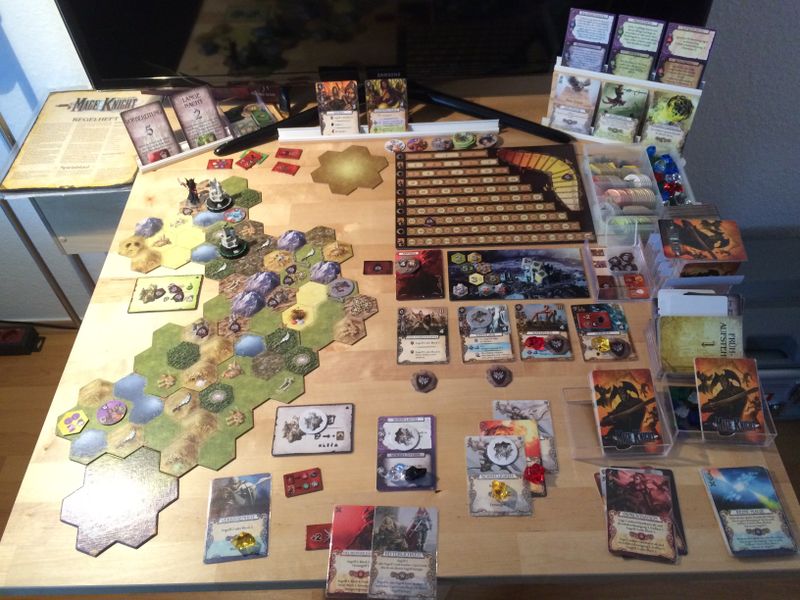 With Magic Realm, well Gloom of Kilforth is much easier to learn than that game, so that's a big pro. But despite it's complexity, Magic Realm stays very abstract with the theme. Sure there's monsters and treasures and stuff, but they are absent of flavor text. That game is absent of a set fictional world that has a backstory. It leaves it up to the imagination. It leaves much of what you do up to the imagination, which ultimately encourages the immersive feel, getting you to think about what is happening and what is going on, rather than trying to show you. Each character in Magic Realm is far more distinct than the characters in Gloom of Kilforth. Not just in their starting stats, but in their starting abilities. In Gloom, it's more about your starting stats, encouraging you to focus more on fights, influencing, sneaking, etc. Wherever you have the most numbers and can throw the most dice, that's optimally what you'll go for. It's obvious in it's approach. In Magic Realm it's much more subtle, demanding many playthroughs before you can even see what strategies to use for just 1 character.
Pros and cons, Gloom of Kilforth is more accessible than either of those 2 games, but in being more accessible it has less depth. Depending on your group, you may not want depth, you may not want to play something that will take 4+ hours. You may want something like Gloom of Kilforth, which provides the fantasy experience at that level. And that's the niche the game fits in, a medium level game, as opposed to heavy like Mage Knight, and as opposed to driving university professors mad with Magic Realm.
If there's one thing I appreciate about this game, it's that it's not a dungeon crawler. I'm not a big fan of that genre, at least when it comes to the fantasy genre.
Last Words
So, there's my thoughts. Take them as you would with any review, with a grain of salt.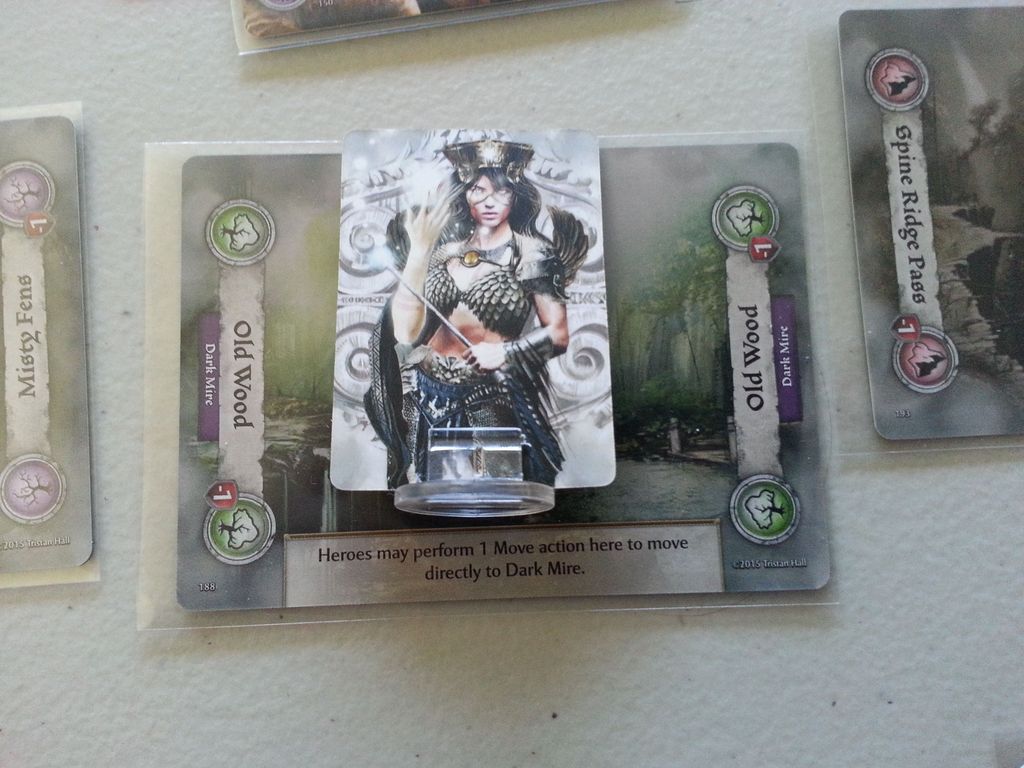 PS: Oh yeah, one other thing. It's extremely refreshing to see a game that uses cardboard standees rather than 3d plastic sculpts.
Update
So I played the game a few more times, once with another player in Competitive mode, too see if the game improves or worsens. Unfortunately, it's the latter, but there are some nice things I found within the game upon repeated plays.
First it should be mentioned that this game should've come with a guide showing the statistics of what is in each region type. It helps with the theme and allows players to formulate strategies.
Badlands: 4 places, 2 strangers, 5 enemies, 8 quests, 2 events.
Forests: 7 places, 6 strangers, 3 enemies, 2 quests, 2 events.
Mountains: 2 places, 2 strangers, 9 enemies, 6 quests, 2 events.
Plains: 6 places, 8 strangers, 1 enemies, 3 quests, 2 events.
So this basically means the Badlands is where one would go in hopes of finding Quests, Forests for finding Places, Mountains for finding Enemies, and Plains for finding Strangers. It's the most optimal, but the other region types also tend to have a decent number of other encounter types. As I pointed out earlier, "the card draws, while luck-dependent, seem balanced enough to where you'll eventually find what you want". It's not quite THAT luck dependent, as keith hunt pointed out (see comments below). The first 2 or 3 Saga chapters just require places, strangers, enemies, quests, titles, spells, items, and/or allies. However, once you get to Saga Chapter 4, it gets a little more tricky. For instance, some cards require a specific keyword like Arcane, Shadow, Villain, Assist, etc. Those cards are more difficult to track down. However, during the course of the game, from what I've played, there's usually enough instances of cards with those keywords showing up that it's never unfair. I could be wrong, it may be possible that you could enter into a scenario where every encounter/title/spell/ally/item doesn't have any of those keywords, but it's never happened with my playthroughs, so it's unlikely that will happen.
With competitive play against other players, the only real thing that changes is trying to get encounter cards before others do, though it may not matter that much if other players aren't interested in some cards that are out there while the others are interested. Plus the map is big enough for players to explore and find what they need. Once you get 3 or more players, those special "keyword" requirements are less of a factor in regards to completing Sagas, because of the number of players and because the competition for getting more cards can become fierce (but it never seemed that fierce to me; then again I've only done 2 players tops).
In all honesty, the game seems better as a solo game. It plays shorter, and the playtime increases a pretty good amount with each added player. For a single-player game, if the player knows what he/she is doing, the game tends to run at about the time the box says, 45 minutes, maybe an hour depending. Each player does pretty much add on another 50-60 minutes to the game. And a game like this shouldn't run more than 2 hours. Just my opinion.
In all the 3 times I've played the game, I've won 2 of them, including my first playthrough. It's all really dependent on the type of race and class you choose at the start of the game, but the main difference is how often you play as someone who wants to Fight enemies straight up vs. someone who has more emphasis in study/sneak/influence. Fighting is more dangerous, especially early on in the game. If you lose a battle, you lose your gold and a rumor/asset. This sets you back considerably, and can make things hopeless. This is why I recommend the Advanced Variant for Saga completion, where instead of just spending 5 gold per chapter completion, you spend 2 gold multiplied by the chapter number. It makes the game flow better, and fits thematically for the world becoming more challenging to accompany your increasing strength. I've beaten the game using the normal and advanced versions of saga completion. There are ways to increase the difficulty, as provided in the files section of BGG by Tristan himself. But as of now, I don't feel the need to.
I don't consider the overall game to be fun enough to be worth going into Challenge mode for (or Ancient/Bloodbath mode, as it's called). Mainly because despite the nice streamlined gameplay, despite the nice artwork, despite what immersion there is and thematic connections between the cards and race abilities and other things, the game is a glorified dice-chuck-fest. If that is your thing, by all means, go for it, it's one of the better dice-chuck-fests out there. But for others who want more decision-making when it comes to battles, there's other adventure board games out there that provide that. For everyone else who wants something accessible and dice-heavy, there's this game.