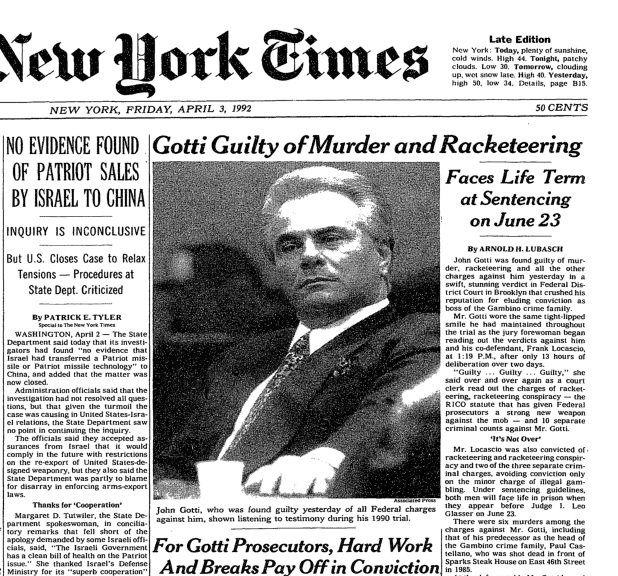 NHL players begin first strike in 75-year history; 10 day action earns large playoff bonus increase, more control over licensing of their likenesses and changes to free agency system. Rocker Billy Idol fined $2,000 for hitting a woman. Comedian Sam Kinison (38) weds Malika Souiri at the Candlelight Chapel in Las Vegas. World's 7 wealthiest nations agree on $24B aid for former USSR. Mafia boss John Gotti is found guilty of 5 murders (Paul Castellano, Thomas Bilotti, Robert DiBernardo, Liborio Milito and Louis Dibono), plus conspiracy to murder, loansharking, illegal gambling, obstruction of justice, bribery and tax evasion. Several hundred-thousand abortion rights demonstrators march in Washington, D.C.. US Fed court finds Panamanian dictator Manuel Noriega guilty of 8 out of 10 drug and racketeering charges. Irish Republican Army bombs London financial district, killing 3. Euro Disney (Disneyland Paris) opens in Marne-la-Vallee, France. Trump Shuttle becomes US Air Shuttle. Great Chicago Flood – Chicago's underground tunnels flood. Court throws out Apple's lawsuit against Microsoft. Jay Leno's final appearance as permanent guest host of Tonight. William Shatner, Leonard Nimoy and DeForest Kelley inducted into National Association of Broadcasters Hall of Fame. All-star concert in memory of Freddie Mercury held at Wembley Stadium, London. Madonna signs $60-million deal with Time Warner. 6.0 earthquake in California. Gas explodes in sewer, kills 200 in Guadalajara, Mexico. Plane crash at Perris Valley Airport California, kills 16 parachutists. McDonald's opens its 1st fast-food restaurant in China. The Federal Republic of Yugoslavia, comprising Serbia and Montenegro, is proclaimed. Los Angeles Riots of 1992, major outbreak of violence, looting, and arson in Los Angeles that began on April 29, 1992, in response to the acquittal of four white Los Angeles policemen on all but one charge (on which the jury was deadlocked) connected with the severe beating of Rodney King in March 1991. Isaac Asimov, Russian scientist and sci-fi writer (I Robot, Foundation Trilogy), dies from kidney failure at 72. Sam Kinison, loud mouth comedian, dies in a car crash at 38. TBS' Saturday afternoon/early evening World Championship Wrestling program is renamed WCW Saturday Night.
---
---
---
Music
Honorable mentions: Das EFX: Dead Serious, while I don't consider myself a connoisseur of rap (not by a longshot), for something that was considered a hit, this stuff seems pretty damn shallow lyrics-wise. Arc Angels: Arc Angels, not bad for country-sounding Texas Blues Rock. Pavement: Slanted and Enchanted. Kym Sims: Too Blind to See It. Kid Frost: East Side Story. Obituary: The End Complete, death metal. Sophie B. Hawkins: Tongues and Tails. The Samples: No Room, they're ok.
Annie Lennox: Diva (6)
Not my tempo, but too popular to ignore.
---
Electric Love Hogs: Electric Love Hogs (7?)
For a band that only released one album and broke up the year afterwards, this is some damn good stuff. Tragic they didn't get more popular or stick together longer for more output. I'm naming this album of the month.
---
Godflesh: Pure (13)
Industrial metal.
---
L7: Bricks are Heavy (14)
This album is worth mentioning just for (what I consider to be) the classic track Pretend We're Dead.
---
Peter Murphy: Holy Smoke (14)
Interesting.
---
Recoil: Bloodline (14)
Also interesting; electronic stuff. Found that The Defector stood out among the other tracks.
---
"Weird Al" Yankovic: Off the Deep End (14)
It was only a matter of time before I ran into one of his albums. The satirical musician who plays the same songs from other famous bands, but changes the lyrics poking fun at either them or something else, turning them into comedy songs. Not so sure any of my favorites of his are on here, but he's always a fun listen. This album is notorious for utilizing Nirvana, because he doesn't understand the words.
---
The Dead Milkmen: Soul Rotation (14)
I liked How It's Gonna Be.
---
Beastie Boys: Check Your Head (21)
I was never a fan of these guys, but I can't deny their popularity, even if nothing on here is as famous as their 80s work, so…
---
The Soup Dragons: Hotwired (21)
It's ok. Divine Thing isn't half bad.
---
Slaughter: The Wild Life (21)
A band that came onto my radar from 1990. Their previous (and first) album Stick it to Ya was good, but had twice as many tracks as it needed (their tracks got monotonous after a while). Hoped for improvement in that area this time around. Unfortunately, this not only wasn't the case, but there were less stand-out tracks. Still, it's a fun enough listen.
---
The Cure: Wish (21)
High may be their hit single, but Apart is where it's at for me. Wendy Time is also groovy. Whole album is solid.
---
XTC: Nonsuch (27)
This band is famous, and this album is much acclaimed, but it's not my tempo. But for everyone else…
---
Nick Cave and the Bad Seeds: Henry's Dream (27)
---
Hardline: Double Eclipse (28)
Nothing struck me as outstanding, but it's a consistently solid album for hard rock and glam metal lovers.
---
Front Line Assembly: Tactical Neural Implant (28)
Electro-Industrial that's a favorite in dance clubs from what I understand (those that play this industrial rock type stuff).
---
Robert Cray: I Was Warned (?)
This is some blues I can get into.
---
---
---
Movies
Honorable mentions: Thunderheart, this was ok at first, but it quickly deteriorated into pretentious schlock after the first quarter. Sleepwalkers, the only thing I like about this Stephen King film is the poster for it. Brain Donors, not my kind of comedy. White Sands, decent B action thriller. The Babe, the film is ok, but John Goodman didn't get Babe Ruth right when it came to the actual baseball plays; and the film isn't really historically accurate. City of Joy, also just a B movie. Year of the Comet, this film actually isn't half-bad for an action/romance, but it really needed better dialogue and better chemistry between the two leads.
Pretty good selection of films this month.
Delicatessen (3, foreign)
This may be a foreign film, but it's a very fun quirky one. On the dystopian side, about a repairman who lives in this apartment complex, gets romantic with a woman there, and finds himself having to survive against the antagonist who runs things there, who kills his victims and eats them; something all the inhabitants partake.
---
Rock-a-Doodle (3)
This film gets a lot of shit these days, and I can understand why. And nostalgia is probably getting the better of me. But I like this movie.
---
Beethoven (3)
One of those kids movies that was quite popular at the time (at least to my recollection), and something I consider a classic. About this family and a dog they acquire. Today, it's just meh, having a combination of good moments, bleh moments, surprisingly dark moments (antagonists experimenting on dogs), with enough there to keep it entertaining. That said, the wife sucks, and the family is very unreasonable towards the father. Loses kudos points for that.
---
FernGully: The Last Rainforest (10)
I loved this film as a kid. Probably because I had a think for the rainforest setting and fairies (these fairies anyway). Sure it's preachy with the whole "save the forest" and anti-pollution message. But I still like this movie. Animation is great.
---
Newsies (10)
It's Disney, so of course it's not historically accurate. But those songs are killer, making this one of the very few musicals I actually enjoy.
---
The Resurrected (15, VHS)
This film surprised the hell out of me. A pretty good Lovecraft film. Be patient with it, and it will reward you. If nothing else, the special effects during the second half are admirable given the budget. It's the other Lovecraft film about bringing the dead back to life that isn't Reanimator.
---
Deep Cover (15)
To my surprise, this is the film of the month. Lawrence Fishburne playing an undercover cop trying to bring down drug trade leaders, only to find the whole system being screwed up and corrupt, using him in ways that aren't making him as helpful as he would've liked. And Jeff Goldblum playing a very interesting character who goes on a downward spiral of madness and addiction to power and killing. Some of the best roles both actors have ever played. The story may seem by the numbers, but the way it's told is great, as is some of the dialogue. Especially from Goldblum, delivering some of the best and relevant dialogue in such a passive manner. Such as:
I think you know that there's no such thing as an American anymore. No Hispanics, no Japanese, no blacks, no whites, no nothing. It's just rich people and poor people. The three of us are all rich, so we're on the same side.
---
Boris and Natasha (17; TV Movie)
The humor is hit and miss, and the middle act isn't anything special. But when the humor hit, it hit very well for me. Decent live-action spin-off of Rocky and Bullwinkle, making the villains as the main characters. It does a few typical Hollywood tricks with them and their relationship, but I had a fun time with this. Just wish they had a different actor portraying Boris.
---
A Midnight Clear (24)
That movie Shining Through can suck it. Here's a better WWII film than most others out there (aside from the famous ones). More on the drama side, but it actually shows German soldiers who are actually decent people who just want to survive the war, and the American unit seeing what they can do about it.
---
Highway 61 (24)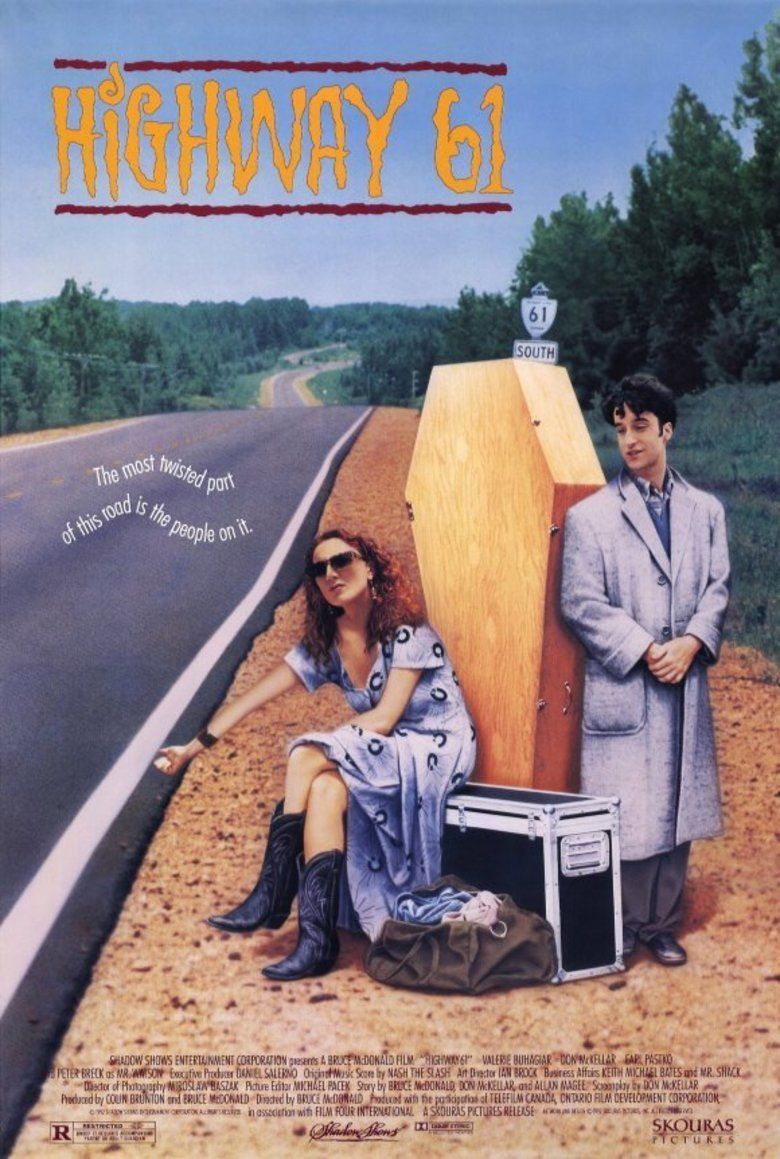 Another interesting road trip movie. I didn't think it was as good as Roadside Prophets from last month, and thought this one character deserved more punishment for their actions, but it's still a worthwhile watch.
---
Europa (27, limited)
Again, not very often a film comes out showing how the Germans suffered post-WWII. This film is primarily known for its very unique style and film tricks used to achieve certain effects. Somewhat inspired Spielberg's style for Schindler's List. Earlier Lars Von Trier effort. This film isn't for everyone, but I do believe it's worth a watch just for the assassination sequence on the train during the first third of the movie. Half the film is in German, other half is in English.
---
---
---
Games
Honorable mentions: Hatris (NES). Wizardry: Knight of Diamonds – The Second Scenario (NES). Fighting Simulator: 2-in-1 Flying Warriors (Game Boy). The Duel: Test Drive II (Sega Genesis). Syd of Valis (Sega Genesis). Traysia (April; Sega Genesis). Davis Cup Tennis (Turbografx).
This month, the Nintendo would kick Sega's ass.
Mutation Nation (April 17; Neo-Geo)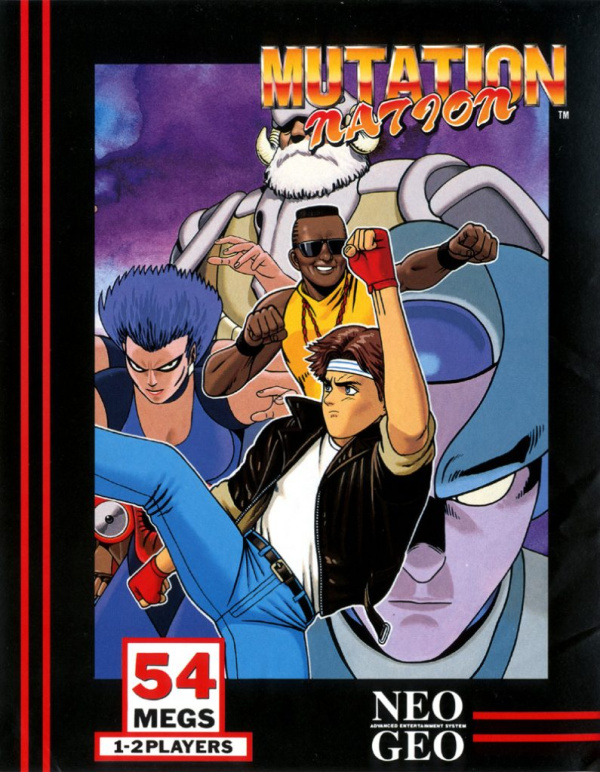 ---
The Mutant Virus: Crisis in a Computer World (April 1; NES)
Worth mentioning just for how unique it is.
---
Nail 'n' Scale (April; Game Boy)
Obligatory Game Boy Puzzler.
---
Super Hunchback (April; Game Boy)
Decent platformer, but nothing all that special.
---

Devilish: The Next Possession (1992; Sega Genesis)
This game is quite fun, basically being a Genesis remake of the Game Gear game. Taking the Breakout concept and doing something more original and fun with it.
---
Double Dragon (April; Sega Genesis)
Well, it's considered better than the NES version, though the NES version swayed so far from the arcade version to be its own thing, they can't really be compared that heavily.
---
Sol-Deace (April; Sega Genesis)
Obligatory Genesis shmup.
---
Crystal Warriors (April 1992; Game Gear)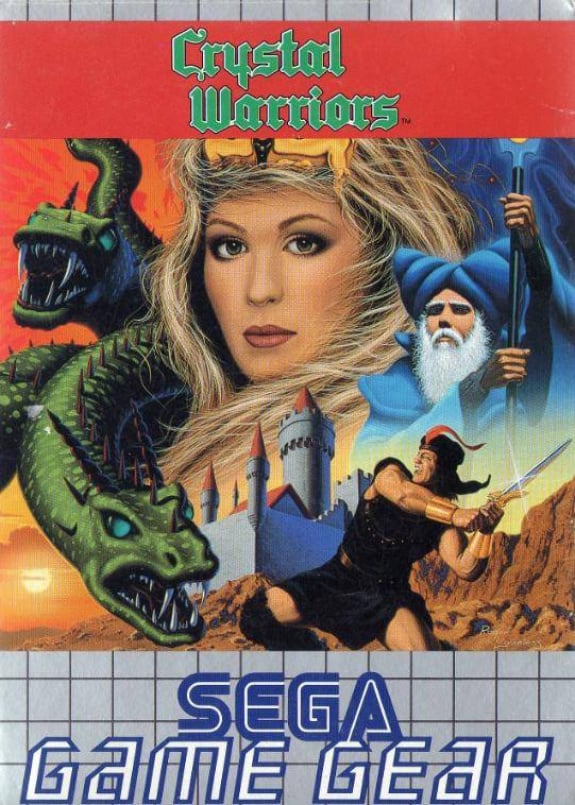 Decent RPG on the Game Gear.
---
Xardion (April; SNES)
Decent platformer-shooter-RPG. Has a bad rep mainly because you gotta do some grinding.
---
Rival Turf!, aka Peace Keepers (April 23; SNES)
Beat-em-up, that doesn't quite measure up to those like Final Fight or Streets of Rage. I'm mainly listing this just because of that cover.
---
Super Adventure Island (April 1; SNES)
The famous Nintendo franchise makes its way to the SNES, and is as good as ever.
---
Contra III: The Alien Wars (April 6; SNES)
The legendary shooter franchise gets its best entry yet on the SNES. Hard as yell, yet an all-time classic. If not for this other SNES game that released this month, this would be game of the month.
---

The Legend of Zelda: A Link to the Past (13; SNES)
You can't beat this for game of the month. One of the greatest Zelda games of all time, if not the greatest. Hell, I'd go so far as to say this is the first truly great Zelda game, while the previous NES ones haven't aged all that great by comparison. Timeless?
---
Top Gear (April 16; SNES)

Man, the SNES is killing it this month. It's not enough that they release 2 games that are nothing short of legendary for the console, but they also release one of the best racing games on the console. That music is killer.
---
Ultima VII: The Black Gate (April 16; PC)
Thus began the final trilogy in the main Ultima series (excluding spinoffs like Ultima Underworld), which would end on a very poor note. Until then, this game set the stakes high and raised everyone's expectations for things to come.
---
---
---
Shows
Honorable mentions: The Fifth Corner (NBC), a show that seems heavily inspired by The Bourne Identity before that was a film franchise.
Mann & Machine (5; NBC)
It's every bit as cheesy as it is liberal. It's a combination that will likely get some laughs out of you. Near future L.A. where a cop gets a female android partner. That title sequence is so shameless with how it teases female body nudity.
---
Barney & Friends (6; PBS)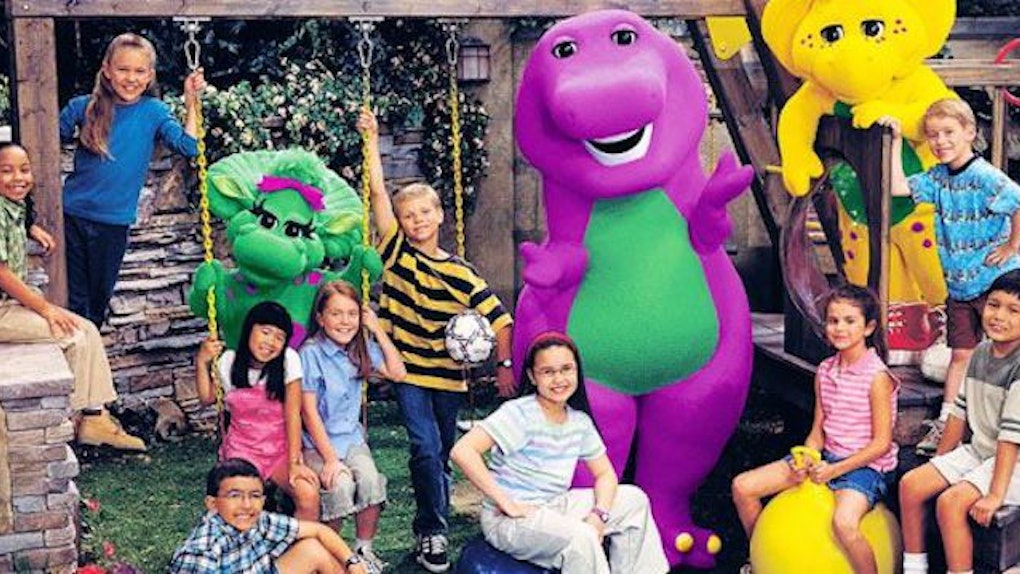 Oh, fuck me. This famous kids television show that dominated the 90s about as much as Pee-Wee did the late 80s (though he had his fair share of screentime during this decade up to 1991). Yes, I grew up on this a bit. But it didn't take very many years before me and all my friends made fun of this shit, where the jokes made to the show were more entertaining than the show itself. Always wanted Godzilla to make this dinosaur extinct. The theme song is just a rip-off of the tune Yankee-Doodle.
---
Nick News with Linda Ellerbee (18; Nickelodeon)
Interesting to have a news program for kids.
---
Edit (3-24-2021): Added Nick Cave and the Bad Seeds: Henry's Dream to Music.
Edit (4-13-2021): Added Boris and Natasha to Movies.