When one thinks of divine right, they may think of the excuse kings and monarchs made for their authority and power. That they have been chosen by God to have these rights as a monarch to rule as they wish. Anyone who questions them questions the will of God. Anyone who defies them defies God and is guilty of both treason and sacrilege. Therefore an enemy of the king is declared an enemy of God, and it is likewise declared not just the duty of the citizen to treat him as an enemy for the sake of the country/government, but also for the sake of all that is good and holy.
In hindsight, this turned out to be a crock of shit. The monarchs used this excuse to justify their actions and to utilize this religious belief to ostracize and kill groups and individuals they wanted annihilated for reasons concerning legitimate threats to the nation, or for personal vendettas, or any combination of the two. Just as a political group (or the shadow organization behind one or more political groups) would utilize both the law and moral panics to justify removing the rights/privileges of those who just disagree with the positions and beliefs deigned to be enforced upon them. Just as web providers, site hosts, and site administrators and moderators (shadow) ban accounts expressing positions and arguments they disagree with personally/politically/ethically/religiously. Anyone who thinks I go too far with the comparisons as far as websites are concerned obviously have been living under a rock, blind to the numerous exiles of so-called conservatives and right-wingers from platforms such as Twitter, Facebook, YouTube, Instagram, and others.
While I could cover YouTube by itself and mention all the art and artists de-platformed from that site, I'd rather go into a more niche case. After all, how can something be more related to this topic, more on-the-nose, then the board game that's literally titled Divine Right? Not films or television shows (plenty of others are covering how those are getting censored for the good of all mankind), but a board game. And this goes beyond what I've bitched about in the past. In previous posts, I argued about the stupidity of altering artwork because of how others would be offended by it. This is something more sinister with greater ramifications.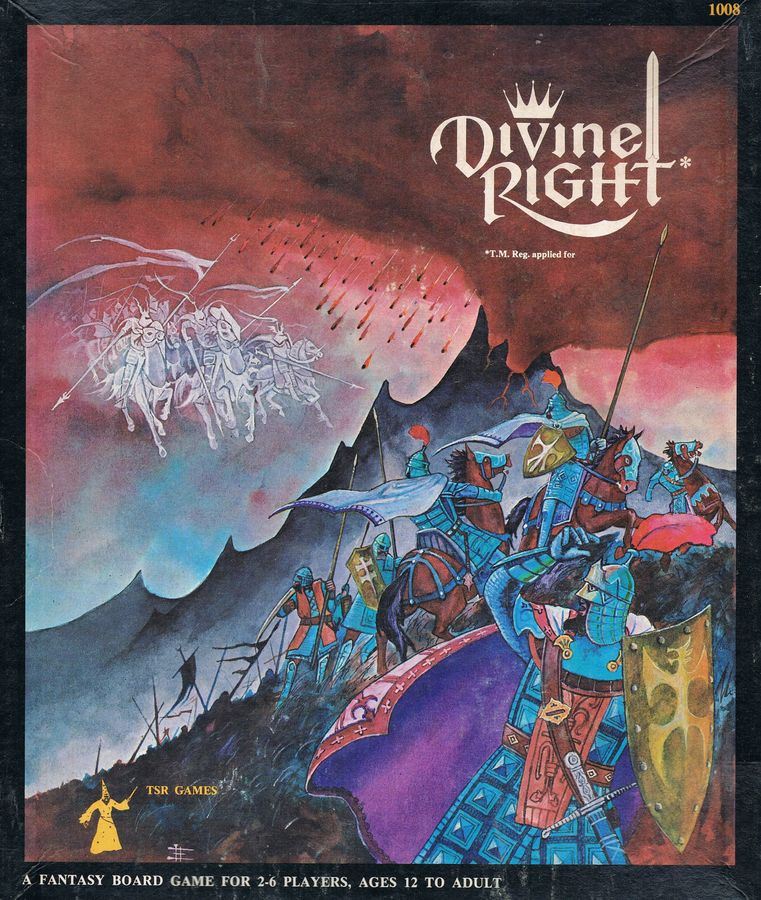 I have been worried about how modern board games in general will have their looks so sanitized that we will never get artwork similar to those from the 70s, 80s, 90s, and early 2000s ever again. I have been worried about how certain game themes would be unofficially banned. Now I have to worry about how stuff completely unrelated to the game's art, theme, and mechanics themselves threatens to jeopardize all of the above; including the gameplay mechanics! Somehow I knew it would come to this. Why did it have to come to this? Because the mainstream media and political opinions hold that much sway over people to where they're willing to make it the hill they die on? "Either you side with a publisher whose political opinions agree with mine, or I will deprive you of all that I can of the talent needed to make the game a masterpiece."
Allow me to explain.
Divine Right is one of those "greatest fantasy board games of all time pre-2000" alongside Magic Realm and Titan. Or so its reputation states. I took glances of it years past (like over a decade ago, and off and on over the years up until now). I never bothered to take into the consideration of purchasing it all that seriously. Partly because it utilized dice (not the biggest dice-rolling fan, with the exception of those two previously mentioned games, and Chaos in the Old World), but primarily because there was a clusterfuck regarding various editions of the game and the rules. And it was too expensive to try snagging a copy, for a game I wasn't sure would be worth it.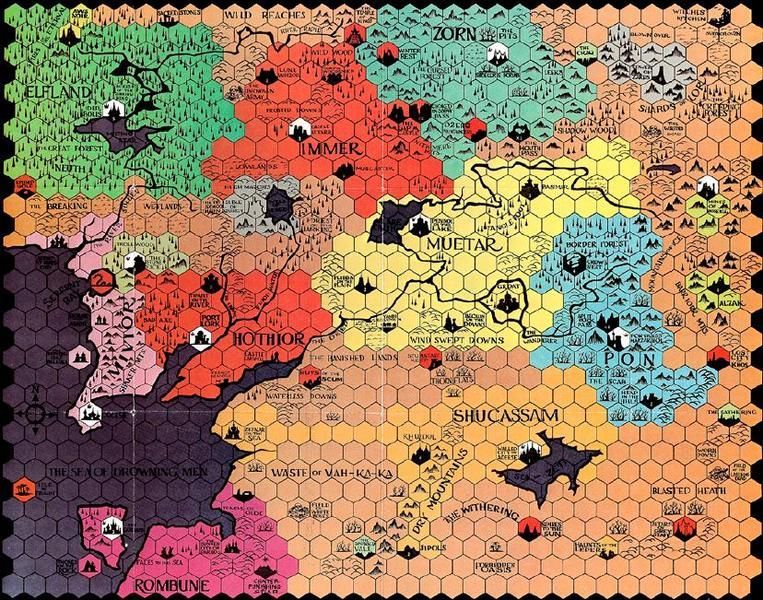 There's the first edition of the game, the first physical release. No controversy over the rules per-se, but there weren't many who thought the game was perfection. Like Magic Realm, it needed some house rules to make it work well, to bring out the best in it. Then came the second edition, which had more components, and more rules to go along with them. But the rulebook ended up being worse, because it didn't address how to utilize all components in a satisfactory manner (plus some potential/subtle contradictions and whatnot). Then came the 25th anniversary edition (3rd major release; sort of 3rd edition), which is pretty much like the 2nd edition except all the problems that edition had were considerably amplified in the anniversary edition, along with having a shitty map.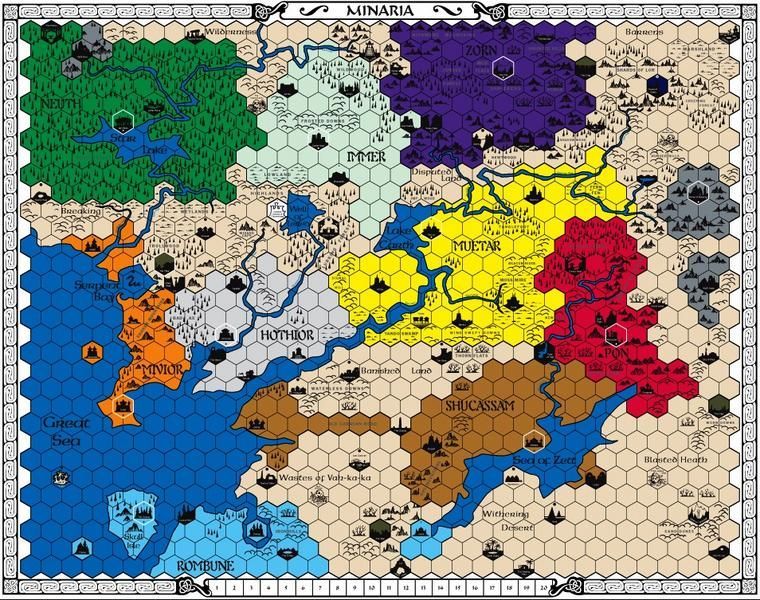 So, yeah, my interest in the game at that time basically amounted to, "If I see a group of people getting ready to play the game who want another player, I'm willing to hop in and see what the experience is like." Pretty much my attitude towards Avalon Hill's Advanced Civilization, and Eagle Gryphon Games' Clockwork Wars. Both instances turned out rather well. To this day, the Civilization board game (which also had 3 different versions, regular, Advanced, and Mega; seems like trios are a thing when it comes to board game remakes) is something I'm willing to play off and on, but it's not something I'll ever own or want to play on a regular basis. It's good, but not THAT fun by my personal standards. Clockwork Wars though, I enjoyed the experience enough to purchase my own copy. That's a game I enjoy playing. So either outcome could happen with Divine Right, or I may think it's one of the most overrated games out there. But when I play a game, I want to play the best version of it, just as when I watch a film I want to see the best version of it possible (ex: Blade Runner theatrical cut vs. director's/final cut). Otherwise, how am I supposed to know if it's as good as some say? For all I know, I could be playing the shittiest version of it possible, resulting in a miserable experience playing with others who don't know it in-depth enough to have their own house rules for it to make it what they believe to be good experience.
Hell, I've played Twilight Imperium 3rd edition (all 9.5 fucking hours of it) a few times, with each time being different. A standard version, a version with the expansions, and a version with expansions and house rules and fan additions. And that game, in spite of its reputation, even after playing the various renditions of it, isn't one I consider to be all time great in terms of personal fun factor (I can understand why others love it so, it's just not for me personally). At best, it's on-par with Avalon Hill's Civilization. At worst, it's, well, worse.
And then there's Magic Realm. A game I enjoyed enough to slog on in spite of its complexity and need for house rules. And in the end, I ended up making my own fan expansion of it, and partook in the fan expansions of others, to get the most I could out of that game. The point is, sometimes a game is released that has potential to be greater than it already is. This could be due to some behind the scenes chaos and concessions, or it could just be that the designer didn't think things through enough. Either way, these things happen, and it's ultimately up to the people who play the games to become fans and praise and/or improve the game themselves. Because it's the fans who carry on the legacy, who talk others into joining the cult. It's the fans who declare if a new edition is better or worse than the previous incarnation(s).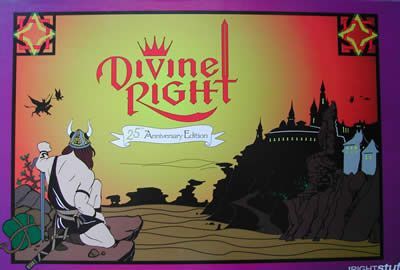 Then there's the off-chance that a game long out of print can get reprinted into a new version that ends up being the best, most definitive version of the game possible. It's happened with A New Story of Civilization (no relation to the Avalon Hill game), and it happened with Endeavor: Age of Sail. Granted, you gotta watch out for new versions that make the experience worse (any edition of Space Hulk after the 1st, Die Macher, Lost Patrol, and Acquire). The point being Divine Right has the potential to be improved upon. In fact, fans of it want a more definitive version that takes into account house rules that have been put out there over the years, including by one of the developers himself (J. McCracken).
On that note, news of a potential new edition of Divine Right was announced earlier this year. Around May 2020 or so. But the news came from one of the original designers (McCracken), who stated he and other designers would be withdrawing their support and rules/mechanics/artistic contributions from the game. The post he made can be viewed here, but long story short, after years of working on this as a labor of love, they closed themselves off from the lead designer Glenn Rahman. Why did they do this after they had finally gotten hold of a publisher who agreed to publish this game they were working on perfecting for so long?
Vox Day. A far-right organization/website/publisher. Links to their site on the page regarding Divine Right can be found here, which leads to some devgame blog site here, which leads to the actual Divine Right website (poorly organized by the way) here.
McCracken (and allegedly the other designers) felt strongly enough about this choice of a publisher to be reason enough to cease and desist all work on Divine Right, and leave what's left in the hands of Rahman and whoever else.
Myself, I don't give a shit. It could be that I can't contemplate what working in such an environment would be like. I don't know if it would be like working for Google or Facebook where you're constantly force-fed the political beliefs of those who run the company and are more-or-less forced to publicly agree with them. I don't know if you are just left to your own devices where no one mentions or even insists upon such views, or if they should be incorporated into the game somehow (I should certainly hope note; board games, especially ones in a fantasy setting, should be their own thing independent of modern political input). I don't know if this whole fear of what it would be like for the developers and the final product is based entirely on preconceived notions brought upon by induced paranoia on the part of the consistent bombardment of left and far-left wing outlets which are far more dominant than any right wing outlets. I don't even know if these unseen developer tweaks/rules/mechanics would even result in the formation of a solid game with solid foundations making it the best version there ever will be.
What I do know is this. I think this whole situation is bullshit. Why were these designers, who had been working on the game for the last several years purely as a labor of love, not being paid a penny for doing so, even doing it in the first place? For their own ego? For themselves? For their political beliefs? What the fuck does political beliefs have to do with a fantasy board game like this which contained none of them back then and (hopefully) not even today? Whatever happened to making art for art's sake? What's the point of putting all this effort into creating a work of art if such pettiness is going to compromise it being shared with others, with other gamers who would love to play this game? If disagreeing with the politics of a publisher is the sole reason for withdrawing any and all contributions towards creating the best damn version of Divine Right possible, the best damn rendition of this gaming work of art, then that is a dirty shame. This is worse than a band breaking up due to internal strife. At least music bands continued to put out good stuff back in the day in spite of dealing with shitty record companies. Would working with Vox Day really be the equivalent (if not worse) than that?
They're literally risking a game getting ruined because of politics. And not because the game itself is injected with far left/right wing politics, but because of a publisher whose politics the developers disagree with who probably won't infect the game at all with their own politics. Whether they admit it or not, this is intentional sabotage of a cult favorite. They switched from high hopes of releasing to the public something they believe is masterfully and carefully crafted, to hoping what is released ends up being a piece of shit because of a personal grudge. It's like they're hoping for it to suck, so they can say:
"Well of course this is an inferior version of the game. It was released by Vox Day."
It's an inferior version of the game because you allowed it to become an inferior version. This isn't the fault of Vox Day and their politics, it's your fault! It's not because Vox Day decided to fuck with the final product against your wishes, it's because you fucked with it by withdrawing support! If Vox Day does fuck with it, it's because you allowed them to fuck with it at this point, because now they're going to need other designers to salvage what they can from what you were contributing and try to make it as good as you dreamed it would be. But no matter the end result, it will become a nightmare for you out of misguided self-fulfilling prophecy.
As gamers, we tend to want the games that we believe are best for us. And by "best," that means a game that you have a lot of fun playing. A game that you may end up rating an 8 or higher (possibly even a 10 assuming your not one of those who hands those ratings out like candy on Halloween before 2020). We just want a fun game to play. There may be mechanics that put us off, or even themes and/or artwork that puts us off, but at the end of the day the game comes out for us to be accessible and purchase-able. It may not be to everyone's tastes, but what's important is that it is to your tastes. And I can't imagine an artist finding more pleasure than realizing other gamers enjoy his creation.
At the end of the day, in spite of my political beliefs, I just want a good fun game. I don't care that much how it gets made so long as it gets made and is the best it can be. Anything that hinders that from happening is something I will view upon critically. I never thought it would be over something like this. Harping on someone or some organization intentionally making changes for the worse because they want the final product to turn out different during development is one thing. But this? Withdrawing support prior to official development and attempts at publishing? That's something new. Christ people suck today.
What ever happened to art for art's sake, and everything else be damned? I say that artists, by divine right, should be allowed to create and publish the best damn piece of art they are capable of creating for others to appreciate. It is by divine right that artists should create art for others (ie the general public and intended audience) to admire. For what good is art if no one is around to appreciate it, let alone it being around for people to appreciate? What good is the game if gamers cannot play it?
What I (and everyone else) is left with, short of acquiring an old 1st/2nd edition copy and modifying it to our heart's content, is the hope that this self-attempt at sabotage fails, and this DRX (Divine Right X) version of the game that might come out (things may go to hell before that ever happens, who know what the future really holds) does end up being the best damn version of the game to ever have existed in spite of the efforts of the (currently) previous design team. I can only hope the new design team does just as good, if not better, of a job at making this game awesome as the old team. Because at the end of the day, I'm just a gamer who wants to play a good game. I'll pirate the fucking thing if I have to if I feel that strongly about supporting the publisher, so long as the art just exists to be played/bought/pirated. Just as I do with anything else that doesn't get a modern printing due to modern political/religious bullshit censorship. Whatever it takes to preserve, improve, and pass on the art and its history to others.
Because any art good enough to develop a strong enough following of admirers (in this case players), even if its just a small rabid cult, deserves to have such a legacy. If the designers, publishers, other once reliable leaders (of a sort) turn their backs on it and wish to do everything in their power to hinder its development (let alone release), fans will carry it on if it had a previous release. If the art is that good, it will have earned that form of legacy. For in the end, it is not the creators or moderators who have a divine right to decide if a game should live or die once it has already been born. It is the gamers, the admirers of art, who hold that divine right. Monarchs live and die, but those who have witnessed the wonder will find ways to make it live on generation through generation.
In this day and age, we are discovering new ways of preservation. But it's also a double-edged sword, as so-called monarchs also find new ways of burning books, so to speak. May there always be a way of holding the game in your hands, the hands of your friends and family, and in the hands of your children.
---
---
---
PS: Right, the other thing that irritates me is that BoardGameGeek moderators decided to remove my post where I mentioned this game on the game page. It was nowhere near as expansive as this. It just mentioned the various editions of the game, the current publisher, and how I believe in separating the art from the artist and enjoying the art for all it's worth (if it can be enjoyed). And I also linked to the Vox Day website and those other 2 previously mentioned sites just so others can have the full story. Well, I can only assume BGG moderators don't take kindly to linking to Vox Day, so the scrapped my entire post. Well, censor me, and I just kick things up a notch. I don't take kindly to censorship, including self-censorship from designers or publishers.
Edit: Well now, guess the BGG admins decided to lock that thread I linked to where McCracken expressed his dismay over Vox Day, and stated his withdrawal in support of any version of the game to be published by them. This was done immediately after deleting my post (I didn't get political, or even link to Vox Day, it was another message about how it's shameful that the art can't be separate from the artist or publisher and appreciated on its own. God damn, these people really don't like dissenting opinions.
2nd Edit: And now they've locked my account, which equates to banning me without removing all that I have posted. Petty bunch of fuckers aren't they? For a board game site that's primarily designed for people to talk about games, hype up games, and become acquainted with others who have similar tastes in games, they sure are trying their damnedest to ensure no one even considers it an option to purchase games from certain publishers deemed offensive and dangerous (who at worst is no more dangerous than some of the SJW people they have on their site and the bullshit they preach), not even for games considered old retro classics getting potential reprints. Makes me wonder how many other games and publishers are censored by them in this way? That's why I took some precautions and backed up a few things (one of which I recently posted). Well, no need to log the games I've played anymore for the H-index and such. Time to live more in the moment.