After being fired from World Championship Wrestling following a contract dispute, Ric Flair makes his World Wrestling Federation debut on Prime Time Wrestling with the "Big Gold Belt". The 20th Anniversary week of The Price Is Right is celebrated. US and USSR (hah!) officially recognizes independence of Estonia, Latvia & Lithuania. Nelson Mandela chosen as president of African National Congress. Mike Tyson indicted for rape of Desiree Washington. Senate Committee begins hearings on Clarence Thomas' nomination. Kim Zmeskal is 1st American to win a medal at World Gymnastics Championships, she wins the gold with 39.848 pts. Carolyn Suzanne Sapp (Hawaii), 24, crowned 65th Miss America 1992. US trial of former Panamanian leader Manuel Noriega begins. The first version of the Linux kernel (0.01) is released to the Internet. California University makes Dead Sea Scrolls public. US President George H. W. Bush decides to end full-time B-52 bombers alert.
---
---
---
Music
Honorable mentions: Naughty by Nature: Naughty by Nature. Dire Straits: On Every Street. Barry Manilow: Showstoppers. Mariah Carey: Emotions (just because). Hole: Pretty on the Inside; influential punk rock band. Uncle Tupelo: Still Feel Gone. Color Me Badd: C.M.B.. Ween: The Pod. Primal Scream: Screamadelica. Little Feat: Shake Me Up. Pixies: Trompe le Monde. Van Morrison: Hymns to the Silence. A Tribe Called Quest The Low End Theory. Status Quo: Rock 'Till You Drop. Thompson Twins: Queer. Nitzer Ebb: Ebbhead. Orbital: Orbital. Simply Red: Stars. Robbie Robertson: Storyville.
Good fucking God. This month in music is unbelievable. If last month was legendary with its films, this one is arguably even more legendary because of the music that got put out. Including, but not limited to, the debut of two bands that would cement the mainstream status of the grunge era that Pearl Jam (and a couple less popular ones) ushered in the previous month.
L7: Smell the Magic (1)
They have a fun single called Fast and Frightening, a decent grunge group. They would go on to do better things in my opinion, but I don't think they were ever as wild as they were with this album.
---
Level 42: Guaranteed (2?)
This album has 2 very solid (and somewhat famous) tracks on it. She Can't Help Herself, and Overtime. If we're being honest, Overtime is probably the more famous and well-known of the tracks, but She Can't Help Herself is the better of the two in my opinion.
---
Slowdive: Just for a Day (2)
Spanish Air is a pretty damn good song.
---
Garth Brooks: Ropin' the Wind (2)
Country music is not my kind of music. I'm only listing this because of its popularity.
---
Tin Machine: Tin Machine II (2)
U.S. version had the censored cover. The uncensored:
---
Overkill: Horrorscope (3)
Definitely my kind of thrash metal. And definitely contender for album of the month. But it couldn't hope to beat out the prince of darkness.
"Infectious", "Horrorscope", "Nice Day… For a Funeral", and "Soulitude" are solid tracks.
---
Rush: Roll the Bones (3)
All around solid album from this famous band.
---
Blues Traveler Travelers and Thieves (3)
---
The Smithereens: Blow Up (10)
I'm partial to "Indigo Blues", but "Too Much Passion" was their biggest single.
---
Jethro Tull: Catfish Rising (10)
---
Talk Talk: Laughing Stock (16)
Interesting and different (sort of an artsy rock). I like it.
---
Ozzy Osbourne: No More Tears (17)
Oh yeah. Ozzy was still a major force to be reckoned with, even past the 80s decade when he was in his prime. Album of the month. Several great classic songs on this one.
---
Guns N' Roses: Use Your Illusion I & II (17)
This was actually 2 different albums released on the same day (part I and part II), intended as a 2-parter album. Made for the band's Use Your Illusion tour. An impressive collection of tracks from this famous band, including November Rain, and Knockin' on Heaven's Door.
---
Gamma Ray: Sigh No More (21)
More consistently solid than their debut album, but less songs stand out (and none of them are as good as Heading for Tomorrow; then again, most songs from metal bands in general aren't that good). The one that does stand out is Dreamhealer.
---
Kyuss: Wretch (23)
Holy God. Where the hell did this album come from? Must've come from outta nowhere, because it completely blindsided me with it's bitchin' shreddin'. You would think they couldn't top the track that starts off this album. That's an easy mistake to make if you haven't heard what comes after. Biggest surprise of the month (I mean, this rivals Ozzy Osbourne for me in terms of personal enjoyment; and considering there's also the epic Guns N' Roses dual albums to deal with, I wasn't three metal albums to come out that would be put onto my "I wanna buy" list, plus Overkill).
This month really is an unbelievable one for music (if you're a metal/rock/grunge lover).
---
The Cult: Ceremony (23)
Fun fact, the band was sued by the parents of the boy whose picture was used for the album cover.
---
Bryan Adams: Waking Up the Neighbors (24)
---
Soundgarden: Badmotorfinger (24)
I told you this was an unbelievable month for music. The Soundgarden debut builds up on the grunge era becoming a mainstream. And there would be one more band debut to cement the arrival of this new era in music that would dominate the 90s for the most part. For good or for ill.
Outshined is the main standout of this album.
---
Nirvana: Nevermind (24)
Told you. The band wouldn't get REALLY famous until the suicide of their lead singer Kurt Cobain a few years later, but there's no denying there's some great stuff in this album. You must've heard Smells Like Teen Spirit at some point.
Plus the album cover has become iconic. And I'd say it symbolizes society rather well, especially today.
The album cover shows a naked baby boy, Spencer Elden, swimming underwater with a U.S. dollar bill on a fishhook, in front of him, just out of his reach. According to Cobain, he conceived the idea while watching a television program on water births with Grohl. Cobain mentioned it to Geffen's art director Robert Fisher. Fisher found some stock footage of underwater births, but they were too graphic for the record company to use. Furthermore, the stock house that controlled the photo of a swimming baby that they chose wanted $7,500 a year for its use. Instead, Fisher sent a photographer, Kirk Weddle, to a pool for babies to take pictures. Five shots resulted and the band settled on the image of four-month-old Spencer Elden, the son of a friend of Weddle. Geffen were concerned that the infant's penis, visible in the photo, would cause offense, and prepared an alternate cover without it; they relented when Cobain said the only compromise he would accept would be a sticker covering the penis reading: "If you're offended by this, you must be a closet pedophile." The cover has since been recognized as one of the most famous album covers in popular music.

Wikipedia
---
Red Hot Chili Peppers: Blood Sugar Sex Magik (24)
You've heard Give it Away Now at some point. There's also Suck My Kiss. More famous tracks from famous bands.
---
Prong: Prove You Wrong (24)
More good heavy metal.
---
Swervdriver: Raise (30)
---
---
---
Movies
Honorable mentions: Rambling Rose, another one of those slice of life in the early 1900s South films that isn't as solid as some people make it out to be; too much BS feminism, and a somewhat controversial scene with a teen kid fondling Laura Dern. McBain, a Christopher Walken action film that is so ridiculous and overly patriotic (seriously, just listen to the song that plays during the credits; you'd swear you're watching something that belongs in some Team America parody, except there's not a hint of irony, they are unbelievably sincere), that you can't help but laugh at how cheesy it is; so cheesy that it became the butt of a Simpson's joke.
Cast a Deadly Spell (7; HBO)
Pretty good for a made for tv film. A tongue-in-cheek neo noir Lovecraftian film. One of the better Lovecraft-inspired films, which wasn't a very high bar outside of Reanimator and From Beyond at this point in time.
---
Freddy's Dead: The Final Nightmare (13)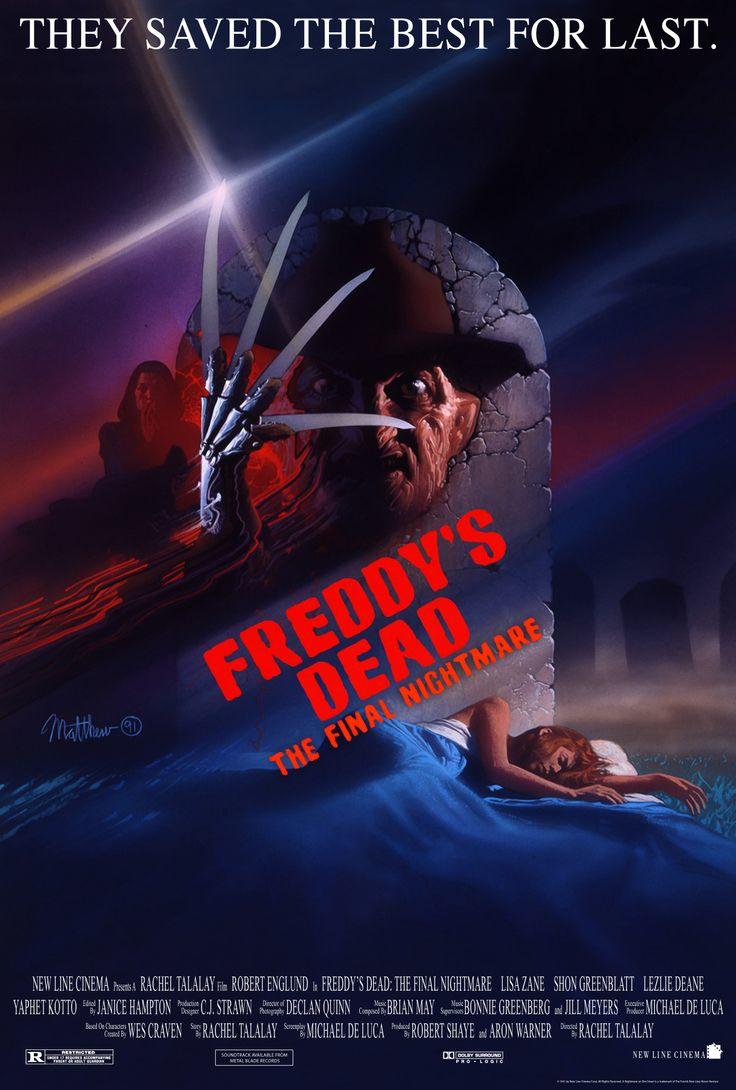 It gets mentioned because it's a Nightmare on Elm Street movie. Whether I enjoyed it or not is beside the point when it comes to horror franchises this famous.
---
The Commitments (13)
Close call between this and one other film for film of the month. This is one of those films that, on paper, wouldn't work for me. I'm not the biggest fan of musicals, or of films about the rise and fall of a fictional band (due to their own self-destruction). But this one ended up being exceptional (mainly because this could only work as a musical, and Alan Parker knows what he's doing). Plus these guys know how to sing a song.
---
Blue Tornado (18; VHS)
Sure this is basically a glorified Top Gun knockoff. But it has a couple surprising twists in it that make it stand out, resulting in a surprisingly fun time (so long as you don't mind it following the same beats as Top Gun, and with cheesier special effects). This one is worth giving a chance.
---
Blood and Concrete (18; VHS)
Decent comedy.
---
Arena (18; VHS)
It's not as good as it could've been, but it's a decent sci-fi fighter movie, where it's potential was utilized in the first fight, but not in anything afterwards (a human fighting against different monsters/aliens, all of which are humanoid except the first monster).
---
The Indian Runner (20)
Sean Penn's directorial debut starring Viggo Mortensen and David Morse. Slow burn drama film, gets a bit monotonous (and predictable) at times. But you have to admire how it makes you hope (beyond hope) that Viggo's character will find redemption and change his ways. A film that made an asshole character that anyone else probably would've made into a typical two-dimensional asshole into a more well-rounded three-dimensional character. The film's message is left ambiguous, leaving it up to the viewer to determine what meaning they should take from it. Not something I think I'd want to watch again anytime soon, but it's worth a look.
---
The Fisher King (27)
An odd quirky comedy drama starring Jeff Bridges and Robin Williams. The other film that competes with The Commitments for film of the month.
---
Necessary Roughness (27)
This is probably the main comedy sports film that set the standard and formula for just about every sports film that would come out afterwards (whether that's a good or bad thing is entirely up to you). In the same vain as Major League, except with football instead of baseball.
---
Prospero's Books (28, limited)
This film is a bona-fide arthouse film that definitely isn't for everyone (not even for me, if I'm being honest). But you have to admire how it just goes all-out with its artsy-ness. Not to mention there is a shitload of nudity in this, full-frontal, from both sexes; not done in a sexual way so much as making you admire the human body as a form of art in of itself. One of the strangest adaptations of William Shakespeare's The Tempest. Watch at your own risk.
---
Wedlock (28; TV movie)
A bit rough around the edges, the comedy misses more than it hits (especially from Rutger Hauer, who seems out of his element in this one). But it still winds up being quite entertaining, and tense at times. This is the film that inspired Battle Royale with the exploding neck braces (if you don't count Running Man), and they keep it fresh with the situations the characters get put into where they try to prevent them from going off. This is just a B film at best, but it's the type of B film people probably hope to see when they want a break from the ambitious theatrical A-list films.
---
---
---
Games
Honorable mentions: Monster Truck Rally (NES). Smash TV (NES), while this is a good port of the arcade game (given the limitations of the NES), superior versions would come out on other platforms. Mike Ditka Power Football (Sega Genesis). Thunder Fox (Sega Genesis; port of arcade). The Chessmaster (SNES), upgrades the NES experience. Hal's Hole in One Golf (SNES). Super Bases Loaded (SNES). Knight Quest (Game Boy). TV Sports Hockey (TurboGrafx-16). Advanced Dungeons & Dragons: Pools of Darkness (MS-DOS). Police Quest 3: The Kindred (MS-DOS).
The Super Nintendo would finally get a full-scale release this month, after a limited release the previous month.
---
NES Open Tournament Golf (?; NES)
Better than you would expect for a game like this.
---
Rockin' Kats (?; NES)
Interesting mechanics this had, which inspired other games. Contender for game of the month.
---
Gun-Nac (1; NES)
Shmup.
---
Super Spy Hunter (27; NES)
Another shmup, with bitchin' music.
---
Decap Attack (?; Sega Genesis)
Fun little platformer, with a very unique design for the player character.
---
F-22 Interceptor (?; Sega Genesis)
---
Pac-Mania (?; Sega Genesis)
Port of an arcade game. Pac-man jumps now.
---
Rampart (?, Sega Genesis [Arcade 1990])
Port of an arcade game (from 1990; failed to cover that one earlier). Honestly, considering how many ports this game has, mine as well as just make this a generalized mention for the game overall, focusing on the original arcade. Version. This is the classic the started the whole tower-defense genre. Yep, this is where it all began. Another contender for game of the month (and honestly, I would understand if most believe this should be this month's winner; I'm probably letting nostalgia bias my pick here).
---
Streets of Rage (18; Sega Genesis)
My pick for game of the month. The legendary beat-em-up game exclusive to the Sega Genesis. One of my favorite games as a kid.
---
Drakken (September 1, 1991; SNES)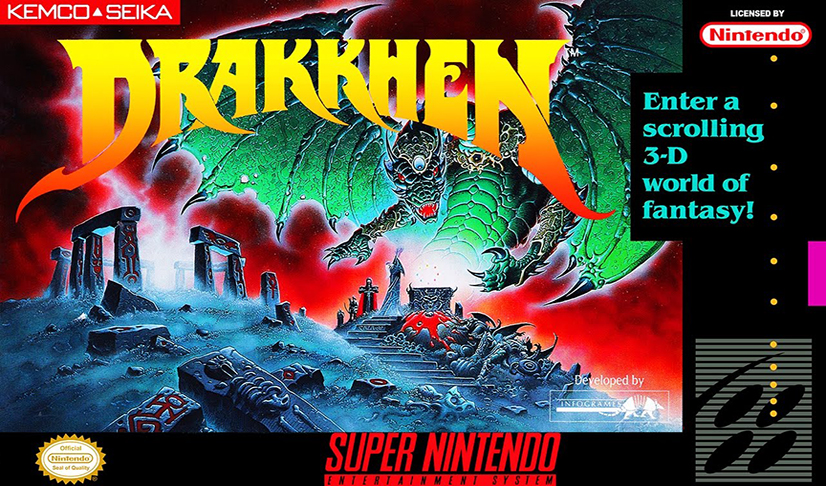 So this game isn't really all that good. But it stood out so much, and was so unique in its style and presentation, that it was impossible for it not to be a memorable (but frustrating) RPG experience. Noteworthy if nothing else.
---
HyperZone (1; SNES)
Very interesting F-Zero shooter.
---
Super R-Type (September 1, 1991; SNES)
Another classic shmup. Arcade port that does suffer from the infamous SNES slowdown.
---
U.N. Squadron (9; SNES)
Do not let the title or cover fool you (which isn't it's original title from Japan). This is one of the more fun side-scrolling shooters on the SNES. No slowdown either, which for an SNES shooter is a miracle.
---
Populous (30; SNES [has a Sega Genesis and PC version too])
The only real way to play this classic game is on the PC (or Amiga). Anything else in inferior. The game where you get to play as God.
---
---
---
Shows
Concentration ended September 20; aired 1958.

Honorable mentions for shows that premiered this month: That's My Dog! (game show where dogs have to do, uh, activities, showing how well-trained and skilled they are). Little Shop (kids animated show based on Little Shop of Horrors, with a rappin' Audrey). P.S.I. Luv U (show was cancelled due to the unreasonable demands of the main star). Man of the People (cancelled after 1 season). Pacific Station (cancelled after 1 season). James Bond Jr. (failed attempt at making 007 into an animated kids series that watered down the character and removed the seducing of hot broads). The Royal Family (probably wouldn't have been cancelled if not for the fact that the star Redd Foxx died). Teech (cancalled after only 4 episodes due to a manslaughter charge; seriously, what the hell is up with some of these shows this month?). Reasonable Doubts (at least this one lasted 2 seasons). Good & Evil (bashed for being similar to Soap, so they dropped it). FBI: The Untold Stories (ended up not being as popular as the other FBI show).
This is the month where I started to feel more at home. Enough shows were on at this point to where I feel like I'm living in the 90s as a kid again. If you thought last month couldn't be beaten in terms of kid shows, think again. Some solid sitcoms to go along with them too.
On the other hand, a few of this month's shows are also responsible for being made for the lowest common denoninators, and I believe are responsible for the decline of American society, and they can all burn in hell.
---
The Legend of Prince Valiant (3; The Family Channel)
Above average 65 episode animated series about prince Valiant and his quest to find Arthur and the Knights at the Round Table. A hidden gem that ranks alongside Peter Pan and the Pirates, and The Pirates of Dark Water. Or at least it would if it didn't overdo "woman power to the extreme" with the main female character who tags along with Valiant and his other companion. That took the show down a notch for me.
---
Little Dracula (3; Fox [Fox Kids])
This animated kid show had some issues involving unaired episodes and a season that was never released in the U.S..
---
Land of the Lost (7; ABC)
If you thought the 70s show was the only version of this series, think again. Back in the day, I had fun with this. Which is why it pisses me right the fuck off that this hasn't made it onto DVD. The special effects are certainly an improvement from the 70s show. And it's still cheesy as fuck, but in a 90s way rather than a 70s way.
Looks like a demand for dinosaurs was slowly growing during this time period. No wonder Jurassic Park eventually got made and released 2 years later.
---
Taz-Mania (7; Fox [Fox Kids])
I knew about this show back in the day, but I don't remember ever watching it. There's mixed opinions about it, but it still has a fan base. Personally, I prefer the old-school Loony Tunes version.
---
Darkwing Duck (8; Disney Channel)
A classic I watched regularly back in the day. Now we're talking 90s childhood nostalgia. "Let's get dangerous." It's a fucking crime that the entire series didn't get a DVD release (goddamnit Disney!).
---
Bucky O'Hare and the Toad Wars (8; Syndication)
Cancelled after just 1 season, despite being a big cut above the rest of the average animated shows, especially in animation quality. At least this has a DVD release (helps that they only had do gather 1 season's worth of episodes).
---
Herman's Head (8; Fox)
It's an adult sitcom dude version of Inside Out.
---
Maury (9; Syndication)
Fuck my life. I absolutely fucking despise this shit. But, like Jerry Springer, this arrived and was here to stay because it catered to the lowest common denominator, of which was far more prevalent in society than middle denominators. Suck a cock and go to hell.
---
The Adventures of Mark & Brian (9; NBC)
Based off the radio broadcast (which I used to listen to back in the day; good times).
---
Back to the Future (14; CBS)
Of course they made a show based on that movie franchise. Never saw it back then.
---
Super Mario World (14; NBC)
What is this, like, the 3rd iteration of this franchise? None of them ever appealed to me. The shitty live-action movie appeals to me more than these shitty animated shows do.
---
Wish Kid (14; NBC)
Animated kid show voiced by Macaulay Culkin that is tedious with the protagonist never learning any moral lessons
---
ProStars (14; NBC)
Christ, just the concept of this show makes this noteworthy. The three top athletes of that time, Michael Jordan (basketball), Wayne Gretzky (hockey), and Bo Jackson (football and baseball, so that all the bases are covered) come together to help kids out and save the world like they're some kind of Captain Planet hero. I mean, only in the 90s would something like this exist, and I can't help but admire, and laugh, at the fact that this thing exists.
---
Mother Goose & Grimm (14; CBS)
Courage the Cowardly Dog totally ripped this off, shamelessly.
---
Where's Waldo?, aka Where's Wally? (14; CBS)
Heheh, adult innuendo/jokes in a kids show; gotta love it when they do that shit.
---
Nurses (14; NBC)
A spin-off of a spin-off of The Golden Girls. Don't care for it, but others probably will.
---
Space Cats (14, NBC)
That intro really doesn't prepare you for what immediately follows.
---
Eerie, Indiana (15; NBC)
Ok, now we're talking. One of those definitive kids horror (as horror as these kids shows could get, which was usually more cheesy than scary) tv shows alongside "Goosebumps," and "Are You Afraid of the Dark?" Ttorn between this and Land of the Lost for show of the month. Objectively speaking, this one is probably the better of the two.
---
The Jenny Jones Show (16; Syndication)
Some other talk-show that's a bit similar to Jerry Springer, Maury, and Oprah, that ran for a respectable amount of time. However, it seems like there's been a subtle attempt at pushing this show's existence under the rug. Maybe because of a controversial event that resulted in someone's death as an (indirect) result of the show. And other controversial stuff that happened. This may not be my type of thing, but I'm a sucker for controversy. Regardless, this show can burn in hell too.
---
Home Improvement (17; ABC)
One of the most famous and greatest sitcoms of all time. If Tim Allen wasn't famous before (with his stand-up comedy routine), he sure was now. Ah, the feeling of home. Also where Jonathan Taylor Thomas got his start before he became one of the "Disney Kids."
---
Brooklyn Bridge (20; CBS)
Jewish sitcom (like a Jewish "Wonder Years"), that got somewhat famous despite only running for 2 seasons. Very odd (and disappointing, especially since this got nominated for awards, and had an episode declared as one of the top #100 best episodes of all time by some organization) that this hasn't gotten a DVD release.
---
Step by Step (20; ABC)
Some believe this six season sitcom is one of the greatest of all time. Some wonder why it even lasted past the first (because it's too clean, too politically correct, too much like The Brady Bunch). Probably had to do with the leads they acquired for this series, and how those leads were guaranteed to hook an audience regardless of how the rest of the show was.
---
The Torkelsons (21; NBC)
Did this beat the film The Man in the Moon (which would get release a few weeks after this show aired) to the punch with that line?
---
Homefront (24; ABC)
Post-WWII drama series that was much-loved, then cancelled after 2 seasons. Wouldn't be the 90s if at least half of the decent shows out there received cancellation (while fucking Maury, Montel Williams, Jerry Springer, and Step by Step managed to carry on; fuck you people).
---
Investigative Reports (27; A&E)
Whew, man. You gotta admire a show that tackles such controversial subject matters head-on.
---
The Commish (28; ABC)
Michael Chiklis starring as a cop, before The Shield. Have to admit, this show got a good chuckle out of me.
---
Street Justice (29; Syndication)
Carl Motherfucking Weathers!?!?!?!? In a cheesy 90s cop show? Sign me the hell up!
---
Where in the World is Carmen Sandiego? (30; PBS)
In San Diego? Kids game show that's also educational (we need more of these). Loved this shit back then.
---
The Montel Williams Show (30; Syndication)
Shoot me. Then burn in hell.
---
Jerry Springer (30; Syndication)
Why did this month, that had some great kid shows, and a great sitcom, get marred by not only the worst type of shows to ever come into existence, but also initiated the fall of civilized society as we know it? What the fuck!? Burn in hell you cocksucking motherfucking cuntlicking ball-busting tit-twisting nail-ripping cum-swallowing buttfucking… BURN IN HELL!!!!!! And fuck you people who watched it regularly too (willingly)!
---
Charlie Rose (30; PBS)
Fuck this hack too.
---
Edit (10-11-2020): Removed My Own Private Idaho from Films. Didn't come out in a more wide release until next month. Also removed Arcus Odyssey from Games (came out June 1991).
Edit (3-16-2021): Added L7: Smell the Magic to Music.
Edit (5-8-2021): Added Space Cats to Shows.
Edit (7-7-2021): Added Blood and Concrete to Movies.
Edit (9-11-2021): Removed Raiden Trad from Games (that came out in 1993 for the Genesis).
Edit (11-30-2021): Added Arena to Movies.